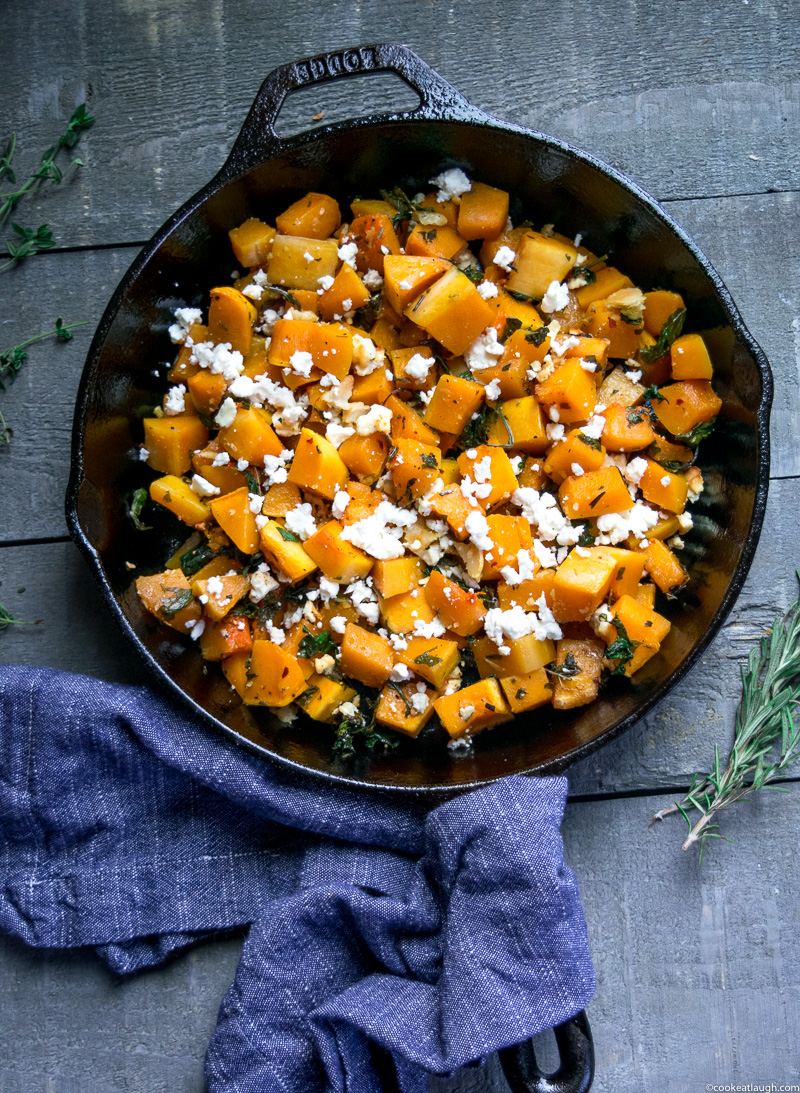 This butternut squash with kale and feta recipe did not pan out the way I had intended. My original plan was to make a butternut squash tart with kale and feta, but when I made a test version, I loved the filling more than the tart as a whole. I re-tested it again as a simple sautéed side dish and I loved the outcome, so here I am sharing it with you all. This could be the perfect side dish on your holiday table this year.
My kitchen is my science lab where I experiment with the dishes that I dream up. Long before I started my blog, I would constantly think up new recipes that I wanted to try. I would day-dream of a recipe at work and if it was my cooking night at home, I would use my parents as my test subjects. Sometimes my experimentations would be a grand success, but I also had my fair share of disasters.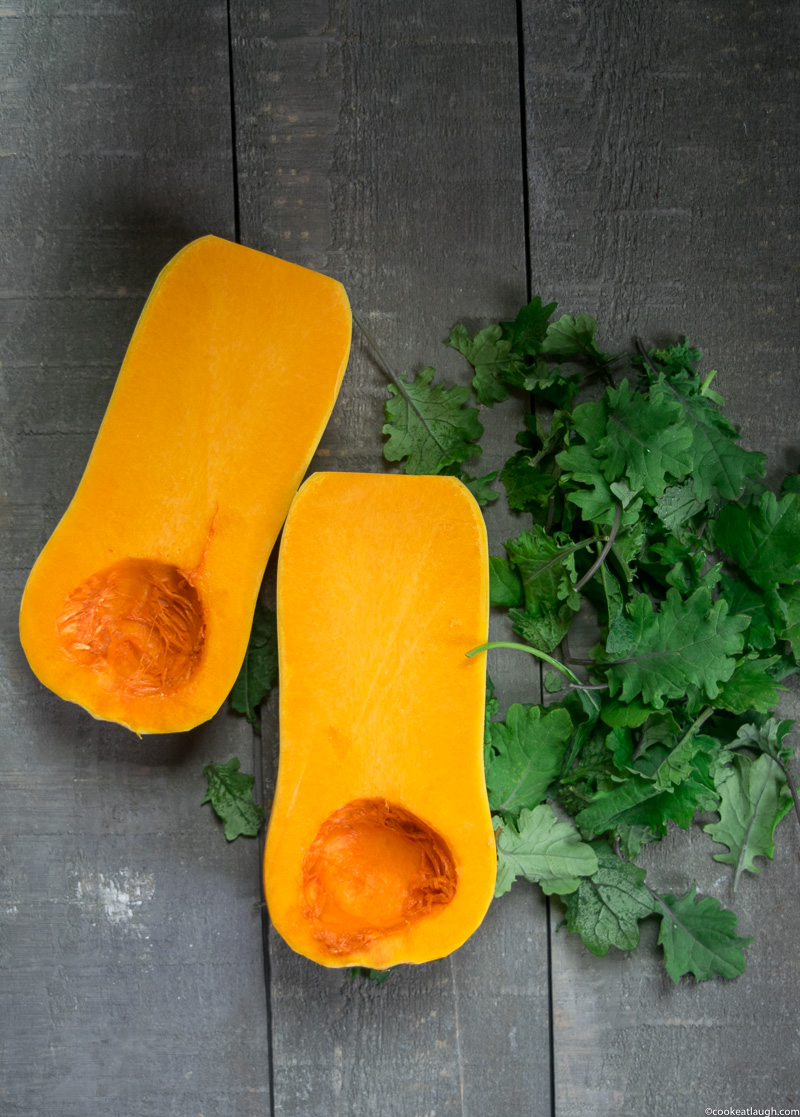 A few months ago, I was cooking dinner for the husband and I. As usual, I was making a dish that I had thought of in my head a few days prior. The idea was to make a one pan chicken cooked in tomato sauce and vegetables. It sounded amazing, but the actual dish turned out to be one of the worst things I've made to date. It was so bad that when I presented it to the husband, he took a few bites and he literally couldn't eat it anymore. He was so scarred from that experience that he refused to eat chicken for a whole week. Chicken is his all-time favorite protein and my dish had left such a sour taste in his mind that he gave it up. That was not my finest moment, but it was a learning experience and we got a good laugh out of it.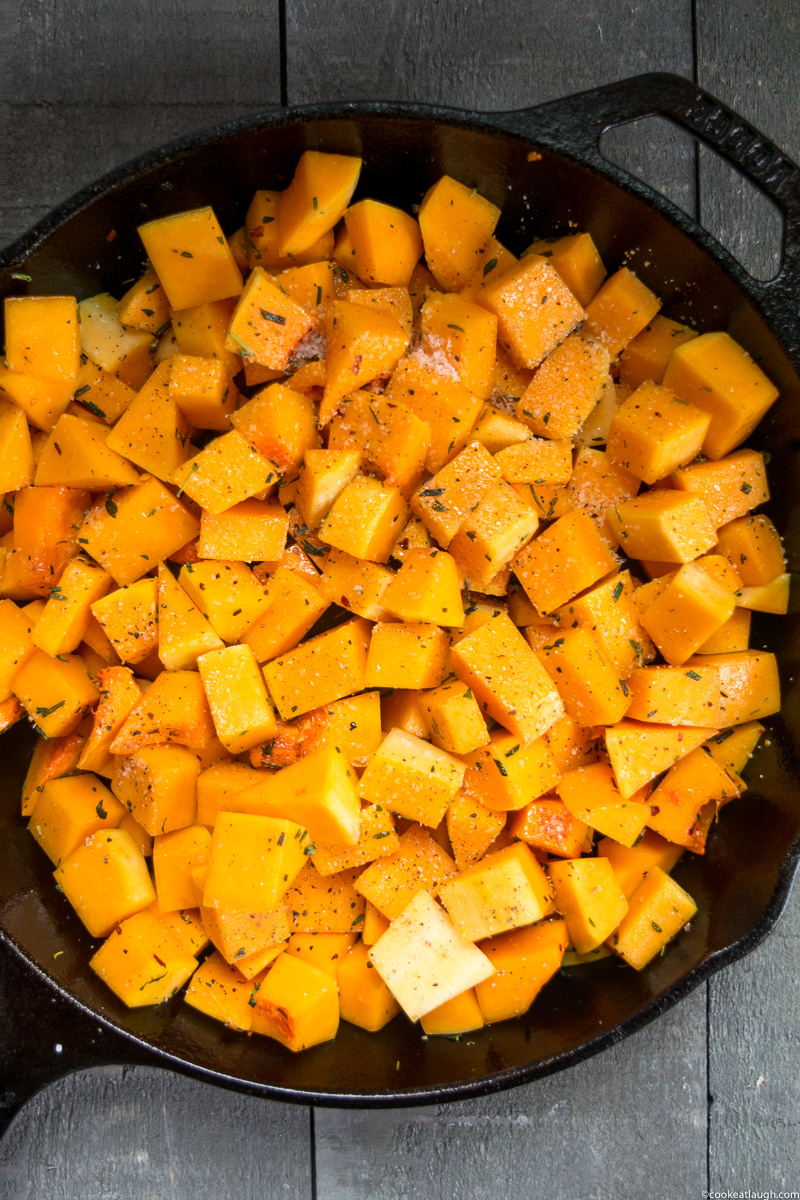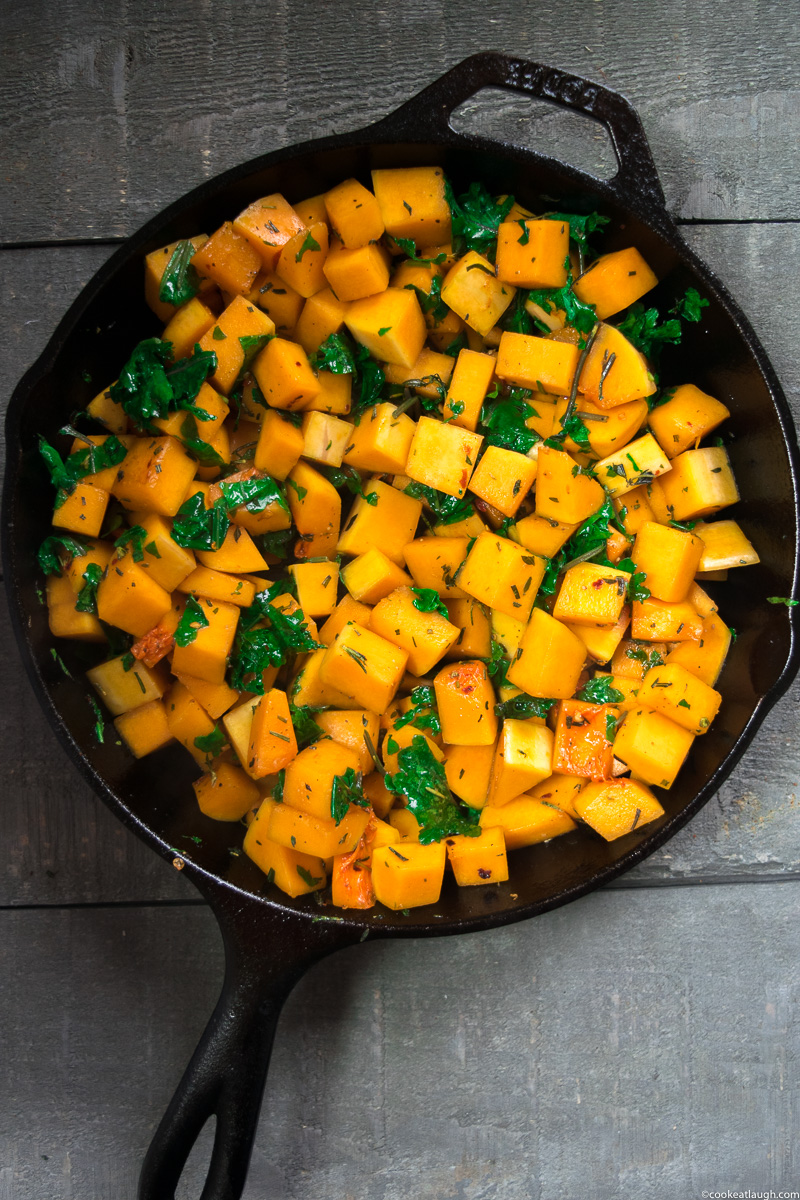 Cooking is all about being innovative by channeling your creativity. It's completely okay to fail at times because that's how you learn to be a better cook.
I love cooking because it never gets boring. There are endless possibilities to create something new and unexpected like this sautéed butternut squash with kale and feta.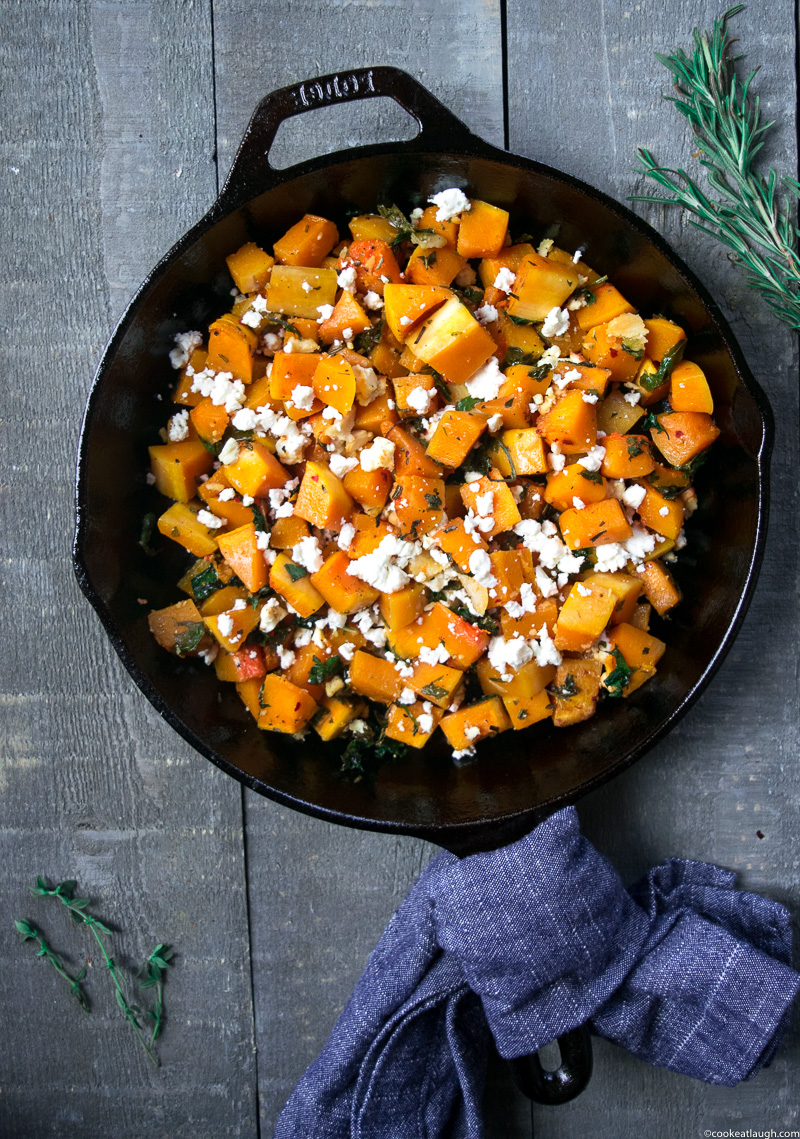 For this dish, butternut squash is sautéed in some olive oil till tender, aromatic herbs such as thyme and rosemary are added for a fresh herby flavor, baby kale is tossed in along with a little bit of brown sugar and chili flakes, and lastly, it's finished off with a little fresh feta cheese which adds a lovely tang and balances the sweetness of the butternut squash.
This Sautéed Butternut squash with kale and feta recipe makes for a lovely flavorful side dish for any of the upcoming holiday dinners or just a simple weeknight dinner. It's healthy, quick, and extremely easy to make. This is definitely going to be a regular in my kitchen this fall.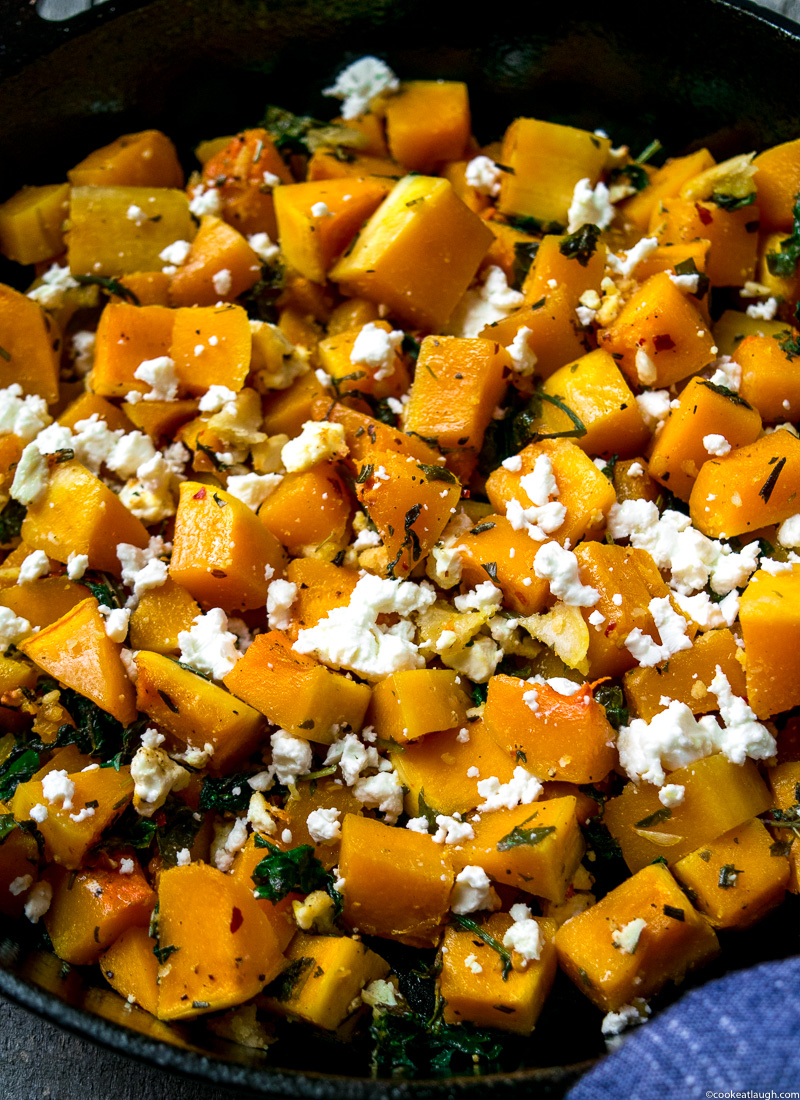 *Thanks for stopping by ! For more CookEatLaugh in your life, follow me on facebook, Instagram or Pinterest. Subscribe to receive new posts via email. And if you make this, I'd love to see! Tag me on Instagram @cookeatlaugh and #cookeatlaughblog.*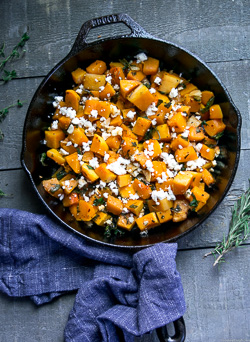 | | |
| --- | --- |
| | |
Heat a large skillet on medium high heat, add oil. Once the oil is hot, add the cubed squash and a good pinch of salt. Cook, stirring frequently, till the squash is lightly browned and a little tender, about 10-12 minutes.

Add the thyme, rosemary, chili flakes, brown sugar, and give it a good stir. Cook the squash for another 10 minutes or till its tender. Add the kale and cook till it is wilted. Season with salt and pepper. Taste and adjust seasonings to your liking.

Sprinkle with feta cheese and serve.
Start with 1 tbsp. of olive oil and if you find while cooking the butternut squash is getting a bit dry add a little more olive oil.