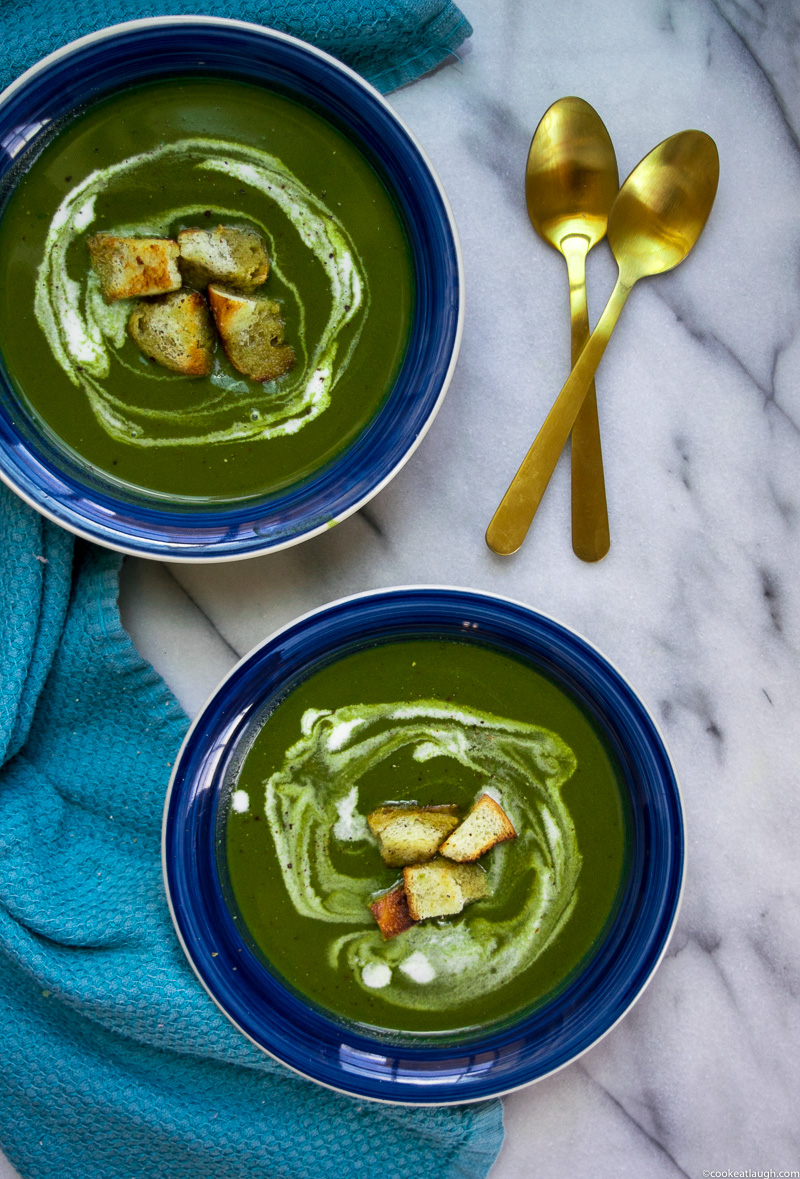 Green soup probably doesn't sound the most appetizing, but trust me when I tell you, this soup is surprisingly delicious, comforting, and not to mention, super nutritious. I crave it all the time.
Here in Dallas, it's been gloomy and raining the past few days. It's finally beginning to feel like autumn is here. Which means it's time for oversized sweaters, cozy blankets, holiday seasons, and comforting food.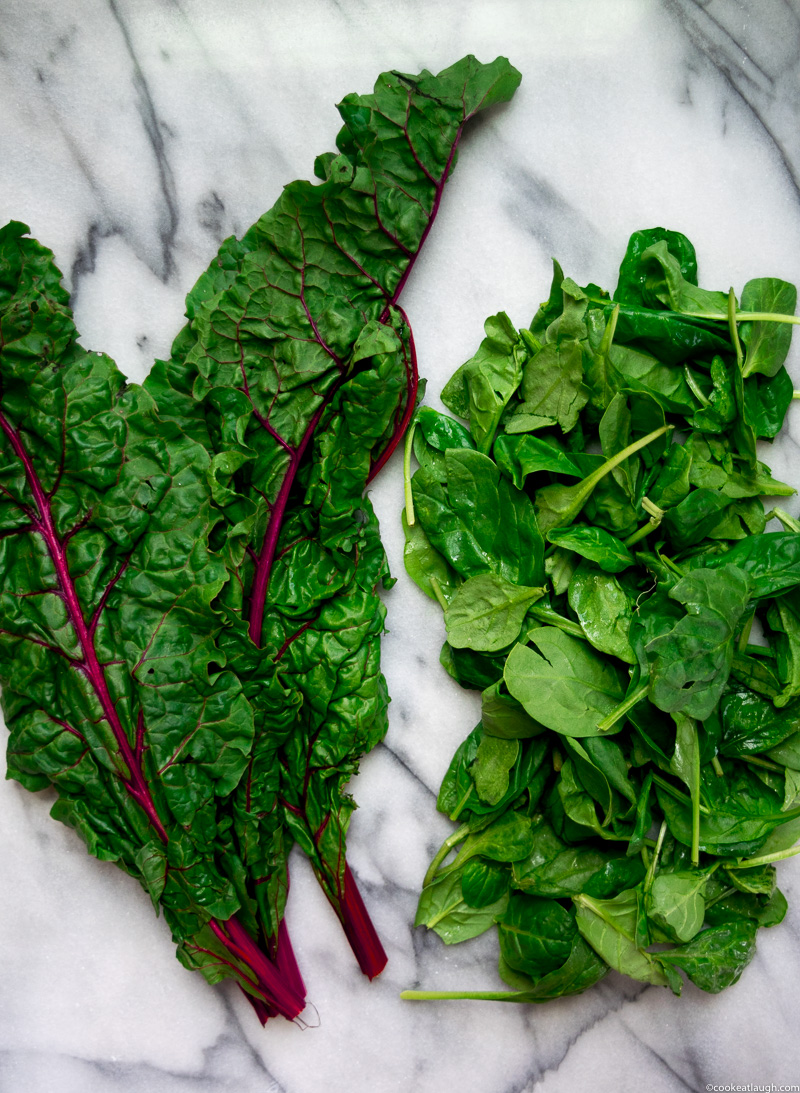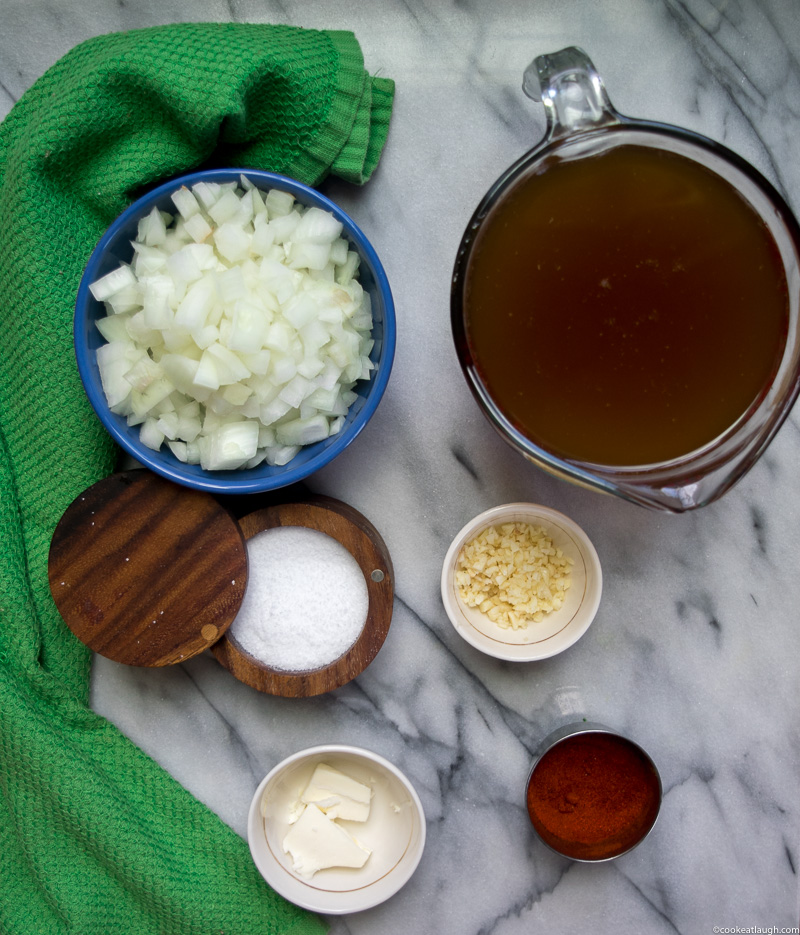 Though I enjoy cooler weather, it makes me crave comfort foods that are not the healthiest. In the past, I would constantly give into these cravings and over indulge; I basically had no semblance of balance when it came to food. I only became a health fanatic when the new year rolled around: I would restrict my eating and consume tons of green smoothies and juice. It was my way of trying to reverse the guilt I felt for over eating during the holiday season. I would repeat this pattern every year and it was truly becoming unhealthy. I knew I had to change my outlook towards food and find a balance.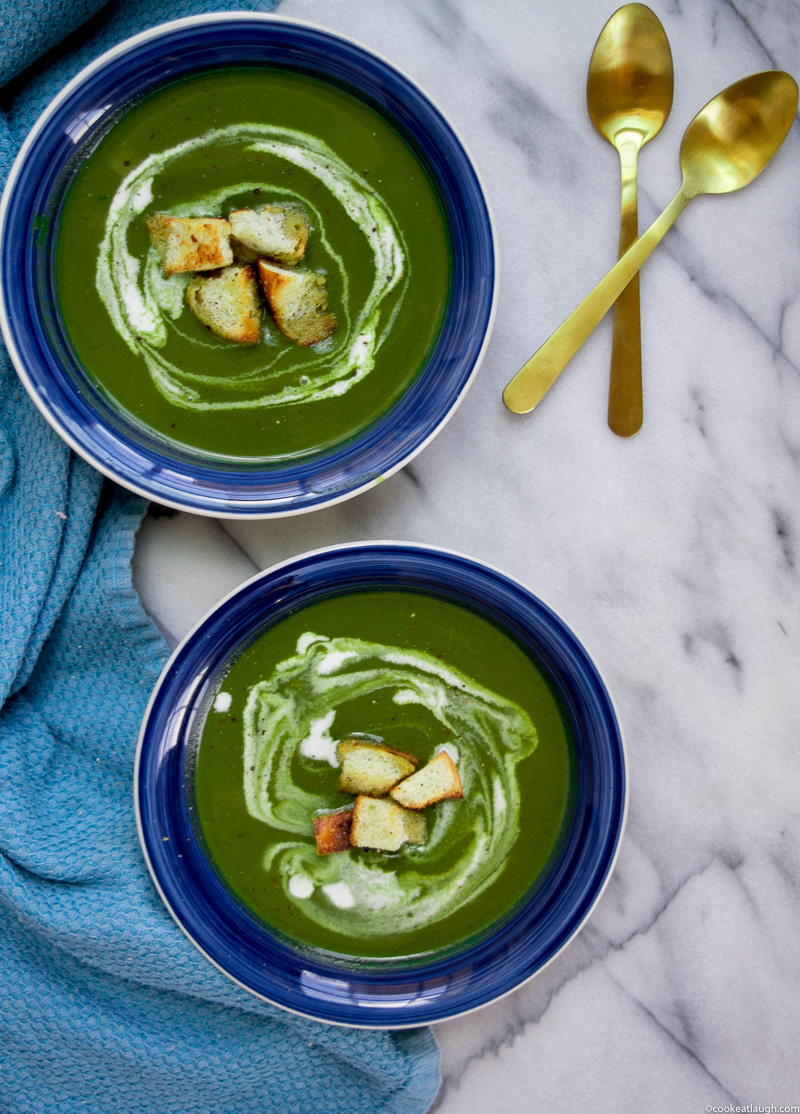 I made the conscience decision to not restrict myself when it came to food, but instead practice moderation. It was a process to change my habits, but the outcome made it all worthwhile: my cravings reduced and I could enjoy holidays without constantly stuffing my face. Now, I listen to my body when it says it's done with the grilled cheese and needs more vegetables and nutritious food like green soup.
This green soup is packed full of nutrients such as vitamins A, B2, C, E, and K. It is also rich in iron, magnesium, and potassium.
I start the making of this green soup by caramelizing the onions in some butter and olive oil, then I add some garlic, and a tiny bit of cayenne pepper for just a slight kick. I use equal amounts of spinach and swiss chard as my choice of greens. I used to make this soup with just spinach, but one time I had an abundance of swiss chard that needed to be consumed, so I added it to this soup. I instantly fell in love with the combination. The swiss chard adds a slight tartness and earthy flavor to the soup.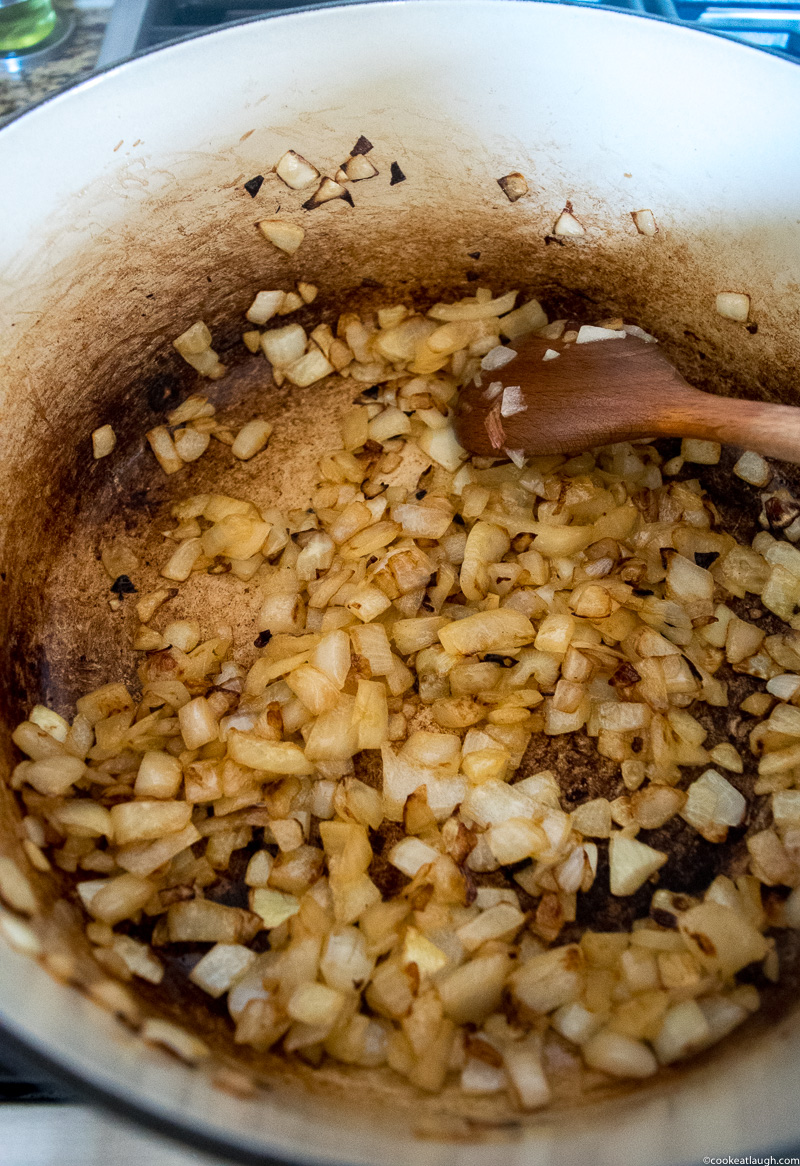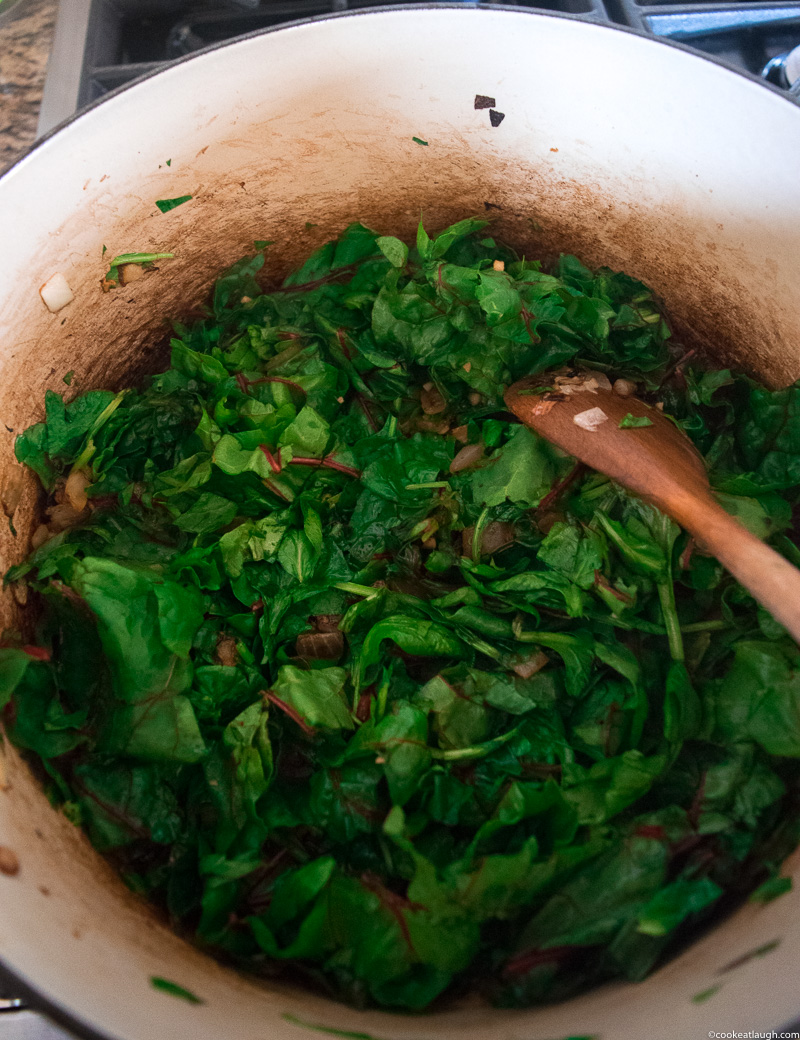 It's important to cook the greens long enough so that they are tender but not too much that they lose their nutrients. Add some vegetable broth to the greens, let the soup come to a simmer and then blend it up till it's super smooth and velvety. It's more of a broth soup rather than a super thick or creamy soup.
The green soup can easily be made vegan by omitting butter and using olive oil instead.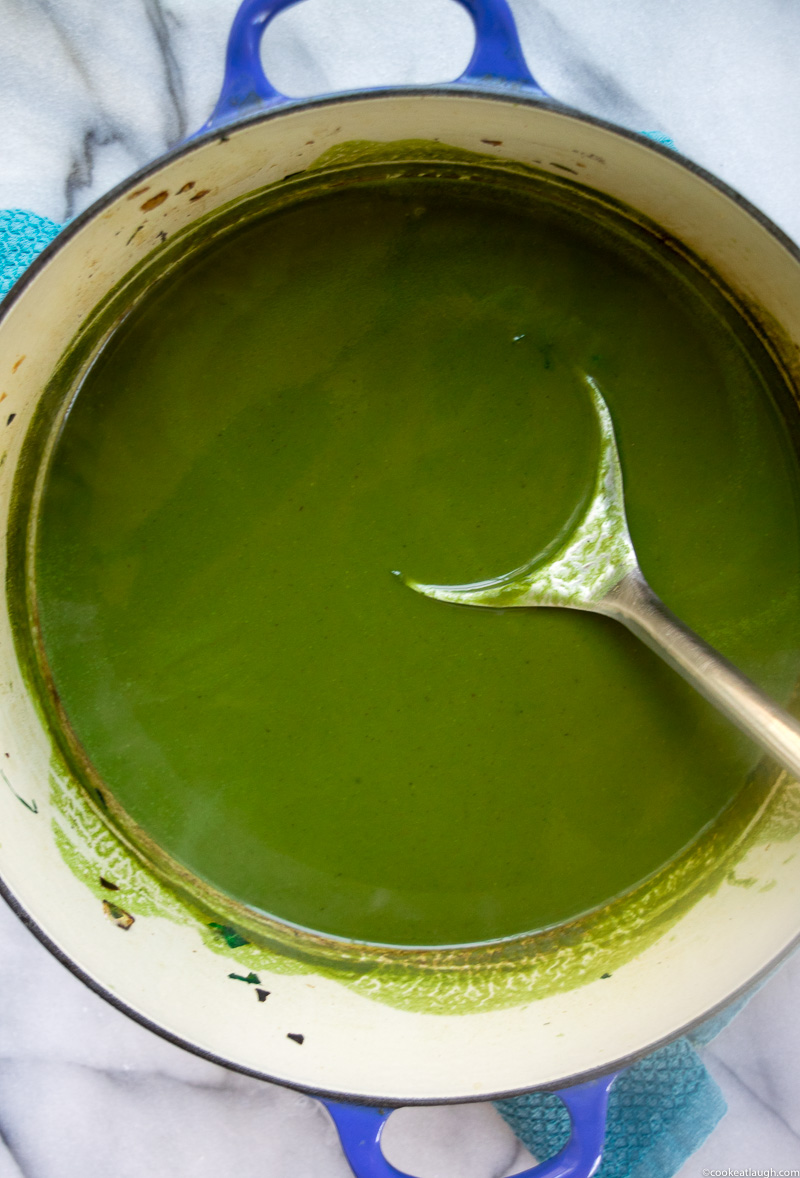 You have to give this spinach and swiss chard green soup a try. Even If you don't enjoy greens, I give you my word that you will enjoy this soup. I'm confident because the husband who gives me the hardest time about consuming vegetables, loves this soup, and always asks for seconds.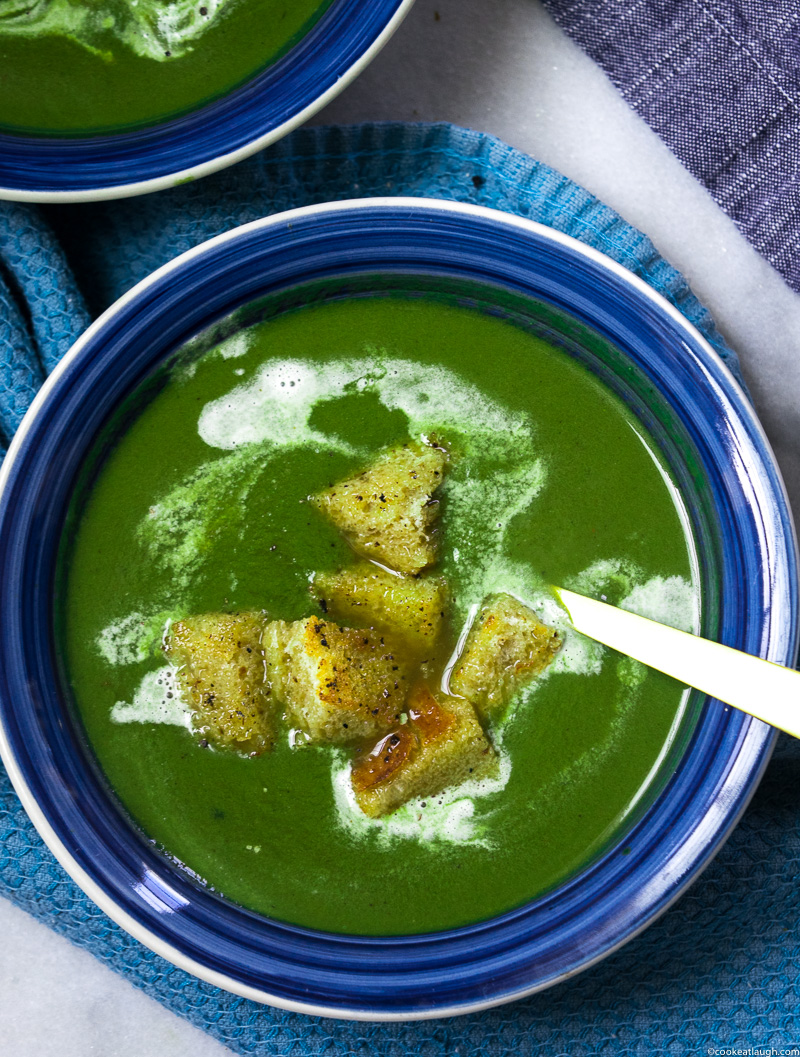 *Thanks for stopping by ! For more CookEatLaugh in your life, follow me on facebook, Instagram or Pinterest. Subscribe to receive new posts via email. And if you make this, I'd love to see! Tag me on Instagram @cookeatlaugh and #cookeatlaughblog.*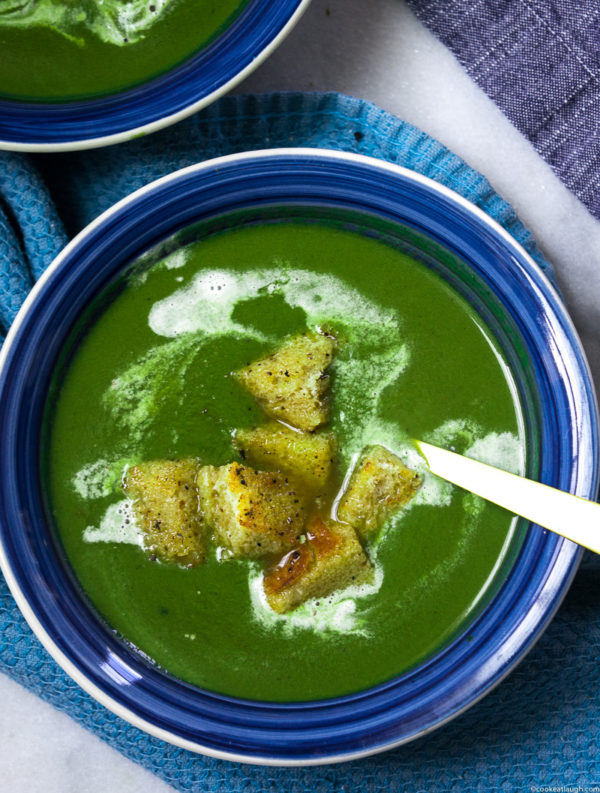 | | |
| --- | --- |
| | |
Heat a medium soup pot on medium high heat. Add the butter and olive oil, once the butter has melted add the onions. Sprinkle the onions with a good pinch of salt and let it cook until caramelized and golden brown. It will take about 10-15 minutes, stir frequently.

Stir in the chopped garlic and let it cook for 10-20 seconds. Add the cayenne pepper if using and give the mixture a good stir.

Add the chopped spinach and swiss chard to the pot, give it a good stir, and cook till the greens have wilted about 1-2 minutes. Add the vegetable broth to the pot, bring to a simmer, cover the pot, and let it simmer for 2-3 minutes.

Turn the heat off, puree the soup with an immersion blender or in a vitamix till perfectly smooth.

Pour the soup back to the pot (if using a blender) and then let it heat up for a minute. Season with salt and pepper.

Ladle the soup into bowls, garnish with a little cream and croutons. Enjoy!
Note: This soup is not thick its more brothy. If you prefer a thicker soup add less vegetable broth.