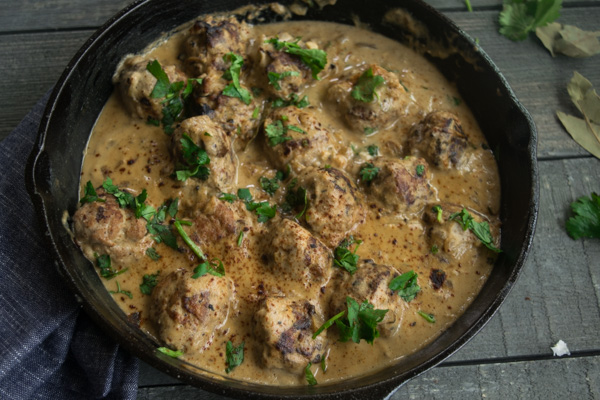 One pan meals are my jam, especially on weeknights. Last thing I want to do after a long day is to clean up a million dishes, I am pretty sure you don't either. This one pan meatball dish with a cashew cream sauce is a cross between Swedish meatballs and Indian dish called kofta curry. I came up with this dish one night when I was craving something comforting like koftas, but not in a mood to really cook Indian food. I was pleasantly surprised how good this one pan meatballs dish turned out and wanted to share the recipe.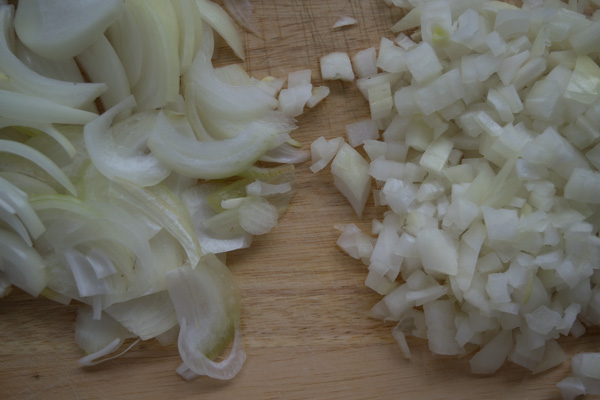 We all love creamy sauces. The dilemma with creamy sauces is unfortunately the cream, it is not exactly healthy or figure friendly. For this reason I always try to find alternative ways to make dishes cream-lessly creamy. Using soaked ground up nuts in my opinion is the perfect replacement for cream. We often use ground up almonds or cashew paste in an Indian curry dish called korma. I actually got the idea to use cashews from that dish. Cashews are milder in flavor compared to almonds and also there is no hassle of peeling the skins off (Who has time to peel almonds). Using ground nut paste adds a nice richness to the sauce and a lovely nutty flavor too. Ground up cashews also make a delicious base for creamy dips such as this killer three pepper cashew dip, it is spicy, creamy, and incredibly easy to make.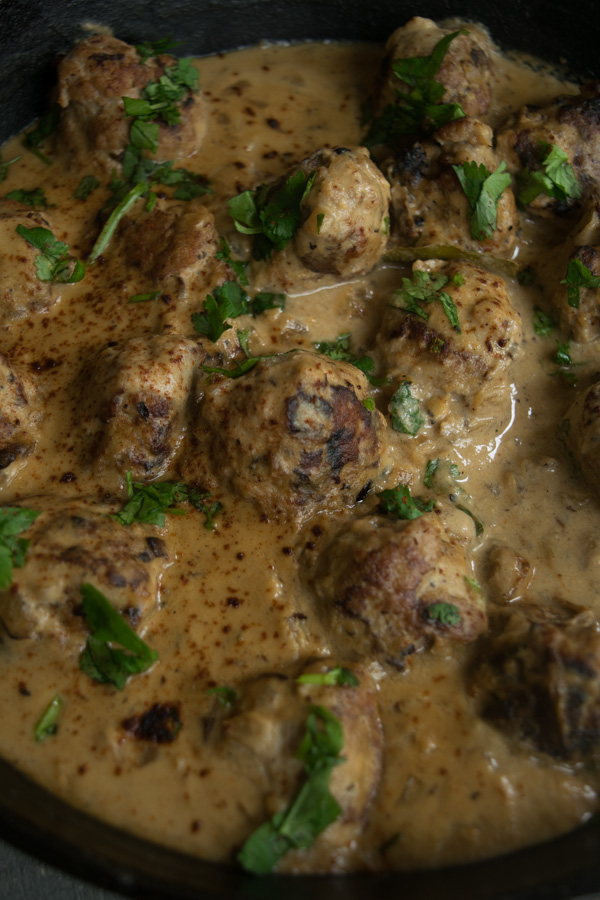 The hardest part about making this dish is caramelizing the onions. It takes a good 10 to 15 minutes to properly cook the onions. Please don't skimp on this part because that's what adds a depth of flavor to the meatballs. The caramelized onions also make the meatballs extra soft and juicy.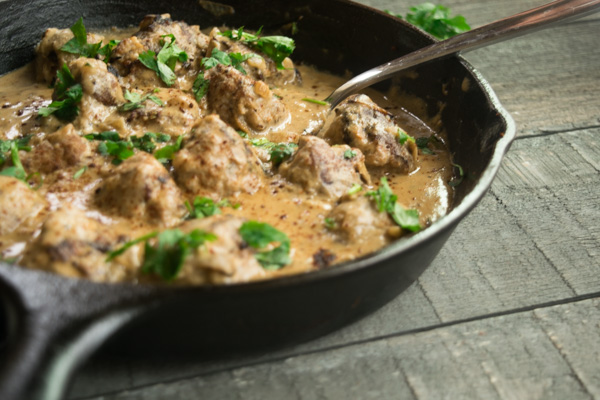 If you love Swedish meatballs you are going to fall in love with this dish. This dish has the same flavor, but without the cream.
It is a simple weeknight dinner that I am sure your family would really enjoy.
*Thanks for stopping by ! For more CookEatLaugh in your life, follow me on facebook, Instagram or Pinterest. Subscribe to receive new posts via email. And if you make this, I'd love to see! Tag me on Instagram @cookeatlaugh and #cookeatlaughblog.*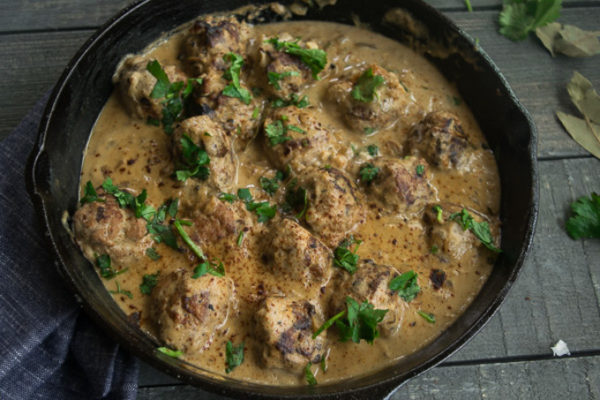 | | |
| --- | --- |
| | |
Soak cashew nuts in half cup of hot water for about 10 minutes.

Then in a blender add the cashews along with the water to make the paste. Set aside

Take one onion slice it length wise of the onion (not half-moons). Finely chop the second onion and keep it aside.

Heat a tablespoon of butter into your cast iron pan and add the sliced onions along with a pinch of salt. Caramelize the onions for about 10-15 minutes. Make sure to stir the onions around to prevent them from burning. When onions are done they should be a nice golden color, turn the stove off and let onions cool off.

In a bowl combine the turkey with Worcestershire sauce, salt, pepper, egg, bread crumb mixture and the caramelized onions. Mix it till well combined (do not overmix will lead to tough meatballs). I always test a little piece of meat mixture to make sure it is seasoned properly.

Heat up the same skillet and add a teaspoon of oil. Once the oil is hot, start making your meatballs (I use a small cookie scooper to form same size meatballs). It should yield about 17 meatballs. Sear your meatball on all sides, don't worry about cooking it all the way through. Remove meatballs from the pan and let them rest.

Add the remaining butter to the same pan along with the diced onion and garlic. Sauté it with a pinch of salt for about 2-3 minutes, till the onions get translucent then add the bay leaf. Sauté the bay leaf for about a minute and add one cup of chicken broth. Let the mixture simmer for about 2 minutes then add cashew cream. Stir the cashew cream till it well mixed in and add remaining broth to thin out the mixture.

Add the paprika, salt and pepper to the sauce. Give the sauce a good stir, check for seasoning and adjust per taste. Put a lid on and let the sauce simmer for about 2-3 minutes.

Add your meatballs to the sauce, stir gently to make sure the sauce is covering the meatballs nicely. Put the lid back on and let it simmer on low for 10 minutes or till meatball is cooked through.

Garnish with some paprika and cilantro or parsley. Serve with rice or pasta