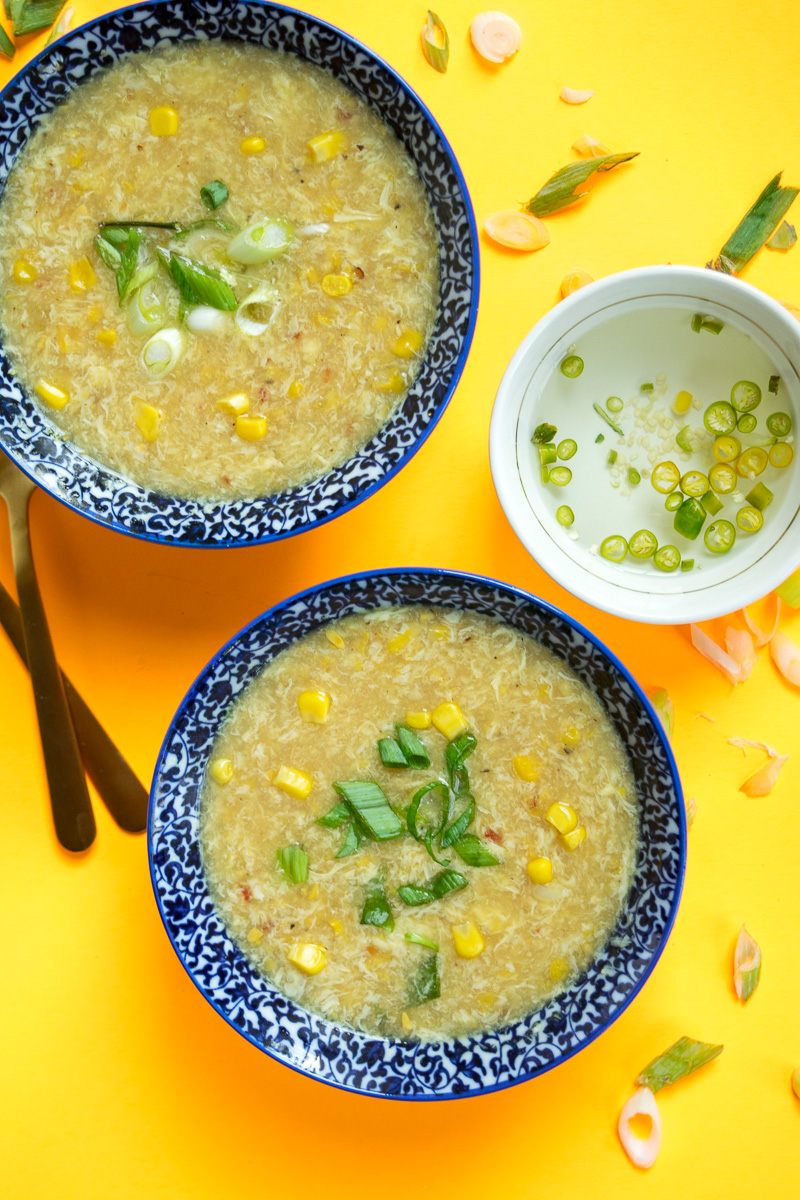 My husband and I are opposites in many ways, especially when it comes to our food preferences. I adore vegetables while he absolutely despises them, he loves things on the sweeter side and I'm more of a savory gal, you get the drift.The one thing we both mutually love though is soup, specifically sweet corn soup.
We eat soup throughout the year: during breezy spring time, sultry summer heat, crisp fall, and especially chilly winter. Just call us the soup connoisseurs, we adore it.
It is deeply satisfying to see a big pot of soup simmering away on the stove. Actually, I don't think it's all that satisfying for the husband, he just likes to eat it. The man is not as in tune with food as I am.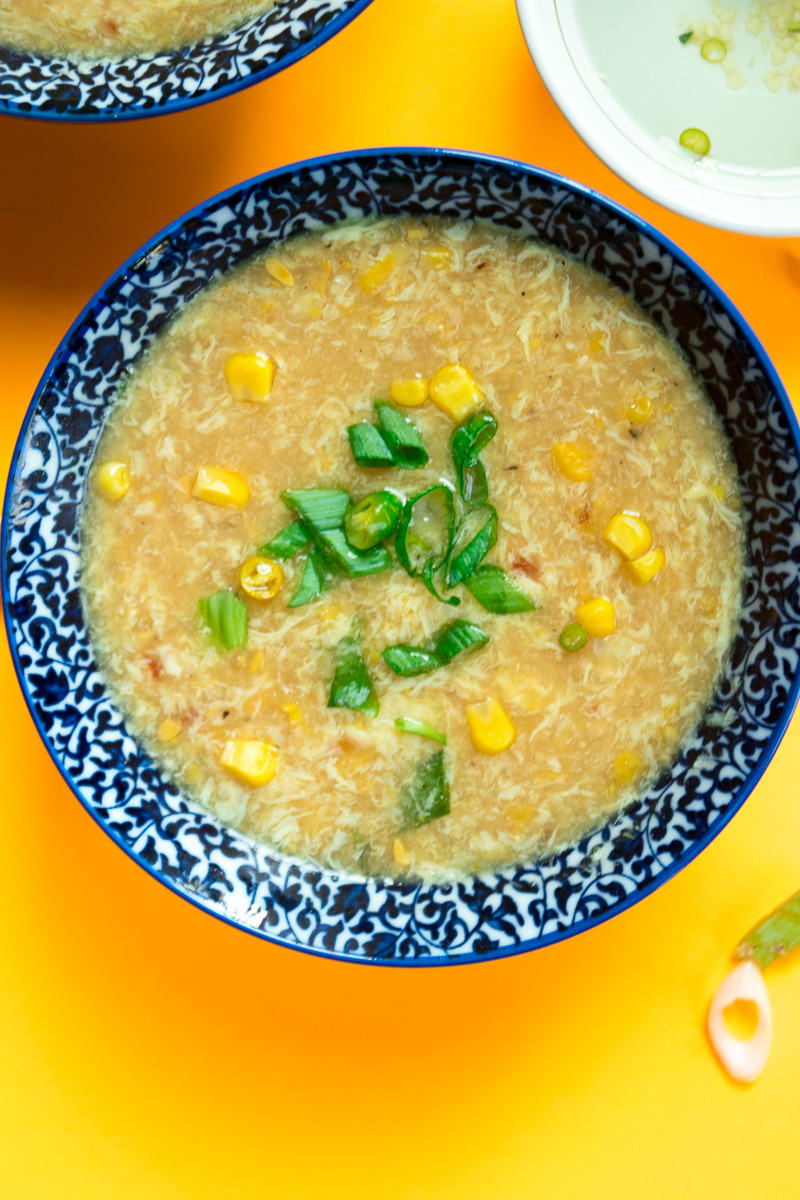 Sweet corn soup makes a weekly appearance on our dinner table. It's actually one of the first things I made for the husband before we were married.
The husband had come down to California to see me. As always, he was hangry and I didn't have much in the fridge. I had some canned corn so I decided to make my sweet corn soup. I was super confident that he would love it and think to himself "wow she is a genius cook!". That's of course not how things played out. It turned out to be the worst soup I've ever made. Keep in mind that I've made this sweet corn soup over a dozen times without fail, of course, this one time when I'm trying to impress my future husband it turns out to be a disaster. The universe was not on my side that day. Like the gentleman that he is, he never uttered a complaint, we just ate in silence.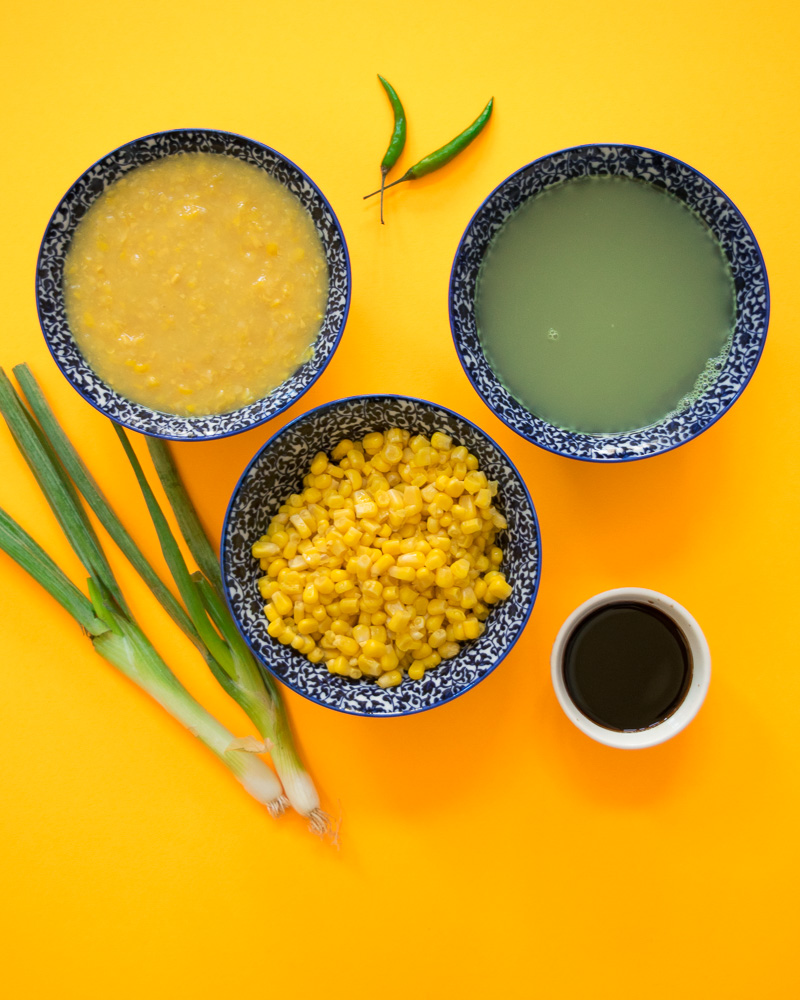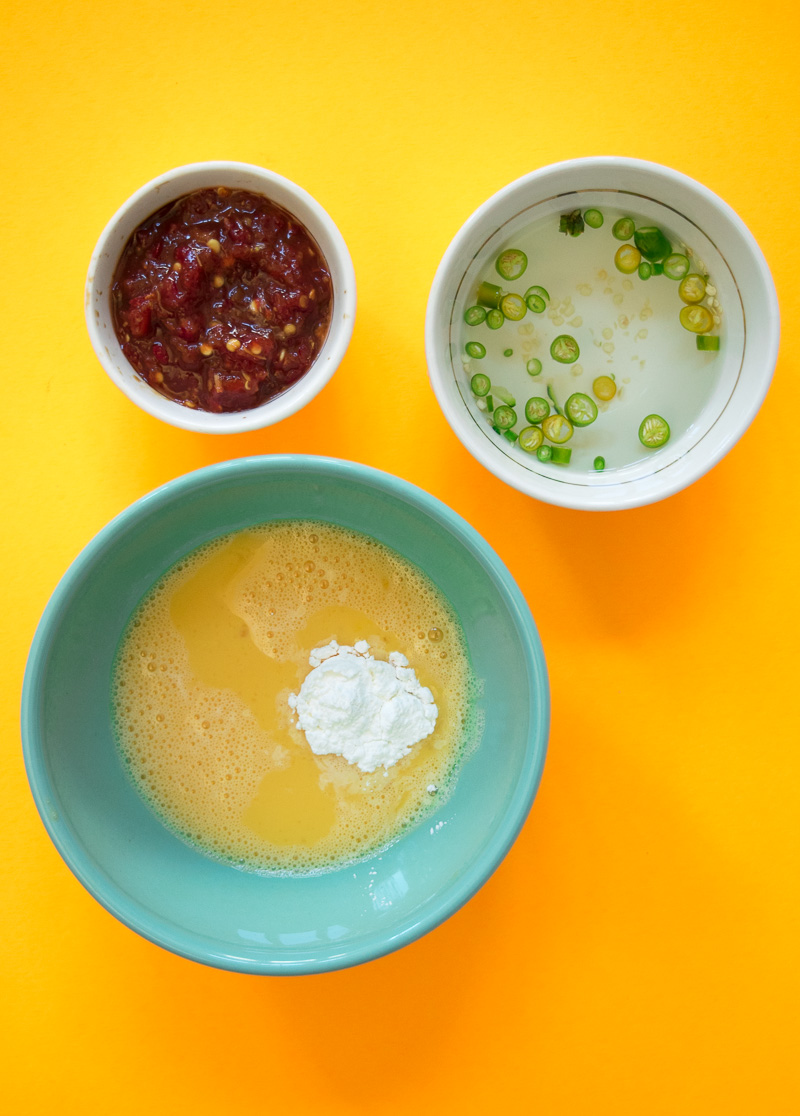 Thankfully the universe returned to my side and gave me my soup making mojo back.
Sweet corn soup with chili vinegar is a dish I grew up eating in India. It's a very popular soup in Indo Chinese cuisine. Indo Chinese is the adaptation of Chinese cuisine geared towards the Indian palate. It is one of my top 5 favorite cuisines.
The state of Kolkata, India is the home to the largest population of Chinese immigrants and people of Chinese ancestry. They immigrated to India more than 250 years ago in search for jobs offered at the river banks of Kolkata. It was in Kolkata where the finger licking cuisine of Indo Chinese originated.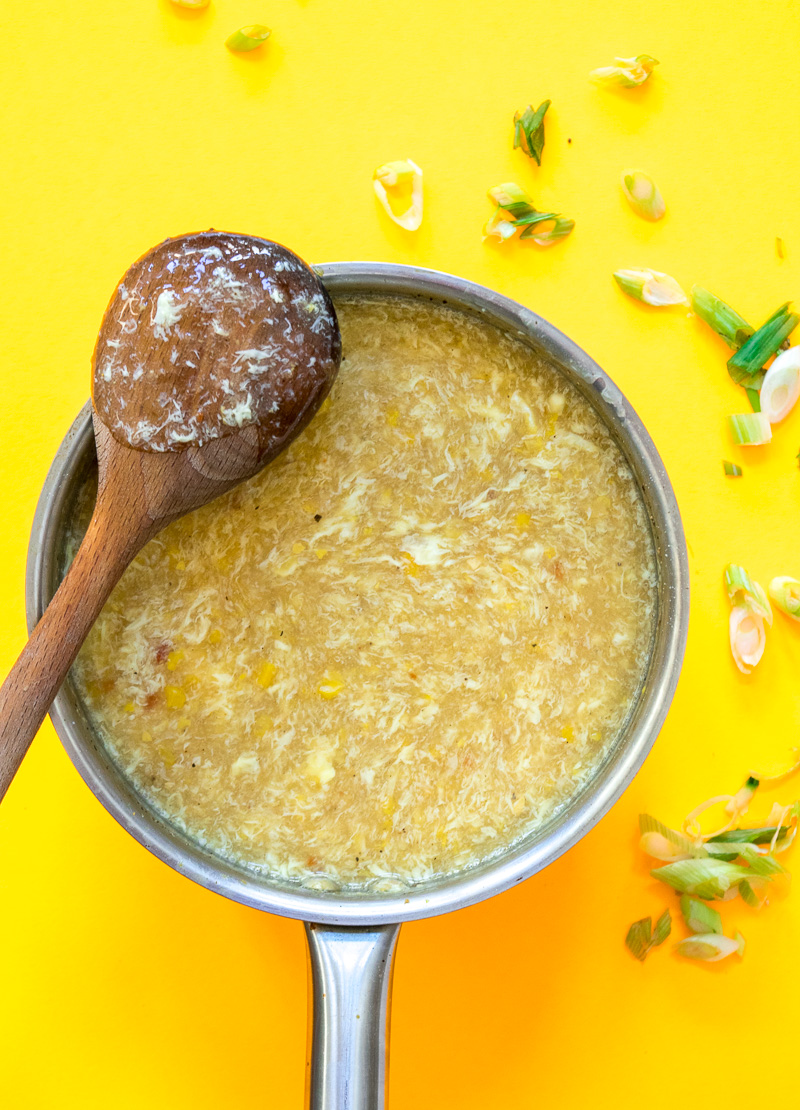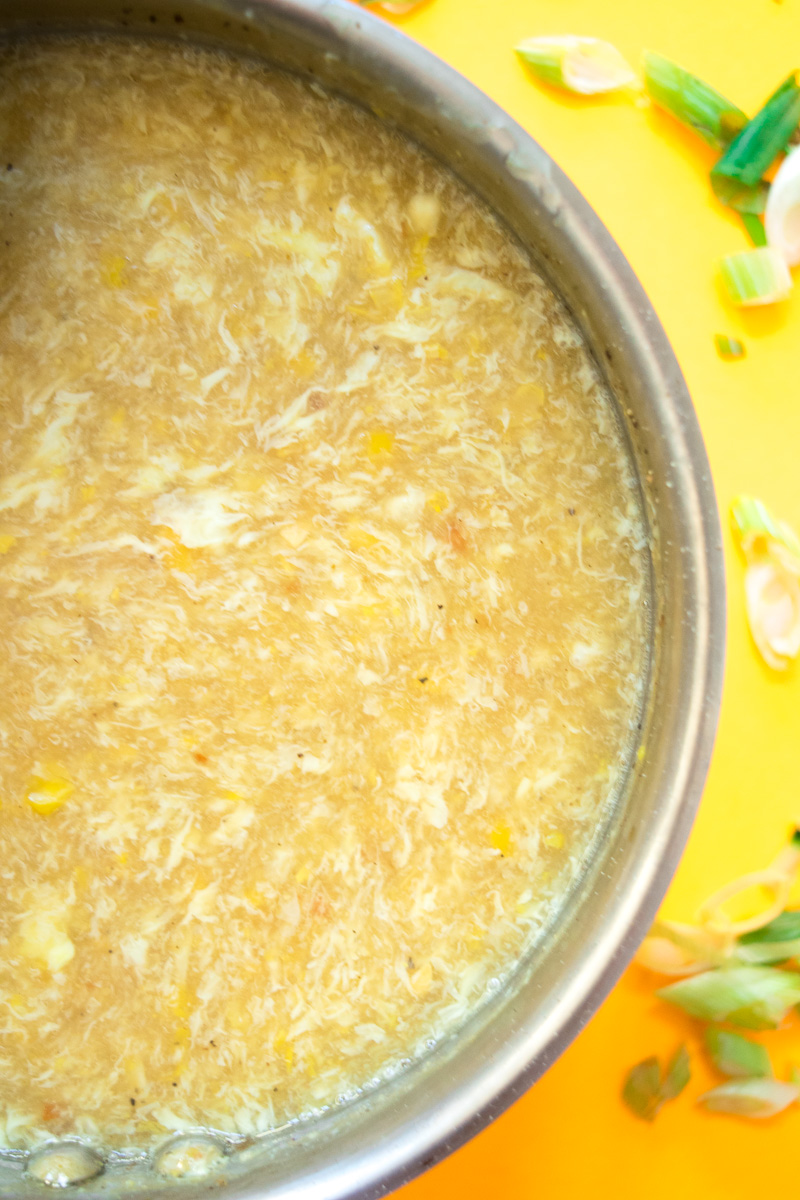 Unfortunately, I've yet to discover great Indo Chinese food in America so I resort to making it at home. I'm not an expert in this cuisine yet, I still have a lot to learn, but I do make a great sweet corn soup with chili vinegar.
This soup takes 20 minutes, one pot, and uses a handful of ingredients that you probably already have on hand. This soup is often made with shredded chicken, but I like mine without it. The chili vinegar at the end adds a lovely tang and hint of spice to the soup.
It's a very easy soup to make, even the husband made it once when I was dying from the flu. Of course, I was giving instructions from the living room as I was forbidden to enter the kitchen. I was super impressed with his soup making skills that day, it turned out better than mine. He still reminds of that day every chance he gets.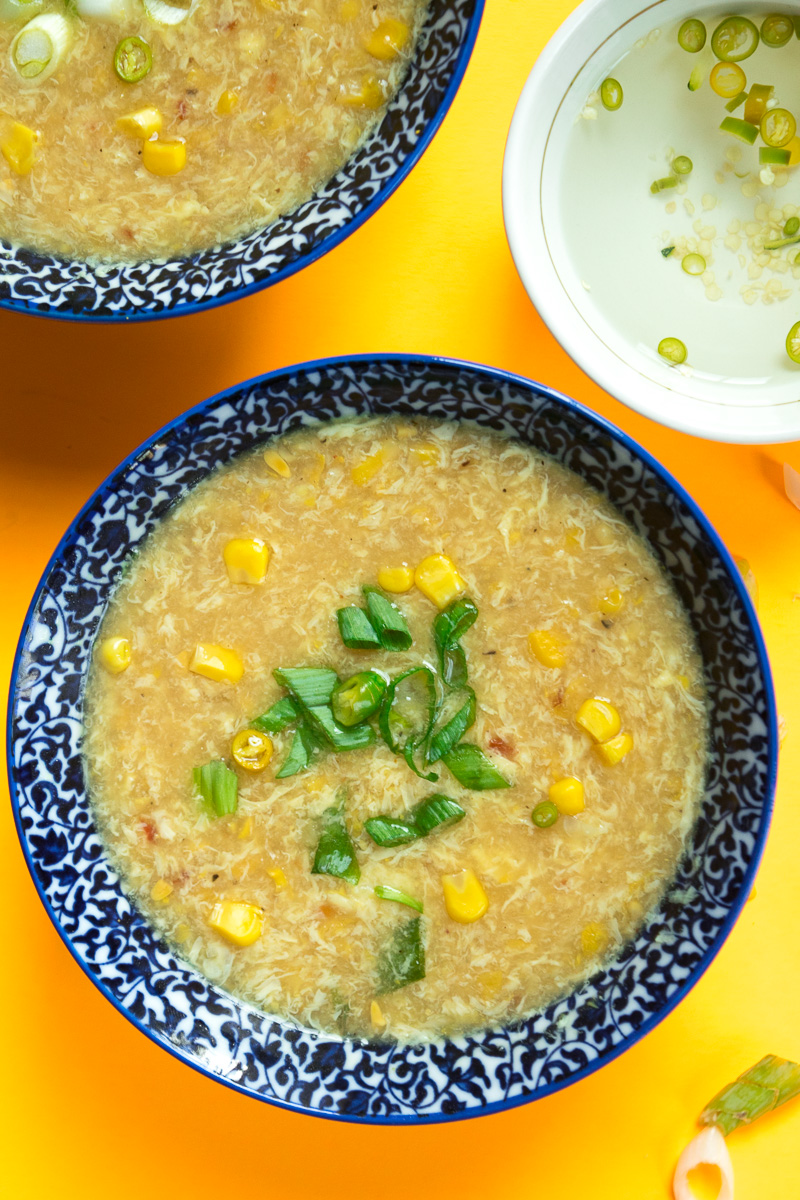 *Thanks for stopping by ! For more CookEatLaugh in your life, follow me on facebook, Instagram or Pinterest. Subscribe to receive new posts via email. And if you make this, I'd love to see! Tag me on Instagram @cookeatlaugh and #cookeatlaughblog.*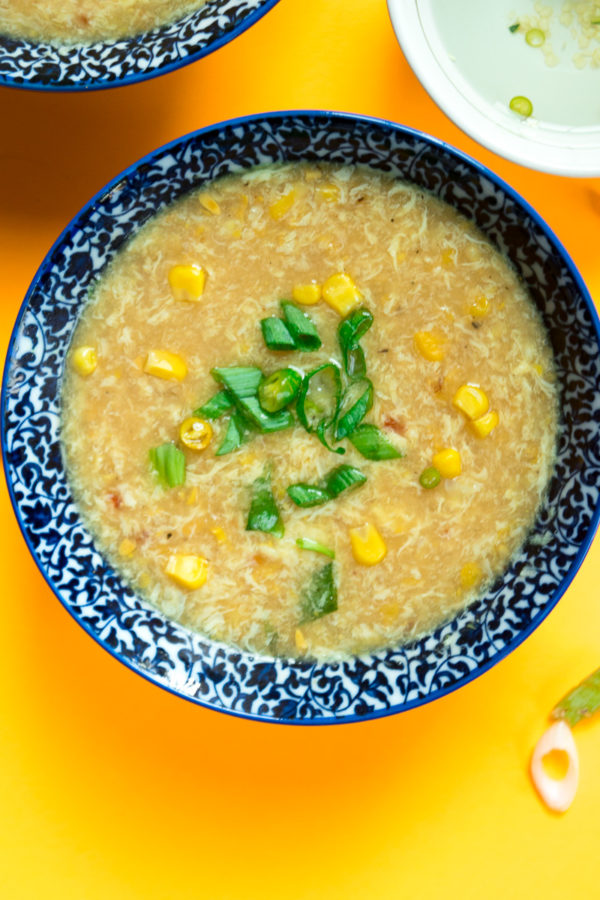 | | |
| --- | --- |
| | |
In a medium heavy pot add the can of creamed corn and whole corn kernels.

Add the broth to the pot and give it a good stir. Bring the soup to a boil on medium high heat.

Once the soup has come up to a boil, lower the heat and let it simmer for 5-7 minutes

In a small bowl add the vinegar and chilies. Stir well and keep aside.

Add the soy sauce and chili paste to the soup. Stir well and let it simmer for another 2 minutes.

Add the corn starch mixture to the soup, stir continuously for a minute till the soup has thickened on low to medium heat.

Slowly add the beaten egg mixture to the soup and continuously stir. Make sure the heat is on low while doing this. If the heat is too high the eggs will scramble instead of forming silky threads.

Season the soup with salt and pepper, give it a taste, adjust seasoning to your liking.

Turn the heat off, pour the soup into bowls garnish with green onions, season with a little more pepper, and stir in some chili vinegar.

Serve immediately and enjoy!
Notes: Traditionally white pepper is used in the soup, but I prefer black pepper.
If you like the soup to be thicker just add more corn starch.