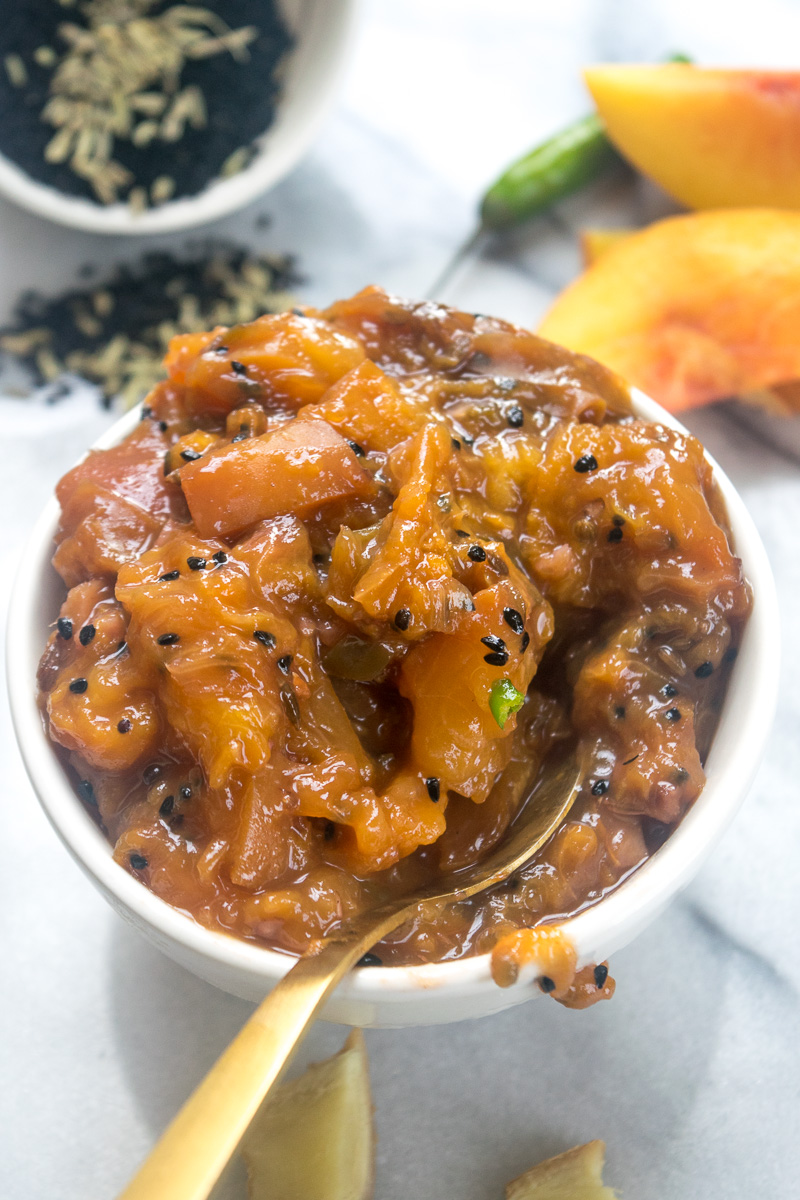 Summer is coming to an end, well at least in some parts of the country. Fall officially begins on September 22nd. In Northern Texas, we experience fall in mid-November. I am perfectly okay with that if it means I still get to enjoy the luscious and juicy summer peaches.
Nothing beats the varieties of fresh fruits and vegetables of summer. AHH, I love summer, please don't leave!!!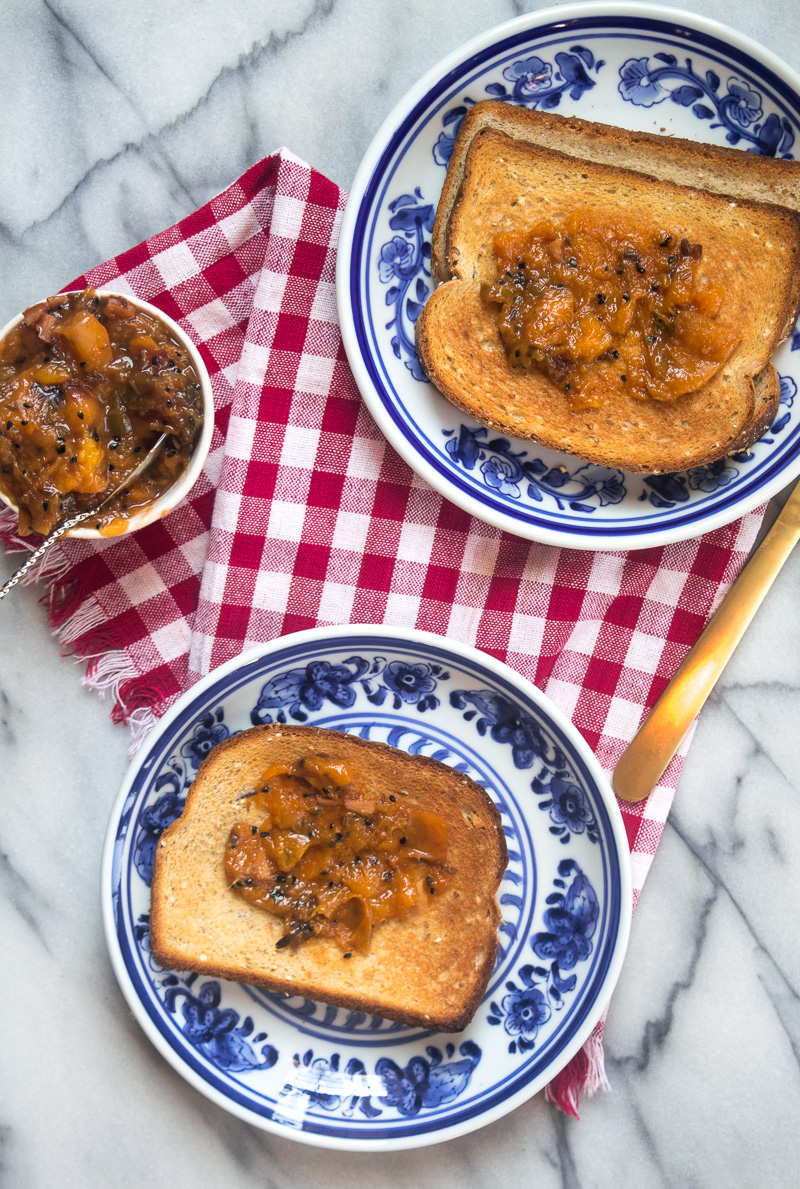 Peaches are one of my favorite summer fruits along with mangos. My preferred variety is yellow peaches. I find yellow peaches to be heartier, a bit tangy, and overall peachier in flavor than the ever-sweet white peaches. I love them so much that I want to preserve them so I can eat them all year long.
Here's the thing, I am not much of a preserver, pickler, or a canner. The process seems overwhelming so I've never attempted it. In my defense though, there are three reasons I can think of as to why:
I have never lived in a place with harsh winters so, for the most part, I've always had access to fresh produce.
We're professional eaters in this household so we never seem to have extra fruits or vegetables to preserve.
Preserving takes a whole lot of effort that doesn't seem worthwhile to me.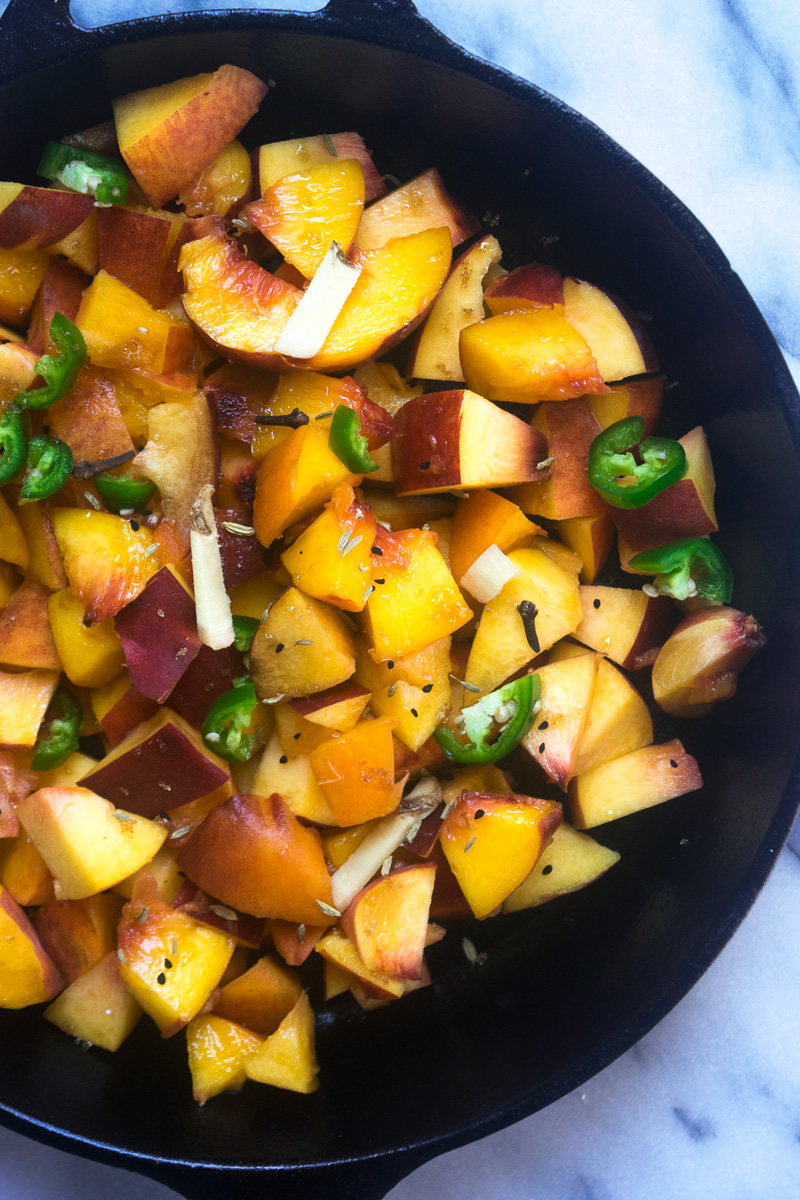 I'm sure I will try canning and preserving at some point in my life, but that time is not now. My lazy version of preserving my favorite peaches involves making my peach chutney. By just adding vinegar to my peach chutney, I've extended the shelf life by a few days. If you would like to take the extra step of putting the chutney in sterilized jars and sealing it, go ahead my friends. That will keep the chutney in the fridge for up to 6 months. I'm happy with just adding vinegar.
Chutneys are a condiment or sauce originating in India. They can be spicy, sweet, sour, or savory. In India, the type of chutneys varies from region to region. I grew up eating mango chutney, which was my inspiration behind creating this recipe.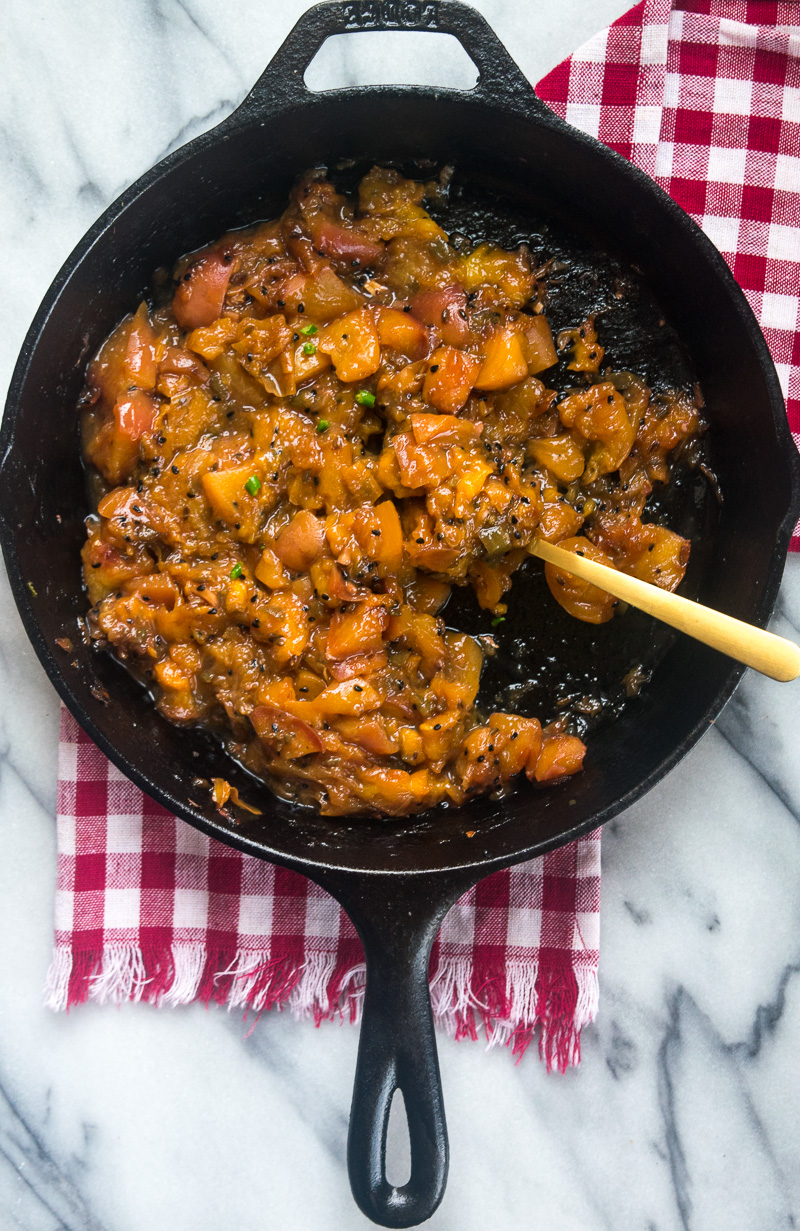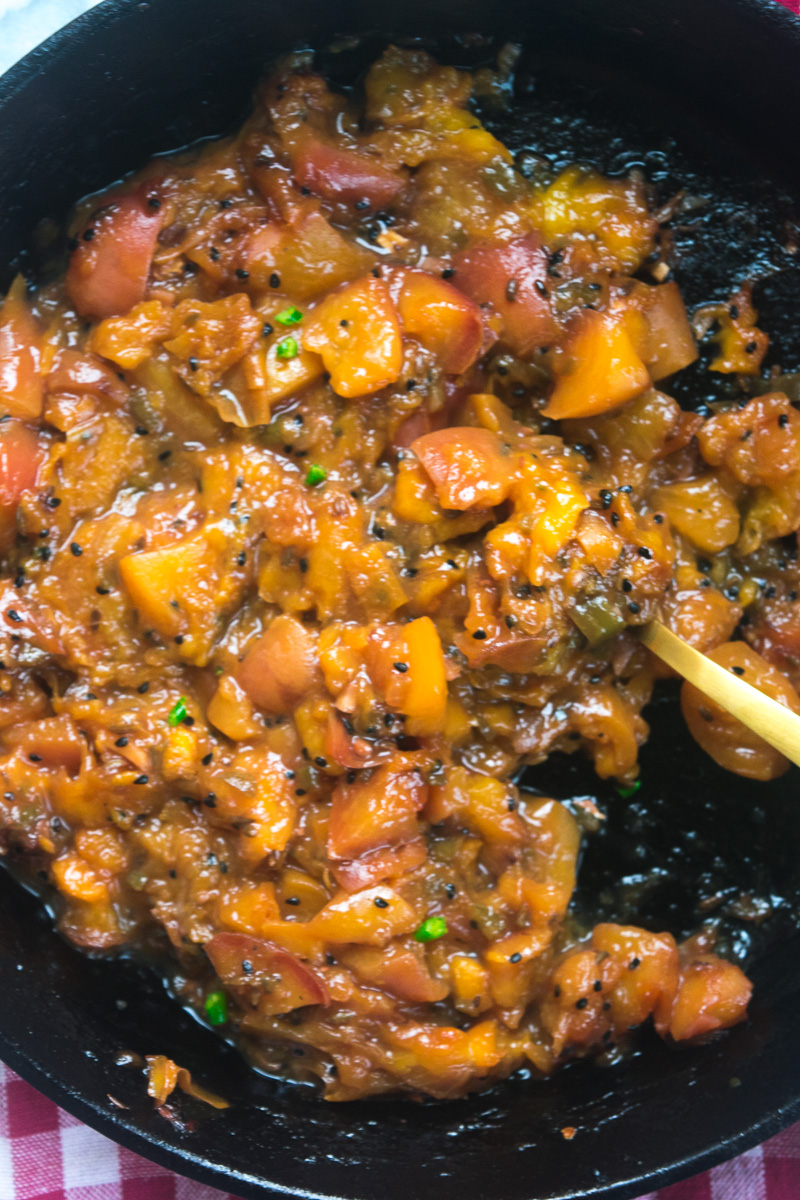 Foods that are savory, sweet, spicy, and sour are winners in my book. My peach chutney has a combination of all of these flavors. The sweetness comes from the brown sugar and peaches, the spicy kick from the jalapeño, the vinegar creates a lovely tang, and finally, spices such as nigella seeds, fennel, and cloves create the savory element.
My end of summer peach chutney is good on plain toast, serve it along with your cheese platter, or use it as a dipping sauce. Pretty much just slather it on anything your heart desires. It's also a great way to use up overripe peaches.
Enjoy friends!!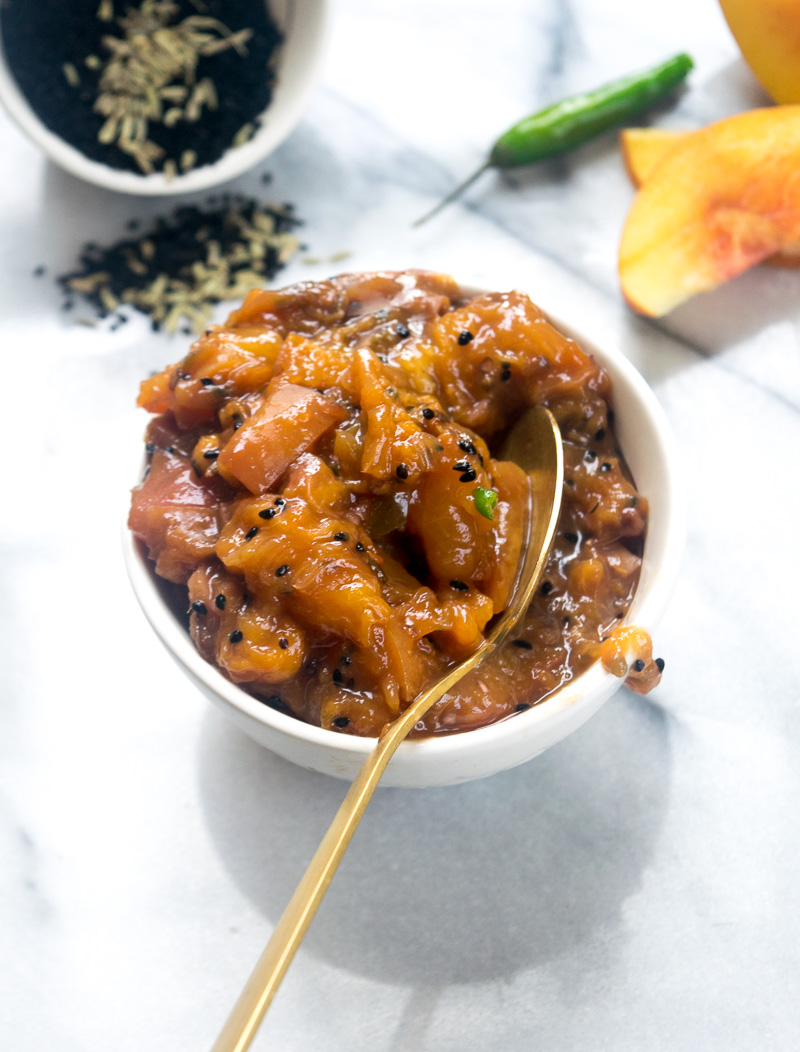 *Thanks for stopping by ! For more CookEatLaugh in your life, follow me on facebook, Instagram or Pinterest. Subscribe to receive new posts via email. And if you make this, I'd love to see! Tag me on Instagram @cookeatlaugh and #cookeatlaughblog.*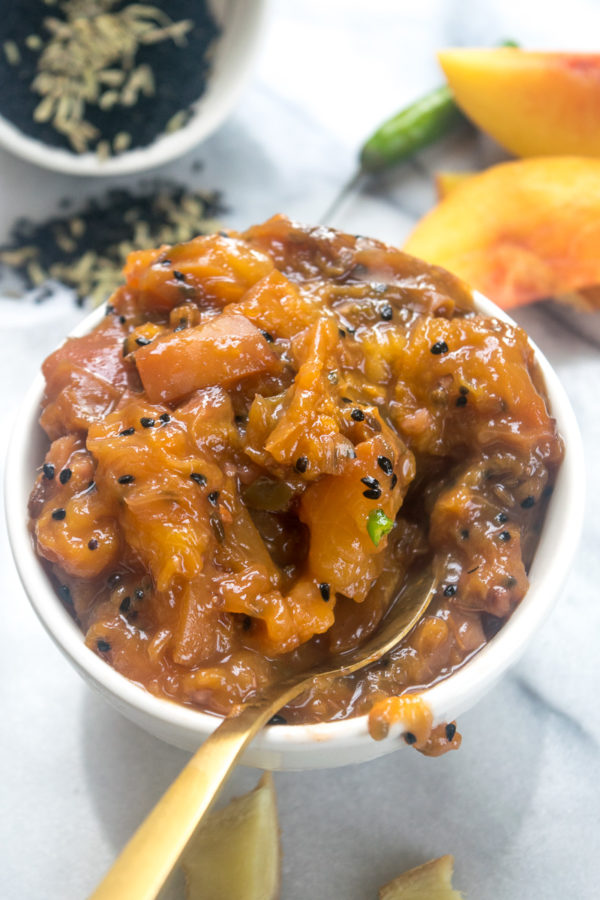 | | |
| --- | --- |
| | |
Heat a heavy bottom pan on medium high heat, add the oil and let it heat up. Add the nigella seeds, fennel seeds, and cloves to the pan. Roast the spices for 20 seconds till fragrant.

Add the chopped ginger and jalapeño to the pan. Fry for 30 seconds.

Add the peaches, brown sugar, salt, chili powder if using, and vinegar to the pan. Give the peaches a good stir, so that everything is well mixed.

Let the mixture come to a boil, and then lower the heat and let the peaches simmer.

Simmer on low for 30 minutes, stirring halfway through. Peaches will begin to soften, mash the peaches lightly with the back of a spoon.

After 30 minutes the chutney should have a thick syrupy consistency, if not cook for longer.

Taste the chutney and adjust to your liking. Add more chilies for more spiciness, add vinegar for more tartness, sugar for sweetness.
Notes: Remove the seeds from the jalapeño, if you can't handle too much spice.