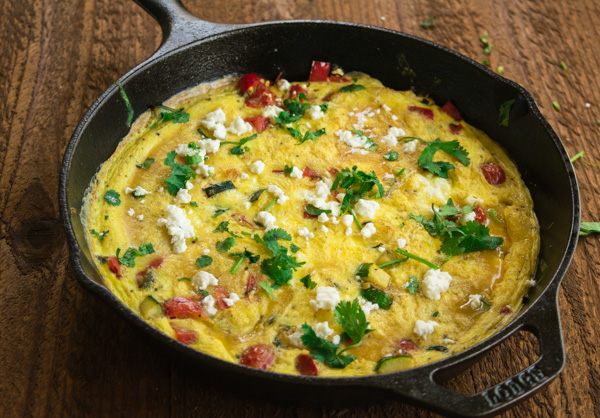 My husband loves eggs. Eggs could be served for breakfast, lunch, or dinner and it is not an issue. It is embarrassing to tell people how many cartons of eggs we go through in a week. A more economical thing for us to do would be to get some chickens. But not sure how our dog would feel about having chickens in her backyard and we would require a lot of chickens to keep up with our demand.
The husband is not too fond of vegetables. So, my challenge when cooking is how to feed him his daily dose of vegetables. I also want him to actually enjoy eating veggies. I love challenges in the kitchen because it forces you to get creative. That's exactly what I did, I got creative and came up with this frittata full of veggies. This frittata is delicious, but also healthy for you.
Eggs are nutritious, delicious, and so flexible. Most people over cook their eggs and don't even know it. Eggs are super creamy and soft if prepared correctly.Overcooked eggs are rubbery and dry.I am always a little hesitant to order eggs at restaurants, more often than not they overcooked and under-seasoned. I stick to cooking eggs at home 99.5% of the time. In my soft scrambled eggs post, I share some valuable tips on how to avoid over cooking eggs.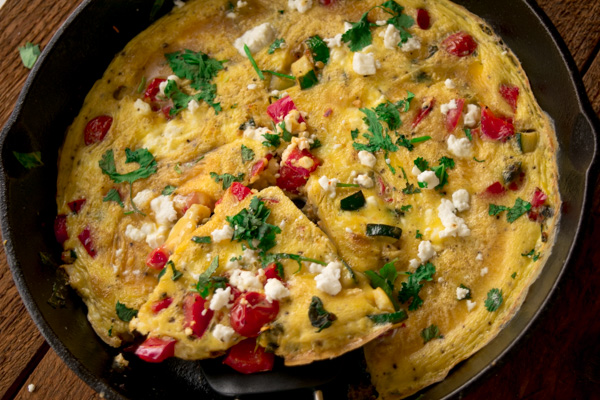 Frittata is an open-faced omelet. Frittata are great for many reasons, they are made in one pan, they are filling, and taste delicious even when they are cold. You can get really creative with frittatas using what you have in the fridge. I make my vegetable frittata with zucchini, bell peppers, and some spinach, but you can swap that for veggies you have or like. This recipe is delicious as is, but feel free to use this as a guideline to personalize it to your taste.This recipe is delicious as is, but feel free to use this as a guideline to personalize it to your taste.
*Thank you for reading! If you enjoy my recipes, please subscribe to my free newsletter, so you never miss a recipe. Please follow me on facebook, Instagram or Pinterest. . If you make this recipe, I would love to know! Tag me on  Instagram@cookeatlaugh and #cookeatlaughblog.* 

| | |
| --- | --- |
| | |
Pre-heat oven to 400 F and arrange the rack in the middle of the oven

Heat a 10 inch cast iron skillet on medium high heat, then add the oil and put in the zucchini.

Cook for 2-3 minutes and then add bell pepper and spinach. Sauté till all vegetables are cooked through.

Add the chili flakes, Italian seasoning, and salt & pepper to the vegetables. Give it a good stir, taste the veggies for salt and add more seasoning if you like.

Lower the heat, Spread the veggies into an even layer and sprinkle the feta cheese on top.

Whisk the eggs into a bowl add a pinch of salt and a bit of pepper. Then pour the eggs on top of the vegetables and move the pan around to make sure the egg is covering all the veggies.

Cook eggs on stove for about 30 seconds to a minute just till the edges of pan are set. Then put the pan in the oven and cook till eggs are set 8-10 minutes. If you cook it in a toaster oven then it will take about 5 minutes.

Let the eggs cool in the pan for a few minutes and serve for breakfast, lunch, or dinner.