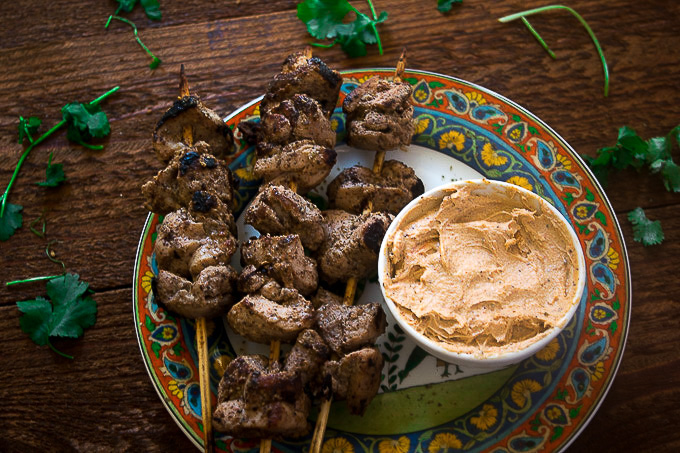 I live by simple rules in life, one of them is that weeknight meals should be hassle free and delicious. I love cooking, but I don't want to spend hours in the kitchen especially on weeknights. If I am home alone then I usually don't even bother cooking, I simply just eat leftovers. But when the husband is home I stick to making simple, nutritious and flavor packed meals. One of the husband's favorite proteins to consume is chicken (especially chicken thighs), he could eat chicken every single day and not get bored. For this reason, I am constantly coming up with new ways to cook it, like these za'atar chicken skewers.
There are so many different spices in the world and I love exploring all of them. My first encounter with za'atar was when I went to the Middle Eastern market with my dad and came across this za'atar spiced hummus. I still to this day remember literally devouring that hummus because I couldn't get enough of this herbalicious and slightly tangy spice blend. Za'atar is a Middle Eastern spice blend, it usually consists of wild thyme, sumac, salt and sesame seeds. The blends vary from country to country, my personal favorite is Lebanese za'atar, but you can use whichever. You can add za'atar to pretty much anything, it adds a lot of flavor. It is definitely a staple spice for me along with sumac.

My za'atar chicken skewers are extremely juicy and tender. I marinate the chicken overnight with some yogurt, za'atar, and a few other spices. The lactic acid in the yogurt helps to tenderize the chicken and keeps the chicken moist. I prefer using chicken thighs because they have a bit of fat on them making them much more flavorful than chicken breast. Also, a little fat never hurt anyone. I prefer marinating meats overnight because it gives them time to soak up the flavor, but when I am stressed on time I usually will leave it for 1-2 hours.
The za'atar chicken skewers on their own are very yummy, but the spicy tahini sauce makes this dish more-ish. Tahini is ground up toasted sesame seeds. Like za'atar, it is a staple in middle-eastern and Mediterranean cooking. Most people use tahini just for making hummus, but it can be used in so many other ways. The spicy tahini sauce is a great accompaniment to za'atar chicken skewers and if you like you could also eat it as a dip.
If you fancy something different for dinner, this dish is incredible and packed full of flavor.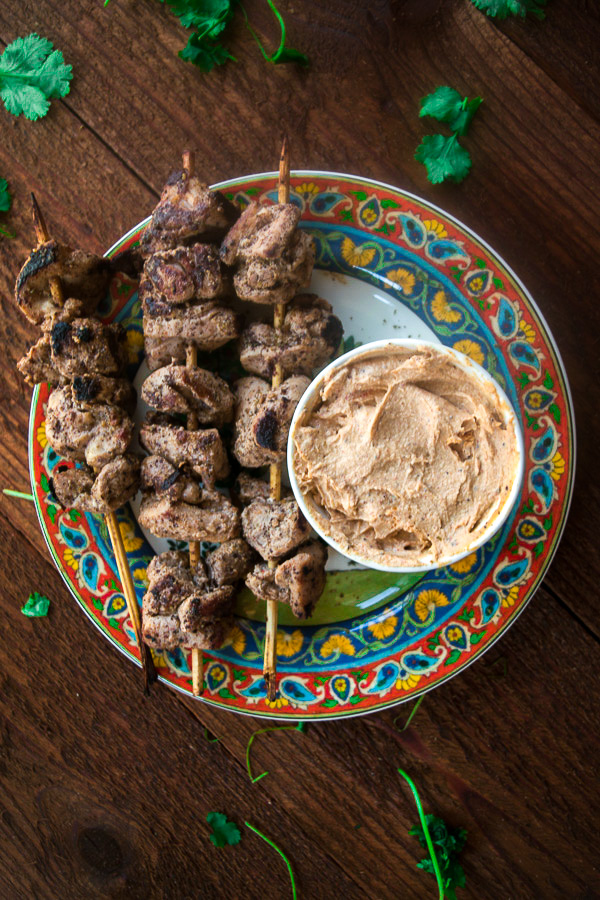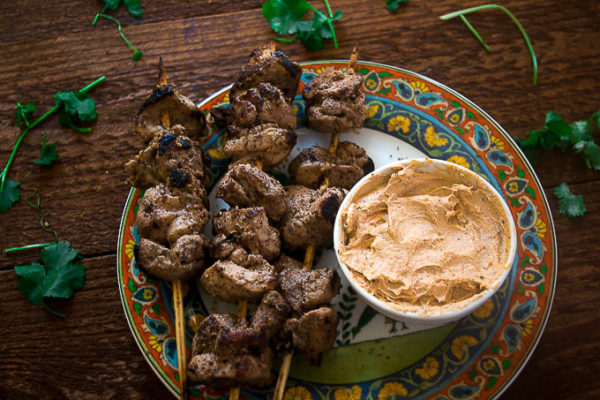 | | |
| --- | --- |
| | |
In a bowl combine the Greek Yogurt with za'atar, sumac, garlic, chili powder, and a good pinch of salt and pepper.

Add the chicken thighs and give it a good mix. Cover with plastic wrap and Refrigerate for at least 2 hours or if you can up to 24 hours.

In a small bowl combine the tahini paste, Greek yogurt, and lemon juice. Give the mixture a good stir, if it is too thick then add a bit more yogurt to thin it out. Mix in the sumac, chili powder, and salt to taste. keep aside

Thread the marinated chicken on to the wooden skewers and set aside on a plate. Heat up a stove top grill pan and brush it with some vegetable oil. Grill the chicken for 10 minutes, make sure to flip the chicken (if you find that the chicken is sticking it usually means it's not done yet and let it cook for a few more minutes till it releases naturally).

Let the chicken rest for a few minutes, squeeze some lemon on top if you like and serve with spicy tahini sauce.