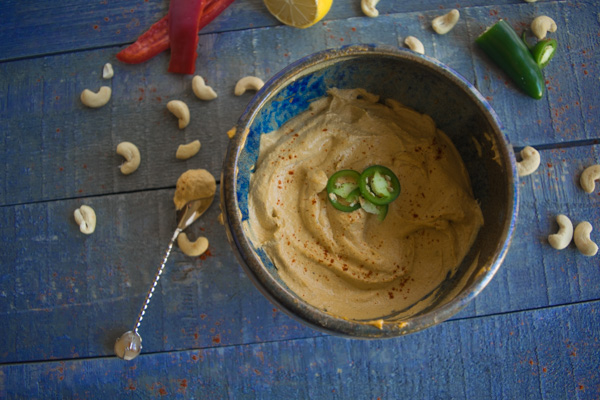 I have been on a cashew craze lately. I really can't get enough of them. I'm not quite sure what sparked my love for them, but my current obsession is truly nutty. The plus point of my addiction is that cashews are quite healthy for you. They are rich in vitamins such as E, K, B6, and also minerals. Apparently, they also help you lose weight but don't quote me on that.
Cashews have a buttery, slightly sweet, and salty taste. In Indian cooking, raw cashews are ground up into a paste that forms the base for sauces such as korma. I often use ground up cashew paste (cashew cream) as a substitute for recipes that call for cream such as my one pan meatballs with cashew cream sauce. Ground cashews are rich and perfectly creamy.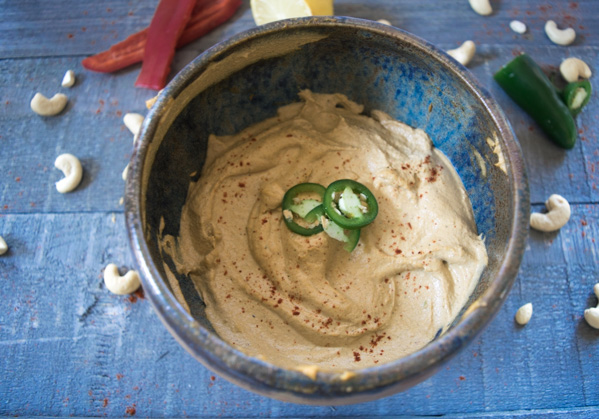 My inspiration for this killer three pepper cashew dip sparked when the husband brought home some spicy pepper dip. Store bought dips usually don't hit the mark for me, but I was quite pleased with this one. The pepper dip was well seasoned, nicely spiced, and had a delightfully creamy texture. This dip definitely needed to be recreated at home.
Since cashews have a creamy buttery texture, I used it as a base in my experiments. The spices took me a few trials to perfect. Once I nailed it, I immediately called the husband saying "wait till you try this dip, you'll be speechless!". When he tried the cashew dip, no words were uttered from his mouth. I took that as a good sign.

Cashews are soaked in warm water and then blended into a smooth paste along with fire roasted red pepper, poblano pepper, and for a little extra kick, serrano pepper. Roasting the peppers over an open fire is crucial in achieving that smoky flavor. The addition of few other spices takes this cashew dip from average to a killer one.
Don't let the word killer scare you if you're not used to spices. This dip is spicy but you can completely adjust it to your taste. I don't remove the seeds from the poblano or the serrano pepper because I love the spicy kick, but I recommend that you do remove the seeds and add fewer chilies if you don't enjoy too much spice.
You can make this cashew dip in about 30 minutes or less, store it in the fridge, and put it on everything. It's seriously delicious to eat with toast, use it as a sandwich spread, or with your favorite crackers. Go nuts!!

| | |
| --- | --- |
| | |
Soak raw cashews in very hot water for about 30 minutes.

Roast poblano and red pepper over gas stove till the outside skin of the peppers are completely charred (Black). Take the charred peppers and put it in a bowl and cover with plastic wrap to sweat it out. Remove outer skin & seeds of the red pepper (remove seeds from poblano &serrano chili if you don't want it as spicy).

Add soaked, drained cashews and roasted poblano and red pepper to a blender along with serrano chili, tahini, garlic clove, lemon juice, olive oil, cumin powder, chili powder and salt to taste.

Blend to a creamy smooth paste. Taste and adjust seasoning as needed, add more lemon juice for more brightness, add additional serrano chili for a spicier kick. Adjust to your liking.

Serve with pita chips, veggie platter, or use it as a spread for sandwiches. It will store in the fridge in an airtight container for up to a week.