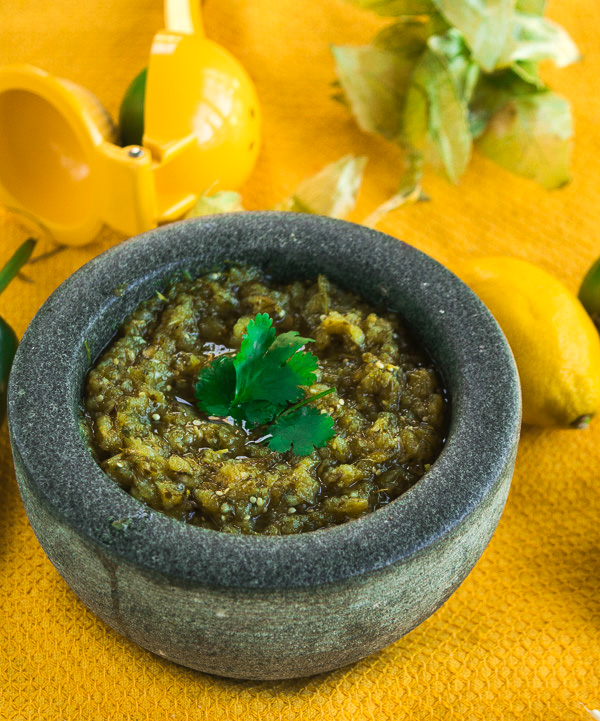 Making salsas or sauces at home from scratch is liberating, well at least for me it is. You can adjust the amount salt, spices, and most importantly you know exactly what is in it. No preservatives, no added sugar to enhance the taste, and no other weird ingredients that no one can pronounce. Tomatillo salsa is my all-time favorite salsa to make, the spicier it is the better.
When I was living in California it was not common to find tomatillos in regular grocery stores. I would have to hunt for them at ethnic stores. In Texas, tomatillos can be found everywhere, which is very exciting for me. I started making salsa Verde at home a few years back because the ones at the store were simply disappointing. Store bought salsas are most of the time just tasteless and blah.
Tomatillos almost look like green tomatoes, except they are covered in a paper like husk. They actually are more closely related to gooseberry than tomatoes. Tomatillos can be very sour, but at times they can be mild and sweet. They originate from Mexico and are a staple in Mexican cuisine. Raw or cooked they add a lovely bright citrus flavor to sauces and many other dishes.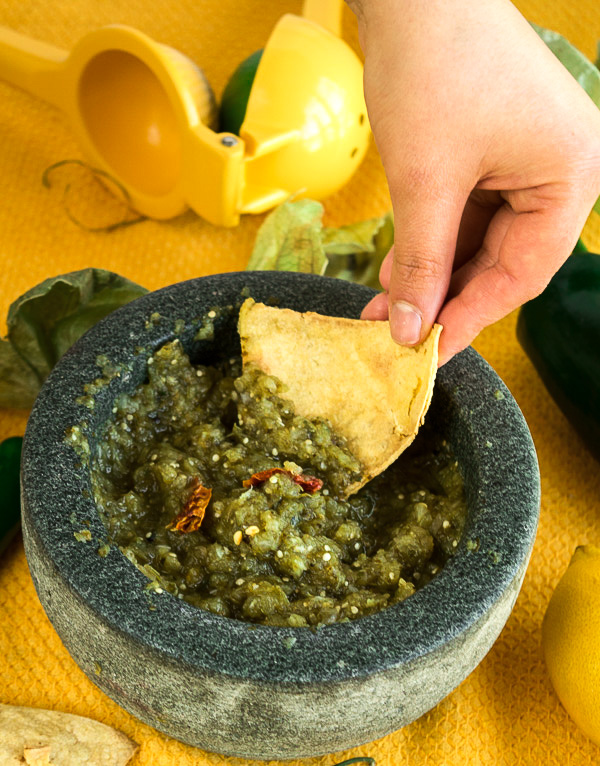 There is nothing I love more than opening my fridge and seeing Homemade Dips and salsas. First, it makes it convenient for when you have unexpected guest stop by, just lay out some chips and salsa. Second, if you are a snacker like me but still like to be healthy, I often swap the chips for carrot chips and dip it in salsa.
One of the many reasons I love spicy tomatillo salsa is because it is seriously super easy to make and you can adjust it to your liking. This recipe is extremely flexible, if you can't handle too much spice then just add fewer chilies. I sometimes love a creamier tomatillo salsa, so I will add an avocado. Each time I make it I always seem to change it up, so I encourage you to do the same. I usually will make a huge batch of it and use it to as an enchilada sauce or put in on my eggs. I guarantee it is delicious, fresh, and much better than those salty store-bought versions.

| | |
| --- | --- |
| | |
Remove husk of the tomatillos and wash them.

Add tomatillos and chilies to a baking sheet and broil them till they are blistered & soft about 10-12 minutes. Keep checking on them & flipping it around.

Add the roasted chilies and tomatillos along with the juices to the blender. If you prefer the salsa to be less spicy then remove the seeds. Add the rest of the remaining ingredients to the blender. Blend to a coarse puree or smooth depending on your preference.

Taste for seasoning and adjust accordingly.

Pour salsa into a bowl and serve with chips.