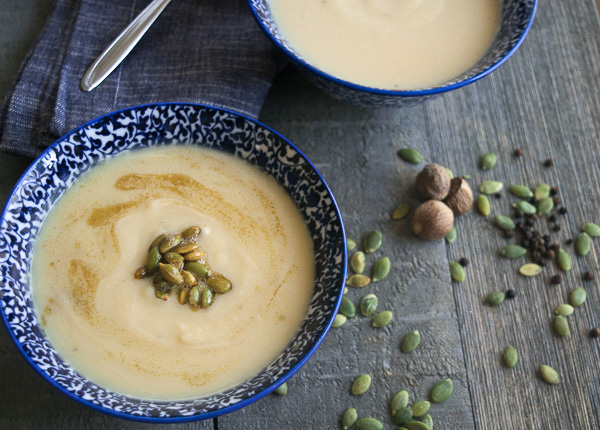 Let's talk about Cauliflower and why we all should include it in our diet. First of all, it's packed full of nutrients such as vitamin A and K and it's full of fiber. A great thing for me because I always forget to take my vitamins. Also, it is an extremely versatile vegetable to cook with and it has the ability to take on any flavor you introduce to it. Another cool thing about cauliflower is that it naturally has pectin in it, which means when you blend it up it turns out to be really creamy. That is a great thing when making soups because you don't need to add additional cream or flour to achieve a creamy textured cauliflower soup.
I love creamy soups, but hate the guilt I feel after eating all that cream… well bye, bye guilt I can eat heaps of creamy luscious cauliflower soup GUILT FREE….Yay!!!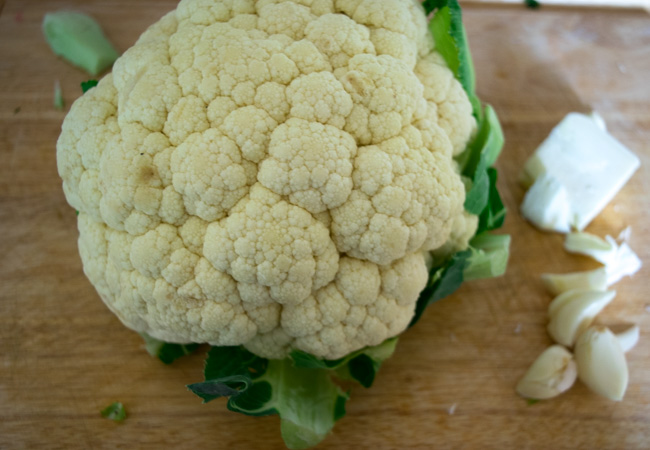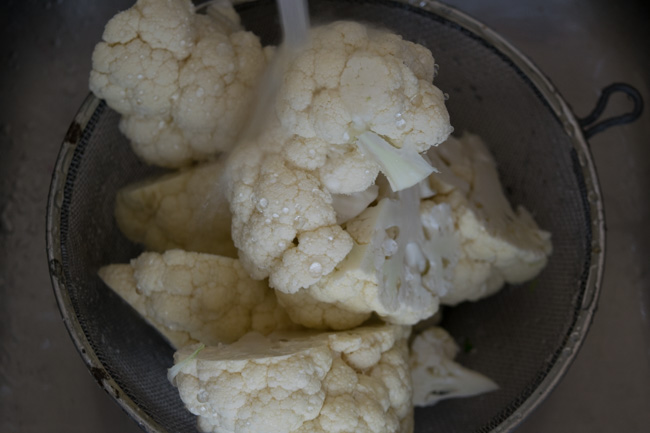 I am really big on textures when it comes to food… Are any of you like that? Texture and flavor go hand in hand for me. If something tastes delicious but the texture is off… I will not eat it. So for texture purposes when I am making soup I always add some croutons…I love the crunch factor. Let's face it though croutons are pretty standard and sometimes you want something extra. Pumpkin seeds are that something extra. I toasted up some seeds with butter and added it to my luscious cauliflower soup. The crunchy salty buttery pumpkin seeds are absolutely delicious paired with this soup…Gives that perfect crunch factor.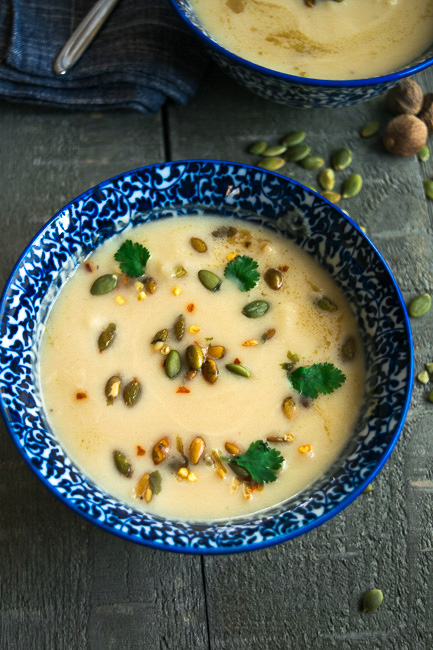 Please make this healthy cauliflower soup with toasted pumpkin, it is worth it. You can make it under 30 minutes and it requires just a handful of ingredients that you probably already have in the fridge. A bonus is that if you like me made a resolution this year to eat healthier and eat more veggies this fits that criteria.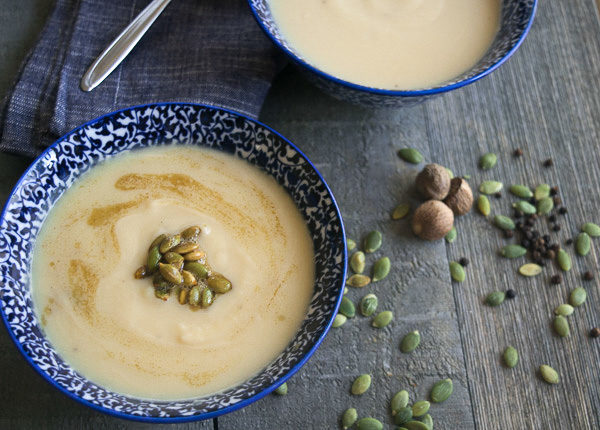 | | |
| --- | --- |
| | |
In a stock pot melt 2 tablespoons of butter on medium low heat and then add chopped garlic.

Saute the garlic for about 30 seconds and then add the cauliflower saute for 2 minutes.

Add the vegetable stock, turn the heat up to high and let stock come up to a boil. Lower the heat once the stock is come to a boil and put the lid on and let it simmer for 5-6 minutes or till the cauliflower is tender.

Once the cauliflower is fully cooked, add it to the blender along with the coup and blend till it is creamy and smooth.

Pour the soup back into the pot and add the nutmeg and salt & pepper to taste. Let the soup simmer on low for 2- 3 minutes.

Heat up a small pan on medium high heat, add the remaining butter and let it heat up.

Add the pumpkin seeds to the pan and toast them for 1-2 minutes.

Serve the soup in bowls, add the toasted pumpkin seeds on top and sprinkle with a pinch of chili flakes if you like. Enjoy

Note: If the soup is too thick just add a little more broth.If you would like to make this vegan just swap the butter for olive oil.