I am eternally grateful to the person who came up with the brilliant idea for cauliflower rice.
I don't have what you call the skinny gene, so literally, I have to be watchful of everything I eat. If I am not, it's very easy for me to start expanding. Thank you for the genetics Mom and Dad. I still love you!
That being said, I can't really afford to be eating rice all the time, even though I would love to. The other thing is my husband despises rice. He is an anomaly. He doesn't like coffee, dislikes rice, and burns everything as soon as it enters his body. Sometimes, I feel the universe is playing a cruel joke on me.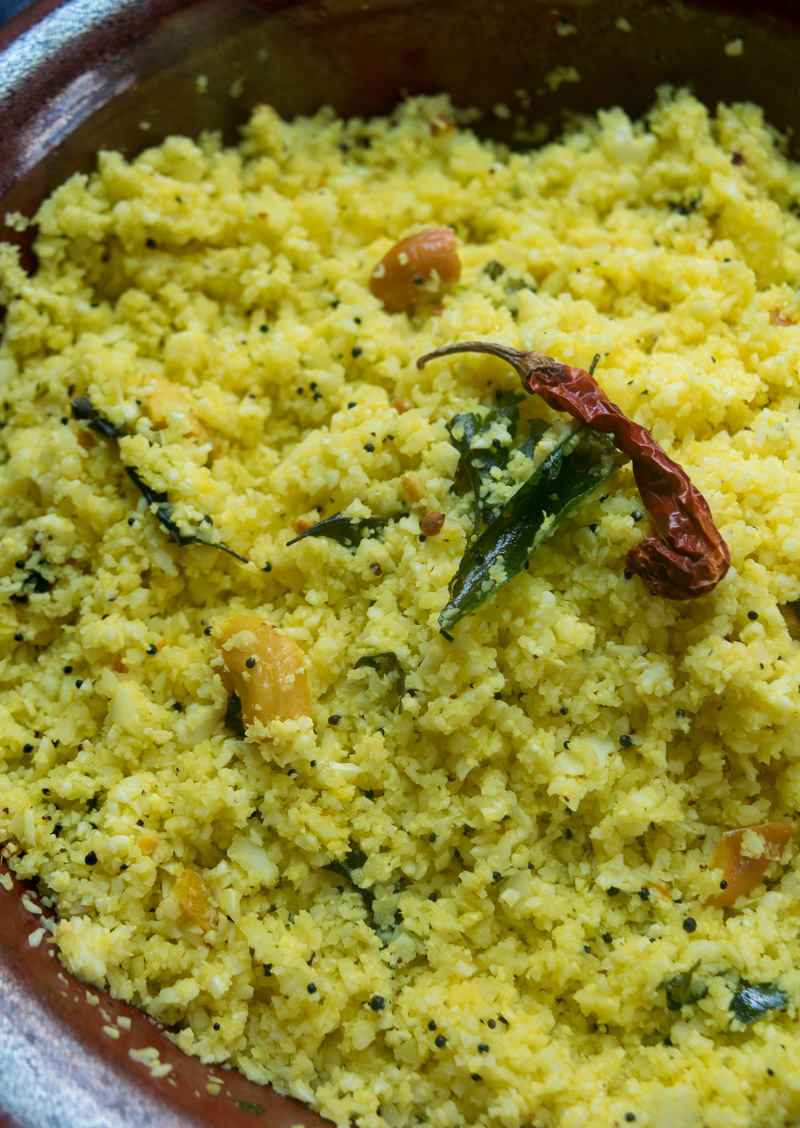 For all the reasons above I don't find myself making rice dishes that often. I miss rice!
Well, it's all okay because I have cauliflower rice and you know what, it is not only delicious and low carb, but it is also a great way to intake your daily vegetables. Husband being a fan of it is just an added bonus.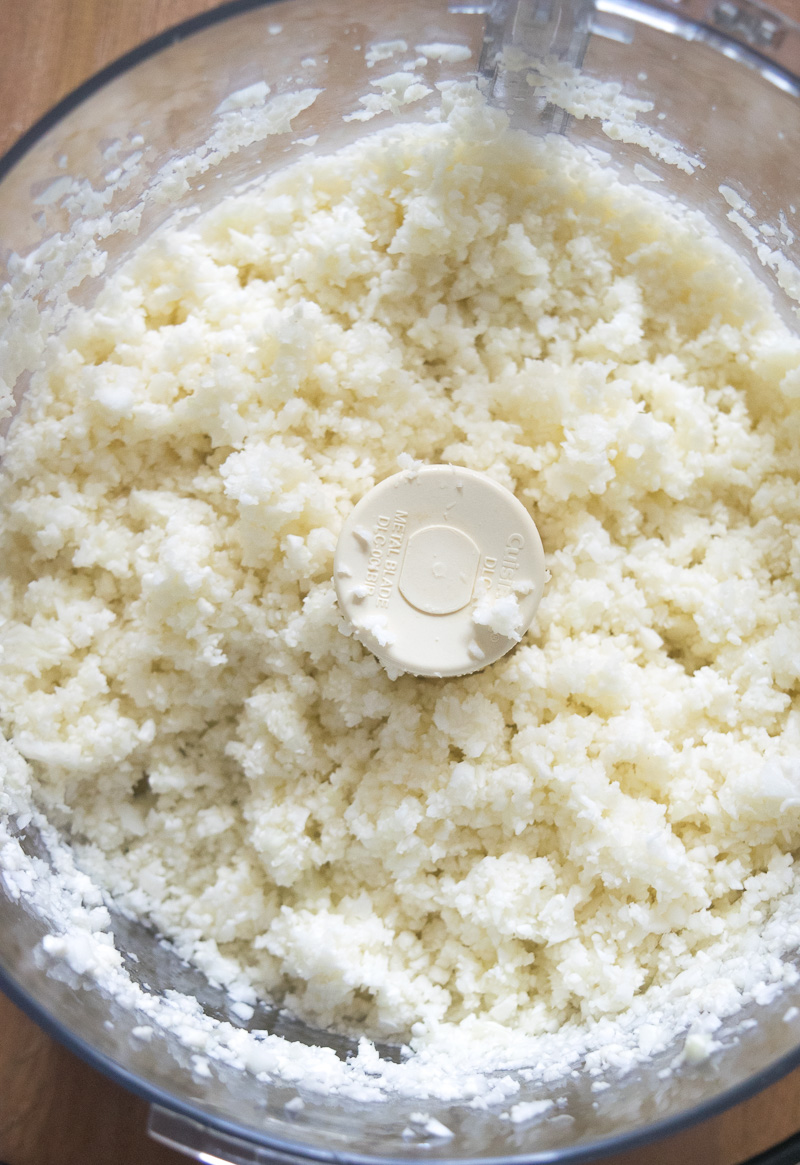 A few weeks back, I went out to brunch and while exploring the menu I saw that they had cauliflower rice. The description for the dish sounded very familiar to something I've eaten before called lemon rice.
Lemon rice is a popular dish from South India. Think of it as Indian fried rice. Plain day old rice is stir fried with spices such as turmeric, asafetida, curry leaves, mustard seeds, and dry red chilies. The lemon rice is then finished off with some freshly squeezed lemon juice. It's a very simple dish that's packed full of flavor.
I've had traditional lemon rice plenty of times before, but never one made with cauliflower rice. I ordered it along with my avocado toast and eggs. The waiter must have thought that I was eating for two, but who cares, I needed to taste this South Indian version of cauliflower rice.
My expectations were low because this restaurant didn't specialize in Indian cuisine. I wasn't quite sure if they would get the spices right, but let me tell you, the South Indian cauliflower rice did not disappoint. I made the husband try it and even he gave it a thumbs up knowing that it was a vegetable. The cauliflower rice adds more body and texture to the dish.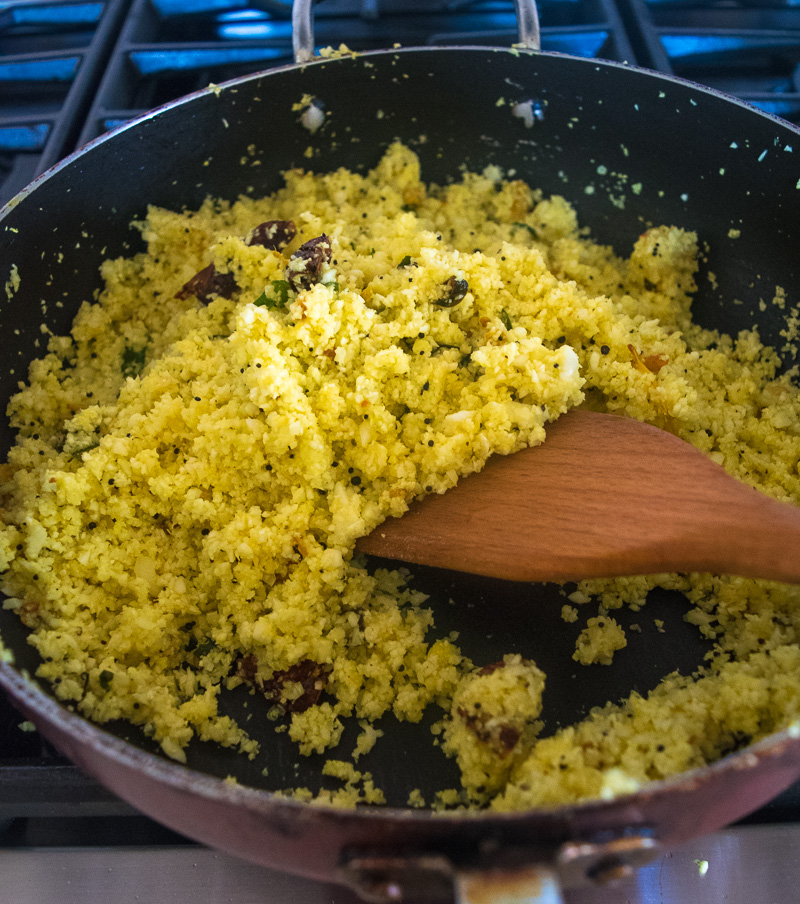 This recipe needed to be re-created at home A.S.A.P; I was so inspired. I experimented a few times with the dish and it was only average. Something was definitely missing and I couldn't quite nail it. Naturally, I went back to the restaurant and ordered it again along with others dishes. Let's be honest, it was just an excuse to try some more food, who knows another inspiring dish could have been awaiting me.
So here I am again with this dish, it is just as delicious as last time. A few bites into eating it, I realized what I was missing: ginger. Specifically, thin slivers of ginger mixed throughout the cauliflower rice.
I went back to my science lab (the kitchen) to continue on with my experimentation. The husband, at this point, was like "enough with the cauliflower rice already!" He is CookEatLaugh's official taste tester.
This time, I nailed it and it hit all the right notes. I promise you, with this dish, you will not miss the rice.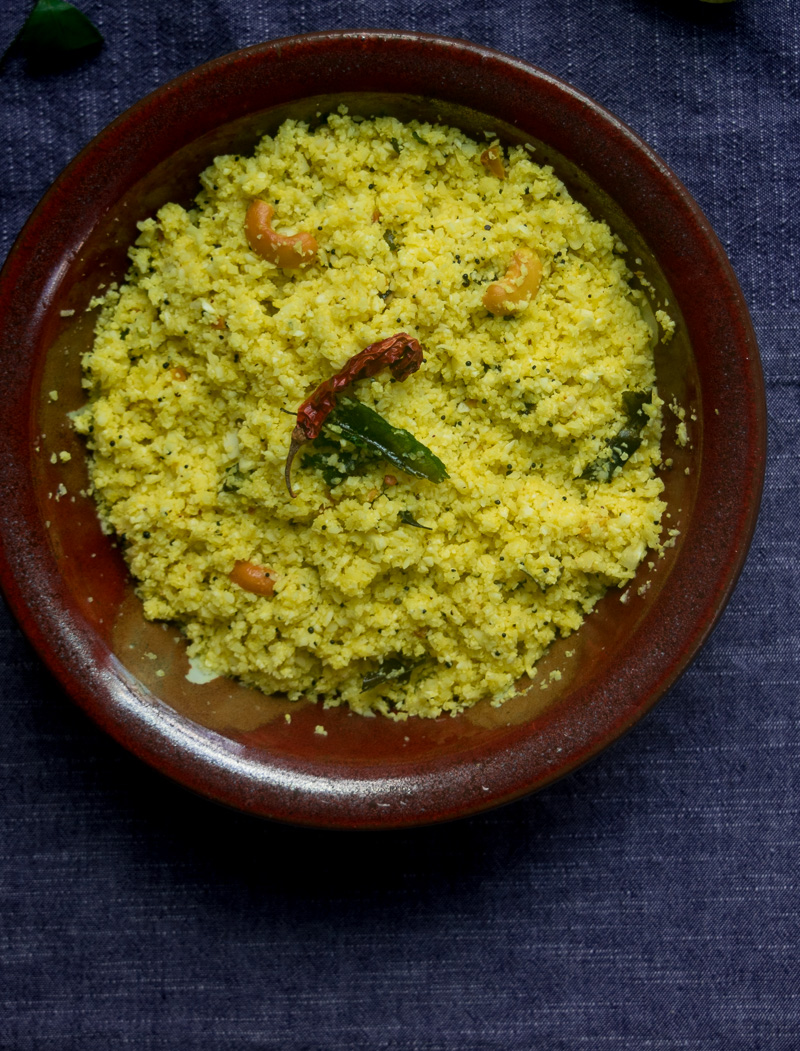 This 10-minute lemon cauliflower rice is a super quick weeknight dinner, lunch, or even a side dish. It's also super healthy, vegetarian, and vegan.
Recently for dinner, I served a side of lemon cauliflower rice with chicken curry and it was an instant hit. I hope you try this recipe at home and I am confident that you will make it often.
*Thanks for stopping by ! For more CookEatLaugh in your life, follow me on facebook, Instagram or Pinterest. Subscribe to receive new posts via email. And if you make this, I'd love to see! Tag me on Instagram @cookeatlaugh and #cookeatlaughblog.*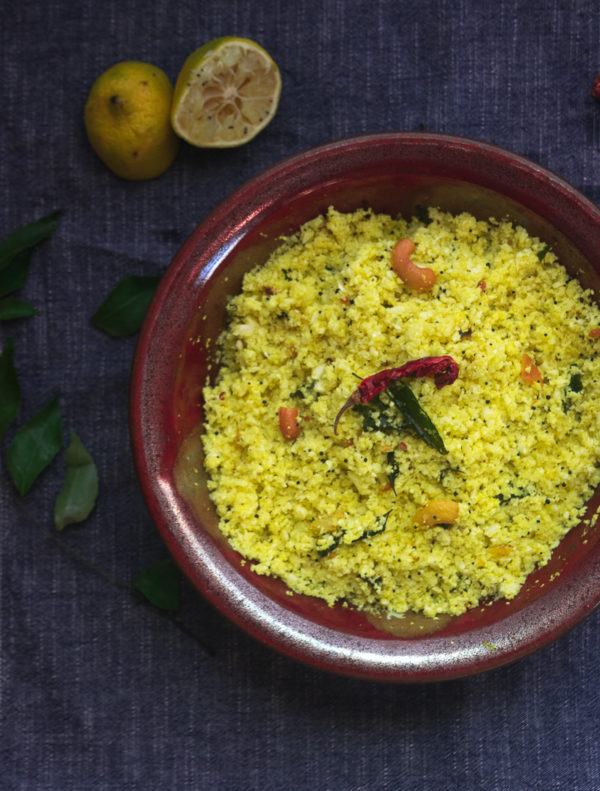 | | |
| --- | --- |
| | |
Rice the cauliflower by either grating it or pulsing it in a food processor.

If pulsing in the food processor, make sure not to add all the florets at once, do it in batches. Also, do not over process the florets otherwise it will turn into mush which we do not want.

Have the rest of the ingredients ready by the stove. Once the cooking starts the process is quick and we want to avoid burning the spices.

Heat a heavy bottom sauce pan over medium high heat, then add the oil.

Add the mustard seeds to the pan and let them splutter for a few seconds.

Add the curry leaves, green and red chilies, and fry for a few seconds.

Add the turmeric and asafetida fry for 10 seconds.

Then add the ginger and nuts fry for a minute or till the nuts are toasted.

Add the cauliflower rice and stir thoroughly till the rice is coated with all the spices.

Season to taste and continuously stir the cauliflower rice. Cook the rice for about 2-3 minutes. The cauliflower rice should be tender but not mushy.

Turn the heat off and stir in the lemon.
Note: It is important to continuously keep stirring the spices, if the pan is getting too hot lower the heat.