---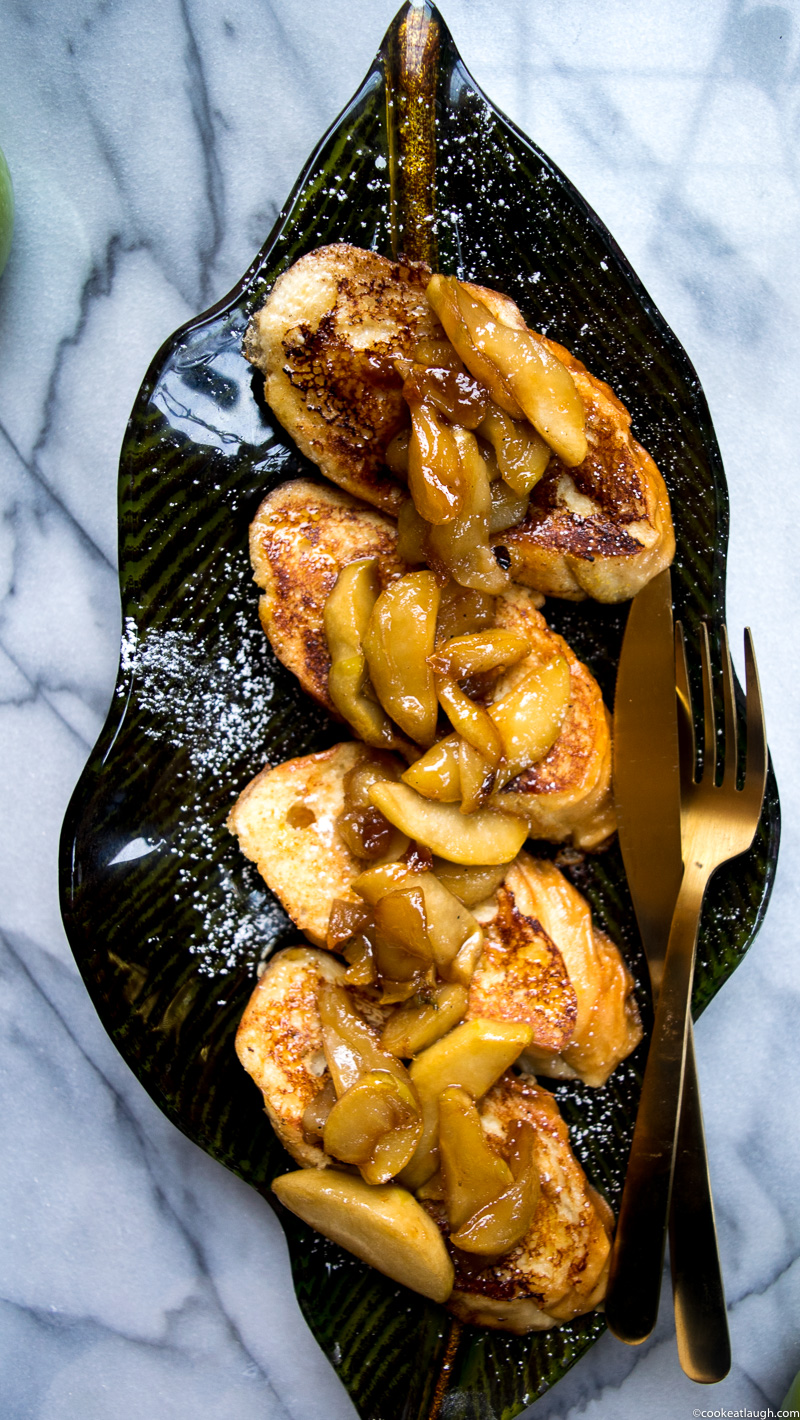 So far, I've shared quite a few savory egg recipes that are perfect for breakfast and brunch such as the frittata, scrambled eggs, and eggs in purgatory, but I have yet to share any sweet breakfast items. Since apple season is in full bloom, I thought this would be the perfect time to share my recipe for a delicious caramelized apple French toast.
As I mentioned in a prior post, I absolutely adore weekend brunches. My brunch dishes usually tend to be more savory than sweet, but once in a while, I get in the mood to make a rich and decadent breakfast that could easily be mistaken for dessert. Eating dessert for breakfast like this Caramelized apple French toast feels rebellious, but that's okay, it's good to break the rules once in a while.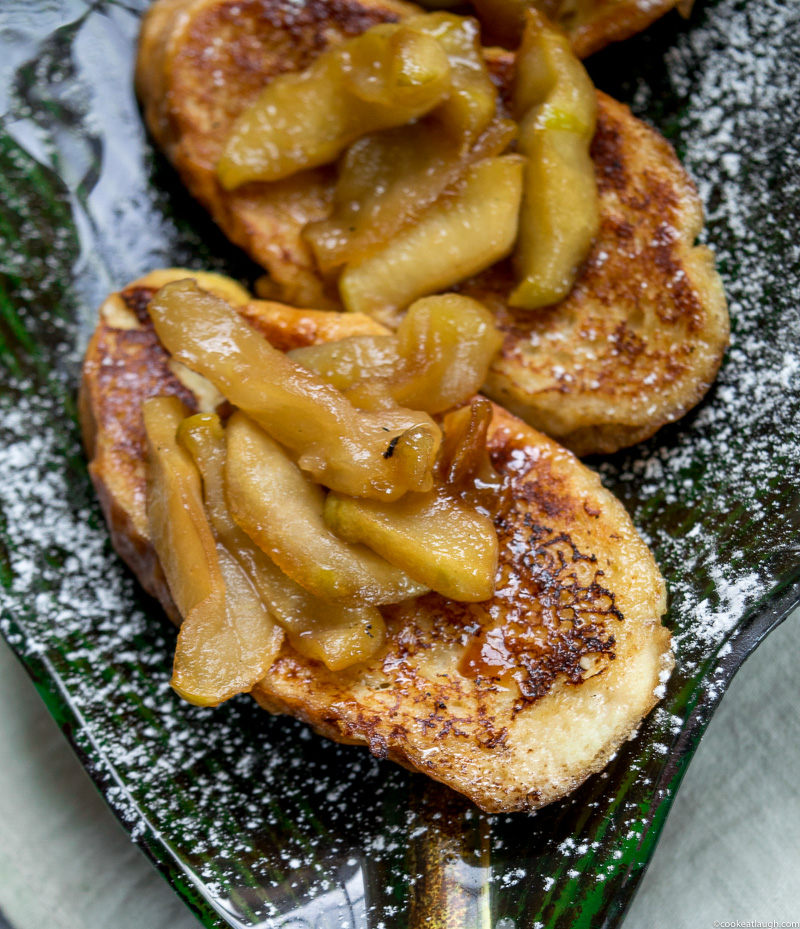 The husband gets super happy when I get in this sweet indulgent cooking mode because he's a self-confessed sugar addict. Over the past two years, I've made the husband and I all sorts of yummy treats such as waffles, pancakes, sticky buns, but never French toast.
I used to make French toast all the time for my dad, not for breakfast, but as an after dinner dessert. My dad, like the husband, also has a major sweet tooth. He would often request either my mom or I to make something sweet at night and since we always had bread lying around, we made him the easy classic French toast with maple syrup.
The recipe I'm sharing with you today is the same classic French toast I used to make for my dad, but kicked up a notch. I add caramelized buttery sweet apples on top of crispy custardy bread, I don't think it can get any better than that.
Here are a few tips on making a good French toast: choose the right bread thickness and make sure it's stale. Stale bread soaks up the custard without becoming soggy. Also, the bread slices shouldn't be too thin as they will not hold together and they shouldn't be too thick as they will never cook in the middle.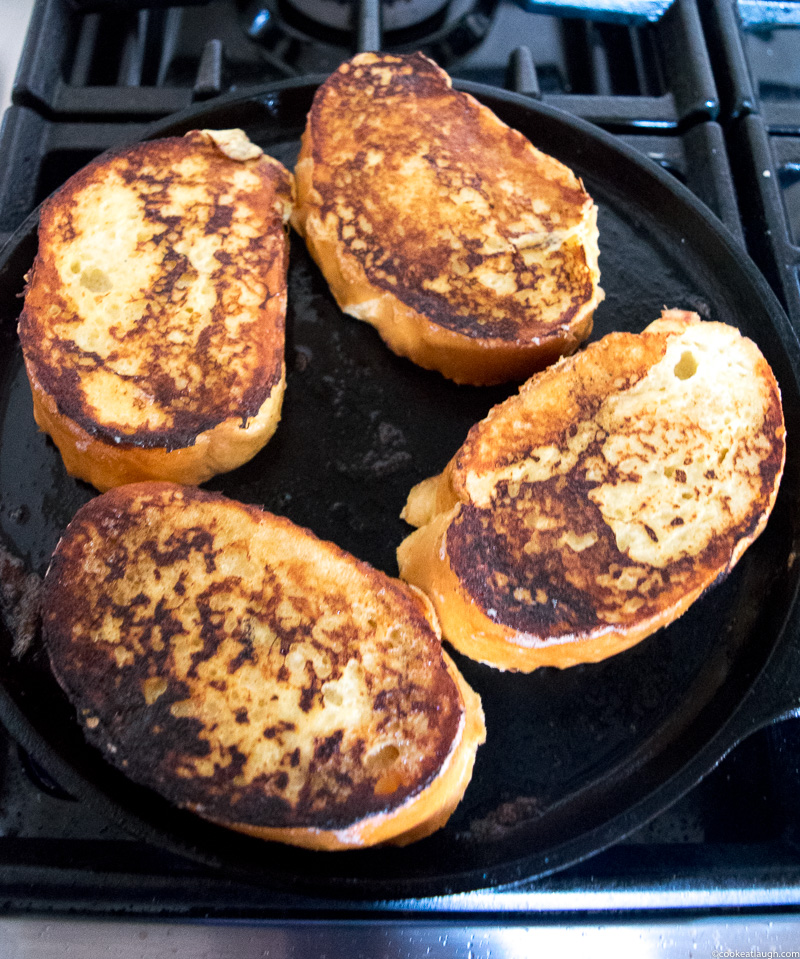 Another important tip is to properly soak your bread in the custard, so that you get a luscious, not dry, French toast. Depending on how stale the bread is, I like to soak the slices for 30 seconds to a minute on each side. If I have more time, I will even soak my bread for 20 minutes.
This recipe for caramelized apple French toast takes just 20 minutes to make, it's easy, super yummy, and not to mention, decadent. It makes for a perfect holiday breakfast or even a weekend treat. It's the perfect excuse to use up that stale bread at home and those uneaten apples in your fridge.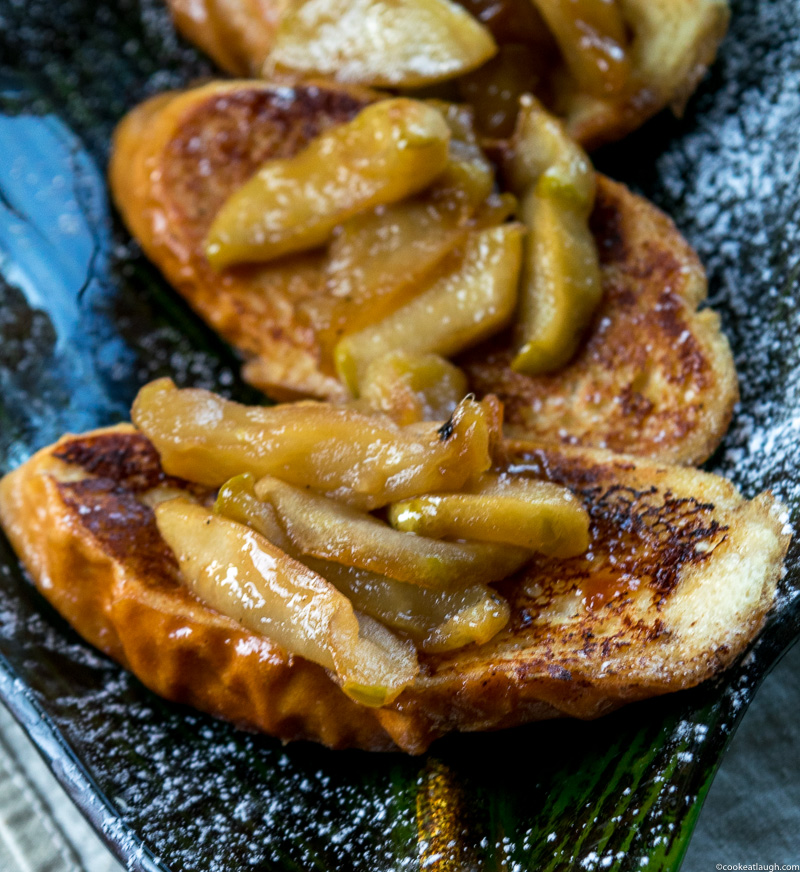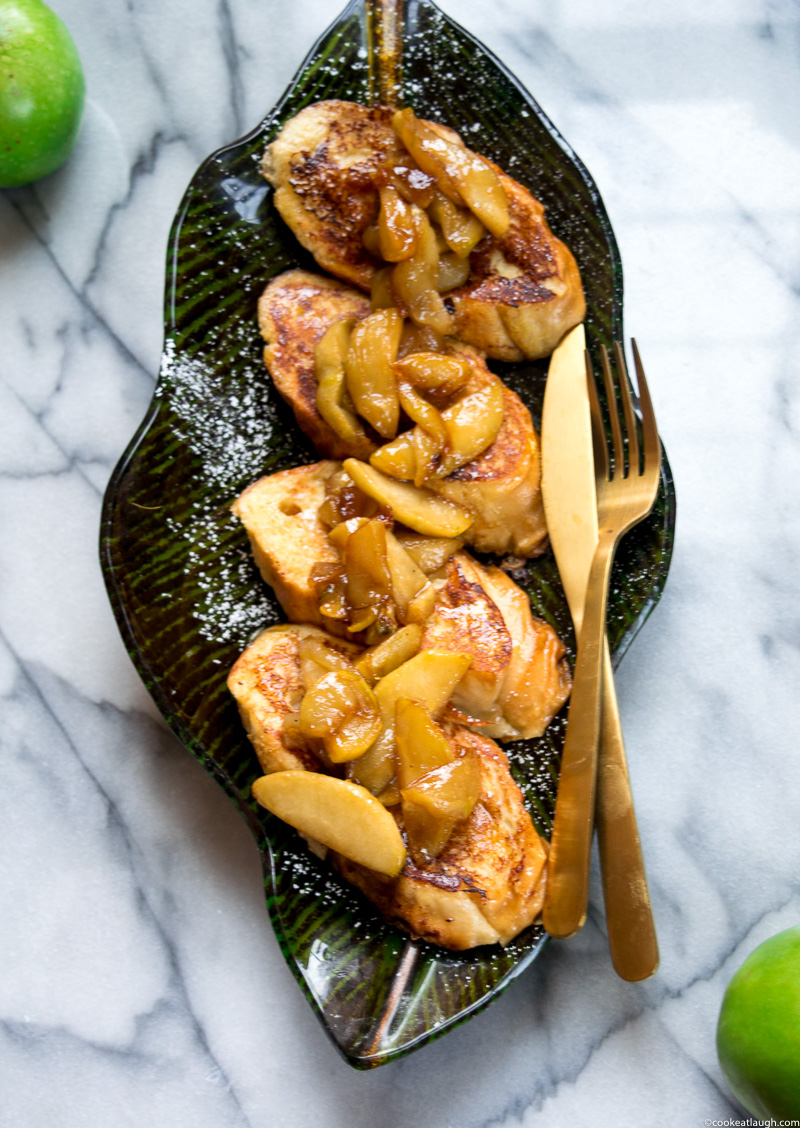 *Thanks for stopping by ! For more CookEatLaugh in your life, follow me on facebook, Instagram or Pinterest. Subscribe to receive new posts via email. And if you make this, I'd love to see! Tag me on Instagram @cookeatlaugh and #cookeatlaughblog.*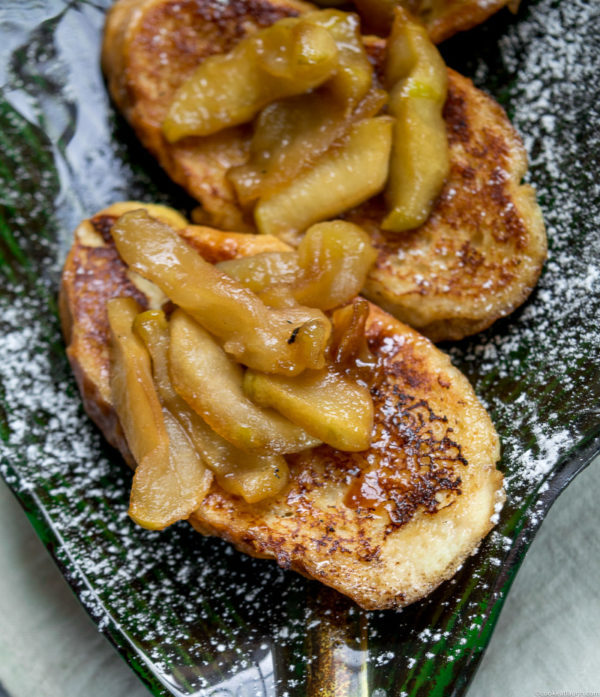 | | |
| --- | --- |
| | |
In a shallow bowl whisk together eggs, milk, sugar, salt, cinnamon if using, and vanilla bean paste. Keep aside.

Melt 2 tbsp. of butter in a medium skillet over medium heat. Add the apples to the pan and sprinkle with brown sugar. Caramelize the apples for 7-8 minutes stirring frequently. Once done the apples should be crisp-tender. Squeeze a bit of lemon juice if you like. Do not overcook the apples or they will become mush.

In another medium skillet, melt the remaining butter over medium heat. Take the stale bread slices and dip into egg mixture for 30 seconds on each side. Its highly important for the bread to be stale otherwise it will began to fall apart once you dip it. Fry the bread slices until golden brown about 1-2 minutes, then flip to cook the other side.

Top the French toast with caramelized apples and then drizzle with maple syrup. If you like you could also top the caramelized apple French toast with lightly sweetened whipped cream.