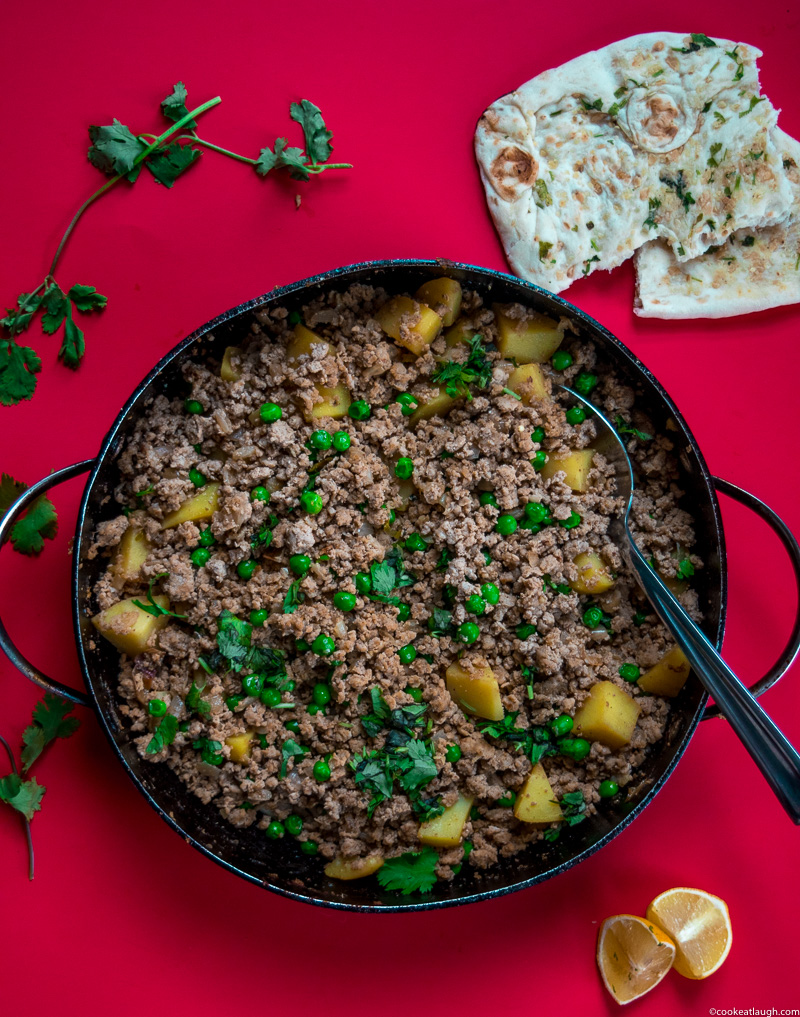 Aloo keema is a dish made of spiced minced lamb, simmered with potatoes and peas. Traditionally, it is made with minced lamb, but I use ground turkey. This is a dish I grew up eating; it's a popular Indian meal and there are many variations of this dish. The recipe that I'm sharing with you today is my dad's recipe for Aloo Keema and it's absolutely scrumptious.
The bond between a father and daughter is special one and it's hard to describe this unique relationship in words. I feel blessed to have a very close and special relationship with my dad. My dad and I, in a lot of ways, are very similar especially when it comes to our love for food. He is an absolute genius when it comes to cooking and I'm not just saying that because he's my father. I truly believe that he's blessed with the cooking super power because he has the natural ability to take ordinary ingredients and turn them into extraordinary dishes. I'm still waiting for the day when he finally opens his own restaurant because the world really needs to taste his food.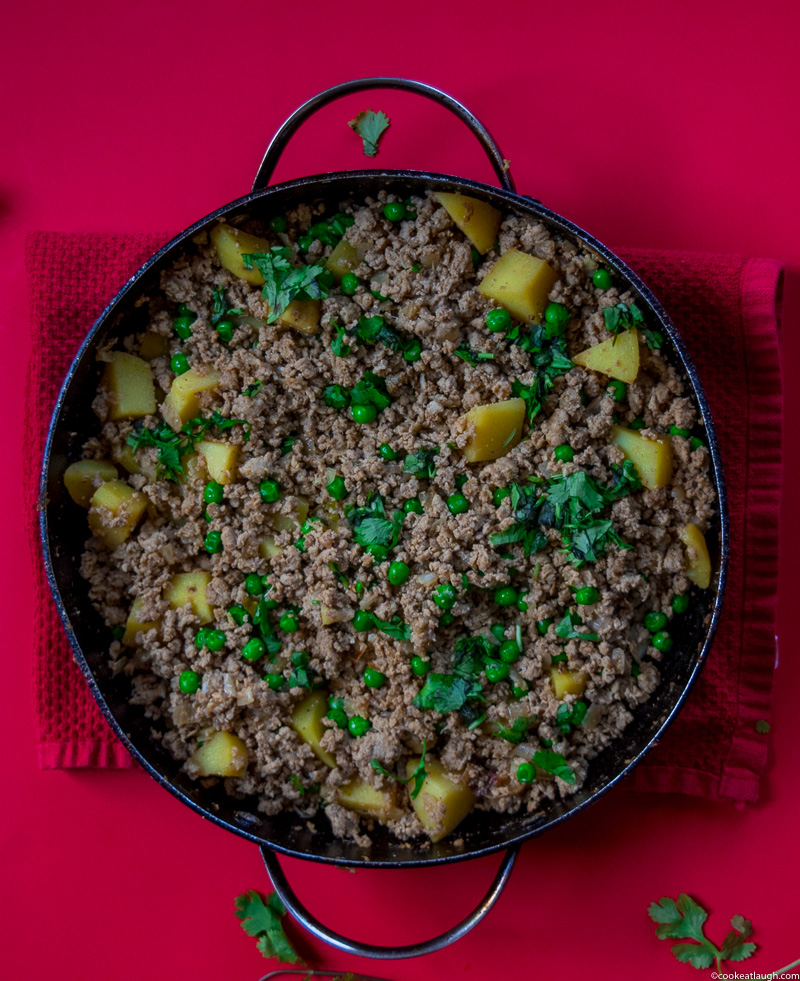 I learnt the art of cooking from my dad. As I've mentioned in my previous post, my dad is a perfectionist when it comes to cooking and he does not believe in short cuts. Growing up, he would try to teach me cooking, but back then I was too impatient to learn much: I felt like his recipes involved too many steps. Now that I am a little more mature, I realize that all his added tricks are the reason his dishes turn out to be perfect.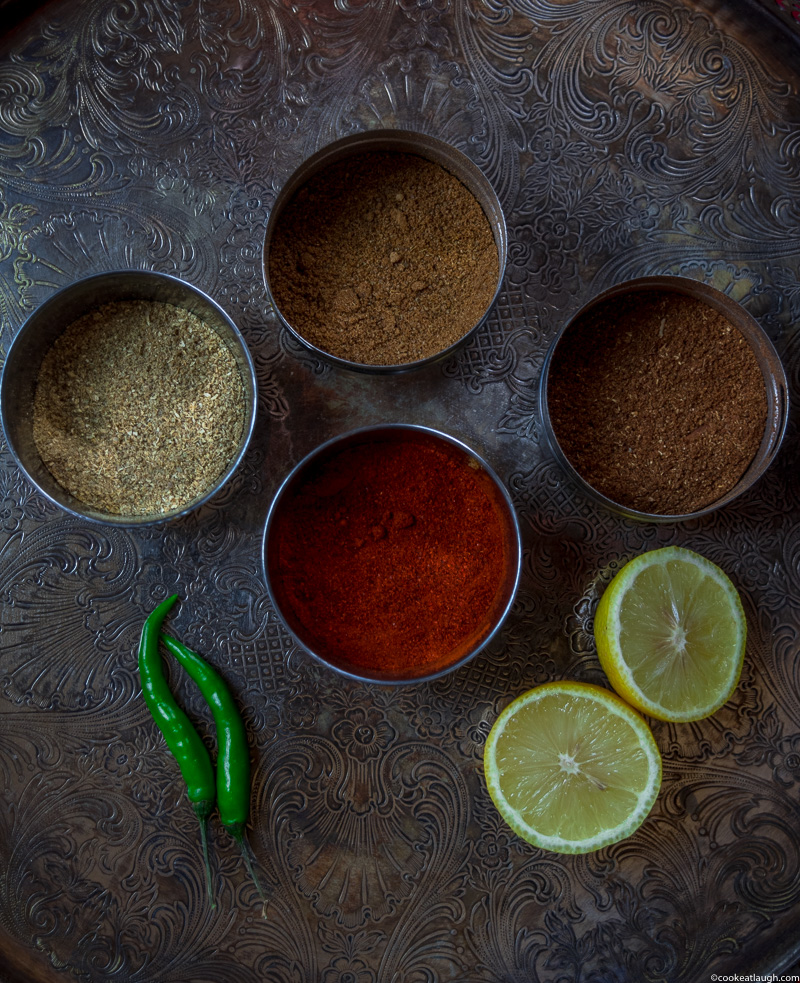 I love the way my dad makes aloo keema. After years of just consuming it, I finally asked him to teach me how to make it. He of course was hesitant because I was not an easy student before, but he finally agreed. His version of aloo keema is surprisingly easy, super tasty, and requires very few spices.
Keema means minced meat. In this recipe, we are using ground turkey (not ground turkey breast) that we marinate with yogurt, ginger, garlic, onions, and aromatic spices such as coriander, cumin, and chili powder. The mixture is then cooked till the meat is nicely browned. Potatoes are then added along with some water. The whole mixture is simmered for about 20-25 minutes and then peas are added. At the end of cooking, the minced meat is topped with some lemon, a pinch of sugar, and garam masala.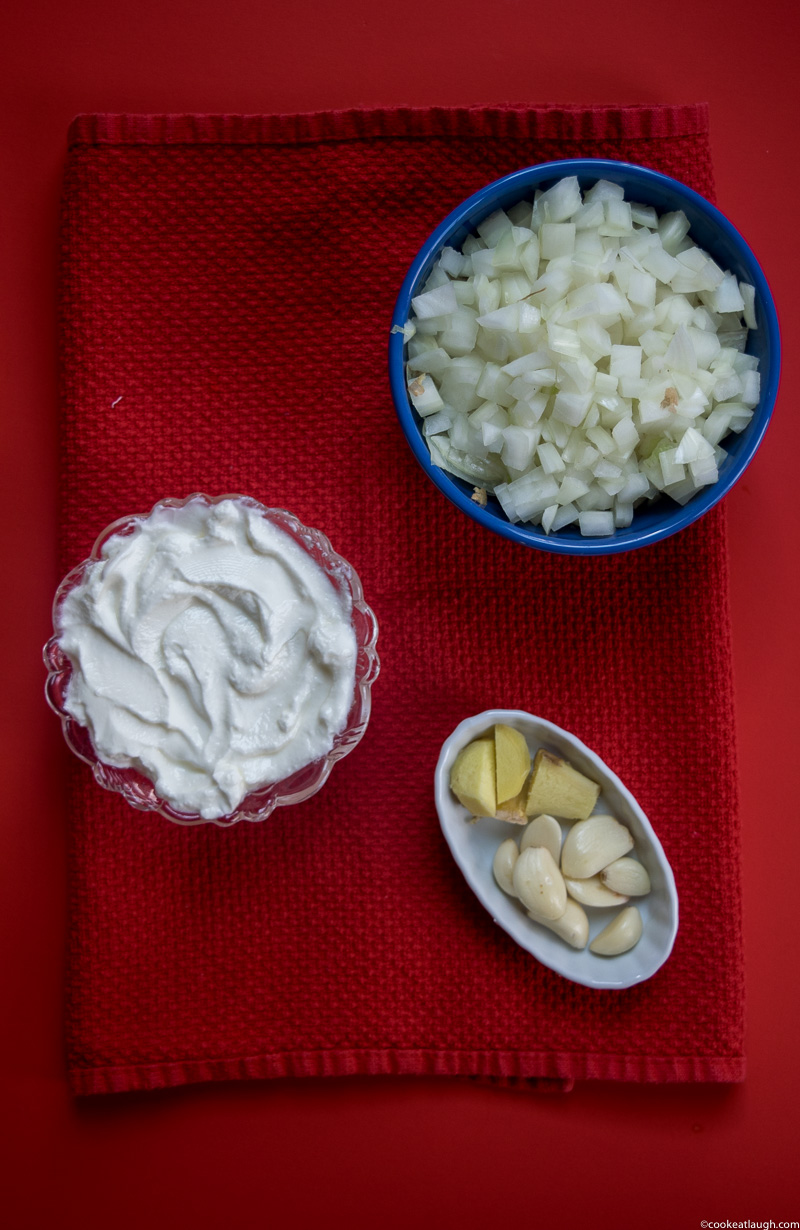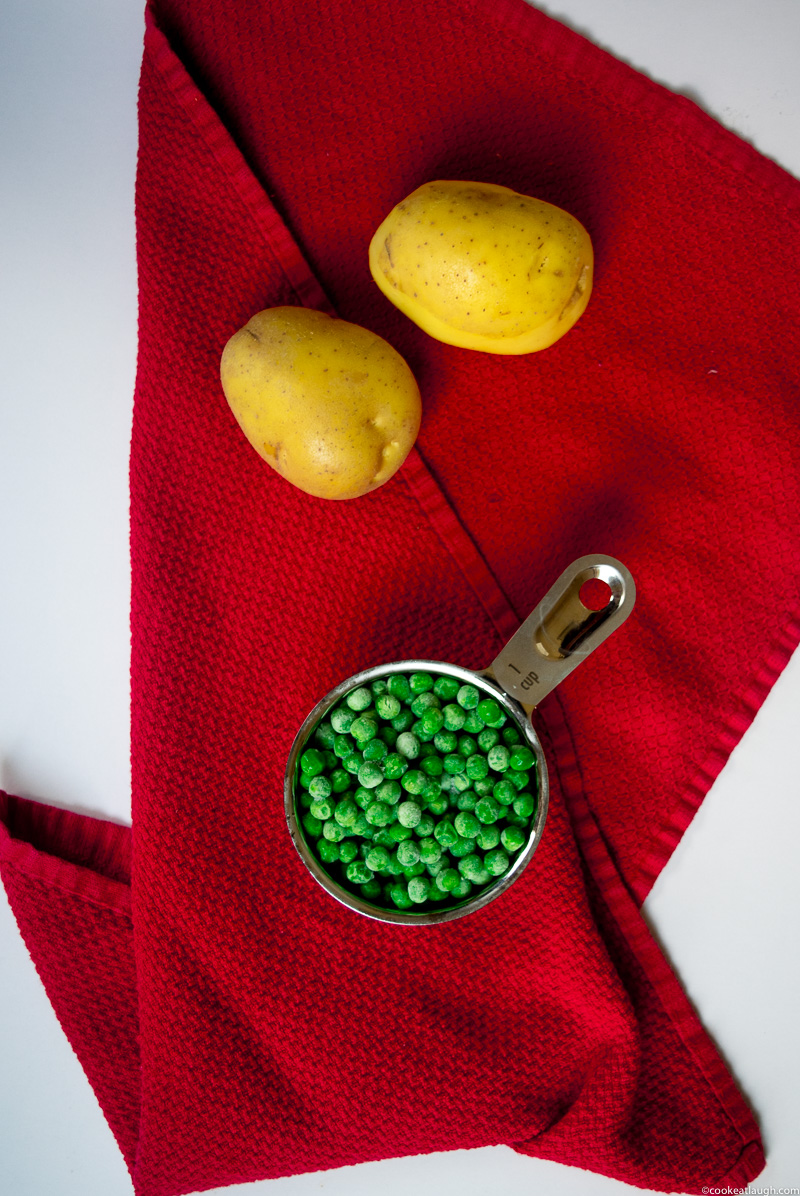 A quick note on the garam masala: as mentioned on the "my pantry" page, garam masala is a blend of whole spices that vary from recipe to recipe. I have included the specific garam masala blend used in this recipe in the notes below. You can either make this particular blend or use your own garam masala blend. In my experience with this dish, adding this garam masala blend makes a huge difference to the final product.
The aloo keema is a hearty meat dish that is jam-packed with flavor. It's a little spicy, but also tangy from the lemon. Enjoy it with some naan, paratha (Indian flat bread), or rice.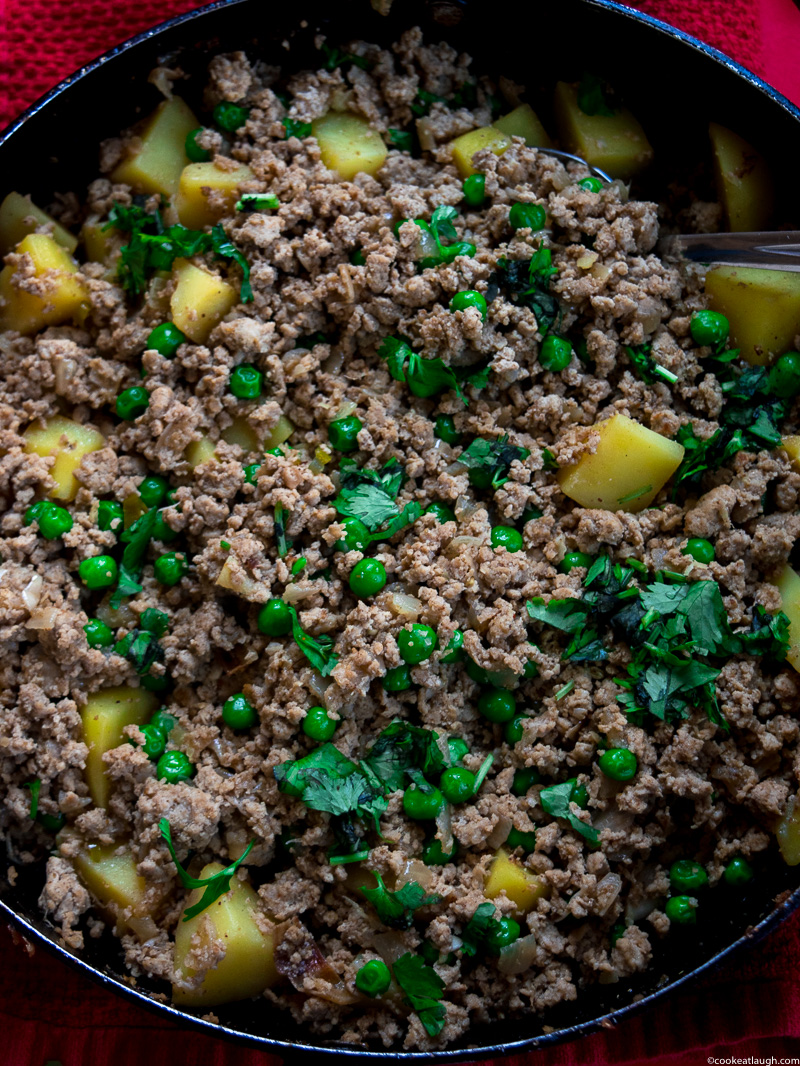 *Thanks for stopping by ! For more CookEatLaugh in your life, follow me on facebook, Instagram or Pinterest. Subscribe to receive new posts via email. And if you make this, I'd love to see! Tag me on Instagram @cookeatlaugh and #cookeatlaughblog.*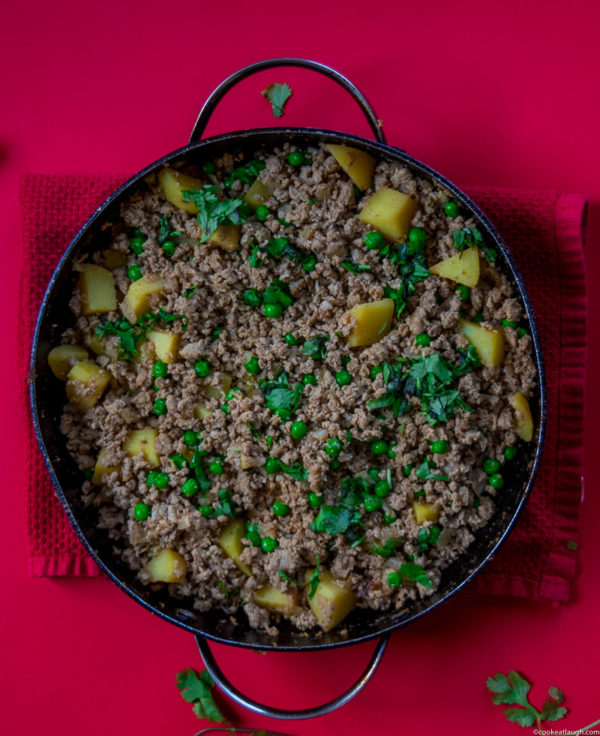 | | |
| --- | --- |
| | |
Grind the ginger and garlic to a fine paste.

Marinate the ground turkey with yogurt, chopped onions, ginger garlic paste, coriander powder, cumin powder, chili powder, and salt to taste. Give it a good mix, but don't over mix.

Cover the mixture, put it in the fridge, and let it marinate for 1-2 hrs.

Heat a large pan or skillet on medium high heat. Add the oil and then add the marinated ground turkey to the pan. Cook, stirring, and breaking down the ground turkey with a heavy metal spatula or spoon. The turkey will release a lot of water, cook till the water dries out. Then begin to fry the minced turkey till it begins to brown and it will start sticking to the pan. Add a little water to release the meat, and then repeat this step 2 times (let meat stick, add a little water to release the meat). This is known as "Bhuoning", is the process of browning.

Add the chopped green chilies and potatoes give it a good stir. Add the water and bring to a boil. Let it simmer on low heat for 20-25 minutes or till the potatoes are cooked.

Stir in the frozen peas and let it cook for 1-2 minutes. Season to taste.

The keema should be semi-dry, add the lemon juice and a pinch of sugar. Stir in the garam masala and top with chopped cilantro.
Garam masala
2 black cardamom
8-10 cloves
3 bay leaves
½ stick of cinnamon
1 tsp black peppercorns
Method
In a medium pan gently toast the spices on medium low heat for 2-3 minutes. Transfer to a spice grinder and grind until powder fine. Store in airtight container.