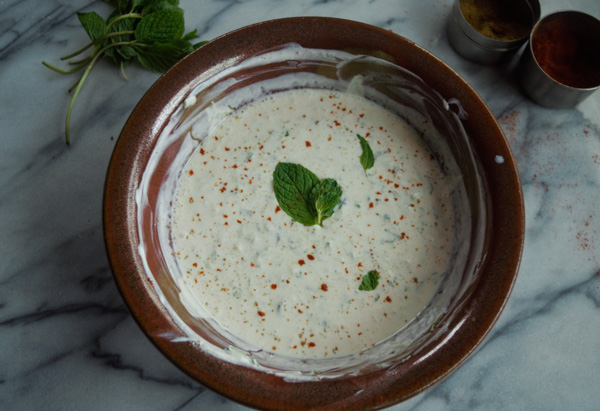 Raita is a common side dish or a condiment in India. A simple yogurt dish mixed with either raw or cooked vegetables. In other instances it can be a plain raita consisting of some salt and chili powder. In India this dish is often eaten to cool down the palate while eating spicy curries.
Each region of India has its own version of this yogurt dish. In South India where the food can be really spicy, they temper the yogurt with mustard seeds and curry leaves and then mix it with rice. They eat this at end of their meal as a way to cool down their stomach. In North India where my family originates from, we eat raita made of onion, tomato, and cucumber. I am not the biggest fan of tomatoes or raw onions, so for that reason my version is with cucumber and mint. I find that the addition of mint adds a bit of brightness to the yogurt.

My refreshing cucumber and mint raita bares close resemblance to taziki, except it is not as thick. Taziki is often made with greek yogurt which is strained, making the dip so thick and creamy. For raita we traditionally use Indian natural yogurt which is not strained making it much lighter and not as thick. Personally though I always have full fat Greek yogurt rather than Indian yogurt in the fridge, so when I make raita I just add a bit of milk to thin it out. If you always have non-fat plain yogurt in the fridge you might not need to add milk at all, as it naturally is thinner in consistency.
This dish comes together in about 10 minutes. I particularly love eating it with my Simple Garlicky Dal and plain rice.
You could eat it as a dip too by simply just not adding the milk. Cucumber and mint raita is refreshing to eat and will keep you cool on those hot summer days.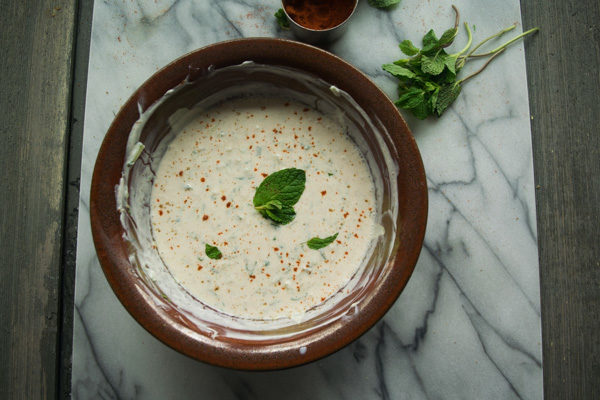 | | |
| --- | --- |
| | |
In a large mixing bowl add the yogurt and give it a good stir. If using Greek yogurt add milk a bit at a time to thin it out (you don't want it too watery). If using natural plain yogurt skip the milk and add all the rest of the ingredients. Give it a good stir to make sure all the spices are well mixed.

Taste for salt and adjust if needed. Let the raita cool in the fridge for at least 20 minutes.

Remove from fridge and serve.