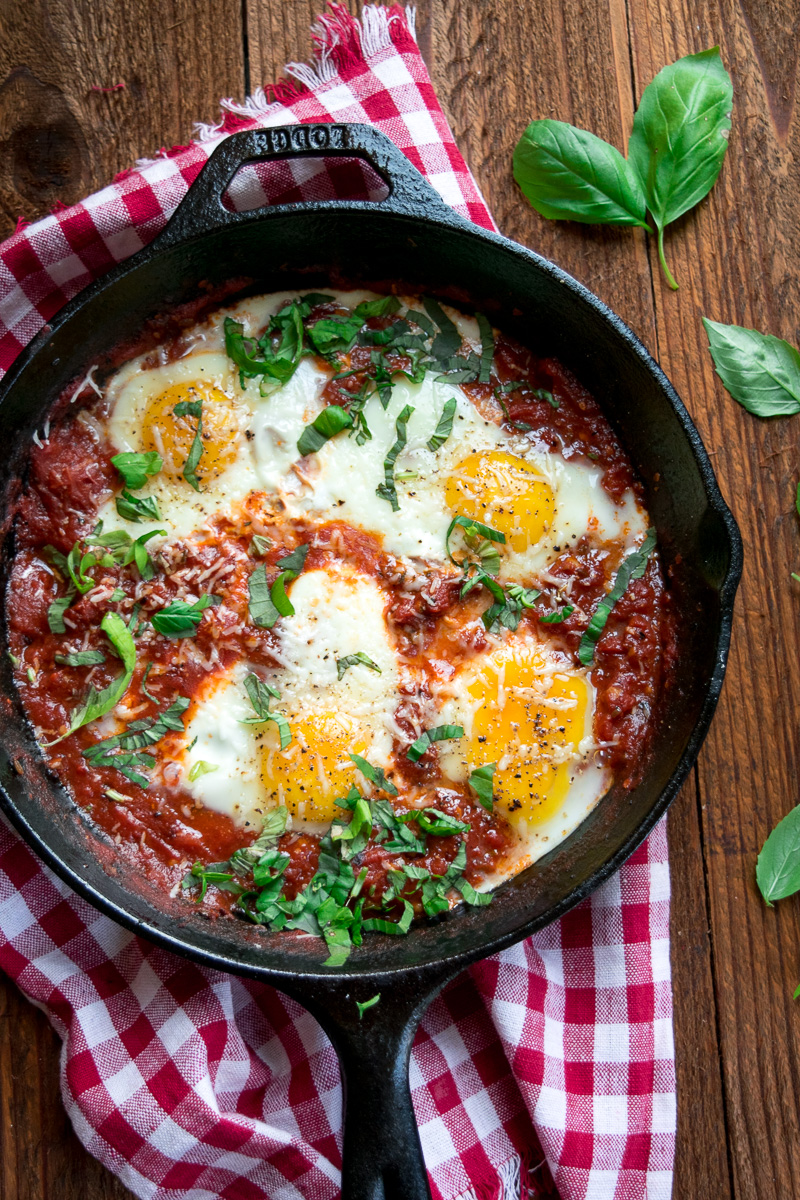 Weekends are all about recuperating and de-stressing from the hectic week. The best way I know how to do that is by sleeping in, lounging, and brunching. I absolutely adore weekend brunching; since you're combining breakfast and lunch, you have the perfect excuse to not only eat more food, but also more varieties of foods.
I make it a point to brunch out at least every other weekend. First, I take my time scouting places for the best brunch spot, I then check their menu online and call to confirm that they are still serving brunch. By the time I've found the perfect brunch spot, the husband is usually ready to snap because he's hangry. I remain un-fazed by his impatience because I know he will thank me later for being so thorough. All good things come to those who wait.
My two main requirements for a worthy brunch joint is a good cup of coffee and delicious eggs. If you've read my previous post on eggs (if you haven't, please do) you know that I'm extremely particular about cooking eggs properly. Unfortunately, about 95% percent of the time I'm disappointed by eggs served in restaurants. I still order them from time to time in hopes of being mind blown. You could say I am a dreamer.
The weekends when we brunch at home I get to satisfy my cravings for perfectly cooked eggs. Sometimes I crave a good scramble, sometimes a veggie frittata, and if I am feeling ambitious, I will make a shakshuka. I love shakshuka, but the tomato sauce the eggs are cooked in can take up to 40 minutes to make. Luckily for me, shakshuka has a popular Italian cousin called eggs in purgatory that's less time consuming.
Eggs in purgatory, much like shakshuka, is a dish where eggs are poached in fiery tomato sauce. The two dishes of course differ in spices used, but they tend to taste similar. Since eggs in purgatory can be made in half the time, it wins in my books.
To make my version of eggs in purgatory, I begin with lightly sautéing some garlic with olive oil. I then add a good amount of chili flakes for the fiery kick, followed by some fennel seeds. Fennel seeds is not traditionally used, but I like the slight sweetness it adds to the sauce.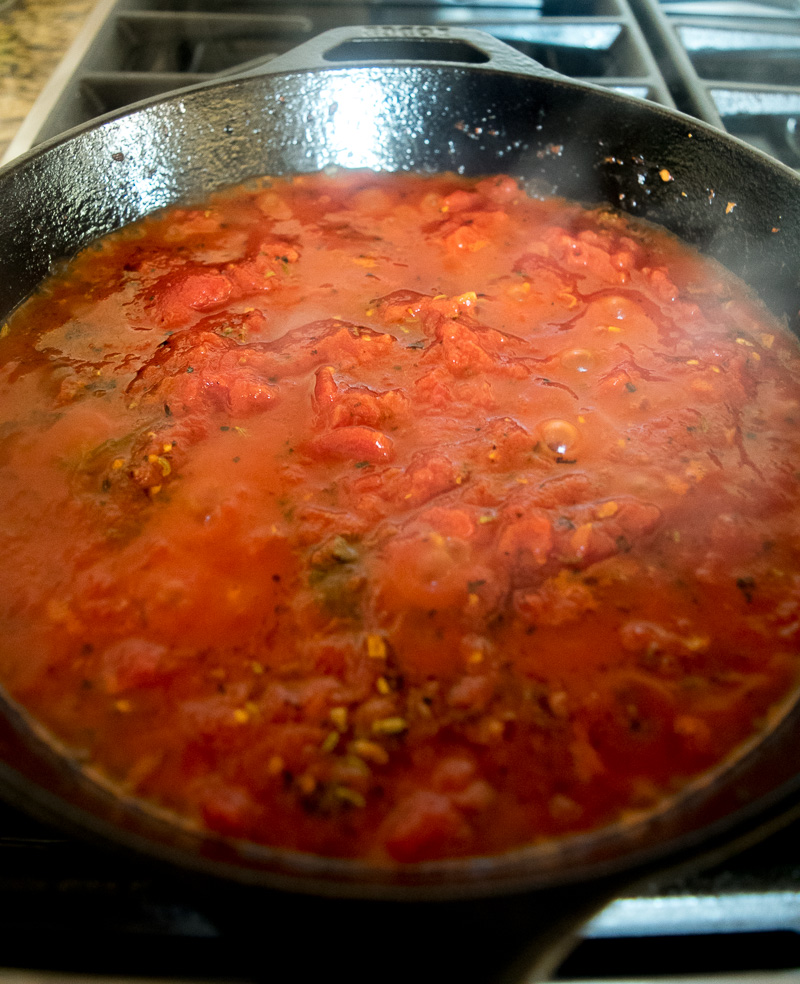 Even though I don't use fresh tomatoes for the sauce, I make it a point to use good canned tomatoes such as San Marzano's. A good pinch of sugar is needed (at least I think so) in the tomato sauce to reduce the acidity. Let the sauce simmer for 15 minutes, nestle the eggs into the sauce and cook till egg whites are barely set and yolks are runny. Top it off with some freshly grated parmesan cheese and basil leaves. At the end, you should have a perfectly poached egg in a lip-smacking fiery tomato sauce that is meant to sopped up with a hunky slice of bread.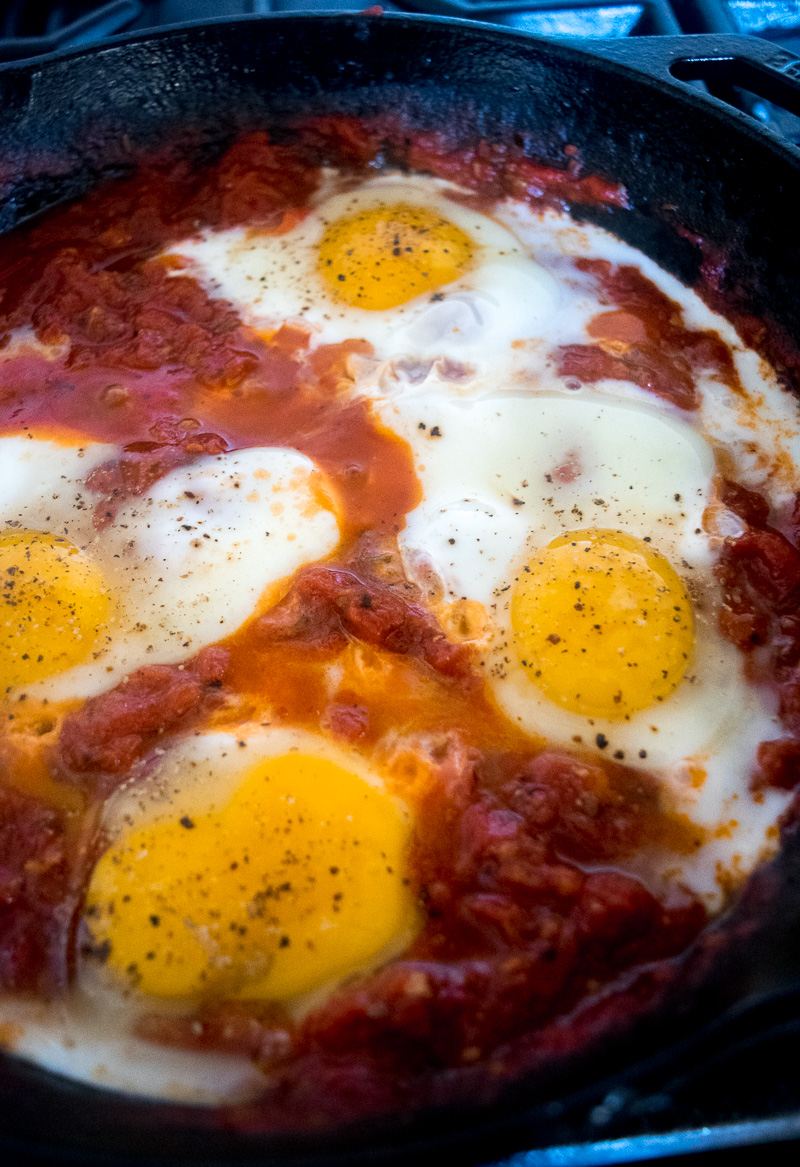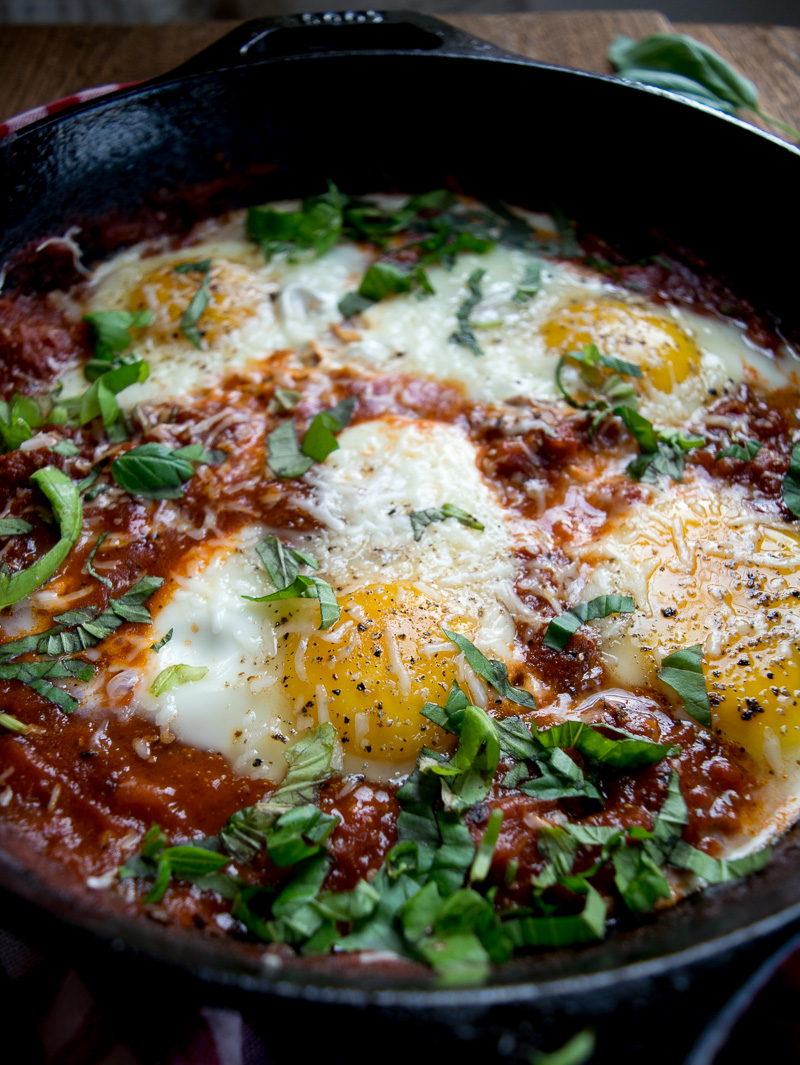 I urge you to give this recipe a try, it's great for brunch but also equally delicious for an easy and quick weeknight dinner. Enjoy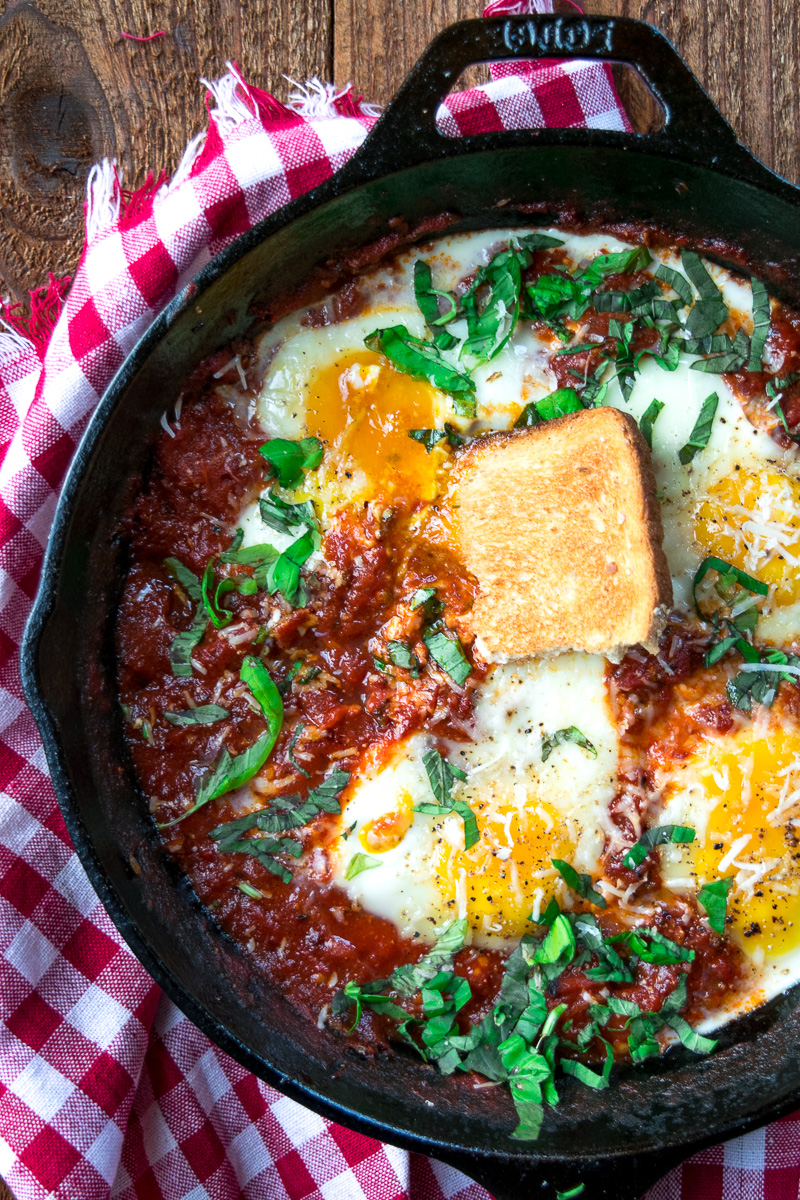 *Thanks for stopping by ! For more CookEatLaugh in your life, follow me on facebook, Instagram or Pinterest. Subscribe to receive new posts via email. And if you make this, I'd love to see! Tag me on Instagram @cookeatlaugh and #cookeatlaughblog.*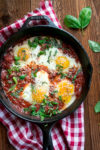 | | |
| --- | --- |
| | |
Heat a skillet on medium high heat, add the olive oil and let it heat up.

Add the minced garlic and chili flakes. Cook, stirring constantly for 1 minute.

Add the fennel seeds to the pan and cook for 20 seconds.

Add the crushed tomatoes, they will begin to splutter so be careful. Give the sauce a good mix, so that all the spices are properly mixed in. Season the sauce with salt and pepper and stir in the sugar.

Lower the heat, partially cover the sauce, and let it simmer for 15 minutes.

Crack each egg into small ramekin and add them one at a time into tomato mixture, season eggs with salt and pepper. Cover the pan and cook till whites are set and yolks are still runny, 2-3 minutes. If you prefer the eggs to be more set cook for longer.

Grate some parmesan cheese over the eggs, garnish with chopped basil leaves.

Serve right away with crusty bread.