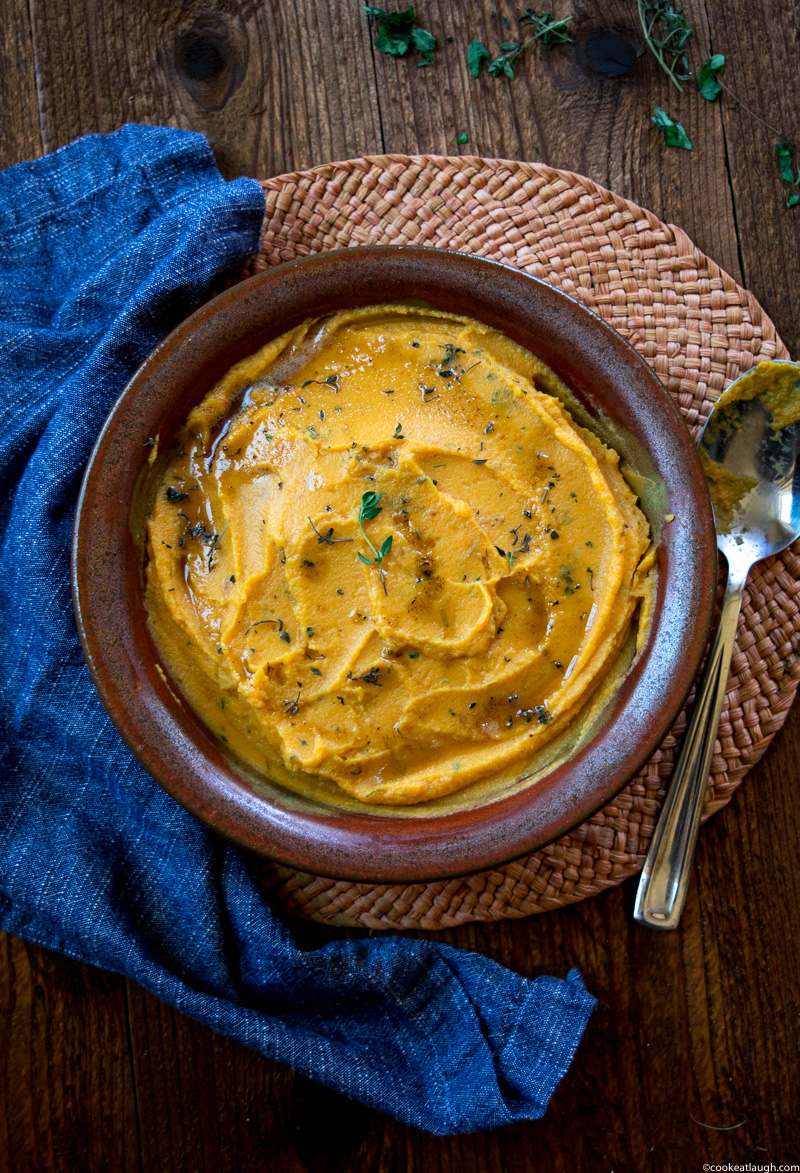 Thanksgiving is just around the corner and if you're hosting this year, you probably already have a list of dishes that you plan to make. I'm about 99.5% positive that mashed potatoes are on the top of that list. While mashed potatoes are delicious, they can be quite heavy and honestly, quite boring. So, why not jazz things up and make this delicious sweet potato & cauliflower mash. It is not only healthier and tastier, but it is also a lighter alternative to mashed potatoes. This dish will become your new thanksgiving favorite.
A Few weeks back I had made some roast chicken along with some garlicky cauliflower mash. I absolutely adore cauliflower, it's a super versatile vegetable, but I wasn't thrilled with my cauliflower mash. The flavor of the mash was delicious but the texture was just lacking. The cauliflower mash needed a little starch to thicken up.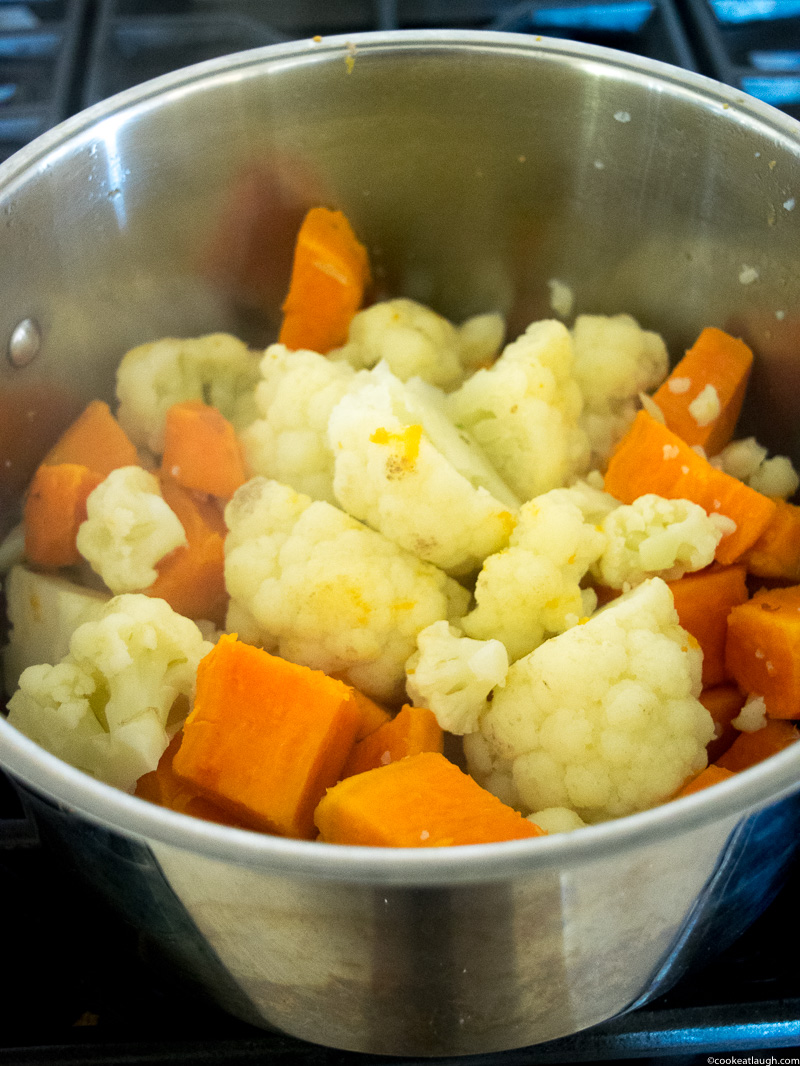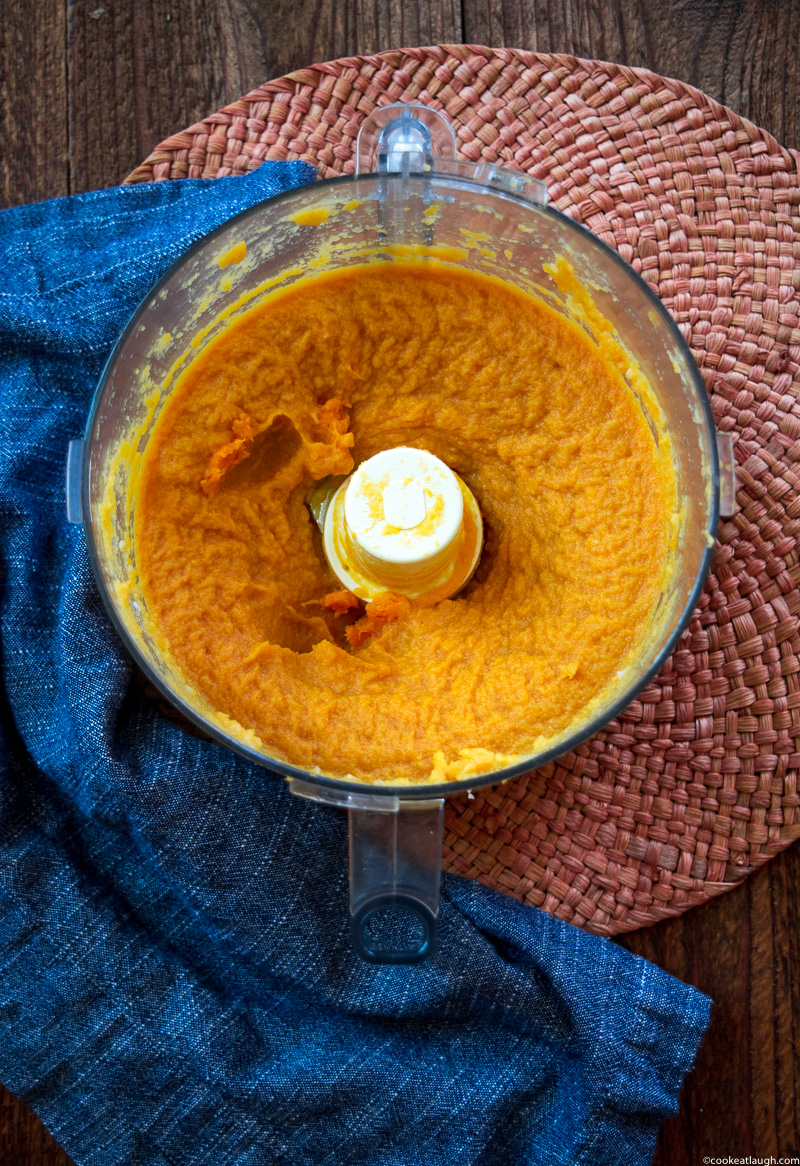 Sweet potatoes are a staple in my kitchen and I absolutely love them. So, naturally the experimenter in me wanted to mash the sweet potatoes with the cauliflower to see if the results change. I have to say, my mind was thoroughly blown. The texture of this sweet potato & cauliflower mash was not only creamy, but also super light, which in my mind means I can stuff more food into my limited tummy real estate.
I've had sweet potato mash by itself before and I find it a tad too sweet. The cauliflower adds a nice balance to the mash and mellows out the sweetness. The sweet potatoes add the thickening agent and cauliflower provides the creaminess. It's a match made in heaven.
While this mash is perfectly delicious with just salt and pepper mixed in, it's a little too basic for my liking and on cookeatlaugh, we don't do basic. To take this sweet potato & cauliflower mash to the next level, I made a brown butter sauce with some fresh thyme and garlic stirred in. In my opinion, this completes the dish.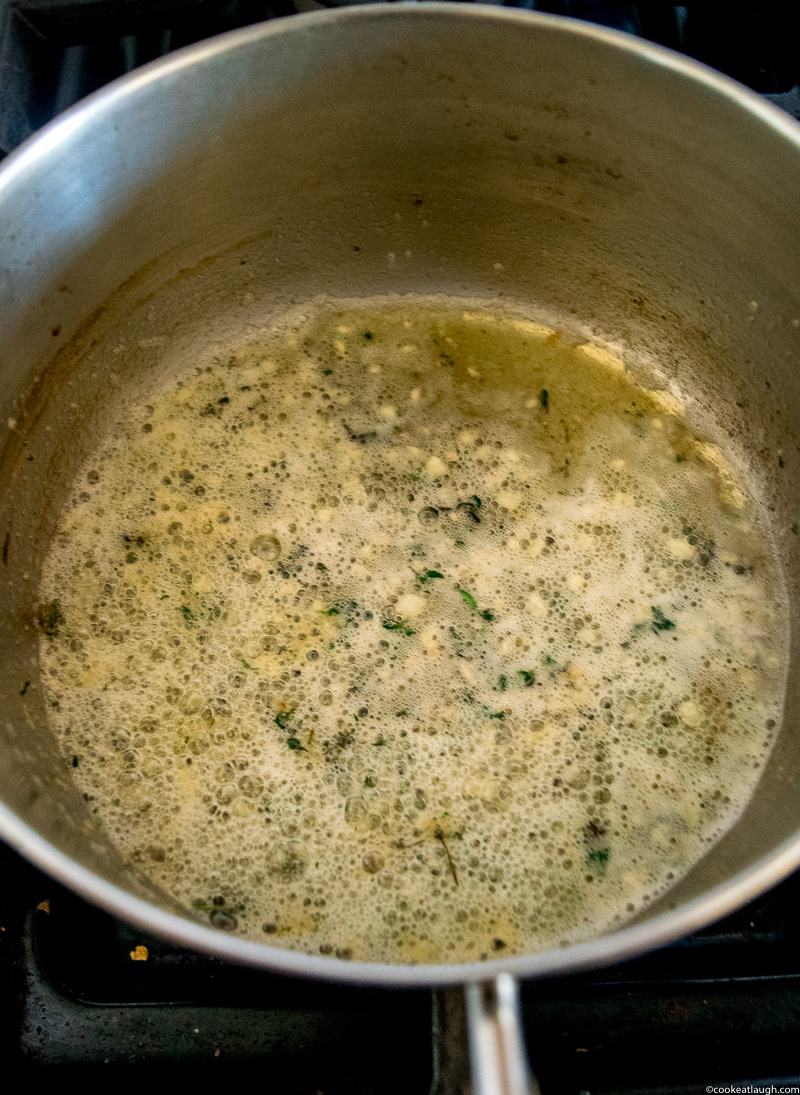 This mash is packed full of nutrients and very easy to make. I highly recommend that you replace the usual mashed potatoes on your thanksgiving list with this amazing sweet potato & cauliflower mash for a healthier lighter option and also to save more room for some delicious desserts at the end.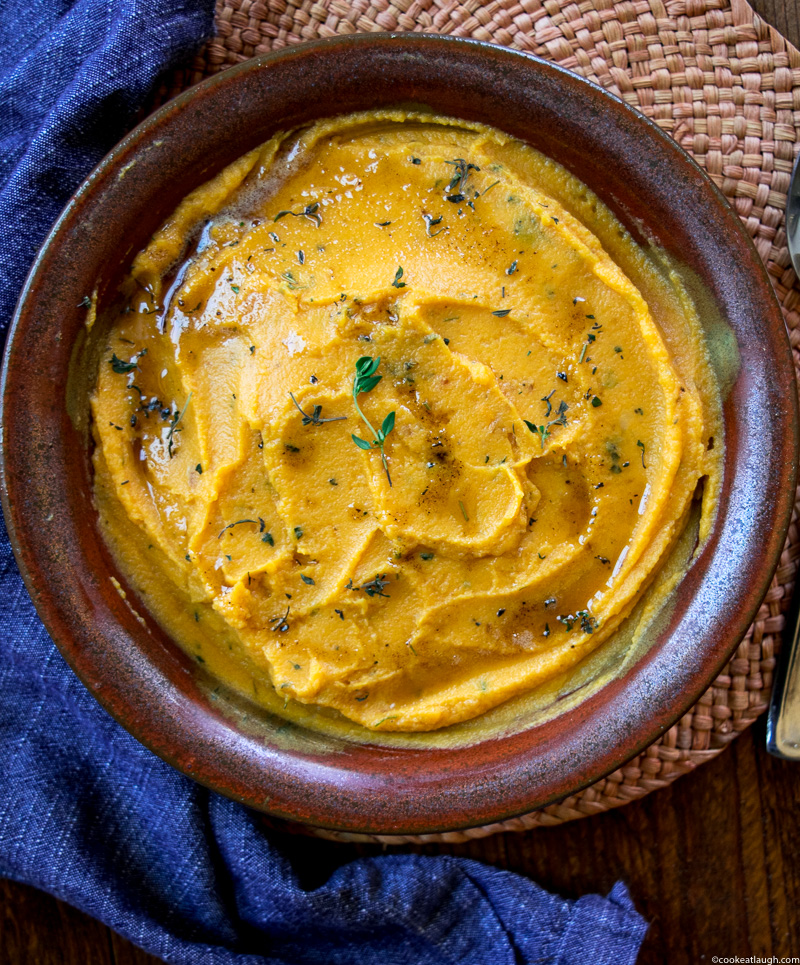 *Thanks for stopping by ! For more CookEatLaugh in your life, follow me on facebook, Instagram or Pinterest. Subscribe to receive new posts via email. And if you make this, I'd love to see! Tag me on Instagram @cookeatlaugh and #cookeatlaughblog.*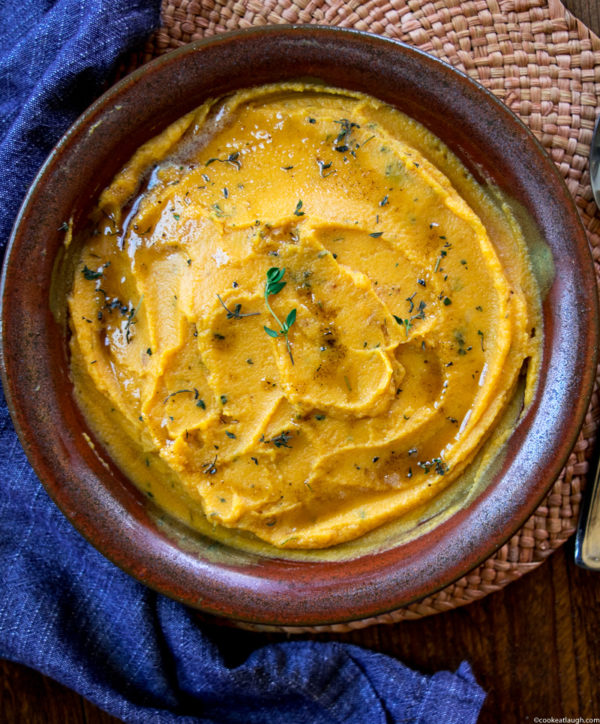 | | |
| --- | --- |
| | |
Add the sweet potatoes to a large saucepan, cover them with water add a generous amount of salt, bring to a boil and simmer on medium high heat with lid on for 7-8 minutes. Remove the cover and add cauliflower florets. Simmer for 10-12 minutes or until the vegetables are tender and not mushy.

Drain the vegetables well and place them back in the pot. Puree the vegetables in the food processor, do it in batches. Puree until everything is nice and smooth. Transfer to a big bowl and keep aside.

In a medium pan, add the butter and minced garlic. Cook and stir frequently over medium low heat till butter is melted. Cook till the butter is lightly browned. Stir in the thyme, salt, and pepper.

Pour the brown butter over the mashed vegetables and combine well. Taste and adjust seasoning. Enjoy