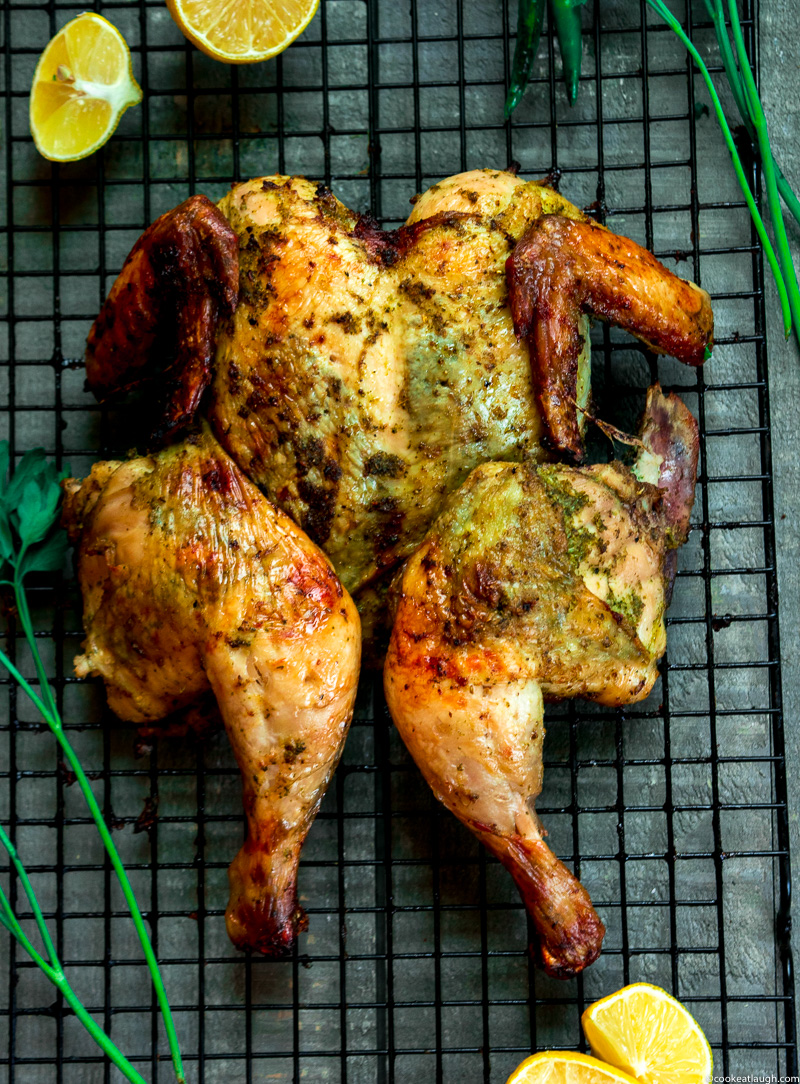 A perfectly roasted chicken with beautiful crispy brown skin is a thing of beauty that everyone seems to enjoy. A simple roast chicken consists of coating the chicken in a good amount of salt, pepper, some herbs, and then roasting it. While this is a delicious way to make roast chicken, it's good to change it up a bit and try new marinades like this green spiced masala.
Growing up, roast chicken was a dish that my parents made exclusively for thanksgiving. My dad used to roast chicken for thanksgiving because none of us really liked turkey. He would make two types of roast chicken: one would be a classic and the other would be masala spiced roast chicken. I always preferred the spiced roast chicken more as it was more flavorful.
The green masala is inspired by a Goan green chicken dish I often ate at my aunt's house in India. My aunt would marinate chicken pieces in a fresh green masala paste consisting of cilantro, green chilies, garlic, and lots of lemon. Once marinated, the chicken was then pan fried. I always request this green chicken when I go to visit her as it's one of my favorite dishes that she makes.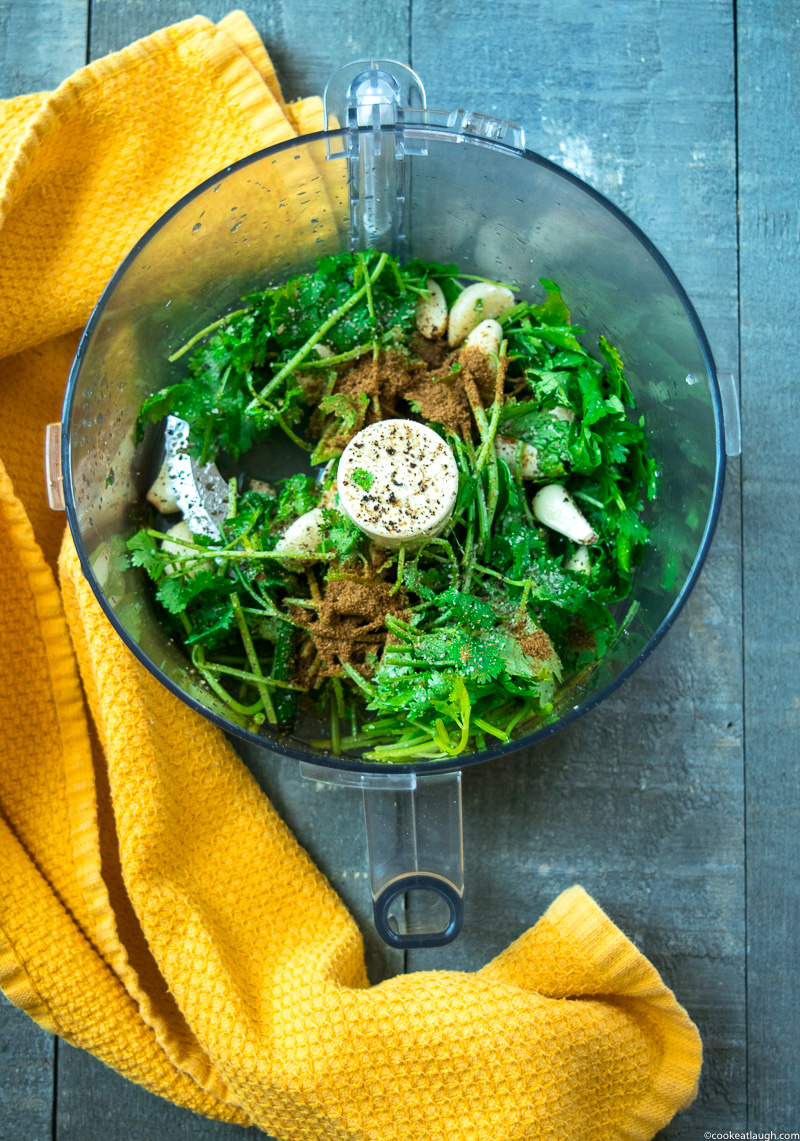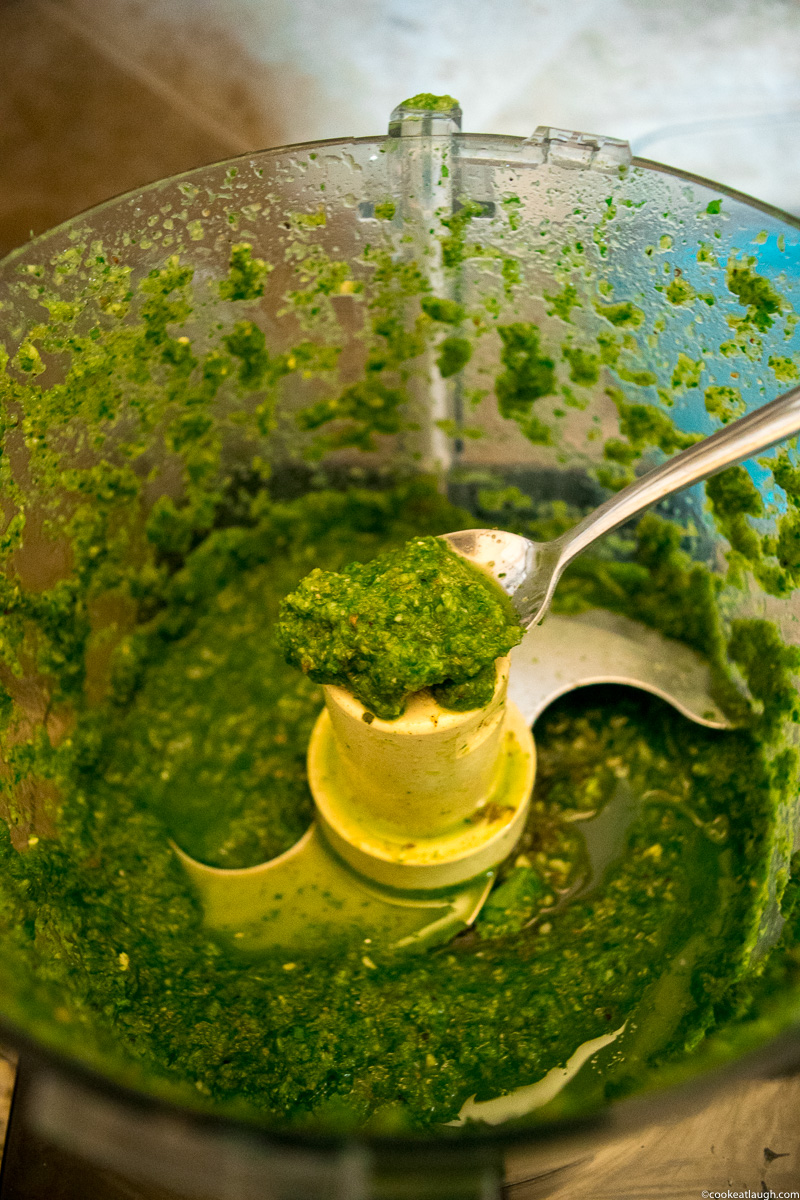 Roasting a whole chicken can be intimidating and time consuming. To make things a little easier, I like to use a simple shortcut that cooks the chicken more evenly, makes the skin crisper, and cuts the cooking time. The shortcut is to butterfly or spatchcock the chicken which basically means to remove the backbone of the chicken, flipping it over, and flattening out the chicken using your palm. It's super simple to butterfly a chicken at home. The only equipment you need is a pair of sharp kitchen shears.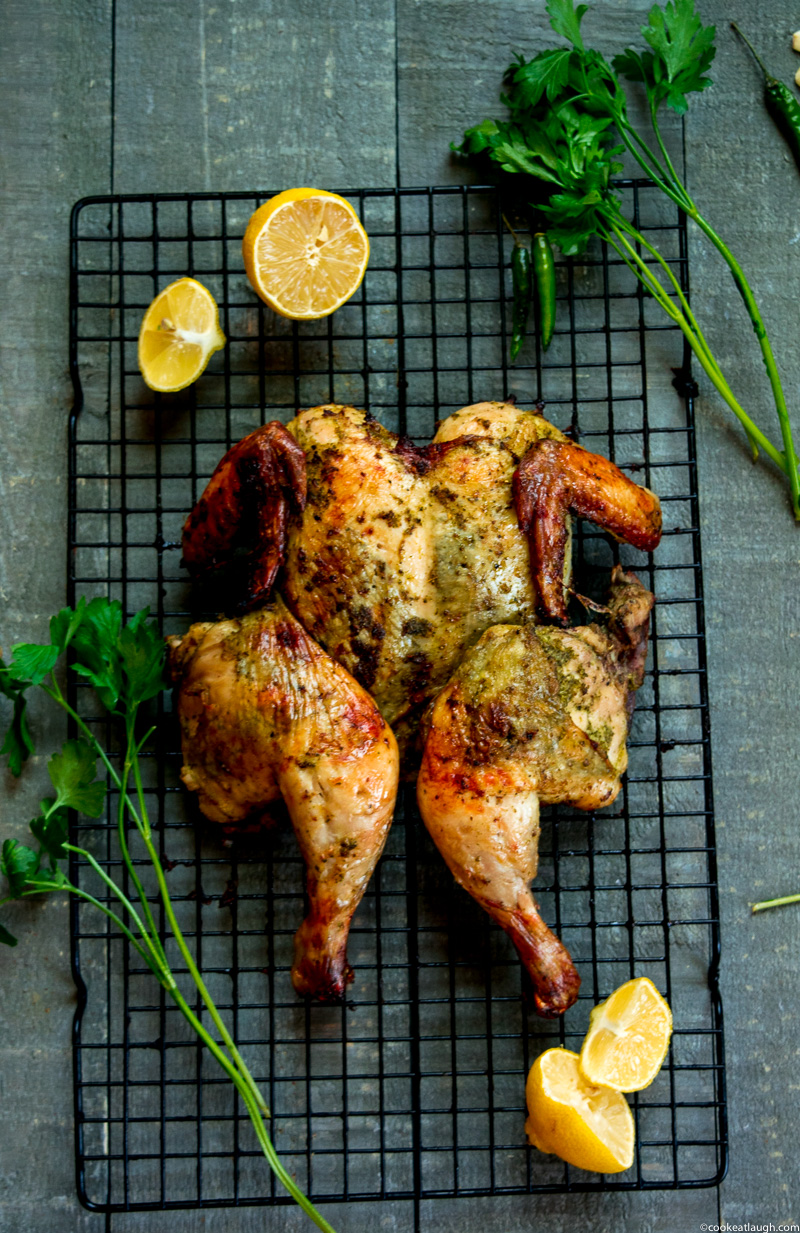 A common problem people face while roasting a whole chicken is that the breast meat often dries out while the thighs and legs are still cooking. Butterflying the chicken exposes the legs to higher heat which helps it to cook at same time as the breast. I urge you to butterfly your chicken for a juicier spiced roast chicken.
This green masala spiced roast chicken is lemony, herby, spicy, crispy, and juicy. This recipe is great for Sunday dinner, thanksgiving dinner, or even a weeknight dinner. If you plan on making this, just remember that the chicken does need to be marinated overnight. Don't skimp on the marination time as this is what leads to a flavorful chicken. Enjoy!
*Thanks for stopping by ! For more CookEatLaugh in your life, follow me on facebook, Instagram or Pinterest. Subscribe to receive new posts via email. And if you make this, I'd love to see! Tag me on Instagram @cookeatlaugh and #cookeatlaughblog.*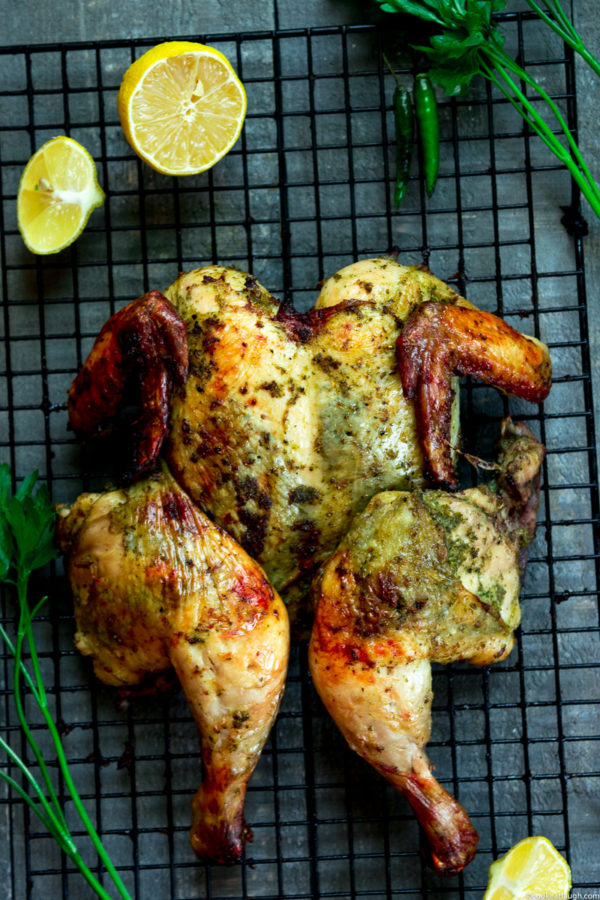 | | |
| --- | --- |
| | |
First spatchcock the chicken by placing the chicken breast side down on a work surface. Using kitchen shears cut along the backbone of the chicken starting at the bottom. Cut the other side and save the backbone to make stock. Flip the chicken over and using your palm press firmly on the breastbone to flatten the chicken. Wash the chicken thoroughly and dry it with a paper towel.

In a food processor add the cilantro, green chilies, garlic, lemon juice, ground cumin, and a pinch of salt. Blend till smooth paste. Keep aside.

Rub the chicken with 1 tbsp. oil and season generously with a salt and pepper all over, inside and out. Place the chicken skin side down in a tight container so that marinade will stick to the chicken. Pour half the green masala over the chicken and rub it all over the chicken. Flip the chicken over skin side up and repeat. Cover with plastic and let the chicken marinate for 12 hours.

Pre- heat oven to 400 degrees. Remove the chicken from the fridge and let it sit out for at least 10 minutes. Brush the center of a large rimmed baking sheet with the remaining 1 tablespoon of oil. Place the chicken skin side up on the baking sheet. Roast chicken for 45 minutes or until a thermometer inserted into thickest part of the breast reaches 165 degrees. It's important to watch your chicken because everyone's ovens are different so your bird might cook faster than mine.

You want the chicken to be brown and crispy. Remove the chicken from the oven and let it rest for 10 minutes. Carve the chicken into pieces and squeeze more lemon juice over the chicken.