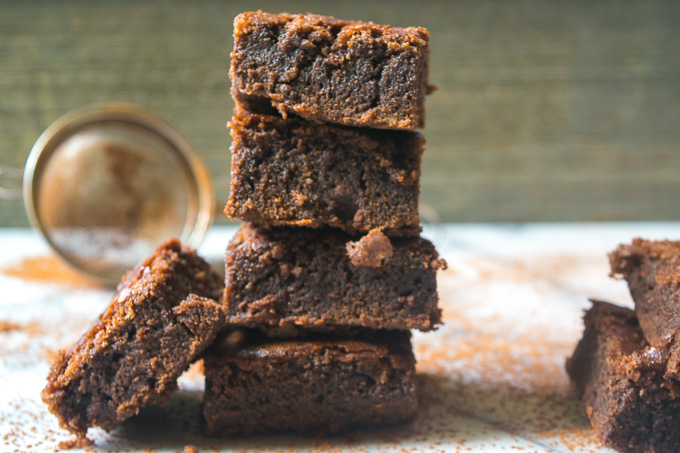 It is strange to write a post about brownies because a few years back I wouldn't even eat them. It is a shocker for many people because let's face it who doesn't love brownies. But for me, there was absolutely nothing enticing about eating a brownie. I just found them to be too sweet and at times too rich. By now you are probably thinking there is something wrong with me. Well while I am not perfect, I am happy to report that I have had a change of heart about brownies.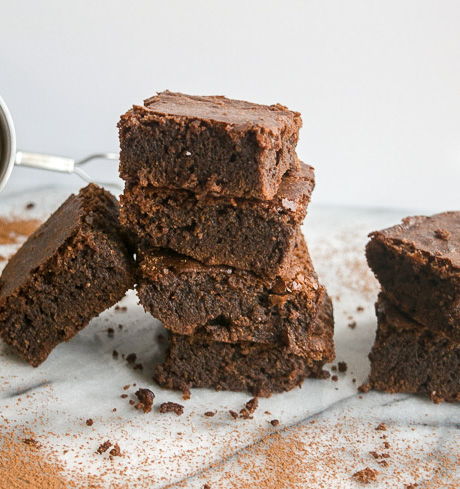 About four years ago I was visiting my aunt in India, she is an amazing baker. She always serves some homemade dessert after dinner, every single night without fail. One time the dessert of the day was brownies with vanilla ice cream. I tried some brownies just to be polite, and to my surprise, I was soon reaching for seconds. They were the perfect texture, the right amount of sweetness and not overly rich. These brownies changed my life, they converted me into a brownie lover. Before leaving India, I got the recipe from my aunt and I have been baking them ever since. I have converted many non-brownie eaters with this recipe.
There are thousands of recipes for brownies and you are thinking why this recipe is any different. Well three things come to mind as to why you should try this recipe:
1.Only unsweetened coco powder is used in this recipe, so forget the hassle of first melting the butter with the chocolate.
2.Using coco powder yields for a more a bold chocolate flavor.
3.The texture of this brownie is unlike most, it is light, a bit fudgy and a little bit like a cake. You can eat a whole tray in one sitting (I am not exaggeration, it has happened many times in our house).
If I haven't convinced you yet, then maybe the addition of the chocolate chunks to the brownie batter will. This genius idea was not even mine, the credit goes to the husband. He is a chocolate addict, any chocolate dessert I make he always tells me to add more chocolate. Most of the time I ignore his request, but I made an exception for these brownies. The addition of the chocolate chunks just gives this brownie the Ooey gooey factor and amps chocolate flavor.
These brownies require one bowl, ingredients you probably have on hand, and roughly 30 minutes to bake. An easy dessert to make for a weeknight treat or any get-together. Looking for more baking recipe's try my Almond cake with cardamom and orange.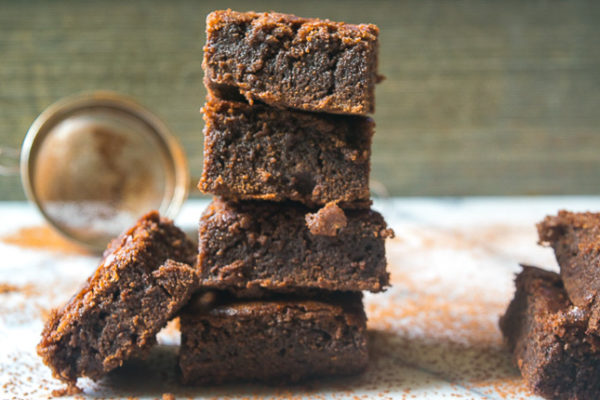 | | |
| --- | --- |
| | |
Pre- heat oven to 350 degrees and grease a 9 inch square cake pan

In a big bowl cream the butter and sugar together. Then add the egg mix till well combined. Add the coco powder, vanilla essence, and salt to mixture. Mix till well combined.

Add the flour and if you like add the chocolate chunks and chopped walnuts. Mix till everything is incorporated. Do not over mix.

Bake for 30-40 minutes, check at 30 minutes if it is still not done give it another 5 to 10 minutes. Let the brownies cool for at least 10 minutes, they taste better as they sit because it allows the butter to really settle. Enjoy with vanilla ice cream or just on its own.
Notes: It's important to let your butter and eggs come to room temperature. I have experimented without it and brownies are not the same. Also you can either add the nuts or chocolate or both if you prefer. I like to add nuts to the brownies for texture.