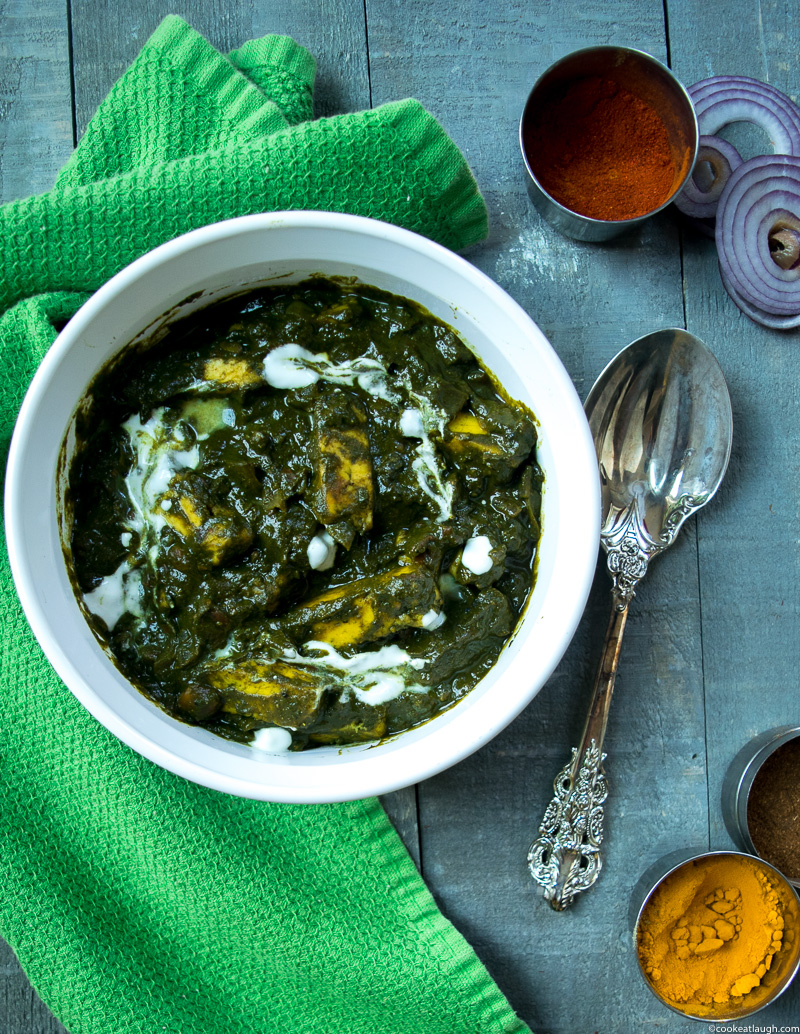 Palak paneer is the most popular vegetarian dish in North India. It consists of soft Indian cheese called paneer cooked in a smooth spinach (palak) curry. This dish is one of my all-time favorite Indian dishes.
I love palak paneer so much that when I finally got the chance to return to India after eight long years, it was the first thing I requested my grandmother to make. Of course, my parents had made delicious palak paneer for me many times, but nothing beats the version made by my grandma and not to mention, the fresh soft paneer you get in India.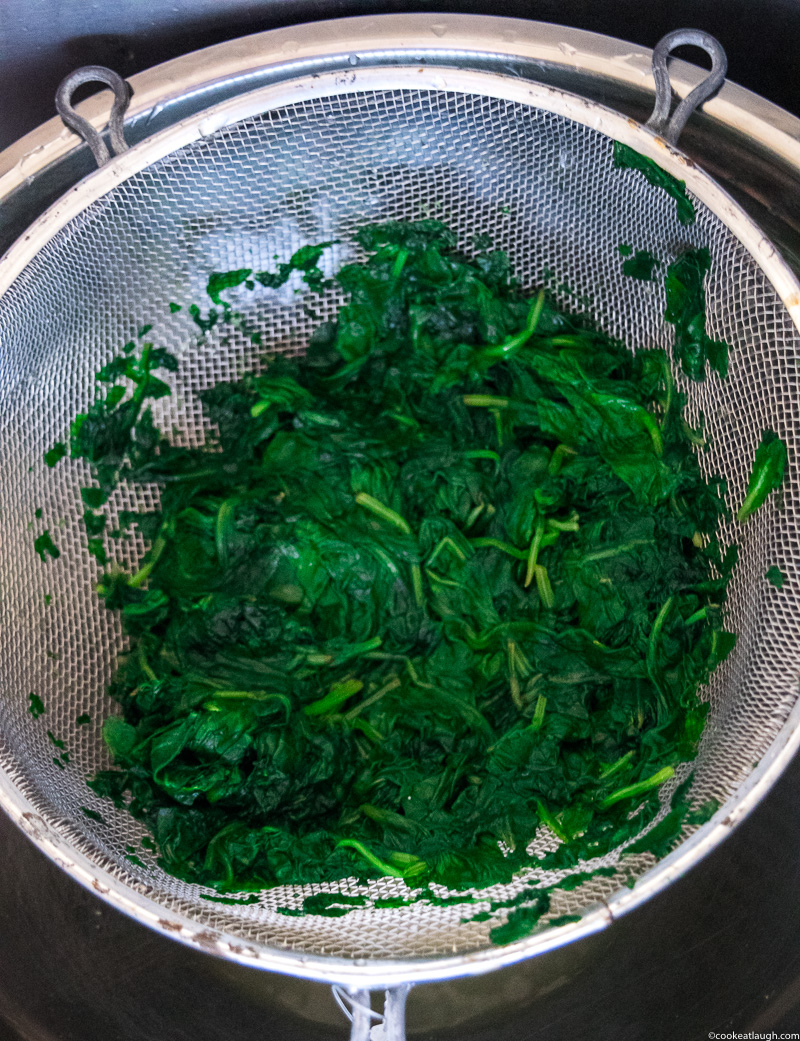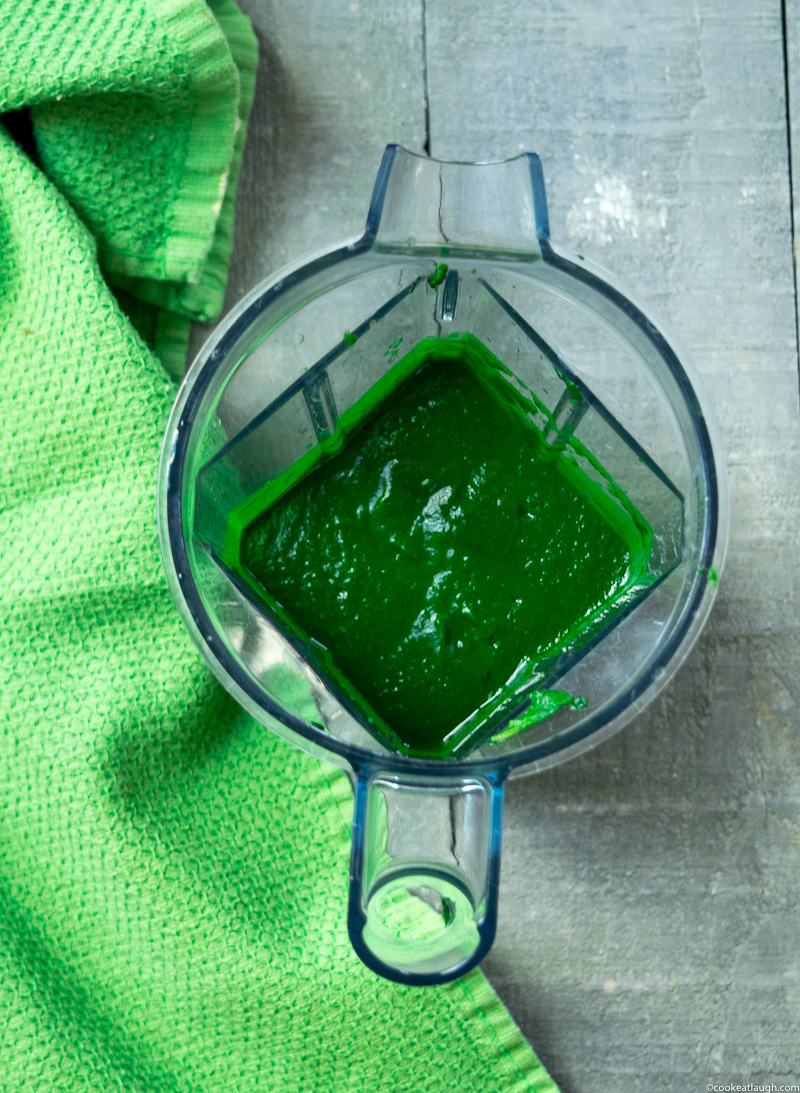 When I lived in India, on the weekends, my grandmother used to send me to our local dairy shop called Mother Dairy to buy fresh paneer. I used to love going to Mother Dairy because along with buying the fresh paneer, I would also buy myself a small vanilla ice cream (another one of my favorites) as a little snack for long my journey home. Mother dairy was literally 5 minutes walking distance from our home (I had little feet so it seemed longer).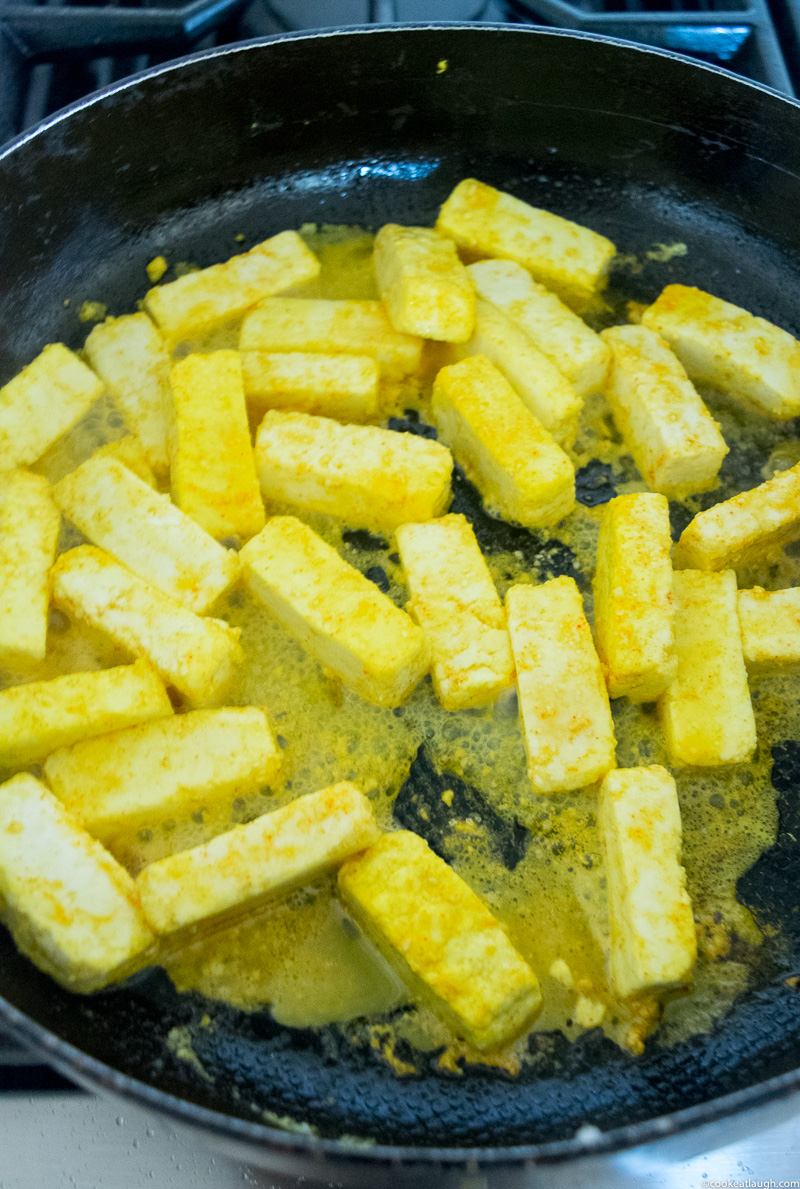 Paneer is a type of fresh Indian cheese; it is made of milk, some lemon juice and salt. The unique thing about paneer is that it doesn't require any aging, so you can eat it right away. This Indian cheese is extremely mild in flavor and doesn't melt at all, making it the perfect cheese to add in curries such as palak paneer.
It's extremely easy to make fresh paneer at home, but I have to confess that I haven't attempted it yet. It's on my list of things to try making at home and when I finally do, I will definitely share it on the blog. Paneer is readily available at Indian grocery stores; my preferred brand is usually Nanak. Store bought paneer is quite dry and dense compared to fresh paneer, so I soak it in some hot water for 20 minutes to make it soft and spongy.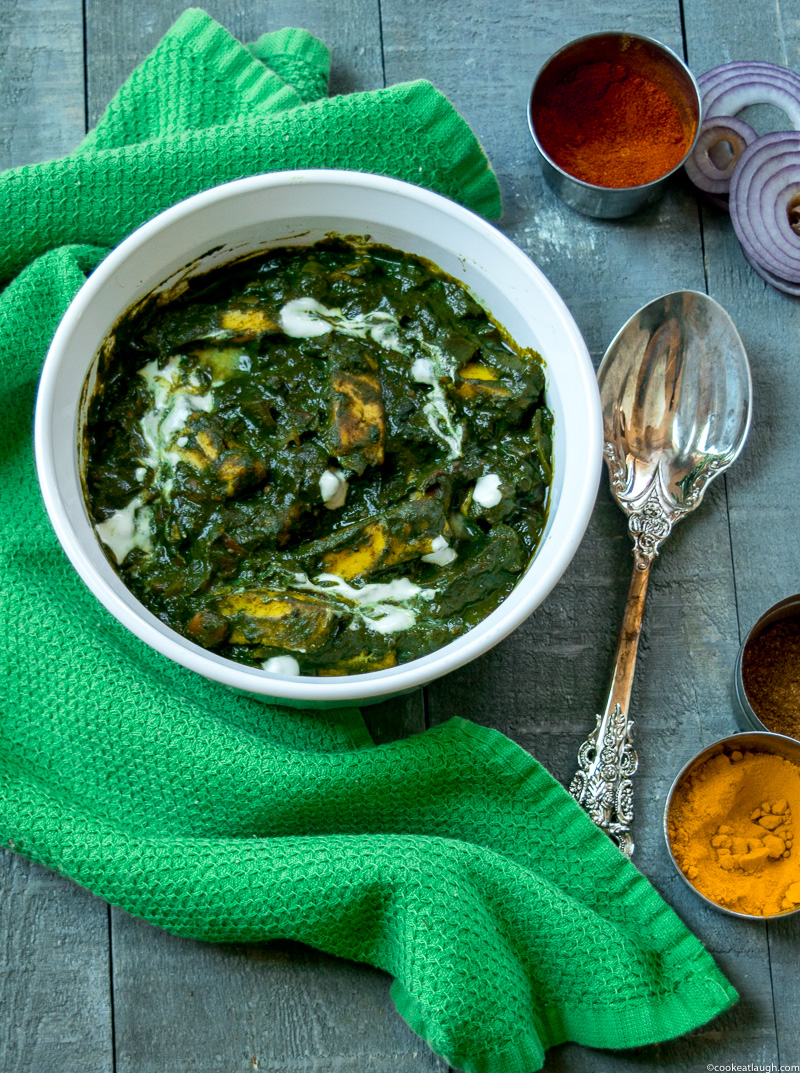 I regret never learning how to make palak paneer from my grandma, but this version that I am sharing with you today comes very close to hers. This version that I'm sharing with you today is my dad's recipe, but it is just as delightful as my grandma's. The first time I made this for the husband, a person that despises spinach, his mind was blown. He even said that he "never thought spinach could tastes so good".
Give this recipe a try, I guarantee that you will never order take out palak paneer ever again.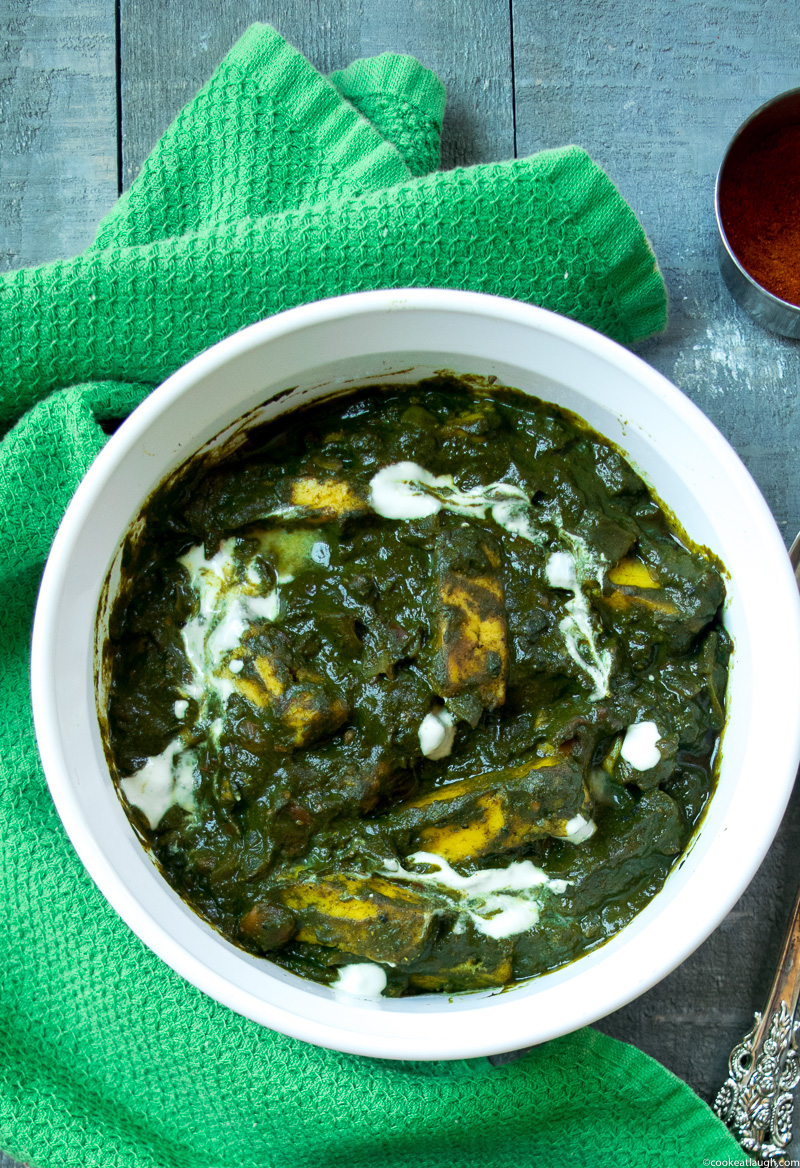 *Thanks for stopping by ! For more CookEatLaugh in your life, follow me on facebook, Instagram or Pinterest. Subscribe to receive new posts via email. And if you make this, I'd love to see! Tag me on Instagram @cookeatlaugh and #cookeatlaughblog.*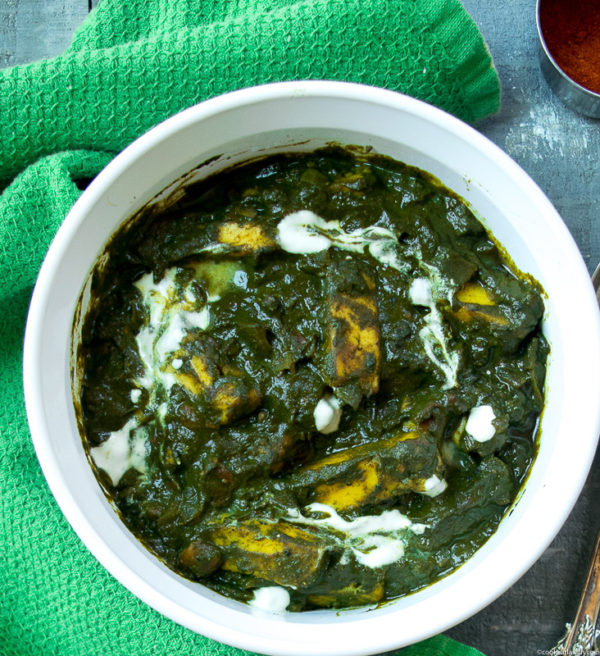 | | |
| --- | --- |
| | |
Boil 6 cups of water in a large pot and add about 2 tsp of salt to the hot water. Add the spinach leaves in the boiling water and let the spinach cook for 2-3 minutes. Strain the spinach and add it directly to the bowl of ice cold water for a minute. Blanching the spinach preserves the vibrant green color. Drain the spinach and keep aside.

Heat a big pan on medium heat. Add a tbsp of ghee and a bit of oil. Add chopped onions. Fry the onions till golden brown on medium high heat. Once the onions are done add the chopped tomatoes and garlic. Sauté the mixture for 5-7 minutes till the tomatoes have softened. Add 1 tsp of turmeric, 1 tsp of chili powder, 1 tbsp. of coriander powder to the mixture. Cook the masala (spice mixture) till oil begins to release from the sides. Then add blanched spinach to the mixture and give everything a good stir. Saute for 2 minutes till everything is well mixed.

Add the spinach mixture to a high-speed blender. Puree till the mixture is a smooth paste and keep it aside. If the mixture is a little hard to blend then add a bit of hot water.

Drain the soaked paneer but reserve 1 cup of paneer water for later use. If using fresh paneer, no need to soak. Using the same pan heat up ½ tbsp of ghee or butter on medium heat add ¼ tsp of chili powder, ¼ tsp of turmeric powder to the pan, and add the paneer. Sauté the paneer with the spices and add a good pinch of salt. Stir the paneer well so that its properly coated with the spices. Sauté for 2 minutes and then add pureed spinach. Gently stir everything making sure not to break the paneer. If the palak paneer is too thick , add a bit of the reserved paneer water or hot water to loosen up the spinach mixture.

Add salt to taste and garam masala. Stir gently and simmer on a low flame with a lid on for about 10 minutes. Stir half way through.

Remove the lid, turn the stove off, and garnish the palak paneer with some cream.