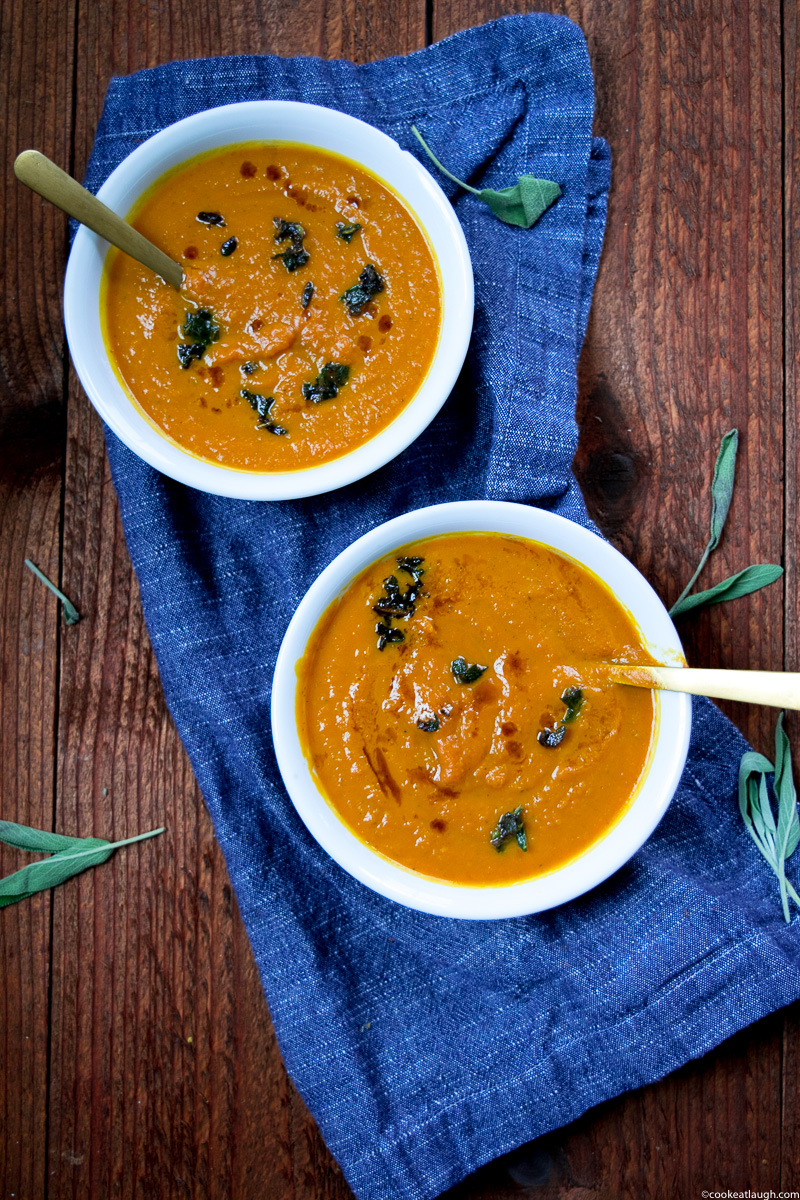 Pumpkin season began a while go and I am only now sharing a pumpkin recipe on the blog. Well it's better to be late than not share at all, so here it is my 20-minute simple pumpkin sage soup which is a perfect first course for your thanksgiving meal or any meal.
If you have read my blog for a while, you know that I spent the first ten years of my life in India. In India, I don't ever remember eating a pumpkin or even carving a pumpkin. Halloween was not a holiday we celebrated and so the tradition of carving pumpkins was not familiar to me. Even though it has been more than twenty years since I moved to America I still haven't attempted carving a pumpkin.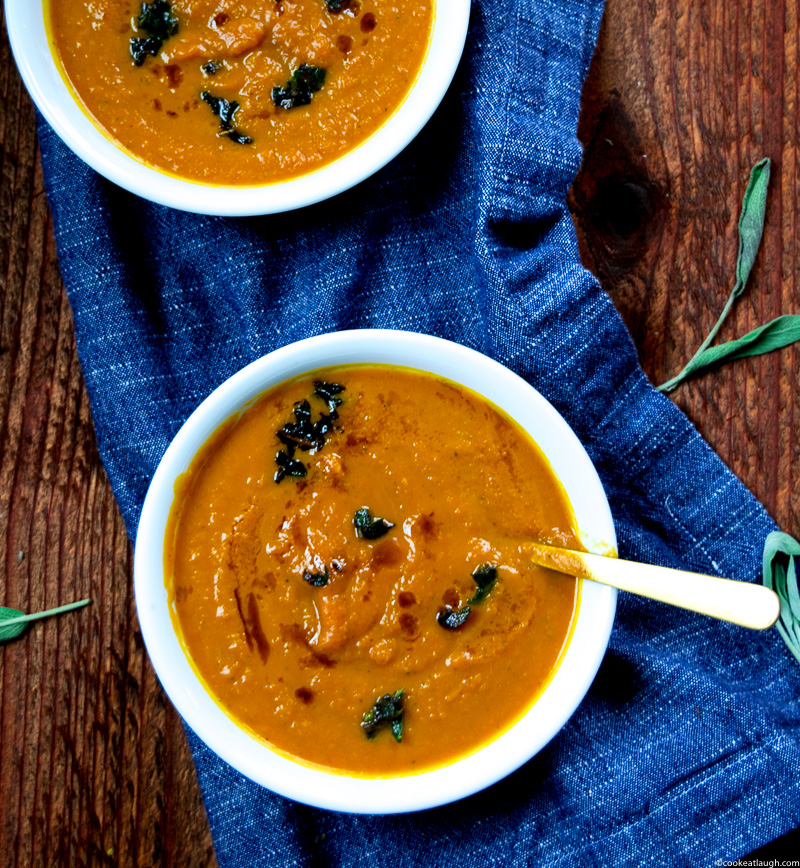 I also haven't really cooked with pumpkin a lot. It was not a vegetable that I grew up eating and I only became acquainted with it at my first thanksgiving dinner in America. The only dish I have made and eaten with pumpkin is a classic pumpkin pie.
Since end of September, I have seen so many bloggers put up creative pumpkin recipes, that it has inspired me to cook with pumpkin. I love challenges in the kitchen and coming up with recipe ideas featuring a vegetable you are unfamiliar with was definitely challenging.
Thanksgiving is around the corner and I wanted to come up with an easy starter using a pumpkin. I love to serve soup as an appetizer and so I thought it would be a great idea to come up with a delicious pumpkin soup. When I was researching recipes for pumpkin soup on the web, I saw that most of the recipes called for roasting a whole pumpkin. While I am always for making everything from scratch, for this pumpkin sage soup I find using a good quality canned pumpkin purée makes it easy to whip this soup quickly without compromising on flavor. Also, let's face it there is only so much you can fit in an oven to cook a thanksgiving dinner, so save yourself the stress and just buy pure pumpkin purée.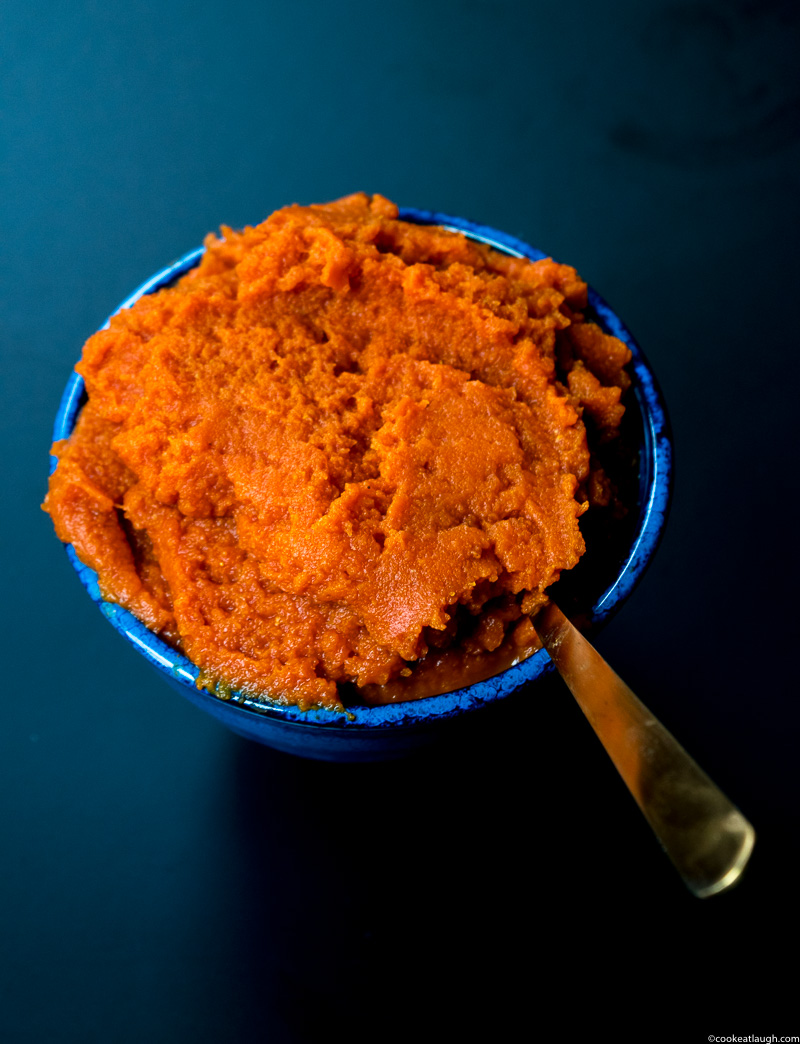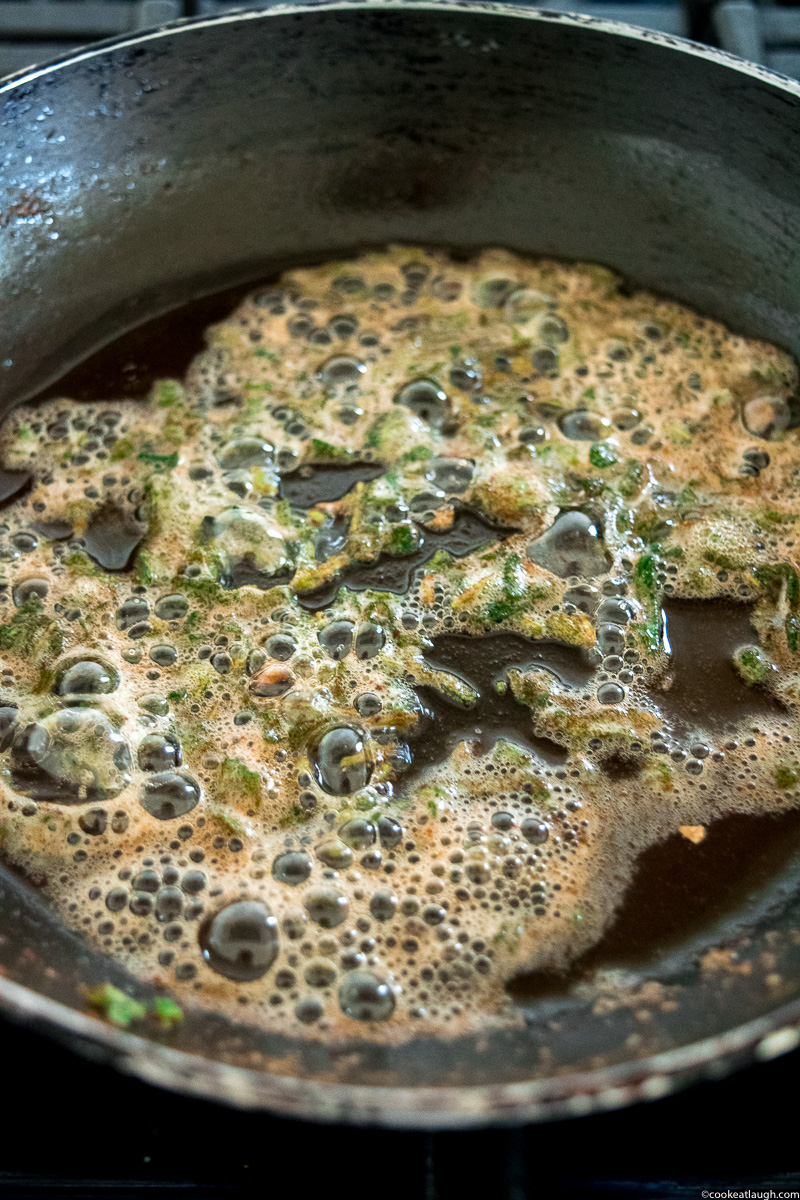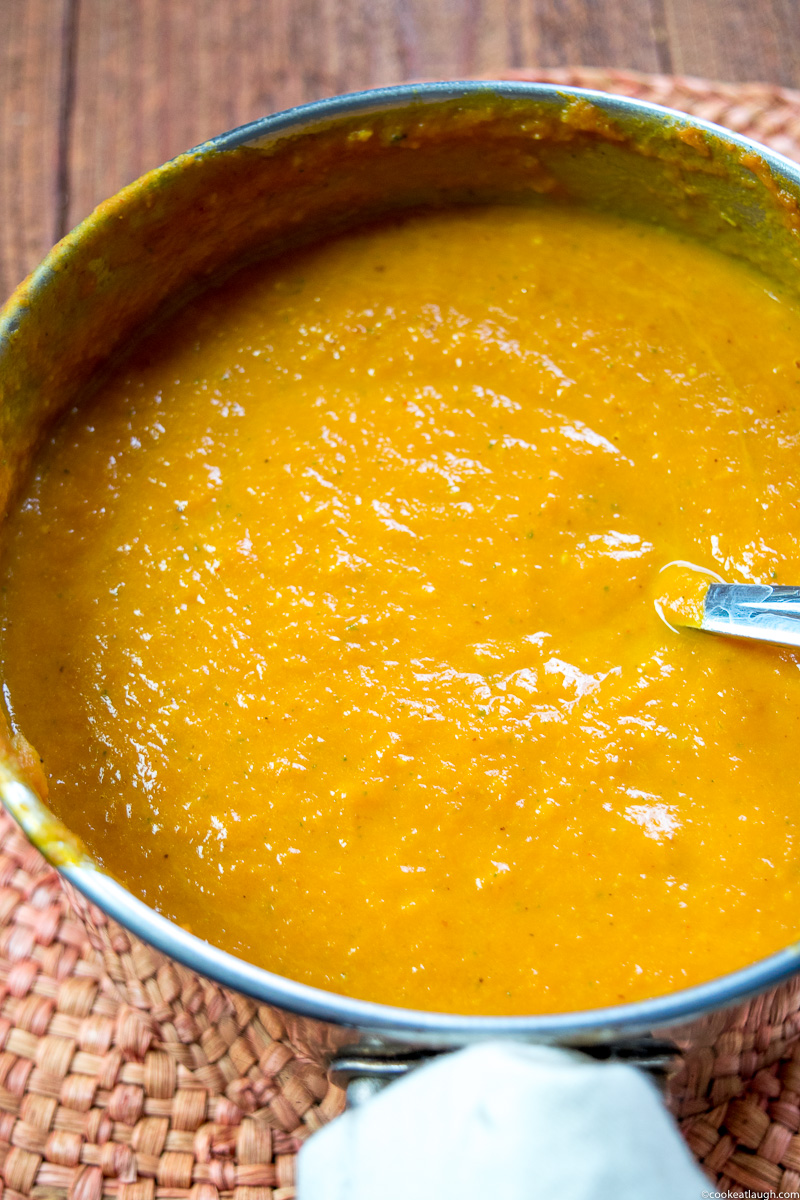 I absolutely love this pumpkin sage soup, it is flavored with onion, garlic, brown butter, sage, and etc. Pumpkin and sage are match made in heaven. Sage adds a nice warmth to the soup and really elevates the overall flavor of this pumpkin soup. This soup would make a lovely addition to your thanksgiving menu and a bonus is you can whip it in 20-minutes. I really do hope you give this recipe a try.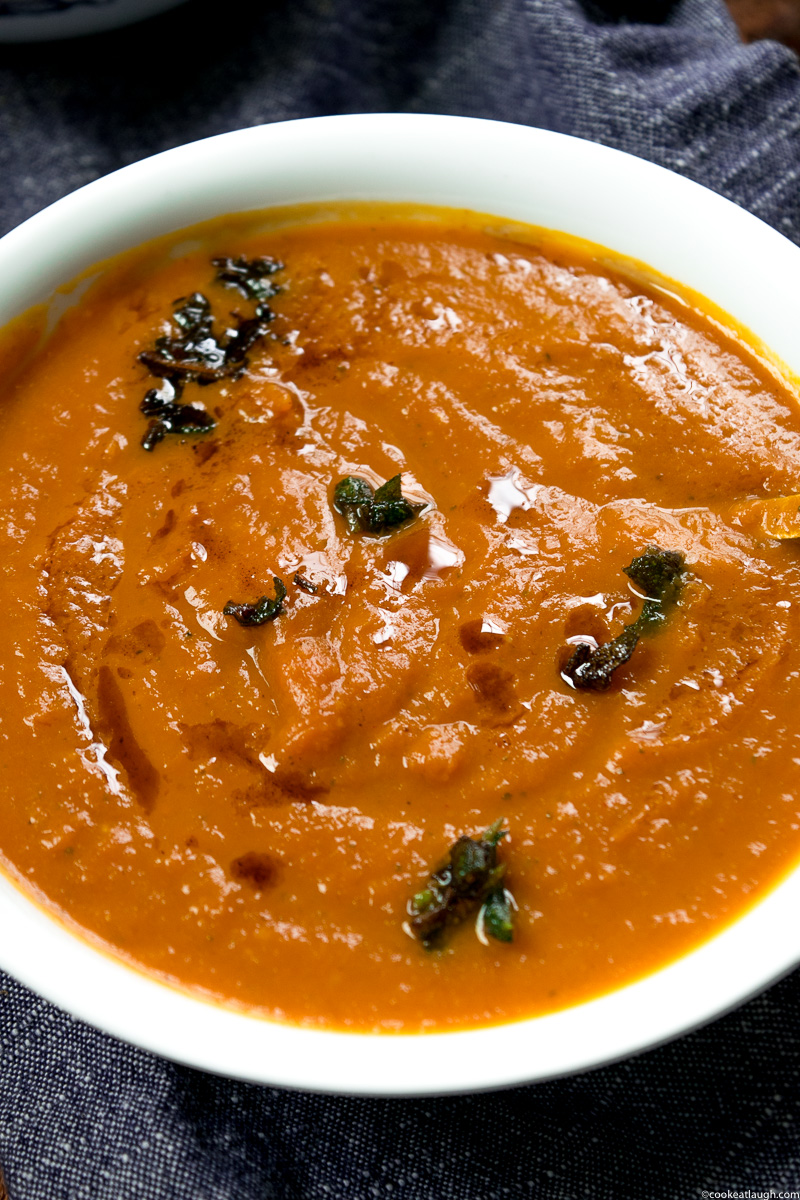 *Thank you for reading! If you enjoy my recipes, please subscribe to my free newsletter, so you never miss a recipe. Please follow me on facebook, Instagram or Pinterest. . If you make this recipe, I would love to know! Tag me on Instagram@cookeatlaugh and #cookeatlaughblog.*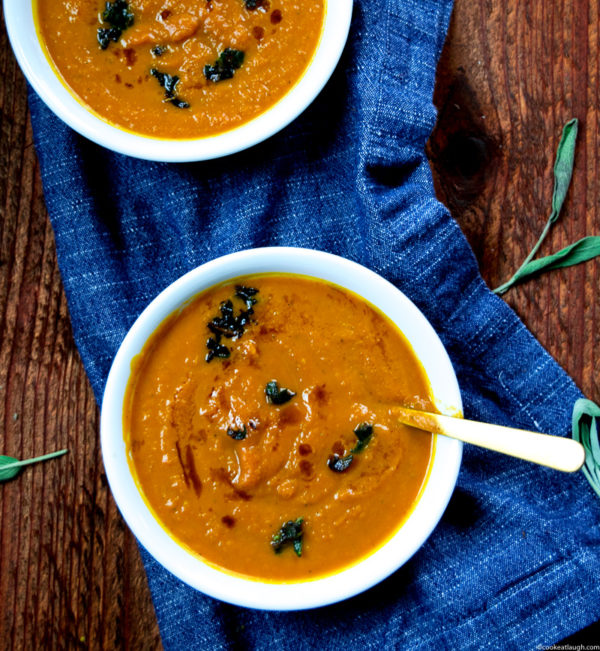 | | |
| --- | --- |
| | |
Add olive oil to a medium pot and heat it on medium high heat. Add the onions to the pot along with a pinch of salt and sauté the onions till their translucent. About 5 minutes.

Add the minced garlic to the pot and sauté for 30 seconds, then add the stock and pumpkin puree. Give it a good stir till the mixture is well combined.

Stir in the maple syrup, cayenne pepper, salt and pepper. Lower the heat and let the soup simmer for a few minutes.

Heat a small pan on low heat and add 3 tbsp. of butter. Cook till butter is light golden brown and stir in tbsp. of sage. Sauté the sage for a minute and then turn of the heat.

Add the sage butter to the soup and give it a good stir.

Turn the heat off, puree the soup in a blender till silky smooth. Pour the soup back into the pot and stir in the nutmeg. Taste for seasoning and adjust accordingly.

Optional: Heat the remaining tablespoon of butter in a small pan and then add the remaining chopped sage. Fry the sage till it is crispy. Serve the hot soup in a bowl and garnish with crispy sage.