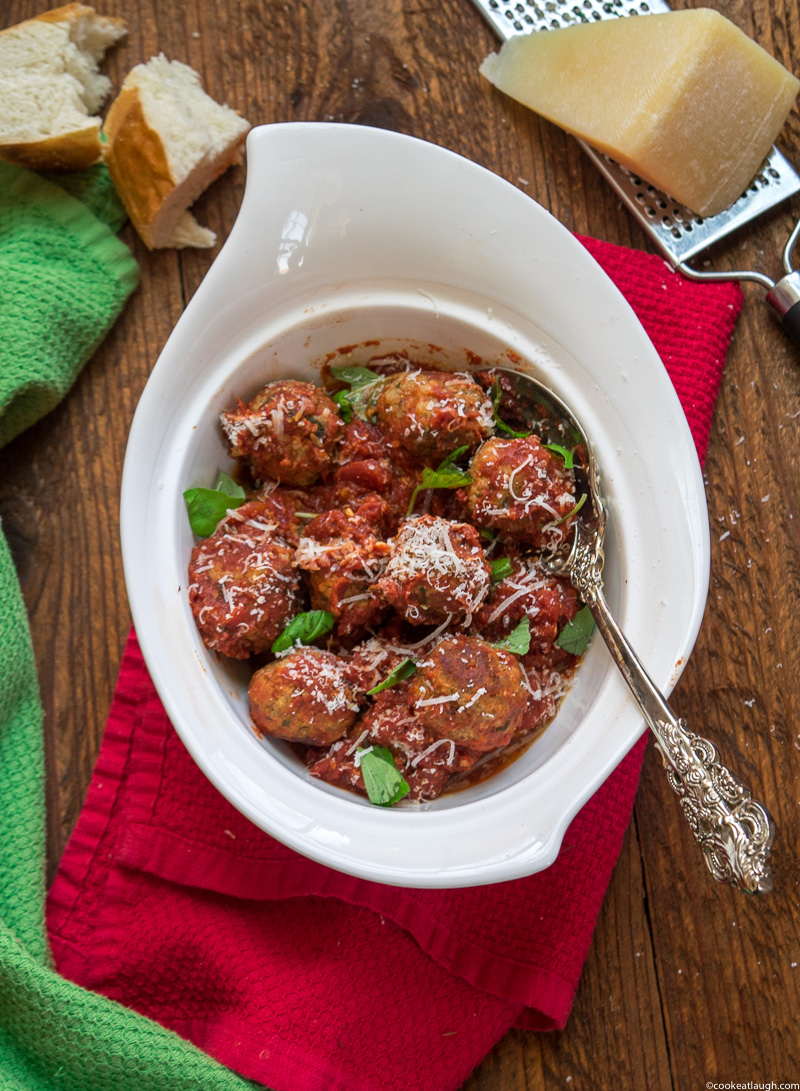 I had several new posts lined up for this week and this one (spicy turkey meatballs) was not one of them. I was out of commission due to a cold and lost all motivation to be in the kitchen. I literally despise being sick; it's absolutely depressing and boring. While I'm incapacitated, I've been nourishing myself with some comfort food such as my sweet corn soup and these spicy turkey meatballs. Since I made the effort to cook, I thought I might as well photograph these meatballs and share the recipe as it is a great fall meal.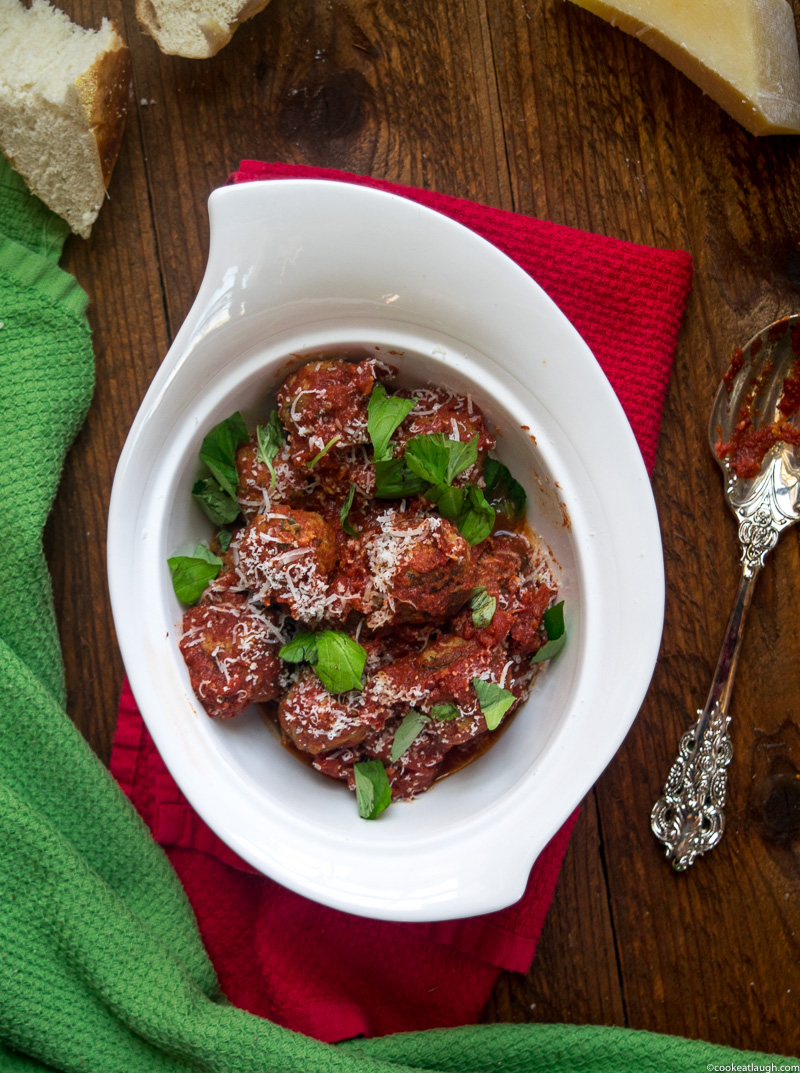 I don't fall ill too often, but when I do, I really get sick. A while back, I went on a business trip to India. I took an extra week off work while I was there to spend time with my family. I was perfectly healthy while I was working, but of course, the moment I got to Delhi to see my family, I came down with the flu (my luck never fails me). I've had the flu before, but this one was the worst I had ever experienced; I wouldn't wish it upon my worst enemy. I was bedridden the whole time I was with my family and I literally felt like I was going to die. I AM NOT EXAGGERATING.
A similar experience repeated this week. I caught a cold from the husband who brought it home from a wedding he had recently attended. The husband woke up Saturday morning with a stuffy nose and sore throat. Being the nice wife that I am, I made him all the Indian homemade remedies to cure the cold. As a preventive measure, as I really couldn't afford to get sick, I took a vitamin C boost. The husband began to feel better and I thanked my stars that I dodged a bullet this time. As I now know, I thanked too soon: Sunday morning, I woke up with a sore throat and weakness. I thought it was a general head cold that would go away after a day's rest, but it kept getting worse and eventually turned into an ear infection. It's absolutely bizarre that I dodged an ear infection all my life and after all these years, I get it from a general head cold. Like I said before, my luck never fails me.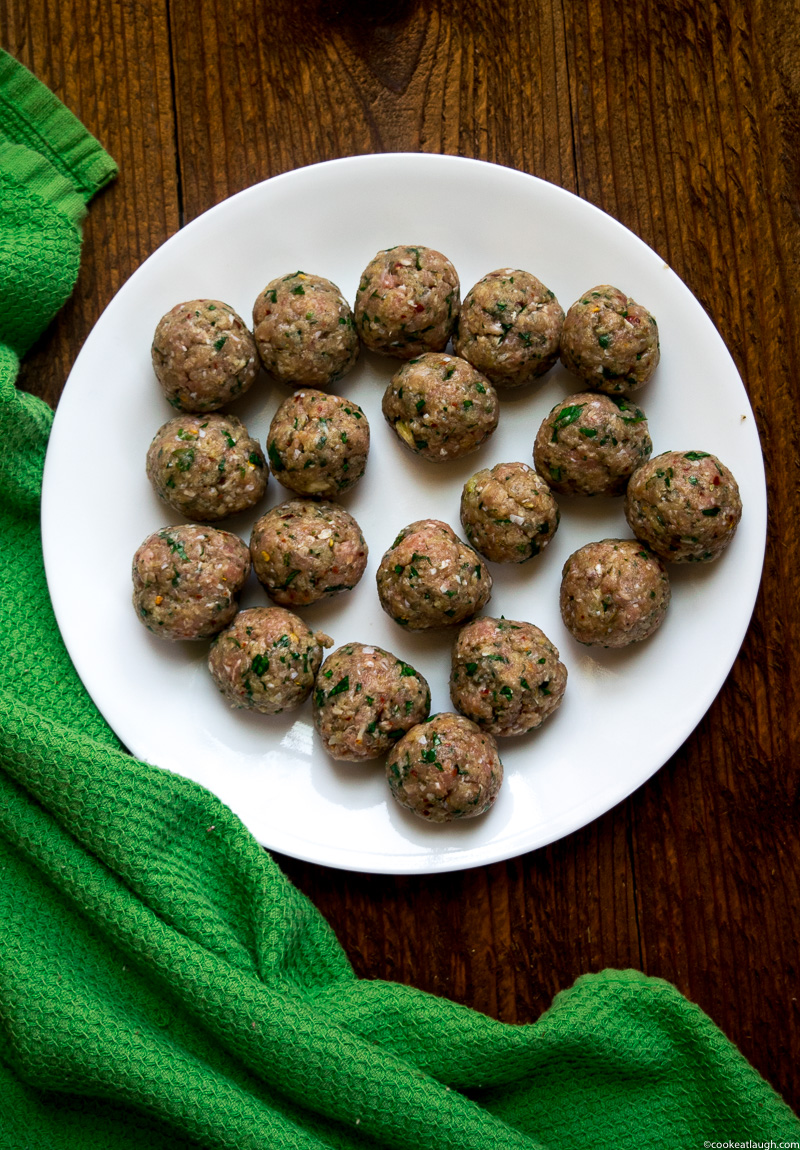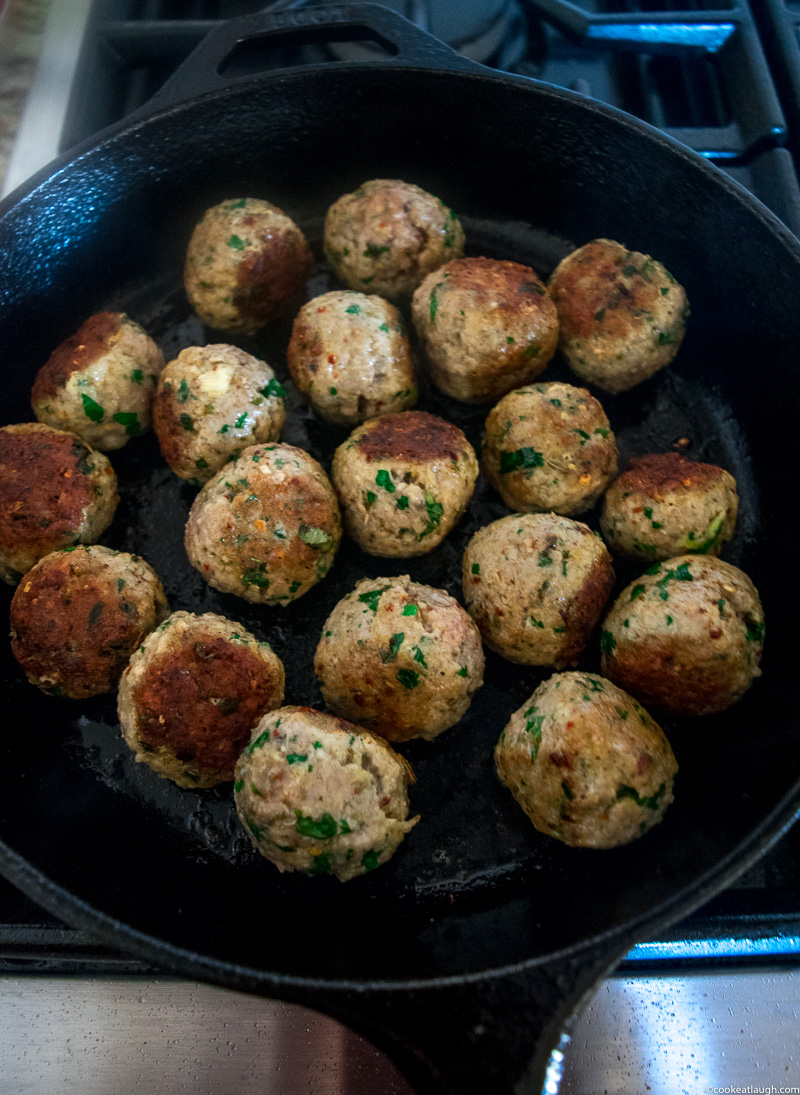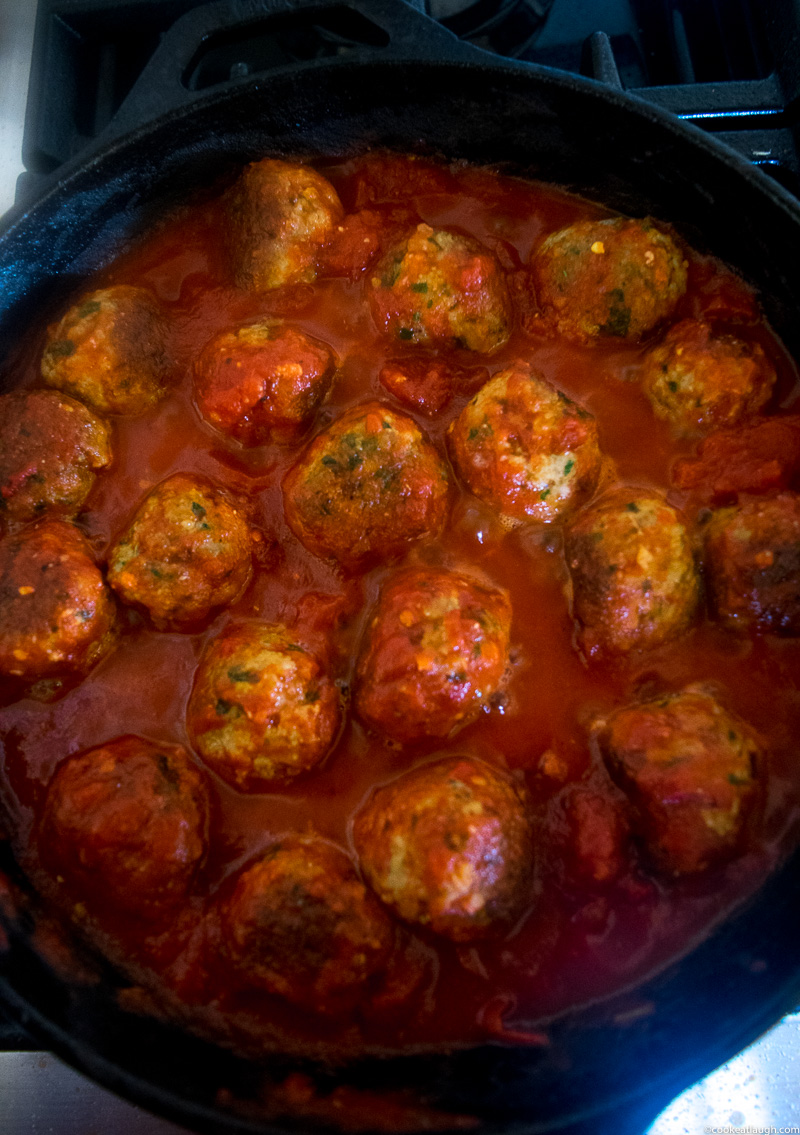 Being sick makes me crave comfort foods such as this spicy turkey meatballs in tomato sauce. I love these meatballs because they're super flavorful and juicy. Traditionally, Italian meatballs are made with a combination of ground beef, veal, and pork which is delicious, but I prefer using turkey as it's healthier. I marinate the ground turkey with a decent amount of chili flakes, fennel, oregano, parsley, basil, garlic, and a few additional flavor boosters. The meatballs are quickly pan fried and then canned tomatoes are added to the pan to make a quick tomato sauce.
This recipe takes roughly 30 minutes to make and it's a super satisfying weeknight meal. Serve over pasta or zoodles or with a side of garlic toast. This recipe even makes for a great appetizer to serve at your upcoming holiday parties, just make the meatballs into mini bite size balls and serve them over crostini. Enjoy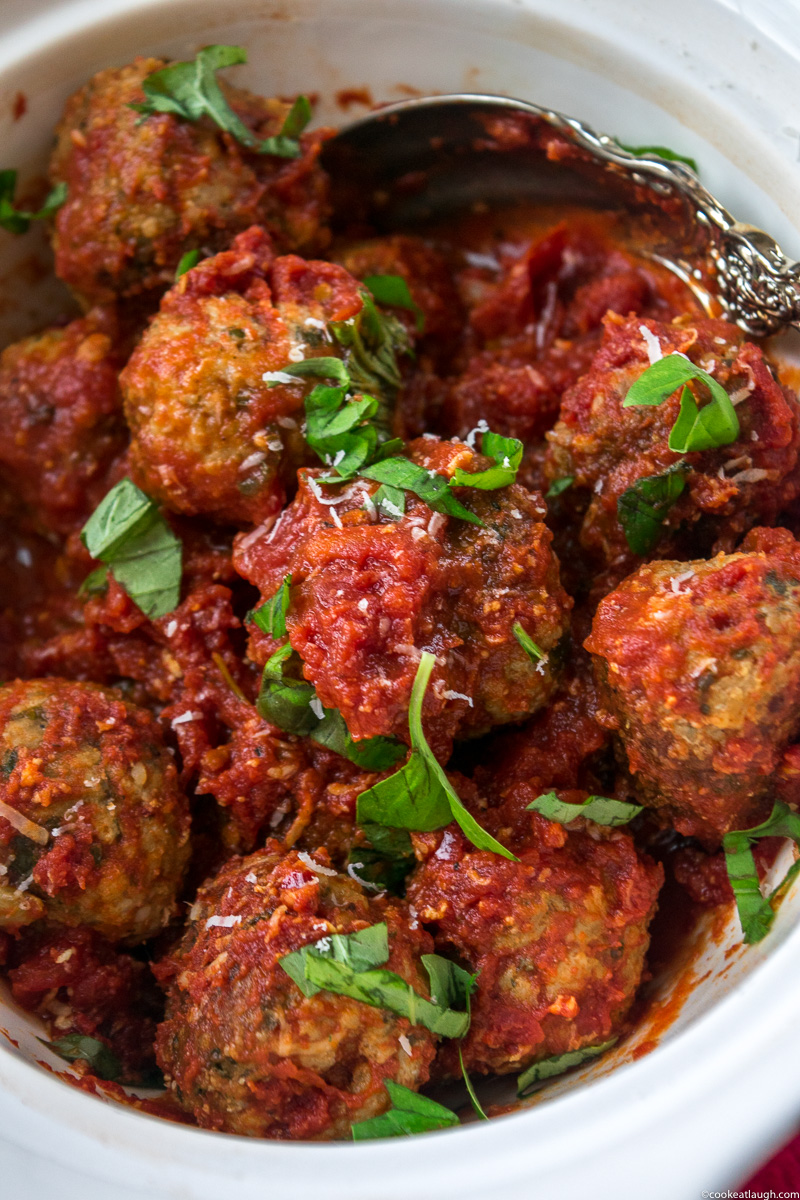 *Thanks for stopping by ! For more CookEatLaugh in your life, follow me on facebook, Instagram or Pinterest. Subscribe to receive new posts via email. And if you make this, I'd love to see! Tag me on Instagram @cookeatlaugh and #cookeatlaughblog.*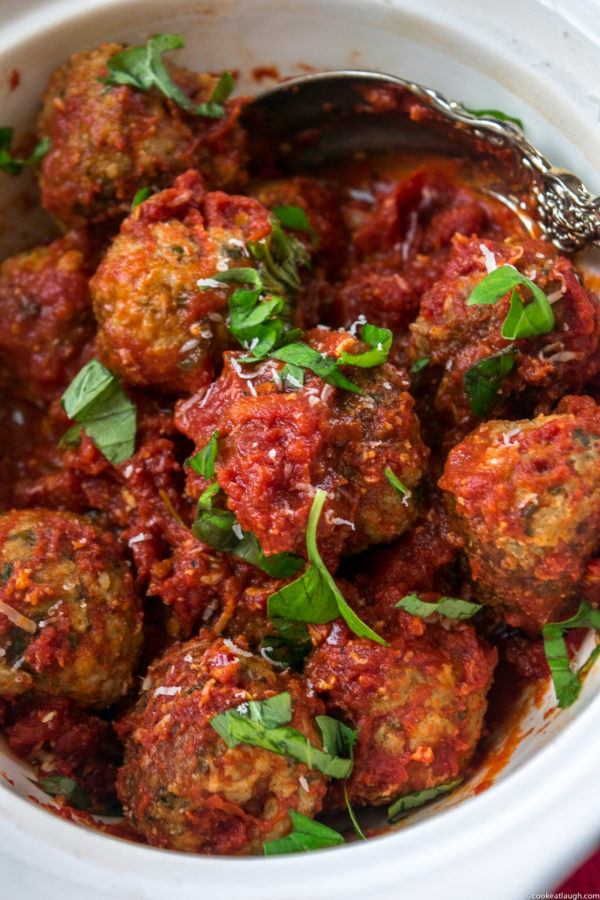 | | |
| --- | --- |
| | |
In a small bowl combine the breadcrumbs and milk. Let it sit for a few minutes. In a medium bowl combine the turkey, breadcrumb mixture, eggs, parmesan cheese, parsley, basil, red pepper flakes, oregano, garlic, salt, and pepper. Mix well, but do not overmix as it will yield to tough meatballs. Form the meatballs into size of golf balls. I like to use a cookie scoop to form my meatballs as it yields even sized balls.

Heat a large skillet on medium high heat and then add the olive oil. Gently add the meatballs to the pan, make sure not too over crowd the pan. Let the meatballs cook for a few minutes on each side, they should get nice and brown. Don't worry about cooking them all the way.

Add the crushed tomatoes to the pan along with the sugar and pinch of chili flakes if you prefer. Add salt and pepper to taste. Give everything a nice stir and make sure meatballs are completely covered in the sauce. Turn the heat down to low, partially cover the pan with a lid and let the sauce simmer for about 15 minutes.

Stir in some fresh basil and grate over a bit of fresh parmesan cheese. Serve over pasta, rice, garlic toast, or with a chunk of crusty bread. Enjoy.
Yield 19 meatballs
Since the tomato sauce contains very few ingridients, I urge you to use a good brand of canned tomatoes as it makes a huge difference.