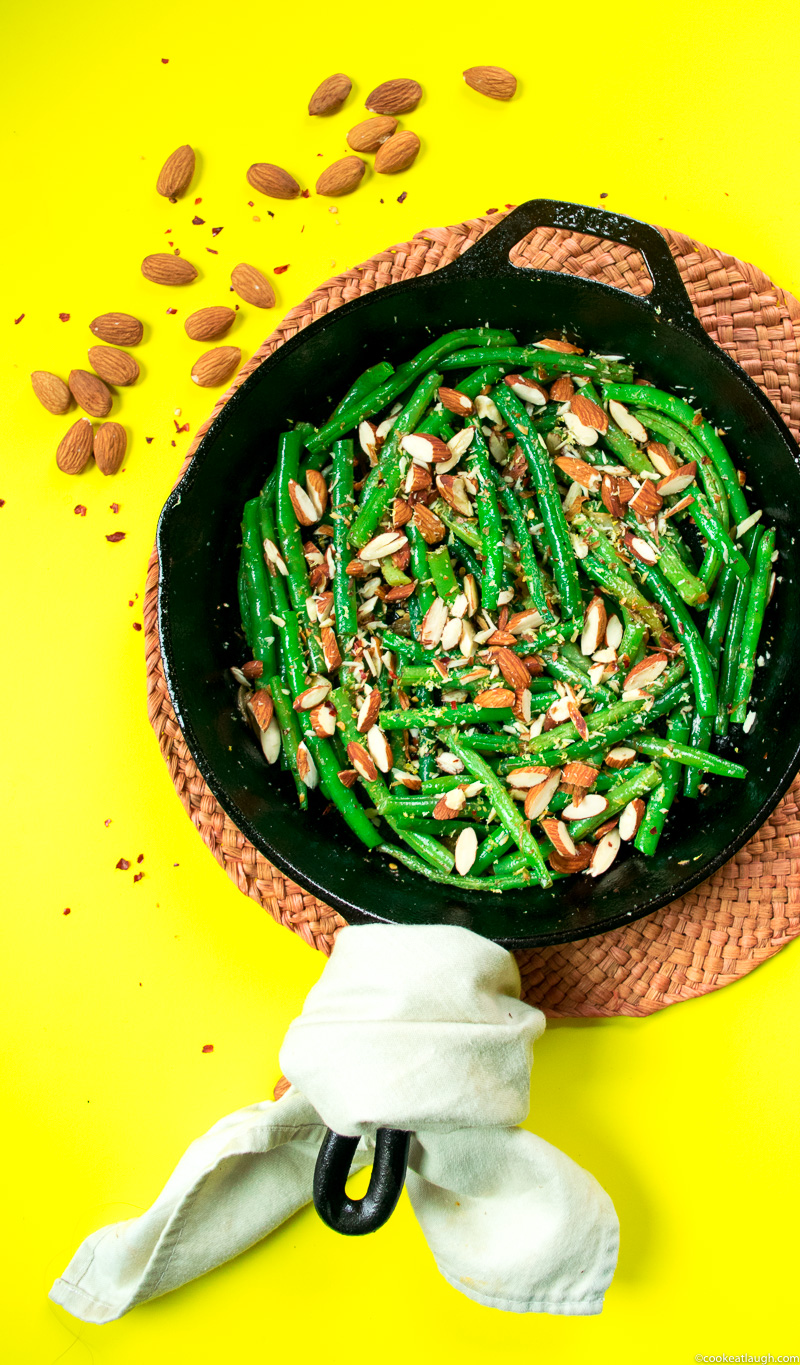 Sautéed green beans with toasted almonds are my favorite way to eat string beans. Green beans taste pretty bland on their own, but when you sauté it with a little garlic, chili flakes, lemon zest they taste damn delicious. The recipe I am sharing with you today is my take on a classic French green bean dish.
Green beans are packed with nutrients, they are rich in protein and fiber. Another interesting fact about green beans is that scientifically they are classified as a fruit and not a vegetable. Well in my books green beans will always be a vegetable.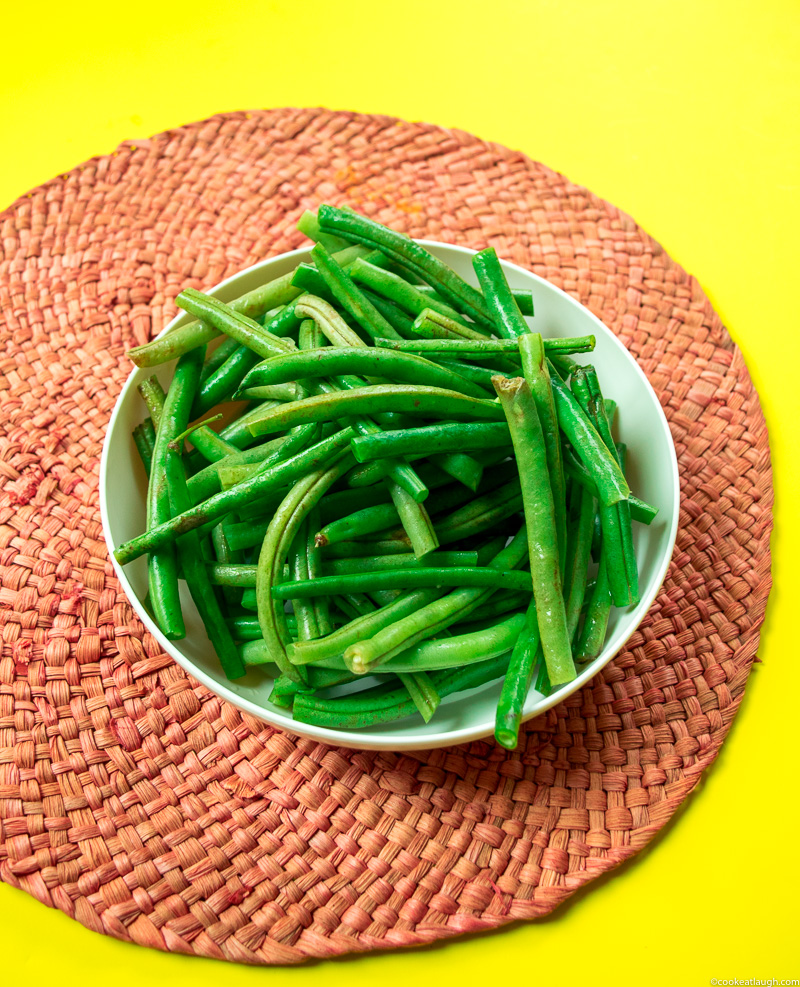 When I was a little girl I remember my grandmother buying 4 or 5 lbs. of green beans and I was given the job to string them and snap the ends off. I absolutely despised that job which in turn made me despise green beans and I stopped eating them. It was only when I got older did I start appreciating green beans again.
In southern states, it's a specialty to cook green beans long and slow till they are tender and extremely soft. I prefer my beans to be tender but crisp and so I gravitate towards the French method of cooking them. The French simply blanch their beans first and then quickly sauté them with some garlic, butter, and lemon.
Blanching is a basic technique where you briefly boil the vegetable and then plunge it into cold water. Blanching helps to preserve the vibrant color and texture of the vegetable. It's an important technique that every cook should know and use.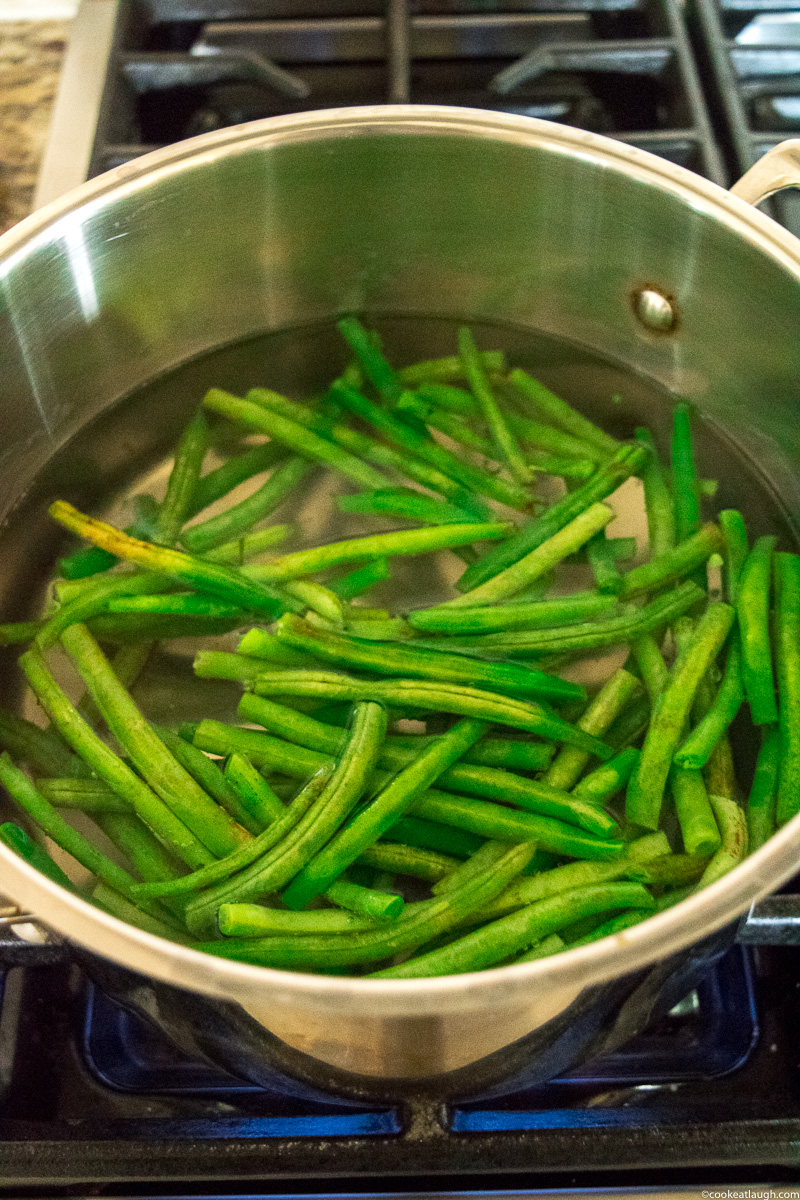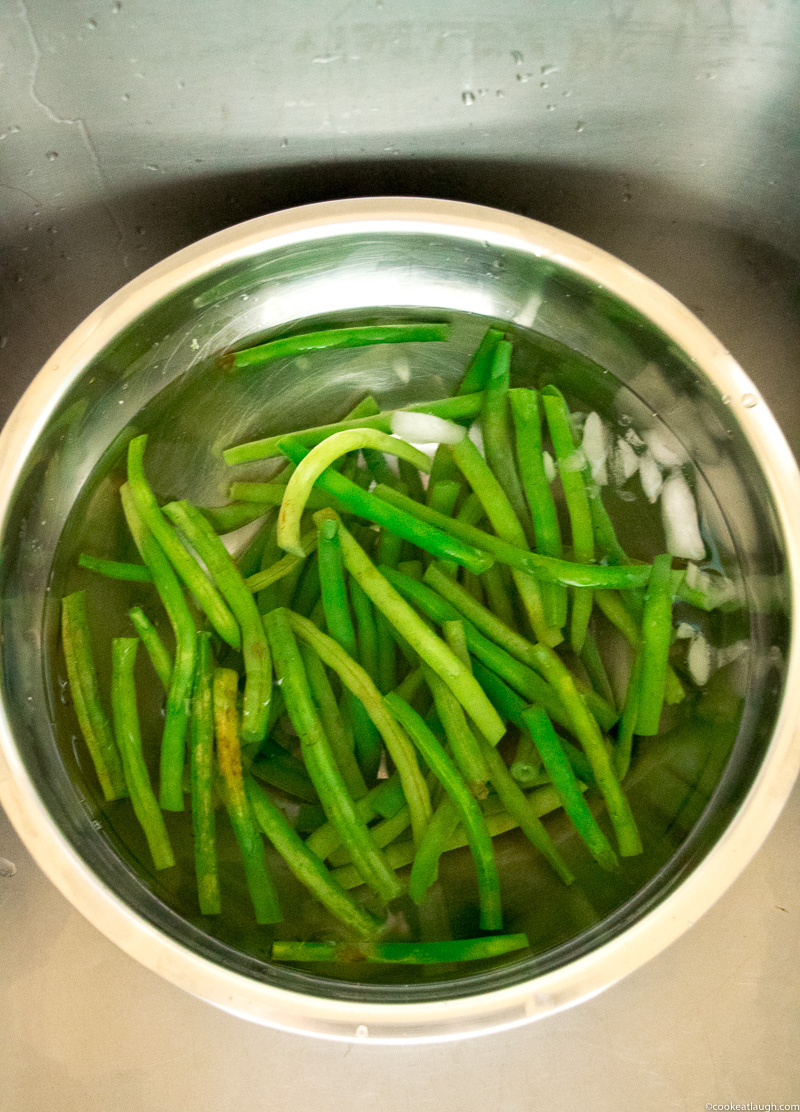 Sautéed green beans is a dish I make quite often because they are so easy to whip up and they are super tasty. After blanching the beans, I quickly sauté them in a pan with olive oil, slices of garlic, and chili flakes. To add some brightness to the green beans I squeeze a little lemon juice along with the zest. Since I am big on texture I toss in some toasted almonds which add a lovely crunch and nutty flavor to the dish.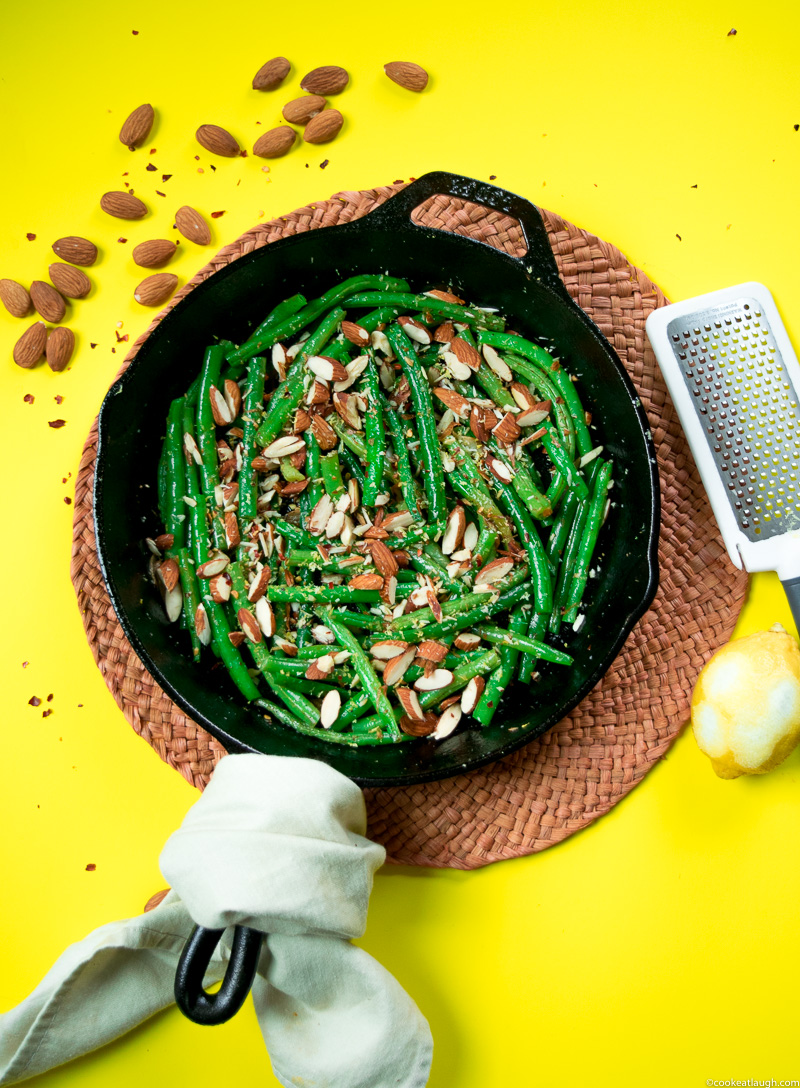 These simple sautéed green beans are an elegant dish that will make a great side on your holiday table or for Sunday dinner. I often like to pair this dish with my green masala roast chicken which if you haven't tried yet you are missing out. Please try this recipe even if you don't like green beans this recipe will change your mind.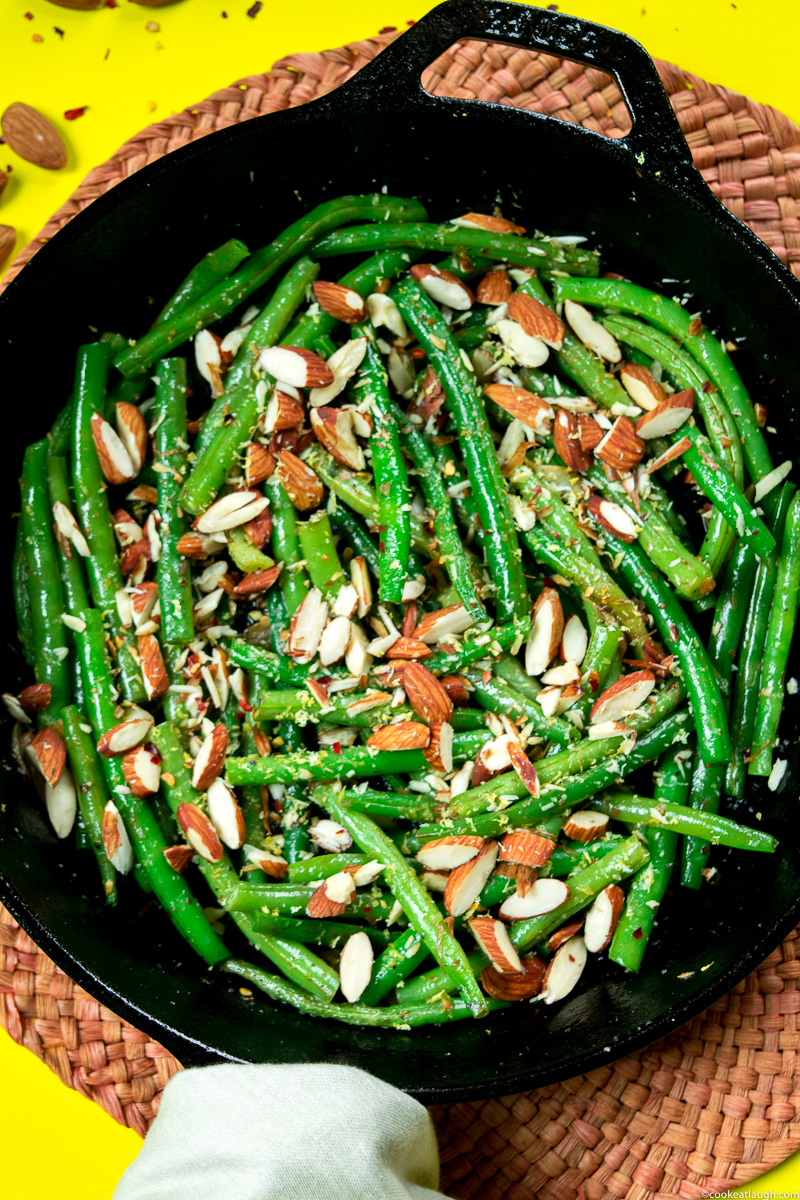 *Thank you for reading! If you enjoy my recipes, please subscribe to my free newsletter, so you never miss a recipe. Please follow me on facebook, Instagram or Pinterest. . If you make this recipe, I would love to know! Tag me on Instagram@cookeatlaugh and #cookeatlaughblog.*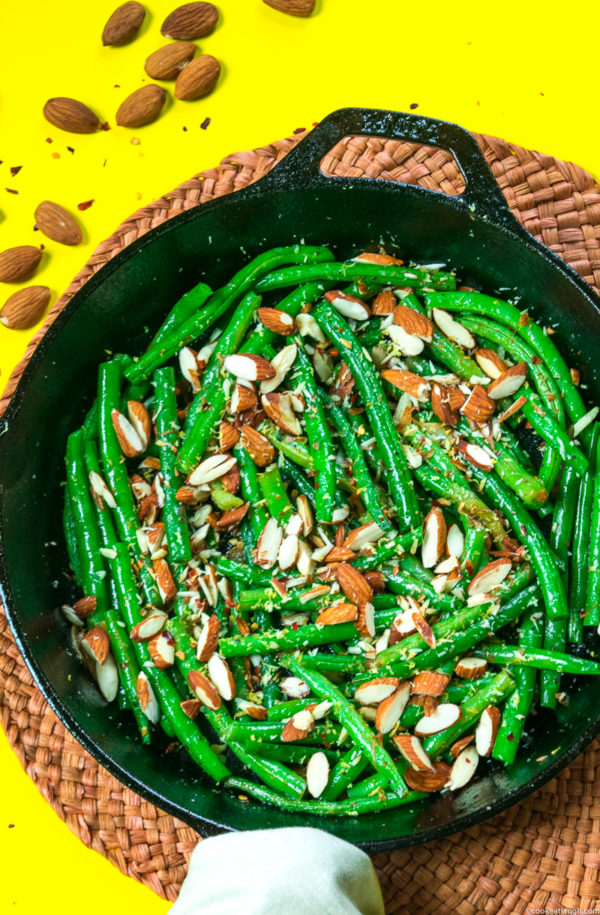 | | |
| --- | --- |
| | |
Add the almonds to a medium skillet and toast them for 2-3 minutes on medium low heat. Remove from pan and Keep aside.

In a large pot bring the water to a boil. Add a good amount of salt to the water and then add the beans. Cook the beans for 3-5 minutes till they are tender but firm. Drain the beans and plunge it into a bowl of iced water.

Heat the olive oil in the same skillet on low heat, add the sliced garlic and chili flakes. Sauté for minute, until the raw garlic flavor has disappeared.

Add the beans, salt, pepper, and sauté for a few minutes. Add the lemon juice and zest and then toss in the toasted almonds. Enjoy!