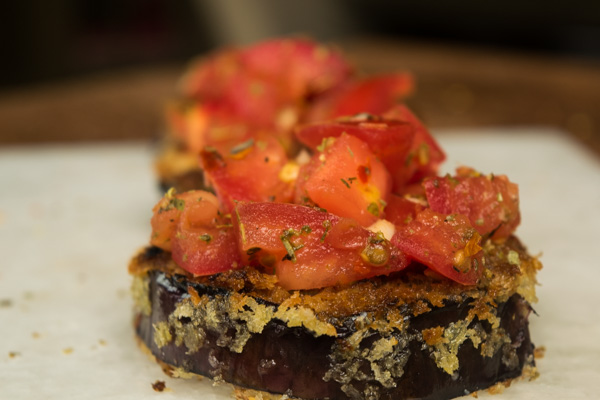 Before I get into the details of this amazing bruschetta recipe, let me share a unknowns about the beloved eggplants. A fun fact about eggplant is that there is actually a female and male version. Did you know that? I actually had no clue till a few months ago while doing some research and came across this enlightening information. The difference between male and female eggplant is that the male eggplants have fewer seeds making it less bitter. The way you tell them apart is by the indentation at the bottom. If it is round then it's a male and if it looks like a slash then it's a female. Now whenever buying eggplants, I am closely inspecting their bottoms and picking out the males only. Sometimes it is hard to tell, but inspecting your eggplant bottoms is vital because it makes cooking them easier.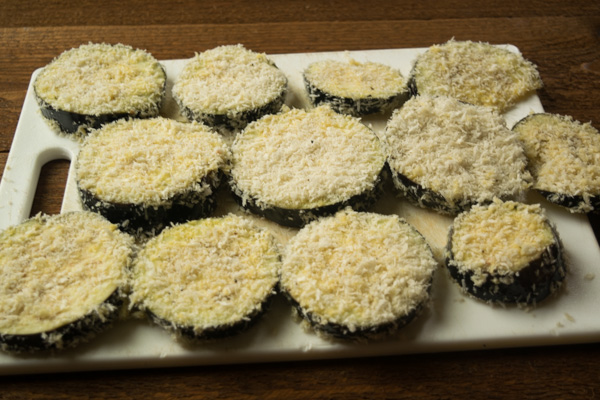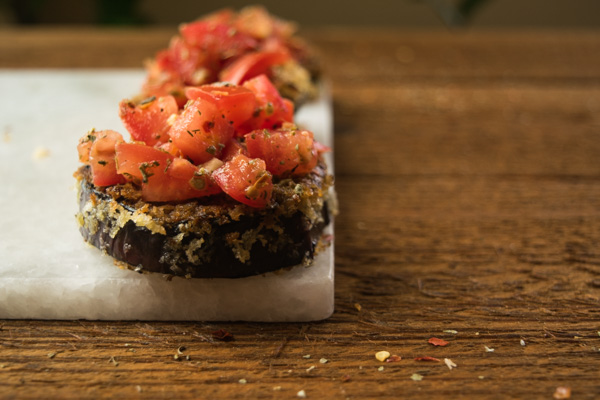 Eggplants are one of the main vegetables that I always seem to buy every week. I was a failure at cooking them up till recently. It would take me forever to cook it and the texture would be soggy. It was baffling to me why my eggplant dishes weren't coming out right. Learning about the male and female version definitely helped, but there was still something missing. Until, I learned this cool trick to generously salt eggplants before cooking. Salting does a few things it draws out the bitter liquid, it seasons the eggplant, and it helps with tenderizing.
I hope that sharing these tips will help you (maybe you already knew about them). Let's talk about this amazingly simple recipe crispy eggplant bruschetta. Honestly, I made this simple dish one night because I was craving some bruschetta but had no bread in the house. I just got creative and decided to work with what I had which was eggplants. Eggplants when cooked on their own yield for quite a soft texture, so to crisp those up I simply coated them in some egg and bread crumbs. I pan fried up the eggplants which yielded for a crisp exterior and meaty interior paired with garlicky basil tomatoes…. This dish was super yum.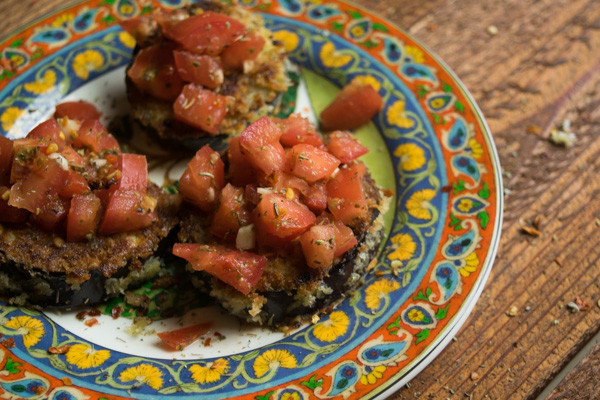 I originally was not planning on doing a blog post on this dish because I thought it is too simple and might be boring. But sometimes the simplest dishes are the best things to eat. This can be your next simple dinner because it takes no time to whip up or serve it as an appetizer at your next get together. Whatever you want to do just go to the store buy yourself some male eggplants, salt them and make this recipe.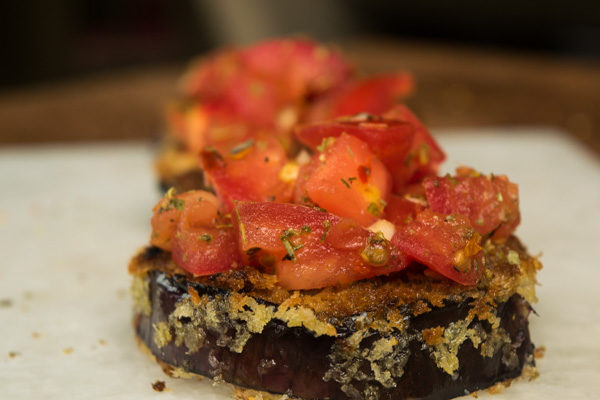 | | |
| --- | --- |
| | |
In a medium size bowl add the diced tomatoes along with the garlic clove, chili flakes, olive oil, Italian seasoning and salt and pepper. Give it a good mix, taste for seasonings and adjust accordingly. Cover the bowl with plastic and refrigerate.

Salt the eggplant rounds generously and lay them flat between a few paper towels for at least 30 minutes. This will help draw out the bitterness, season the eggplant, and will help them stay tender during cooking. Once 30 minutes are up rinse the eggplants with cold water and press the eggplant with clean paper towels to remove any excess liquid.

In a small bowl crack the eggs add a pinch of salt and pepper. Beat the eggs well and leave it aside.

In another bowl add the panko bread crumb, parmesan cheese, a pinch of salt and pepper. Give it a good mix.

Take your eggplant dip it in the egg mixture and then panko mix. Once you are done breading all the eggplant, we are ready to fry them.

Heat up a cast iron skillet on medium and add the oil. Once the oil is hot, start adding the eggplant. Do not overcrowd the pan otherwise the eggplant will steam rather than crisp up. Fry the eggplant until crispy and golden about 3-4 minutes on each side. Transfer the eggplant to a paper towel lined plate to remove any excess oil.

Remove the tomato mixture from the fridge. Top each eggplant with about a heap tablespoon of tomato mixture. Serve immediately, Enjoy.