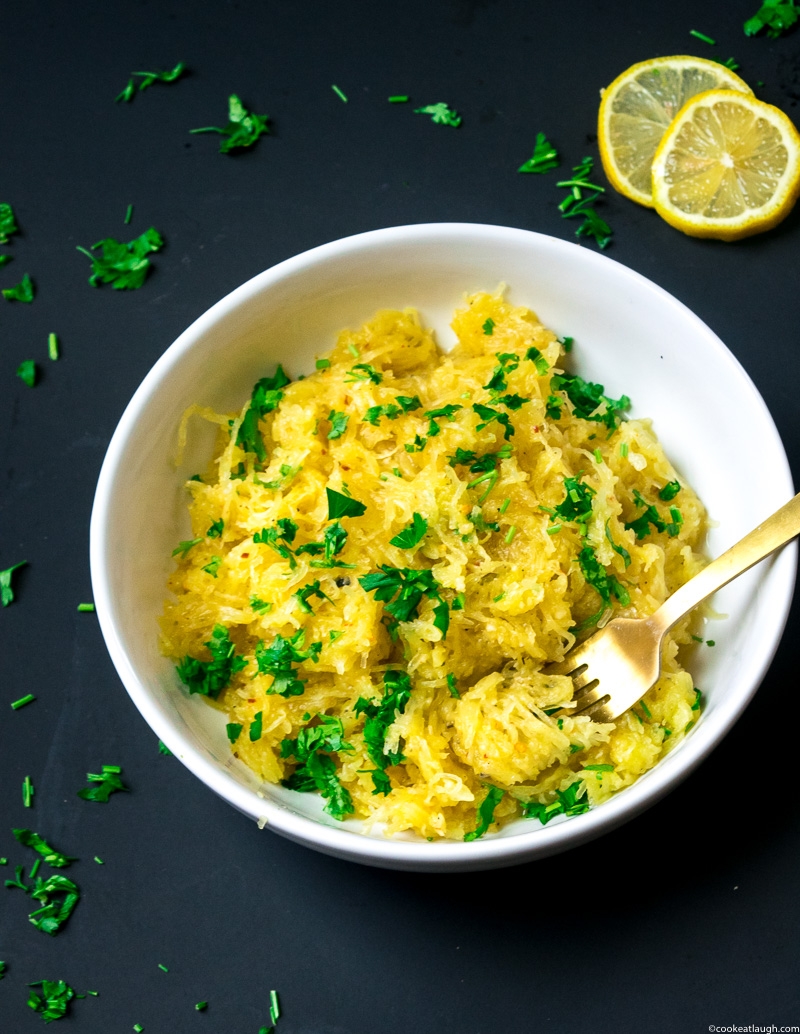 Happy New Year friends! Holiday season has come to an end and so has the season of indulgence. It's time for a detox and to rejuvenate ourselves, so we can feel our best in this new year. For the month of January, the recipes I will be posting will focus more on healthy balanced eating. The recipes will still be scrumptious because healthy eating doesn't equate to eating grilled chicken and steamed veggies everyday (Boring!).  My first recipe post for this year is a delish lemon garlic spaghetti squash, it's gluten-free, vegan, and low-carb.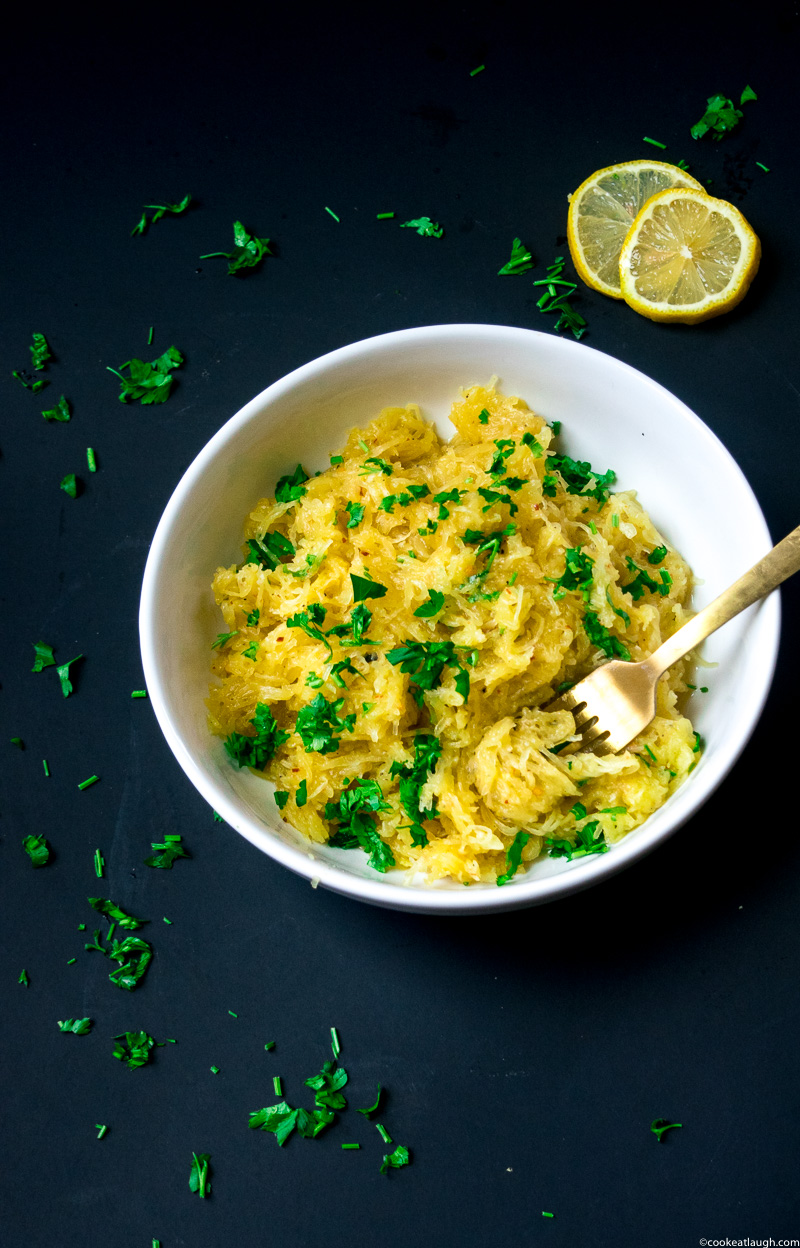 Spaghetti squash is a variety of winter squash and when cooked it has uncanny resemblance to angel hair pasta. Even though, it has a similar texture to pasta, it is not going to fool anyone into thinking it's actually spaghetti. The flavor of the squash is quite bland, which makes it a great for taking on other flavors well. Overall, spaghetti squash is a healthful substitue for pasta.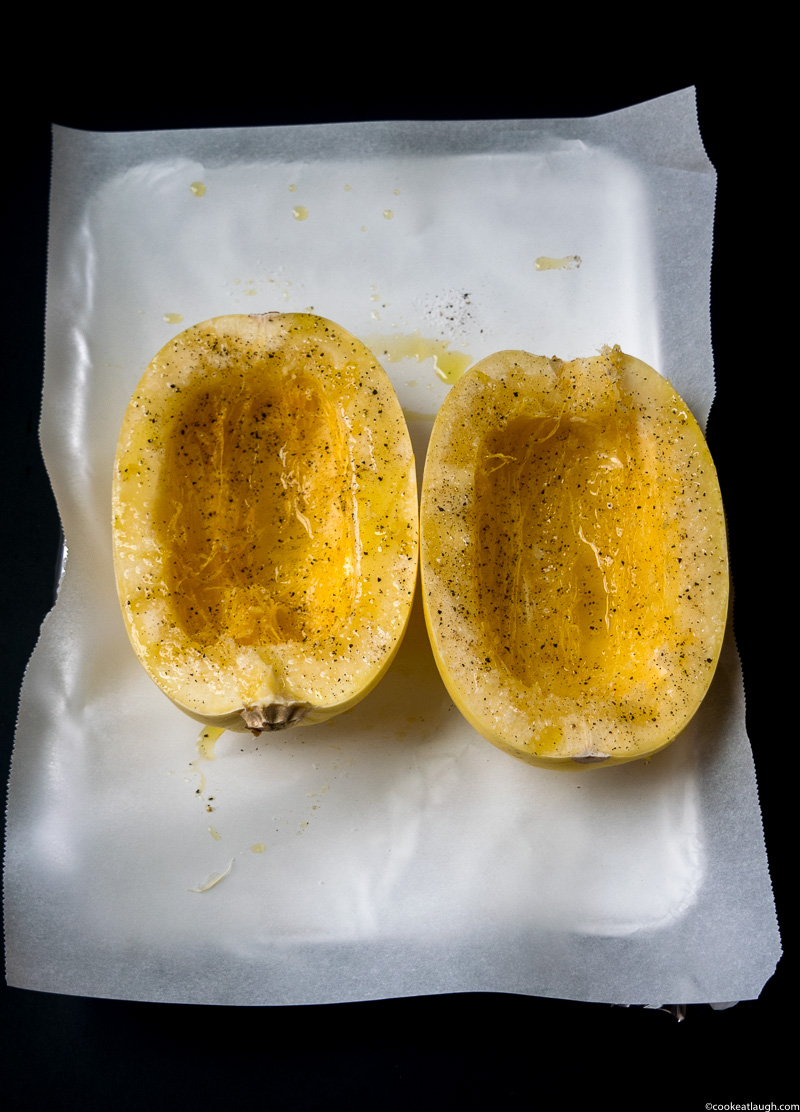 The first time I tried spaghetti squash was over two years ago and I despised it. I was super thrilled to try this hyped up squash that apparently tasted just like pasta. The recipe I followed required the squash to just be microwaved and seasoned with salt and pepper. The squash tasted like flavorless baby food, not something I am into. I banned it from my life till I finally learnt the secret to making a delectable squash.
The technique for the best spaghetti squash ever is to roast it in the oven till tender and then gently tossing it with herbs and spices. I love to flavor my squash with lemon, garlic, and chili flakes to make a lip-smacking lemon garlic spaghetti squash.
If you have never tried spaghetti squash before this lemon garlic spaghetti squash is great recipe to start with. Garlic and lemon come together to create an incredibly flavorful dish, that will satisfy your carb cravings.
Looking for more healthy recipes? Try these: healthy cauliflower soup, spinach chard green soup, grilled romaine salad, and lemon cauliflower rice.
*Thank you for reading! If you enjoy my recipes, please subscribe to my free newsletter, so you never miss a recipe. Please follow me on facebook, Instagram or Pinterest. . If you make this recipe, I would love to know! Tag me on Instagram@cookeatlaugh and #cookeatlaughblog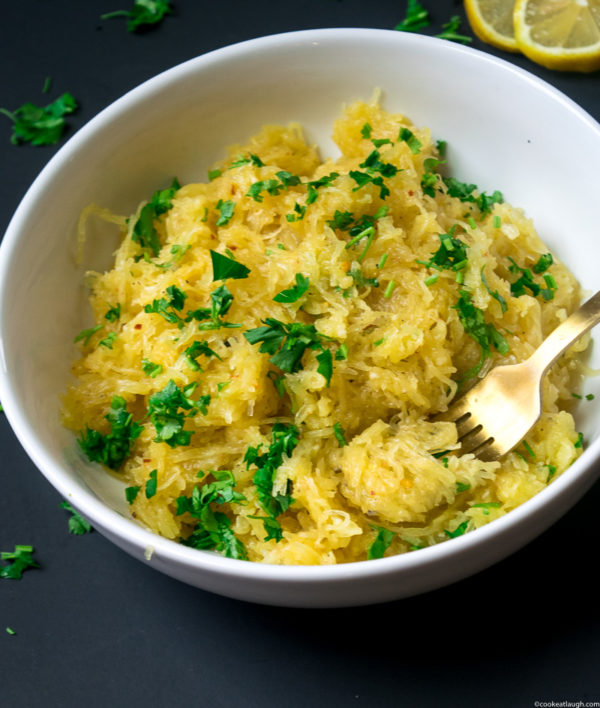 | | |
| --- | --- |
| | |
Pre-heat oven to 400 degrees.

Line a baking tray with parchment paper. Halved the spaghetti squash, scoop out the seeds and discard. Place the halved squash onto the tray, cut side up. Drizzle the squash generously with olive oil, and season with salt and pepper. Turn the squash cut side down and bake it for 30 minutes or till tender.

Using a fork shred the squash and placed the strands of squash in a bowl. Keep aside.

In a large skillet over medium heat, add the tbsp. of olive oil, add the minced garlic, chili flakes, and sauté for 2-3 minutes.

Add the squash, zest of half a lemon, salt and pepper.

Sauté everything together for 5 minutes, stir in the juice of 1 lemon and fresh parsley.