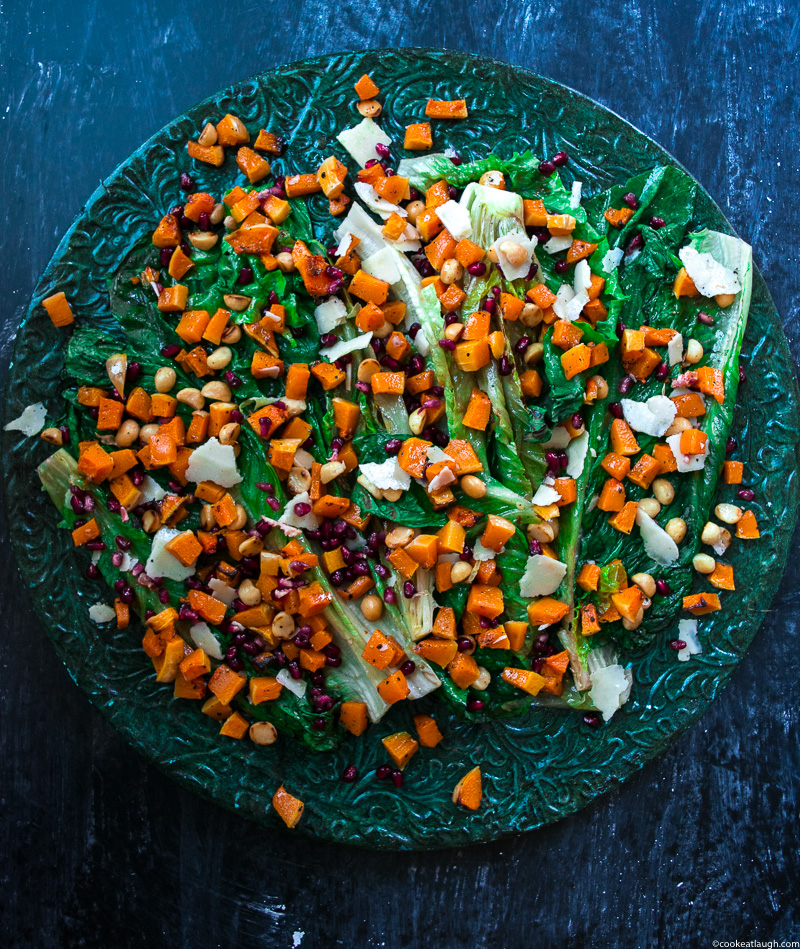 It's been a while since I have enjoyed a good crunchy hearty salad. I'll be honest I am not an avid salad eater, but usually in the summer I get into a salad eating kick. A week ago, I got a major craving for a salad while watching an episode of the chef's life (PBS cooking show).On the show, the chef was making a scrumptious grilled lettuce and persimmon salad.
Taking inspiration from the show, I recreated my version of a grilled lettuce salad. I swapped the persimmon for butternut squash, added some char-grilled lettuce, pomegranates, roasted nuts, slices of parmesan cheese, and a red wine vinegar dressing. This grilled romaine lettuce salad with butternut squash salsa is perfect to serve at your upcoming Christmas dinner.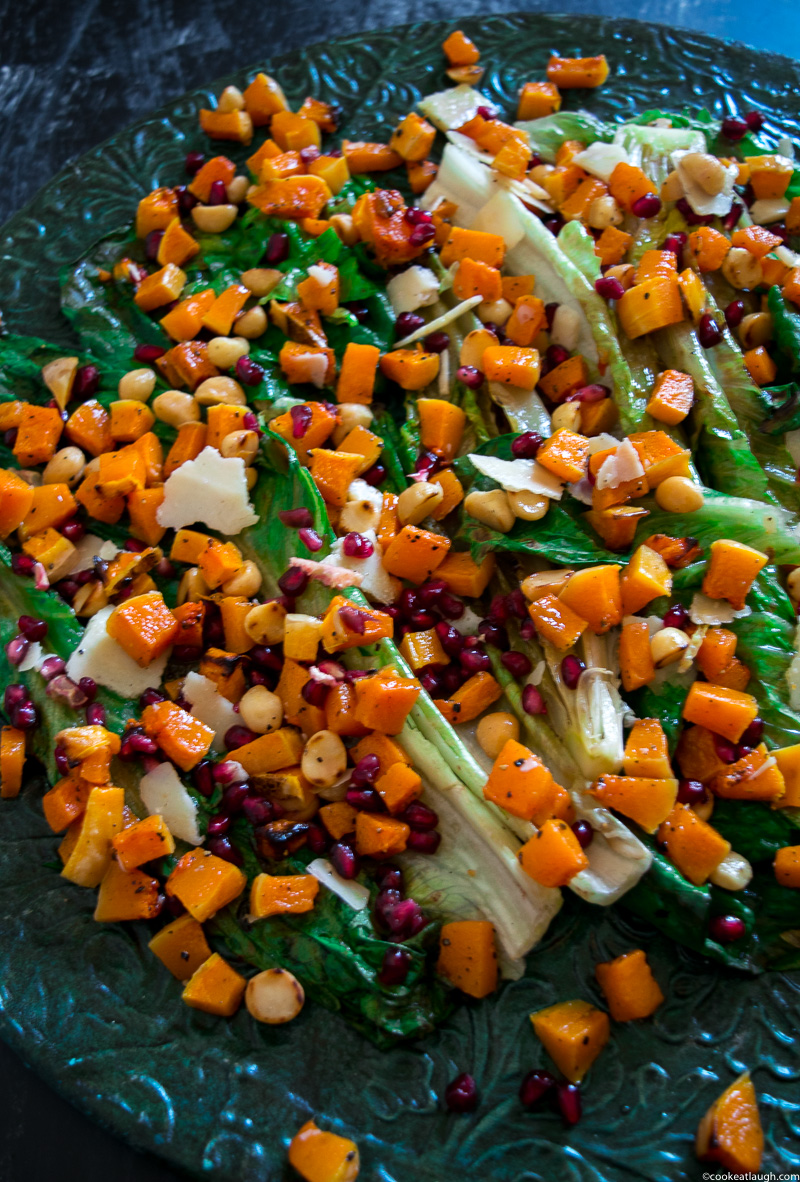 Lettuce on its own doesn't have much flavor and frankly it is quite boring. On the other hand, grilled romaine lettuce is delightful. It was my first-time grilling lettuce and I was expecting the leaves to just turn into a mush.  To my surprise the romaine turned out to be really crunchy, smoky, and sweet. Getting a nice char on the lettuce is the key to this salad.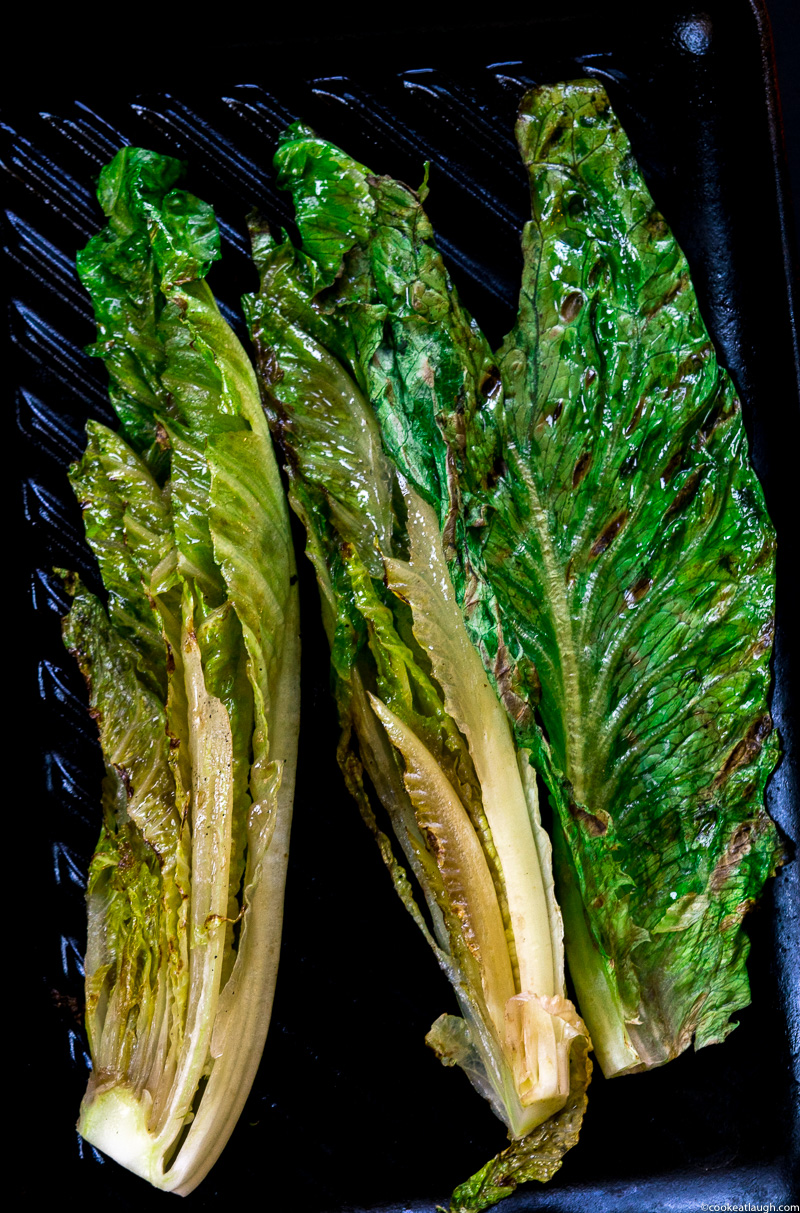 The second important part to this salad is to make a type of roasted butternut squash salsa. I first roast the butternut squash till it's tender, then I add the pomegranate, red wine vinegar, lemon, olive oil, honey, salt, and pepper. I let the flavors marinate for at least five minutes before putting it over the charred lettuce.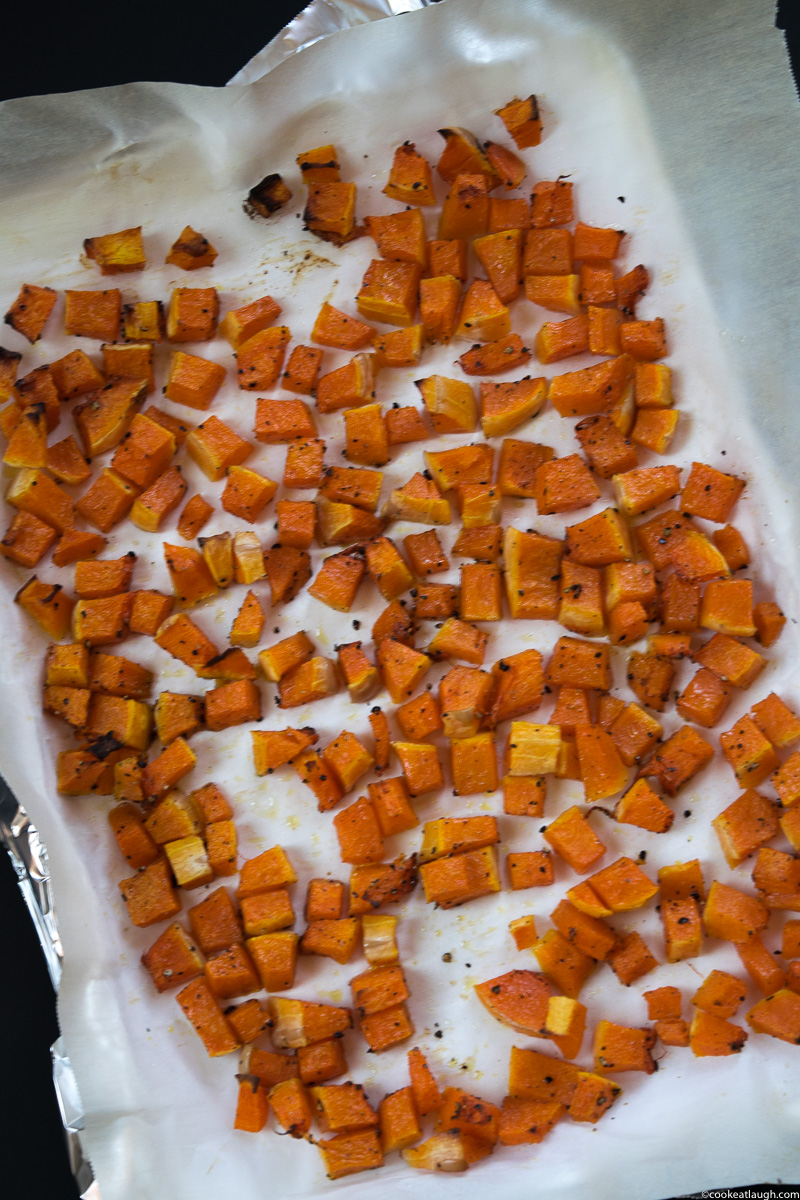 The shaved parmesan cheese is the Umami flavor of this grilled romaine lettuce salad with butternut squash salsa. Lastly to finish off the salad, I add toasted macadamia nuts for an extra crunch.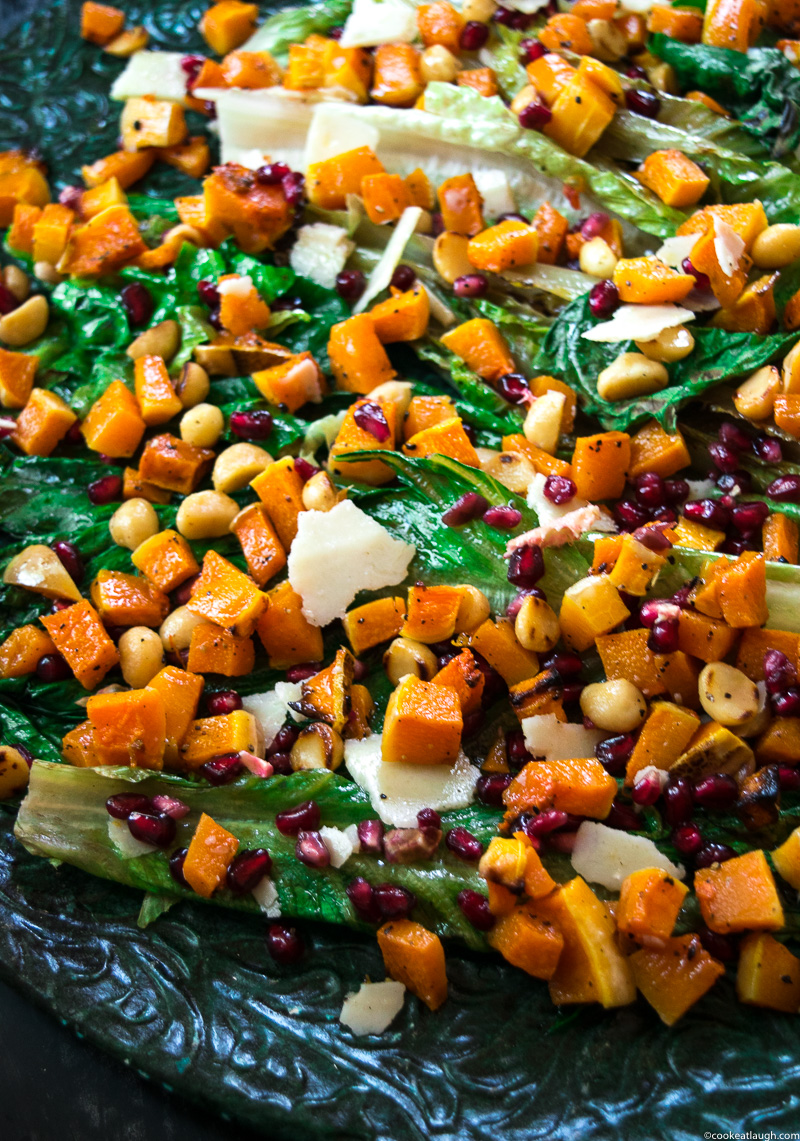 This grilled romaine lettuce salad with butternut squash salsa is not an ordinary boring salad, it has texture, warmth, and ton of flavor. I consider this salad to be like a celebratory salad perfect for holiday parties, family get together, and Sunday dinners. This salad goes well with masala roasted chicken, za'atar chicken, and soups.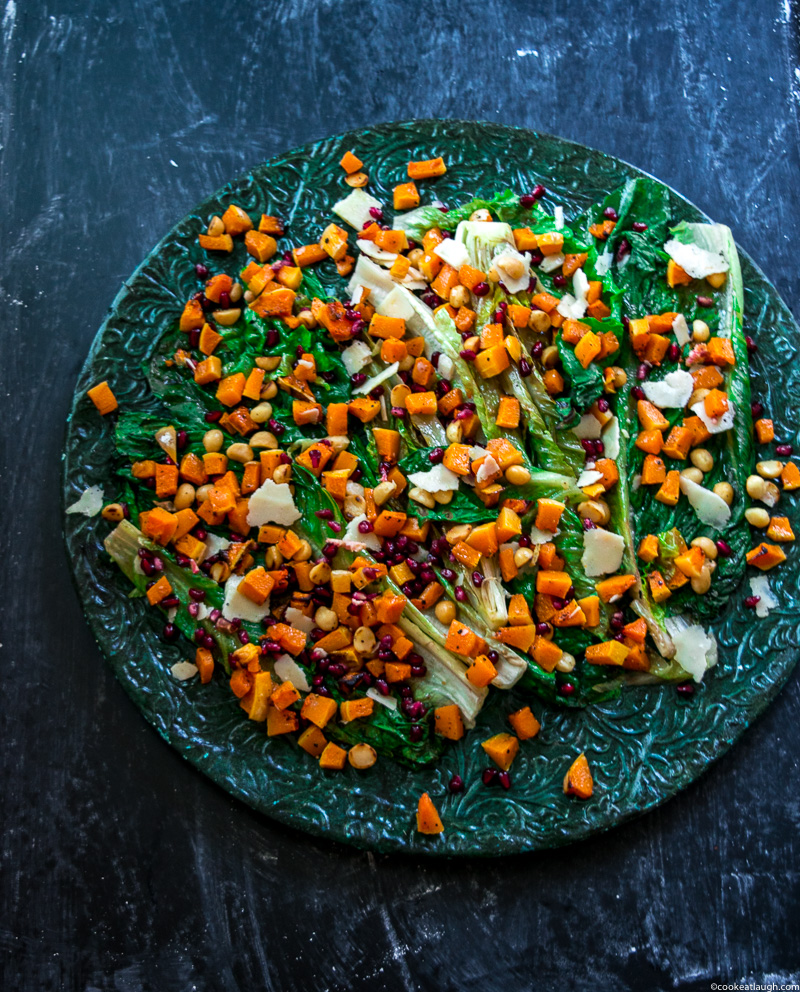 *Thank you for reading! If you enjoy my recipes, please subscribe to my free newsletter, so you never miss a recipe. Please follow me on facebook, Instagram or Pinterest. . If you make this recipe, I would love to know! Tag me on Instagram@cookeatlaugh and #cookeatlaughblog.*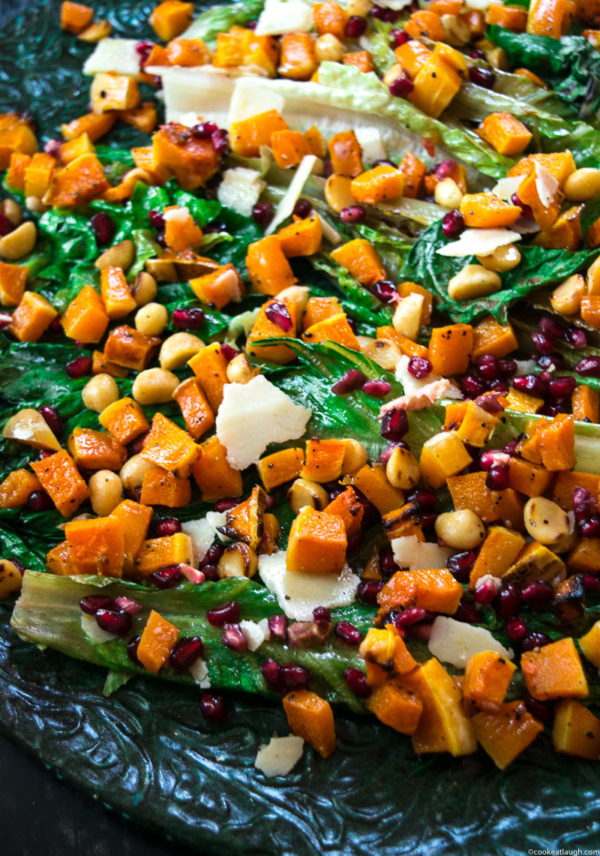 | | |
| --- | --- |
| | |
Pre-heat oven to 400 degrees. Line a baking sheet with parchment paper and then put the cubed butternut squash on it. Drizzle it with 1 tbsp olive oil and season it with salt and pepper. Roast till the butternut squash is tender, about 30 minutes.

Take the romaine lettuce wash and dry it well. Cut the lettuce lenghtwise in half, take each half and cut into another half. Keep it aside.

In a small bowl mix together the remaining olive oil, lemon juice, red wine vinegar, honey, salt and pepper. Keep the dressing aside.

Place the roasted butternut squash in a medium bowl, add the pomegranate, then add the dressing. Gently mix everything together and let it marinate for a few minutes.

Heat a grill pan on high heat. Rub each cut side of the romaine lettuce with a little olive oil. Sprinkle with a salt and pepper. Once the pan is smoking, lay each slice of lettuce cut side down on the grill. Let it cook for 1 minute before flipping it. The lettuce should have nice charred marks. Flip the lettuce and let it cook for another 20 seconds. Remove the lettuce and place it aside.

On a large serving plate, place the grilled lettuce in a single layer. Take the butternut squash salsa and evenly place it over the lettuce. Evenly sprinkle the parmesean cheese and the roasted nuts. If there is any left over dressing pour it evenly over the salad.

Serve and eat immediately.