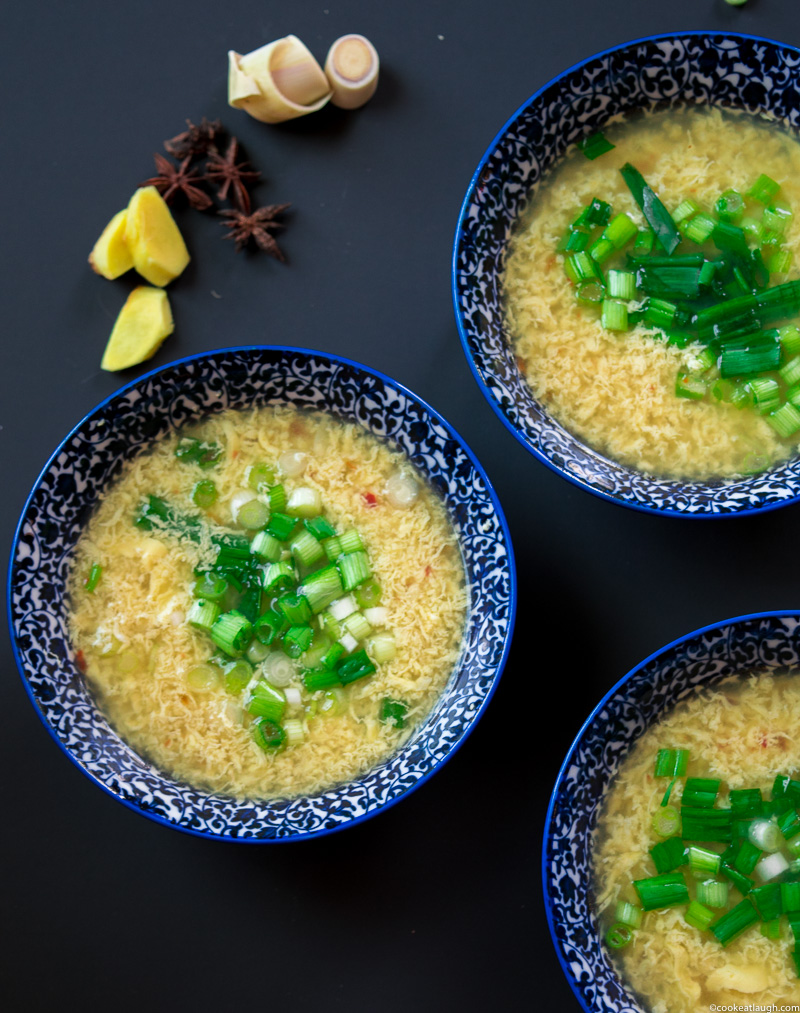 This thanksgiving I really overindulged and when I returned home I needed to detox. I have been sticking to making super simple meals consisting of big bowls of soup. I make a lot of different types of soups, but lately my go-to has been this Chinese egg drop soup.
Egg drop soup is one of my all-time favorite soups to eat at Chinese restaurants. It's a soup that I also love making at home along with my sweet corn soup. Chinese egg drop soup is easy to whip up, healthy, and light.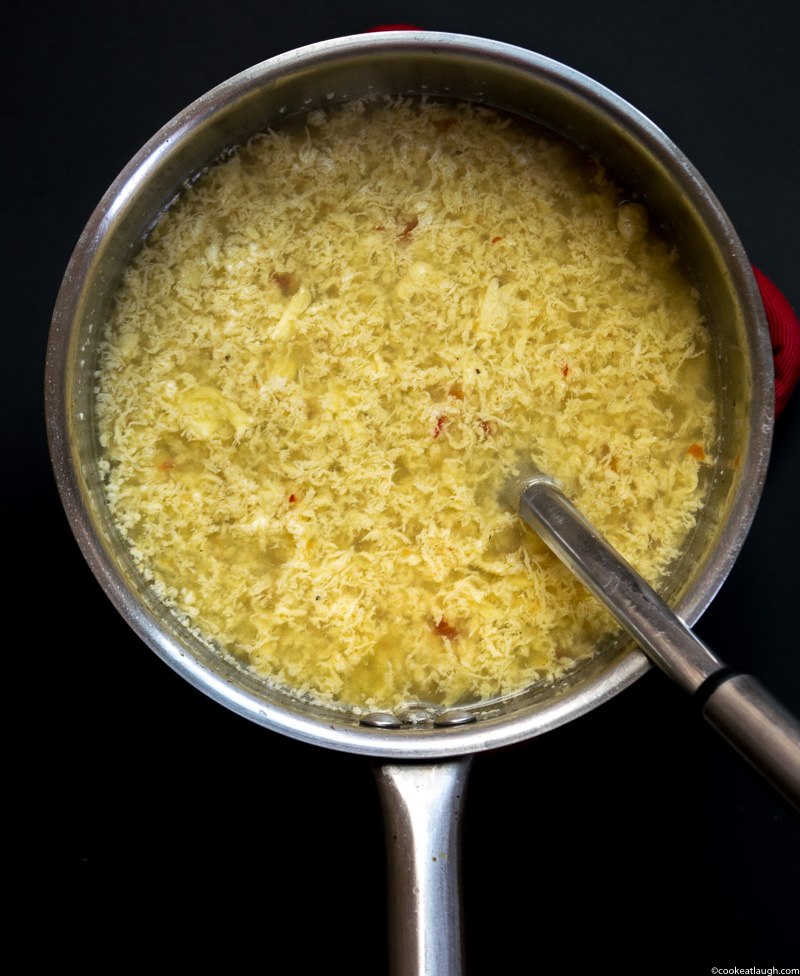 This year for thanksgiving, my husband, our dog, and I went to California to visit our families. My in-laws and my parents both live in Los-Angeles, so we went a few days before thanksgiving to spend quality time with everyone. We had a wonderful time, we came back home with filled hearts and 10 lbs heavier.
Our families express their love through constantly feeding us which is sweet, but it's also dangerous. Every time I go back home, I mentally prepare myself to resist all temptation to overindulge and to be motivated to go the gym. It never happens, I might stay strong for one or two days, but the food is just too good and it can't be resisted. When I return home, at least for a week or two I stick to eating light soups such as this egg drop soup, lots of vegetables, and very little meat.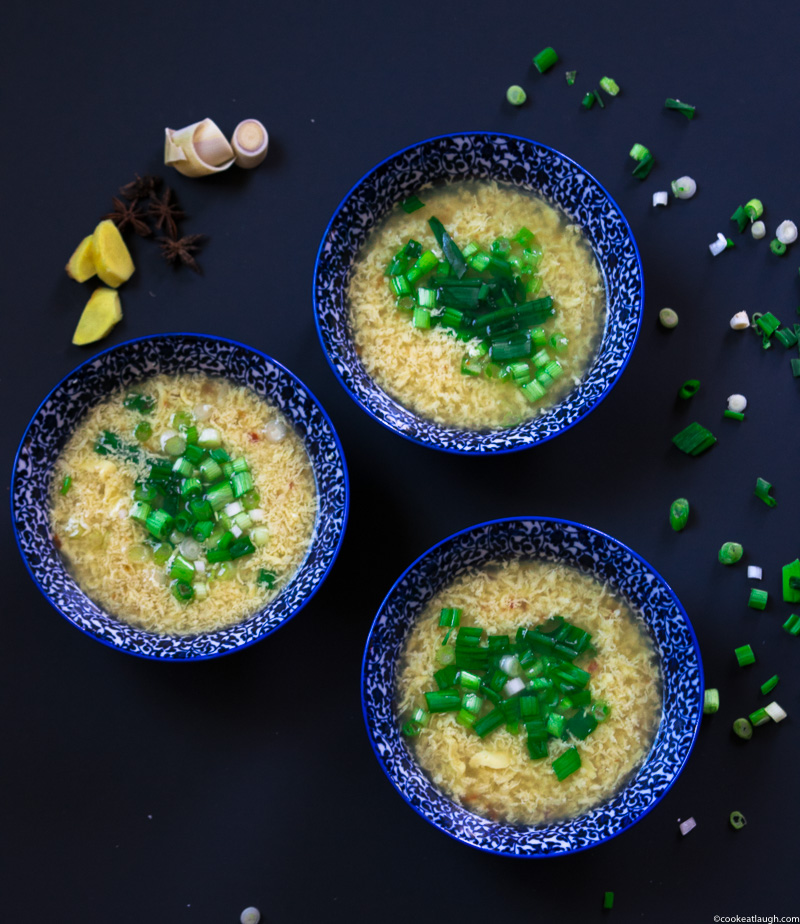 Traditional Chinese egg drop soup simply consist of good stock, fresh eggs, and green onions. While traditional egg drop soup is good, I prefer my soup to be a little more toothsome. I add seasonings such as ginger, lemongrass, star anise, and miso paste to make my broth super flavorful. I add a little chili paste for a kick of spice.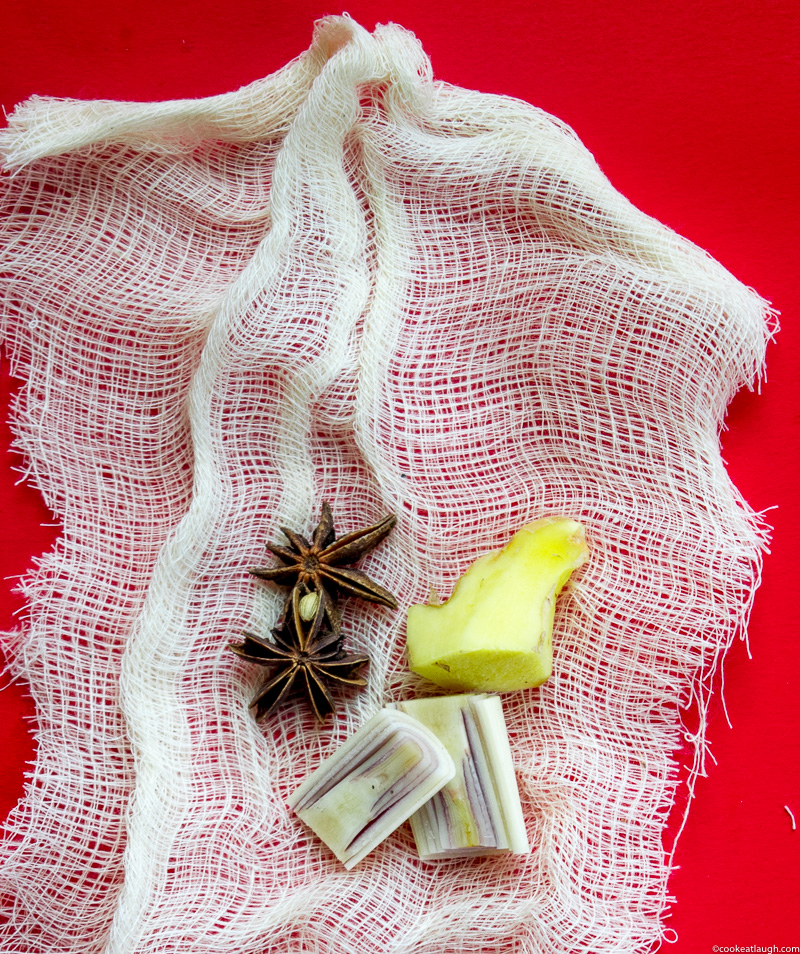 The beauty of this recipe is that its adaptable, you can keep the broth plain or use the seasonings that you have in the fridge. I don't always have lemongrass or miso paste on hand and so often times I just use ginger and star anise. Additionally you could also add tofu or vegetables to the soup.
The whole soup comes together in 15 minutes, let the spices simmer in the soup for 10 minutes and then discard whole spices. When you are ready to add the eggs, lower the heat and slowly pour the beaten eggs, whisk constantly with a fork to create silken threads. Then, pour the soup into bowls, garnish with green onions, and enjoy.
I know you will absolutely love this soup and it will become a family favorite.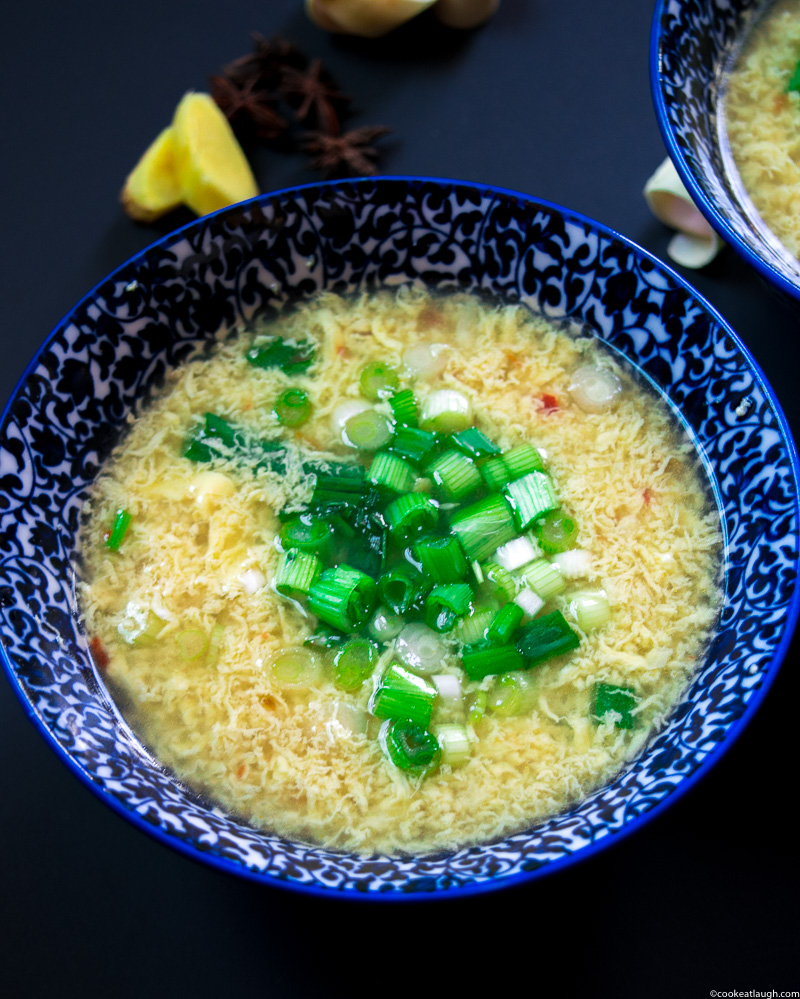 *Thank you for reading! If you enjoy my recipes, please subscribe to my free newsletter, so you never miss a recipe. Please follow me on facebook, Instagram or Pinterest. . If you make this recipe, I would love to know! Tag me on Instagram@cookeatlaugh and #cookeatlaughblog.*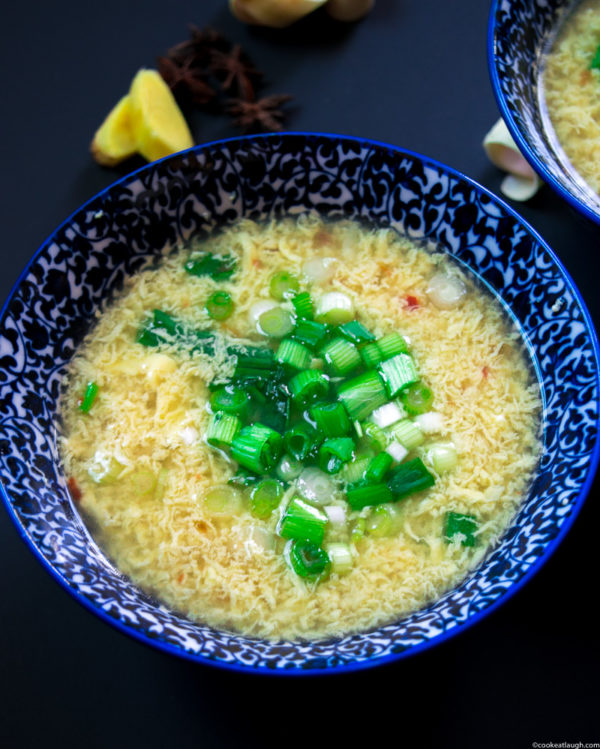 | | |
| --- | --- |
| | |
In a muslin bag or spice bag add the ginger, lemongrass, and star anise. Pour the broth into a medium pot, add the spice bag, stir in the miso paste and the chili paste. Cook over high heat till broth comes to a boil. Lower the heat and let it simmer for 10 minutes.

Season the broth with salt and pepper to taste.

Remove the spice bag. Whisk in the cornstarch into the eggs.Slowly add the beaten egg mixture to the soup and continuously stir. Make sure the heat is on low while doing this. If the heat is too high the eggs will scramble instead of forming silky threads.

Pour into bowl, garnish with green onions, and serve warm
If  you prefer a slighly thicker soup, take 1 tbsp of cornstarch and mix it with 2 tbsp. of water (this is called a slurry). Whisk in the slurry into the broth before adding the eggs.
I personally love the flavor of ginger, star anise, lemon grass, and miso in my broth, but it is not required to add all these spices. Use what you have in your fridge or keep the broth plain.