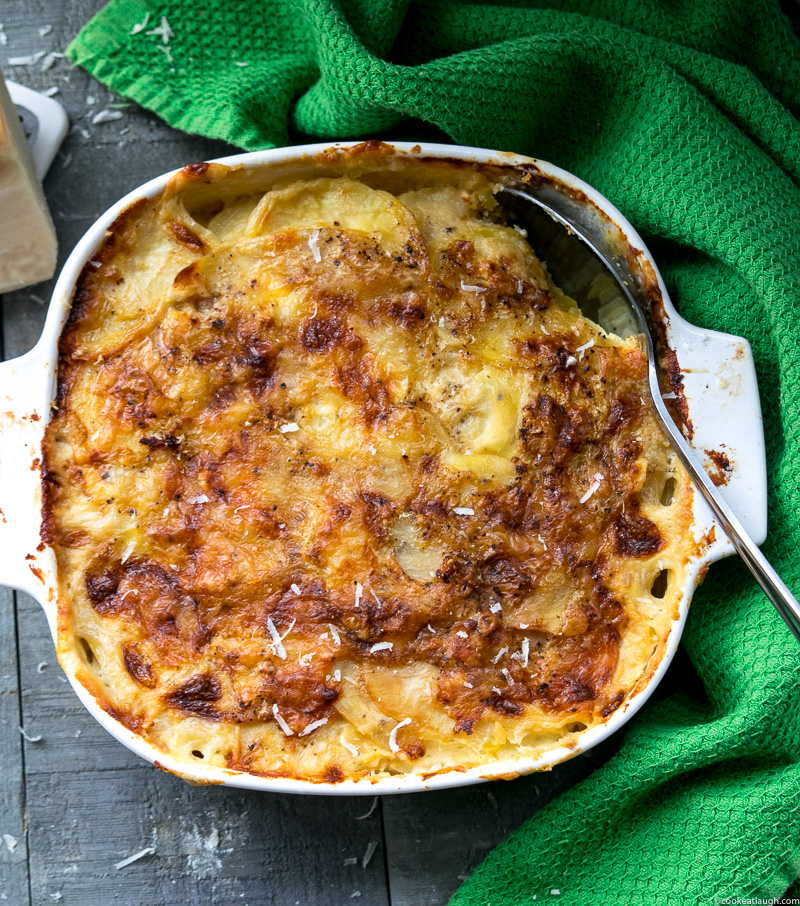 My best friend from California recently came down for a visit and we had the best time cooking, eating, and trying out new restaurants. My friend is a major foodie like me and is a great cook. During her stay, she was gracious enough to teach me how to make her easy potato au gratin. She got this recipe from her co-worker who is originally from Switzerland, so this recipe is French inspired. This is probably the simplest recipe for potato au gratin and I am obsessed with it.
A few years ago, I was invited to a Thanksgiving dinner, it was a potluck and I volunteered to make potato au gratin. I had never made a potato gratin before, but I was confident that it would be easy. I went to the store-bought a mandolin, fancy cheeses, and even the perfect dish to bake the gratin in. I spent way too much money to make this one dish because I am a little nutty.
Things didn't go according to plan and my potato au gratin turned out be a disaster. The gratin was bland, undercooked, and watery. I was completely mortified and I never attempted a gratin again, well until now. I really enjoyed my friend's gratin and I knew I needed to share this recipe on the blog. Honestly while recipe testing, I was nervous that I would ruin this gratin too, but this recipe is so simple that it was a breeze to make.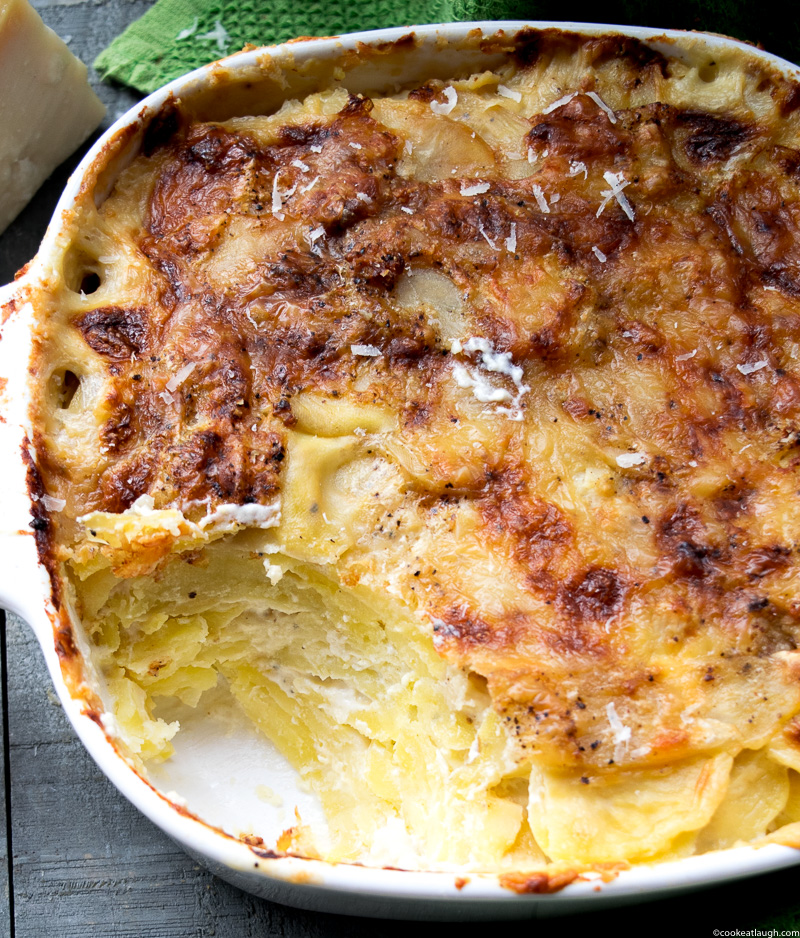 To make this delicious potato gratin I start by thinly slicing potatoes in a food processor, you could alternatively slice it with a knife or a mandolin. I then start assembling my gratin like you would a tray of lasagna. I first add a little cream to the bottom of the pan, then two layers of potato slices, and then I add more cream, milk, cheese, garlic, and salt and pepper. Repeat the layers and sprinkle the remaining ingredients over the top layer. The gratin takes a little over an hour to cook and then needs to cool for 15 minutes before serving.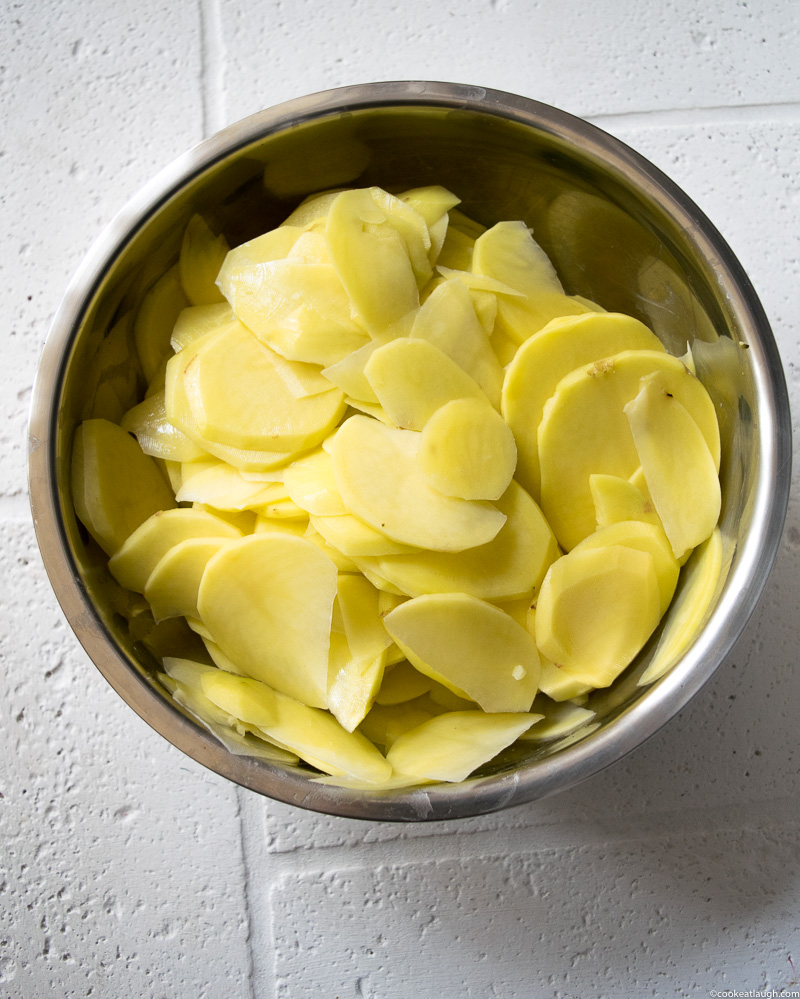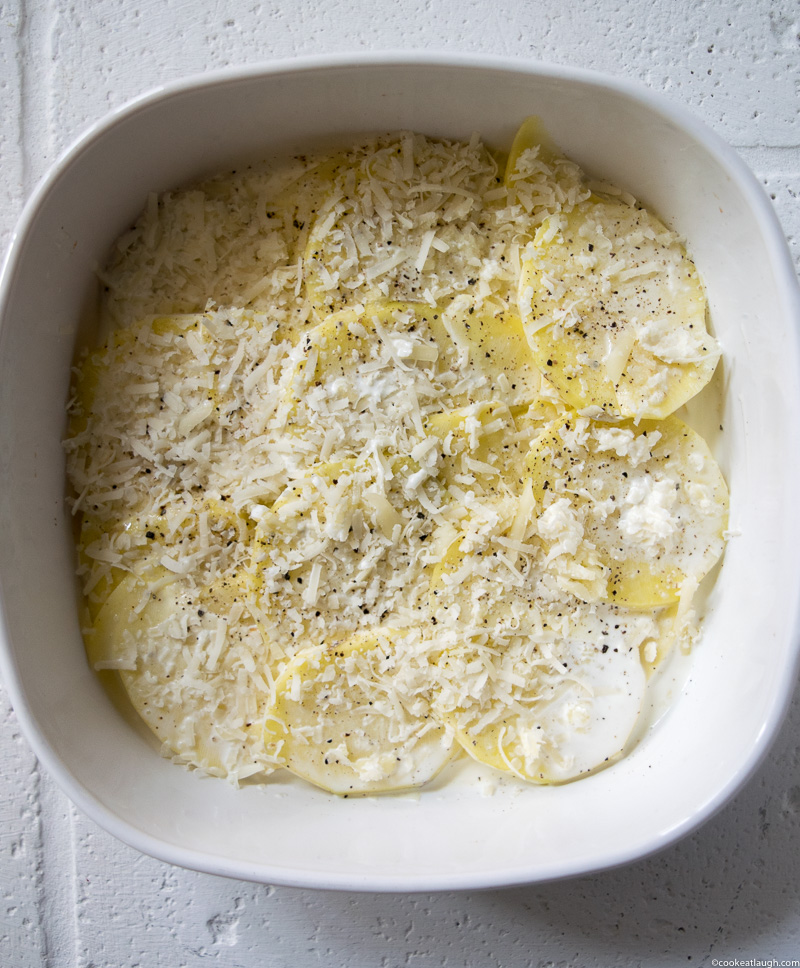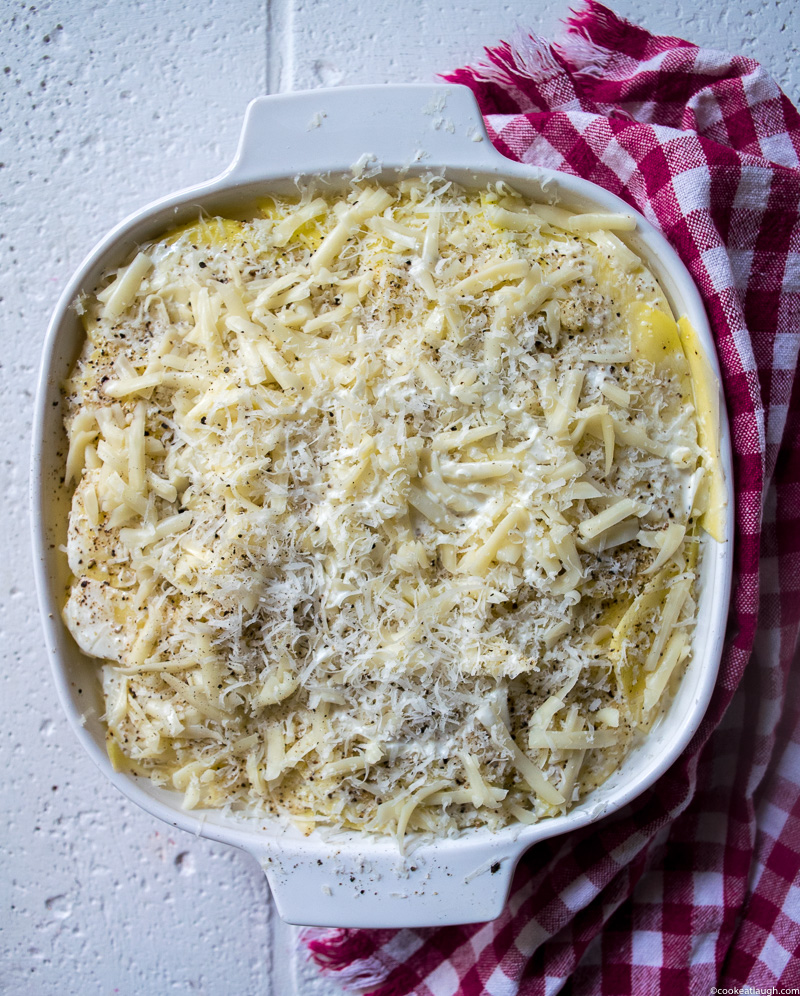 This gratin is another wonderful side dish for thanksgiving or Christmas dinner. It can be made a day ahead and it actually taste better the second day. This recipe is very versatile, swap the parmesan cheese for a cheese you prefer, add less or more garlic, add herbs, and etc.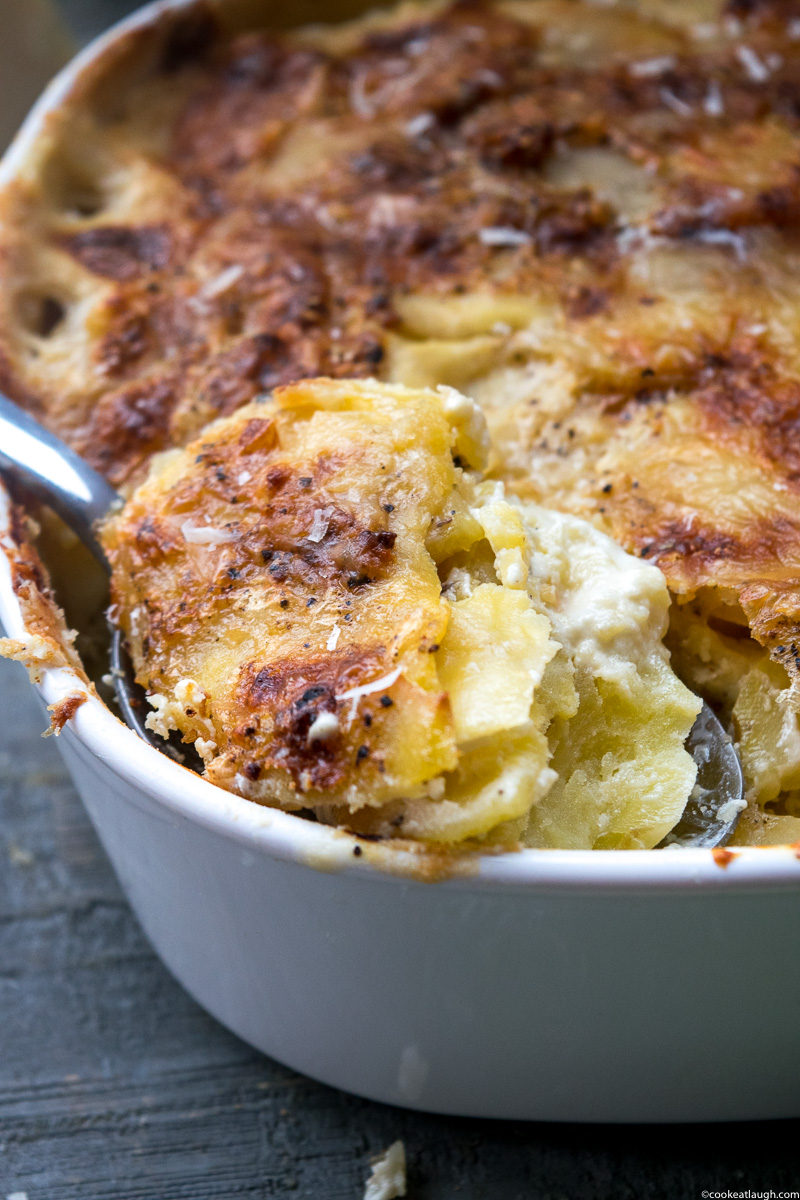 Give this recipe a try and enjoy it Friends.
*Thank you for reading! If you enjoy my recipes, please subscribe to my free newsletter, so you never miss a recipe. Please follow me on facebook, Instagram or Pinterest. . If you make this recipe, I would love to know! Tag me on Instagram@cookeatlaugh and #cookeatlaughblog.*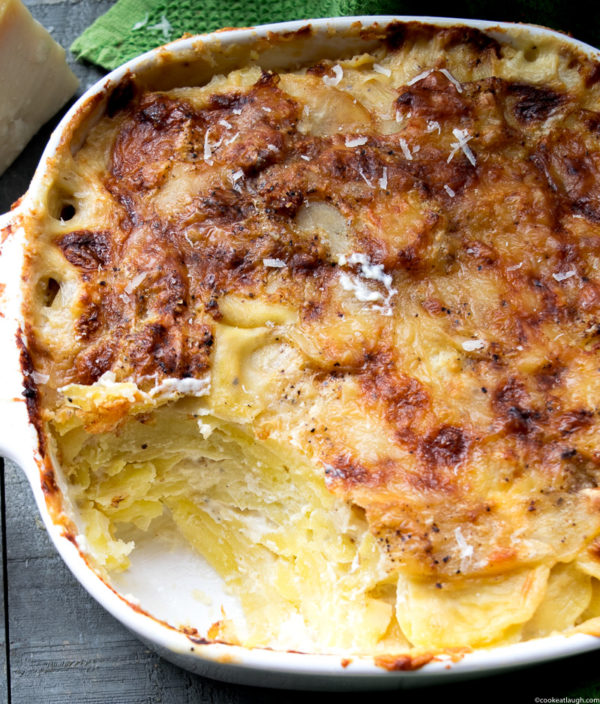 | | |
| --- | --- |
| | |
Preheat oven to 400 degrees.

In a bowl mix the parmesan and mozzarella cheese. Keep aside.

In another bowl combine the cream and milk. Keep aside

Pour a little cream mixture at the bottom of the dish and then start laying down the first layer of potatoes. Make sure that there are no empty spots. Lay down a second layer of potatoes. Pour roughly ½ cup of the cream mixture over the potatoes. Evenly grate a clove of garlic over the potatoes, sprinkle ½ cup of cheese blend, and season it with salt and pepper.

Every two layers of potatoes repeat the steps above. For the top layer pour the remaining cream mixture, season with grated garlic, salt, and pepper. Sprinkle the remaining cheese and loosely cover the gratin with foil. Place the gratin dish over a foiled sheet pan. Bake for an hour, if the potatoes are still not tender cook for another 10 minutes.

Once cooked remove the foil, and bake for another 5 minutes or till the top is golden and crispy. Let the gratin cool for 10-15 minutes before serving.
Notes: I used mozzarella in this recipe because that's what I usually have in the fridge, but for more flavor you could use sharp cheddar or gruyere.
It's important to season each layer properly because otherwise the dish will taste bland. I usually add about 1/8 tsp of salt and pepper. Season to your taste.
You can also add some chopped fresh thyme to each layer for added flavor.