Spinach is one of my favorite greens to eat, it always has been since I was a kid. My husband absolutely despises spinach and he finds me to be really strange for loving it. I love spinach in my salads, I also enjoy sautéing it with garlic and olive oil, or cooking it with Indian cheese. My other absolute favorite but slightly indulgent way of consuming this healthy green is in a quiche.
The temperatures have dropped in Dallas these last couple of weeks, so I turned my daily craving for greens into a spinach and onion quiche. I use my tender and flaky butter pie crust which I always have in the freezer to make my quiche. Homemade crust makes all the difference in the overall flavor and texture of the quiche. Thus, I highly recommend to avoid store-bought crust, and just put in the little extra effort to make a homemade one.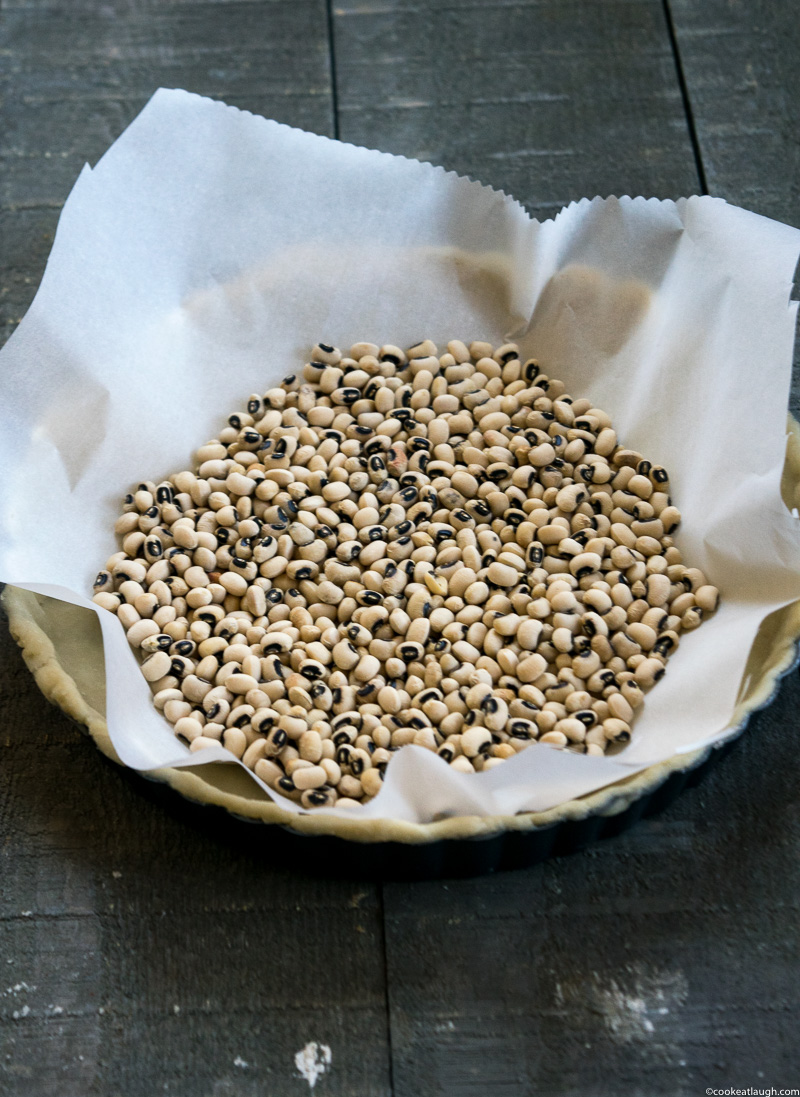 A classic French quiche is made with cream, which in turn makes it very rich and heavy (still delicious). I prefer to make quiche with milk and yogurt. I got the idea for substituting cream for yogurt from a friend. My friend lives in Paris, and while she was visiting America she made a delicious quiche for me. I watched her intently hoping to learn any new quiche making tricks, to my surprise she substituted cream for a mixture of milk & yogurt which I found odd. I expected the quiche to be watery, but instead it was ultra-creamy and light.
Cheese is an important element of a quiche and you can be completely creative with it. Gruyere, Swiss, and goat cheese are usually the preferred cheeses, but mozzarella, Fontina, and monetary work well too. In this spinach and onion quiche I use pepper jack cheese which is a little unconventional, but I love the extra flavor it adds.
To avoid a watery quiche, make sure to cook the onion and spinach till most of the moisture dissipates. I sometimes like to use fresh herbs such as thyme, dill, and sage for flavor enhancers. In this particular recipe, I keep it simple and season the vegetables with salt, pepper, and a bit of Chili flakes.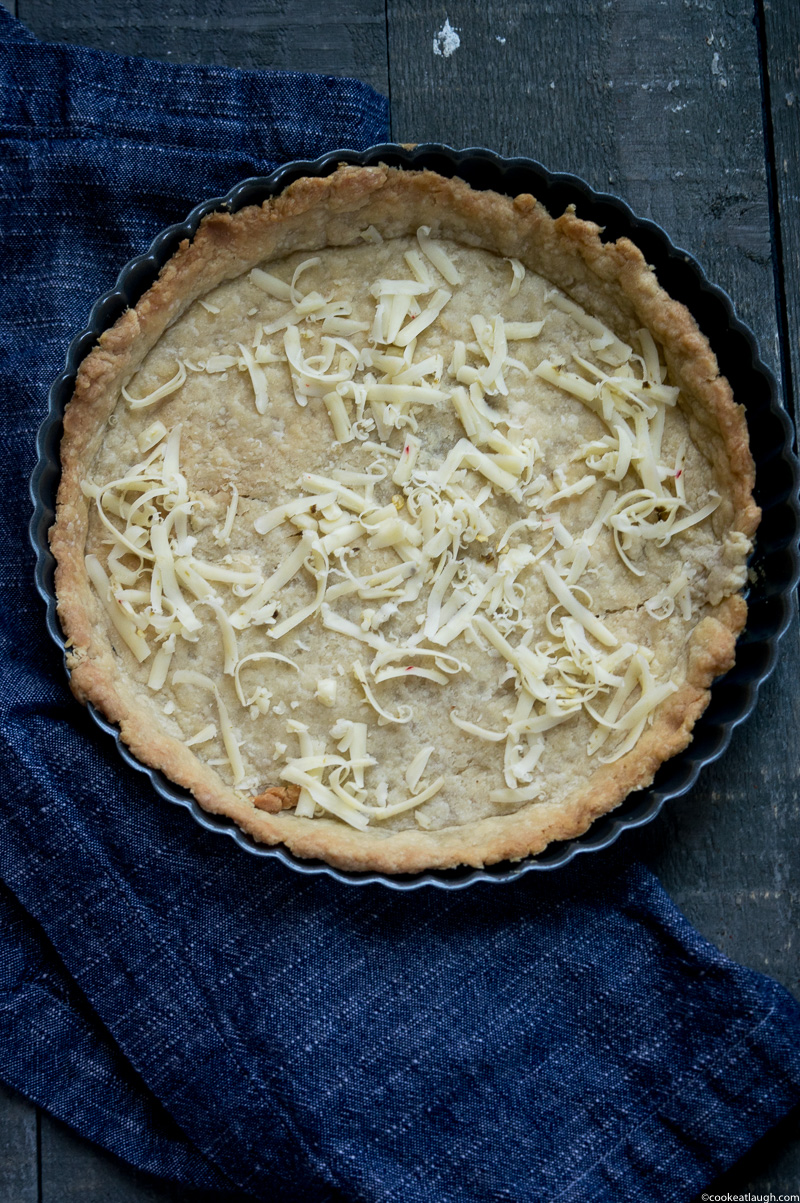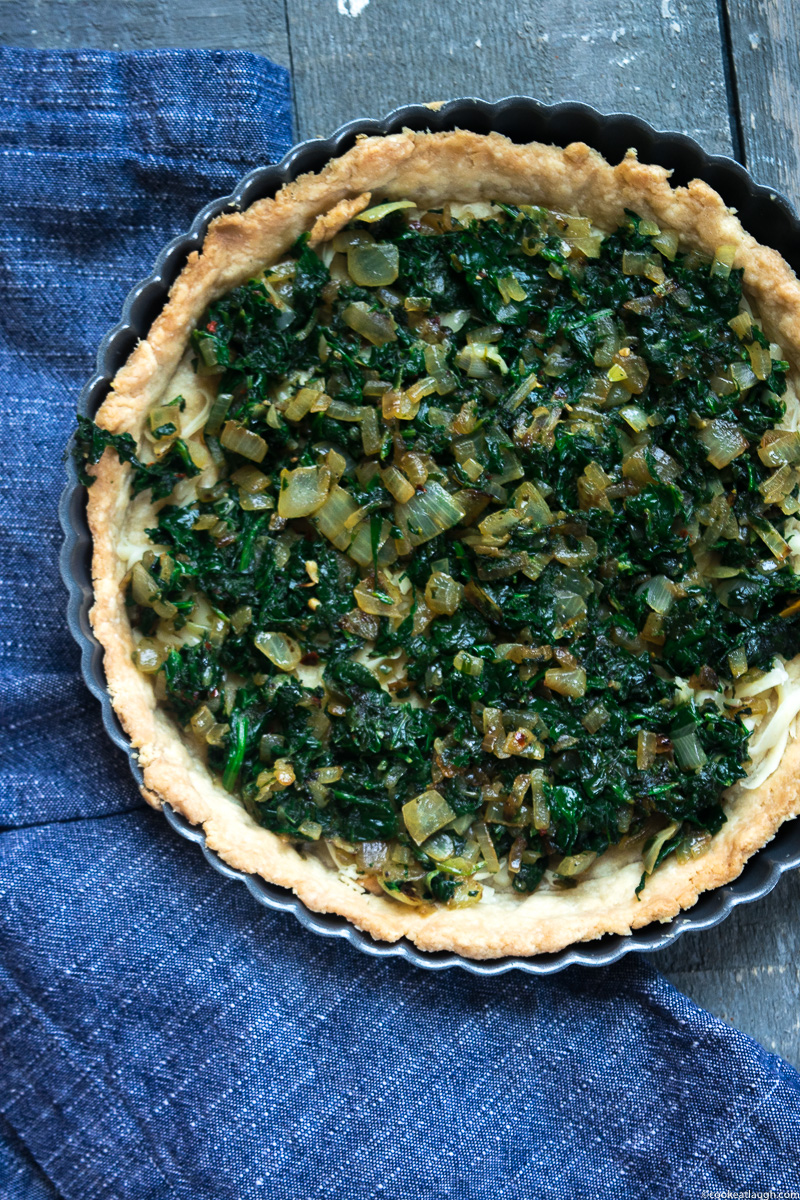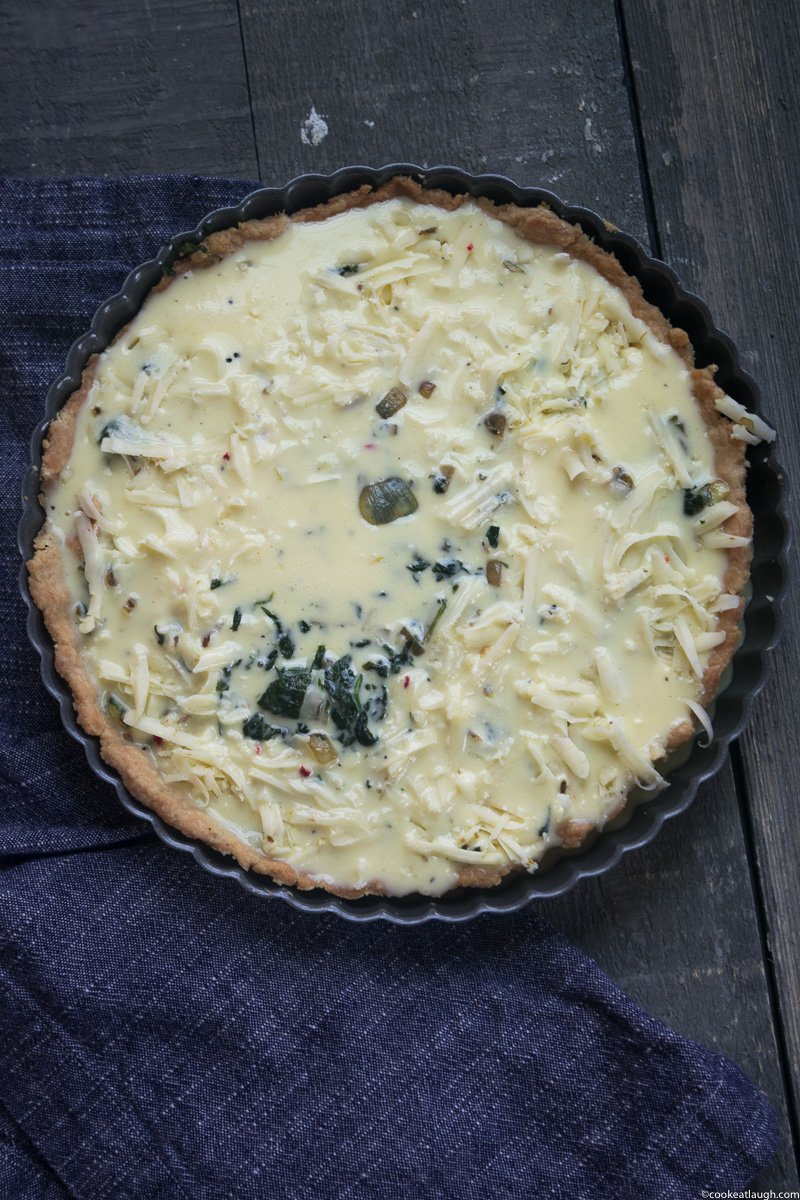 The great thing about this Spinach and onion quiche is that it can be made ahead of time, it reheats well, and taste great at room temperature. I like to serve this quiche for sunday brunch or dinner with a salad or a light soup. This recipe will also be great to serve for a Christmas brunch.
*Thank you for reading! If you enjoy my recipes, please subscribe to my free newsletter, so you never miss a recipe. Please follow me on facebook, Instagram or Pinterest. . If you make this recipe, I would love to know! Tag me on Instagram@cookeatlaugh and #cookeatlaughblog

Pre-heat oven to 350 degrees. Roll out the pie crust to roughly a 11 inch circle and then fit into a 9 inch tart pan or cake pan. If there are any crack just use your fingers to press the dough together and seal the cracks. Trim away any excess dough. Refgeriate the dough for 30 minutes.

Line the dough with parchment paper and fill with pie weights or beans. Bake for 20 minutes, then remove the parchment paper and beans, and bake for an additional 15 minutes or till the crust is lightly brown. Let the crust cool.

Heat a saute pan on medium heat, add the olive oil then add the chopped onions. Add a pinch of salt to the onions and cook till nicely browned. About 5 minutes. Add the chopped spinach, chili flakes, salt and pepper. Give everything a good stir. Saute till the spinach is wilted and the mixture is dry. Taste to make sure the spinach is seasoned well, otherwise the quiche will be bland. Turn off the heat and let the mixture cool.

In a medium bowl whisk together the milk, yogurt, eggs, salt, and pepper.

Sprinkle 1/4 cup of cheese over the crust. Then evently spread the spinach and onion filling . Sprinkle the remaining cheese and pour the egg mixture over the pie crust.

Line a baking tray with foil, place the tart pan over it. Put the quiche in the oven and bake for 35 to 45 minutes or till the quiche is set with a slight jiggle in the middle. Remove the quiche and let it cool for at least 30 minutes.

Serve quiche warm or at room temerature. Enjoy!
Recipe adapted from thekitchn.com