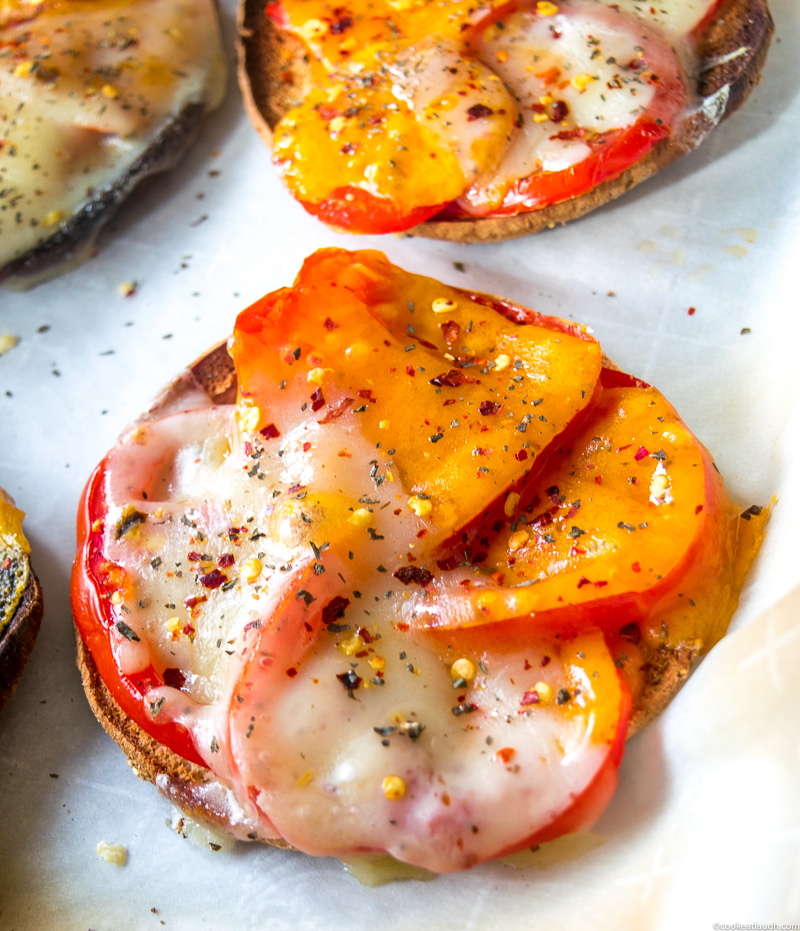 Quick and tasty tomato cheese toast is a dish that I have been snacking on for years. It's my favorite snack toast to make and eat because it tastes a lot like a margherita pizza (my favorite), but way healthier. To make this tasty tomato cheese toast you need very basic ingredients such as juicy tomatoes, a few slices of your favorite cheese and bread, chili flakes and herbs. I can't believe I have waited this long to share this recipe, well better late than never.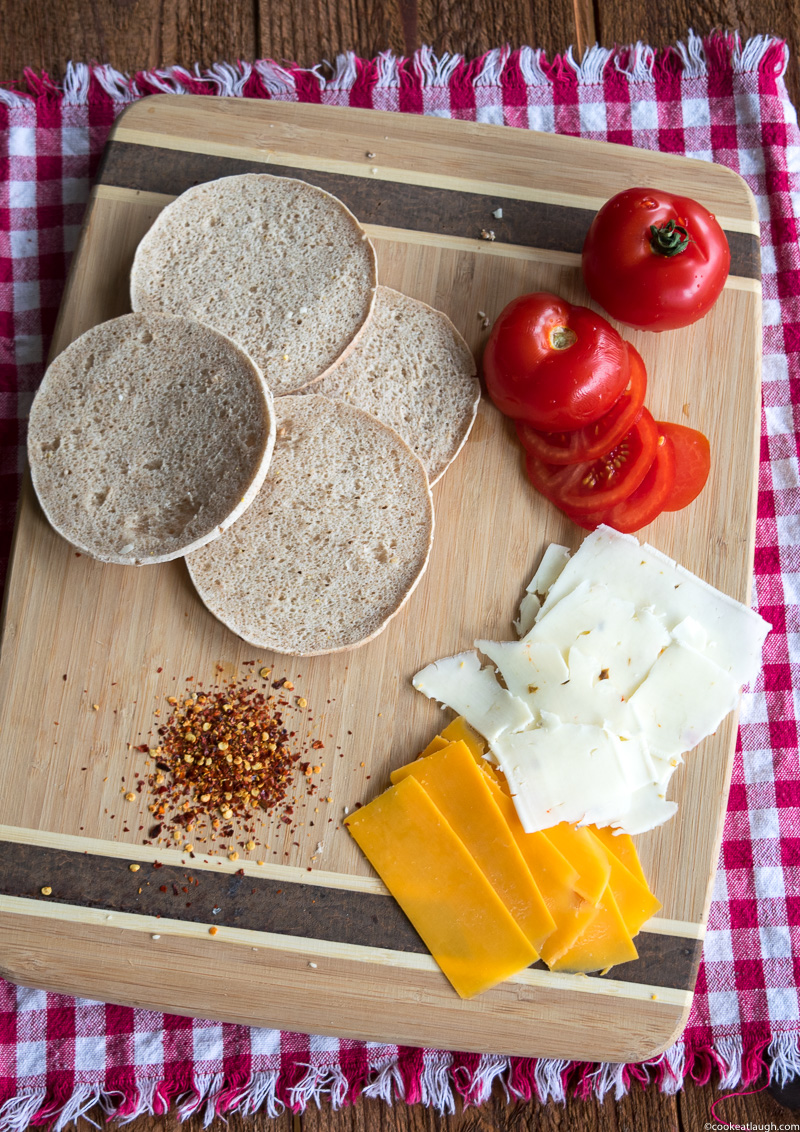 Before I share this recipe, I have a confession to make I despise raw tomatoes. I love most vegetables, but the texture and taste of raw tomatoes is completely off putting to me. The funny thing is my dear husband who despises 99% of vegetables, loves raw tomatoes. I have tried many times to get over my strange aversion, but it has not worked so far. The only way I can eat tomatoes and actually enjoy them is when they are cooked. I love tomato soup, ketchup, tomato sauce, and roasted tomatoes seasoned with garlic, basil and oregano (Yum!). I apologize to all the tomato lovers out there as I know my intense dislike for raw tomatoes might seem incompressible to you all.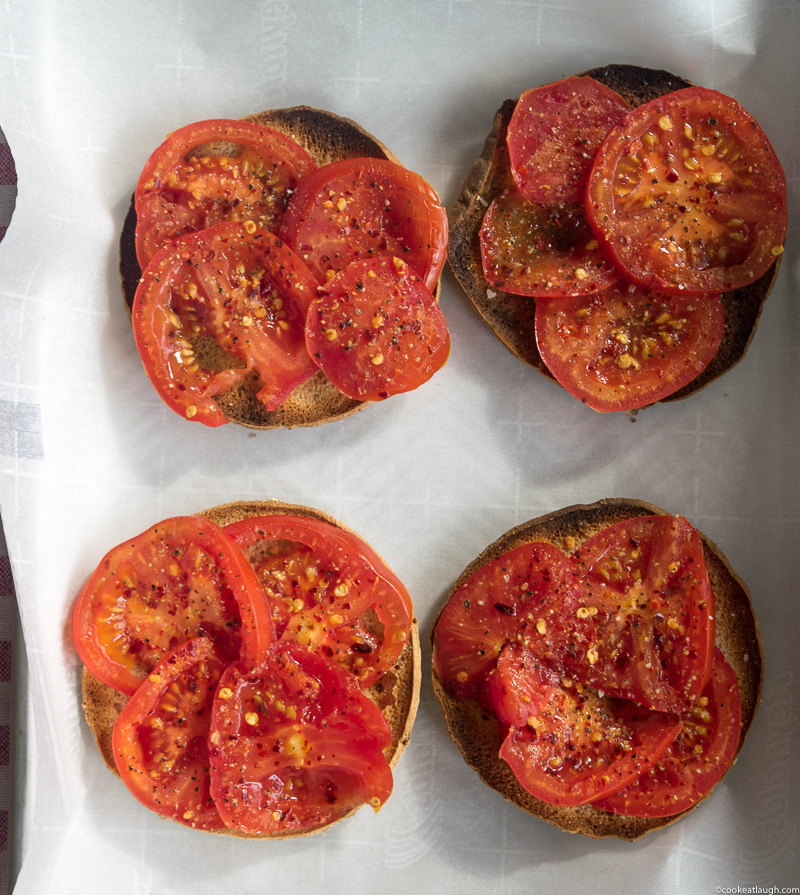 It feels good to finally say it out loud that I am in fact a tomato hater (do not judge me.). At least, I still enjoy cooked tomatoes and I love the combo of a lightly toasted bread layered with broiled tomatoes and ooey gooey melty cheese. Tomato cheese toast takes only three ingredients to make, 10 minutes to prepare, and you can get creative with your toast by adding more herbs or exotic cheeses.
I mostly eat this toast as a snack, but on days when I am short on time or need a quick dinner I serve my tomato cheese toast with a side of soup and salad to make a complete meal.
Last thing, if you are craving a pizza, but don't want to indulge too much this toast satisfies the pizza craving without making you feel too guilty. Enjoy!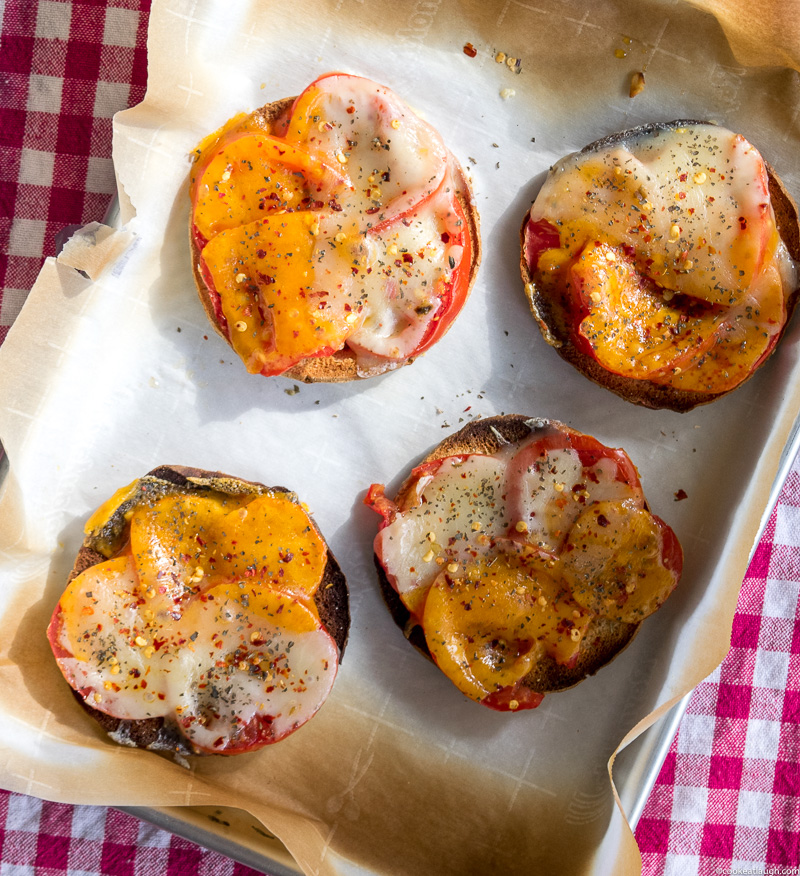 Thank you for reading! If you enjoy my recipes, please subscribe to my free newsletter, so you never miss a recipe. Please follow me on Instagram or Pinterest. . If you make this recipe, I would love to know! Tag me on Instagram@cookeatlaugh and #cookeatlaughblog.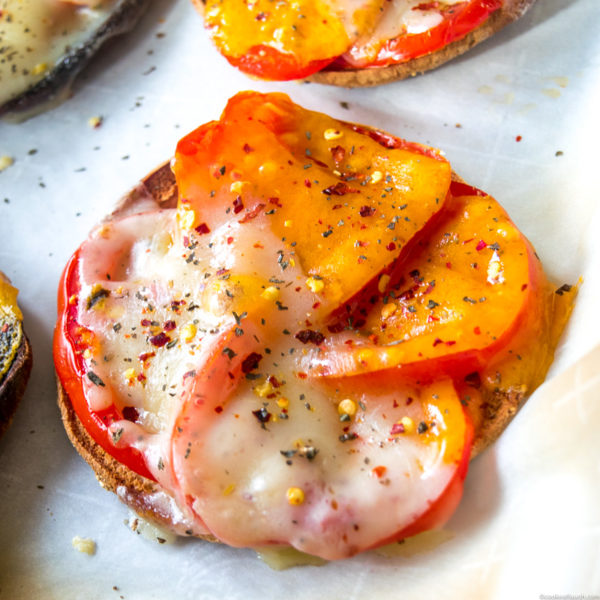 | | |
| --- | --- |
| | |
Lightly toast sandwich thins. Place the toast on a small baking sheet lined with parchment paper. Layer each sandwich thins with 4 slices of tomatoes, season the tomatoes with salt, pepper, and chili flakes.

Place the toast in the oven and broil on high for about 3 minutes. Watch closely. Remove the toast from the oven and place two thin slices of pepper jack cheese and 2 thin slices of sharp cheddar on each toast. Place the toast back in the oven and broil for a minute.

Remove toast, season with a little more chili flakes if you like and dried basil.