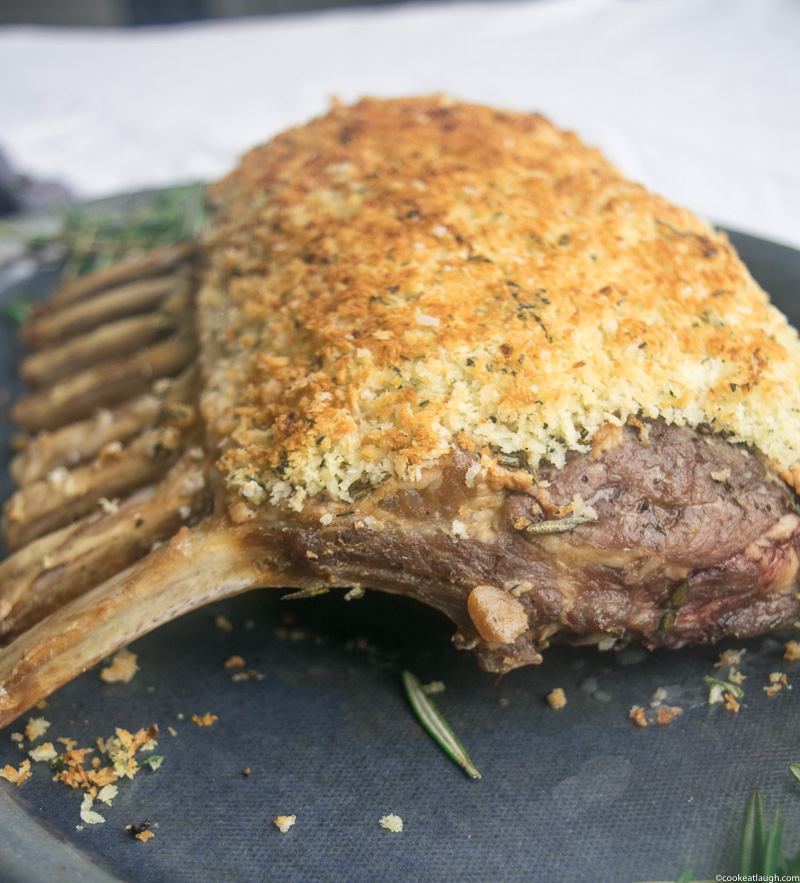 Growing up, my dad would make this Herb Crusted Rack of Lamb for special occasions and it quickly became my absolute favorite. Years later when I hosted my very first thanksgiving, I knew exactly what I wanted to make: Herb Crusted Rack of Lamb. It felt daunting to cook a rack of lamb because I had never done it before, but to my surprise, it was really simple.
The rack of lamb is seasoned with rosemary, thyme, salt and pepper, and then topped with a mixture of butter-moistened bread crumbs, parsley, and garlic. When it is roasted in the oven, the crust becomes crumbly and golden brown along the edges of each chop.
The original recipe comes from the cookbook "Cooking at home with the Culinary institute of America", which my family has adapted over the years.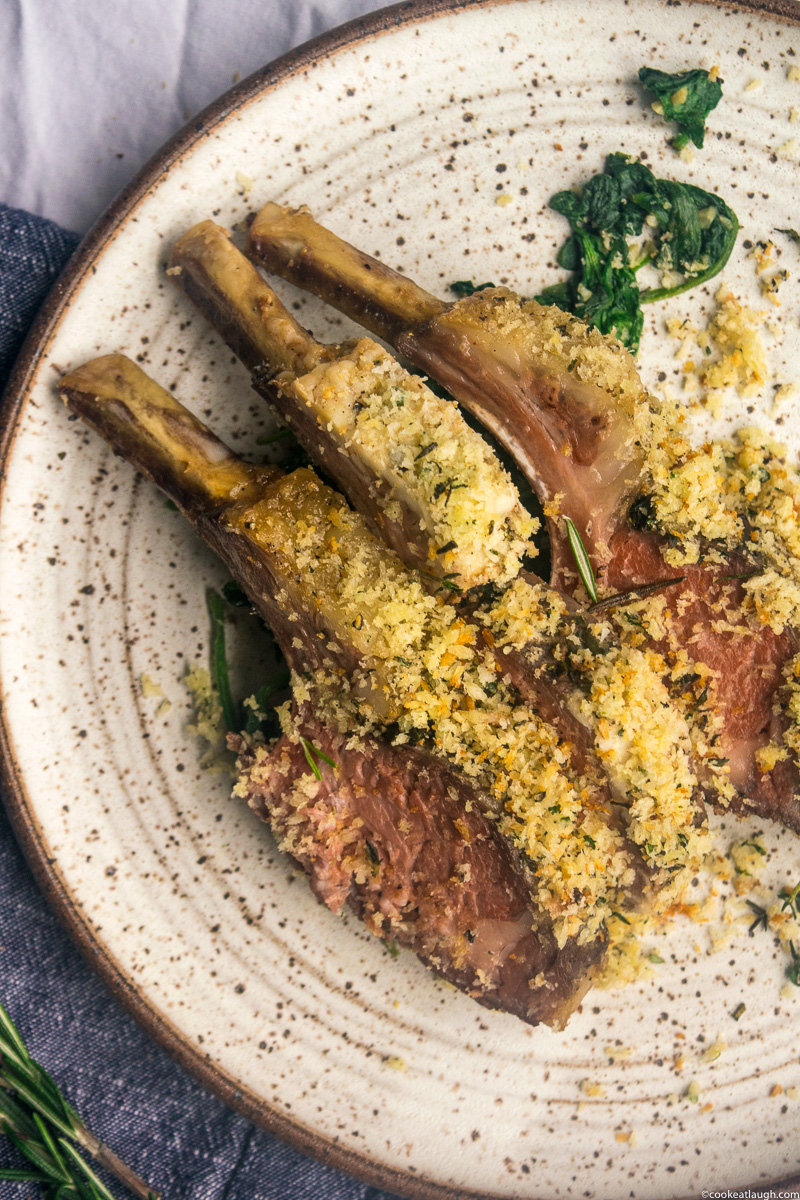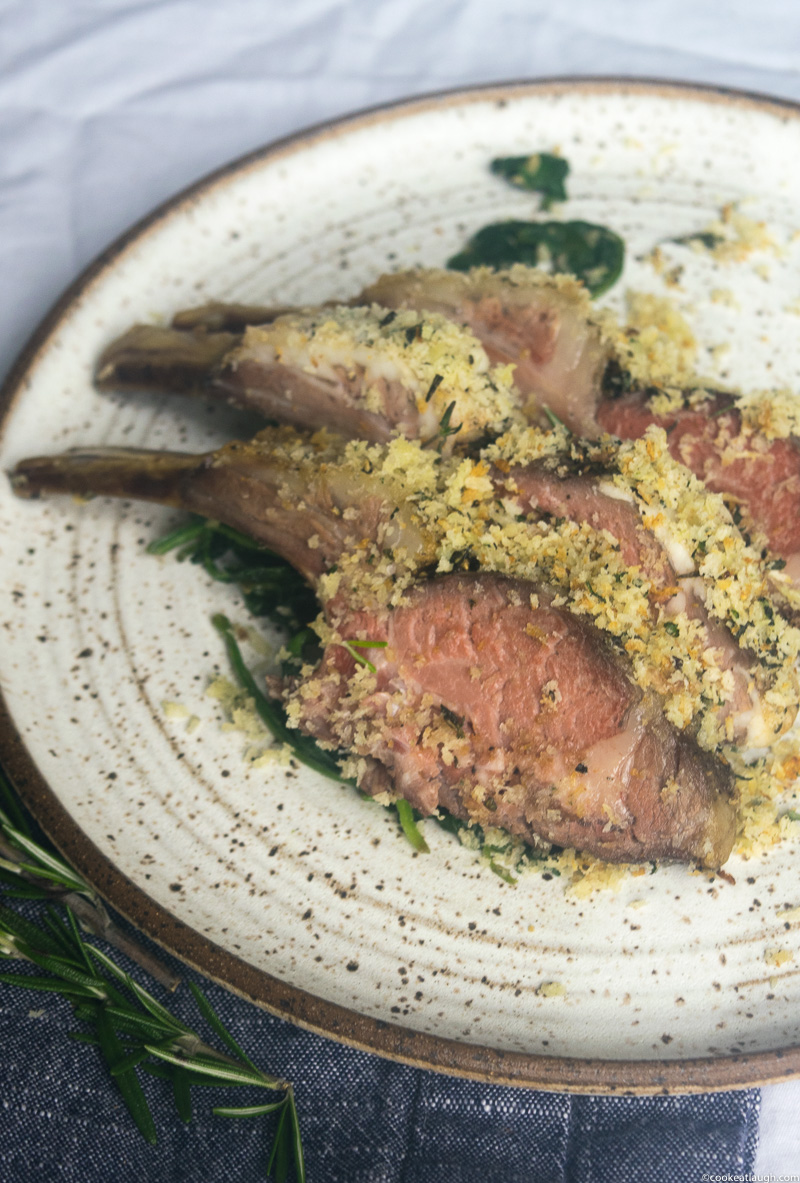 Rack of Lamb
Rack of lamb is a show stopper piece of meat that is perfect to make for the holidays or special occasions. Most of the lamb you get in the U.S is imported from Australia or New Zealand and priced reasonably, but if you prefer American lamb, it tends to be twice as expensive.
What is Frenching?
Frenching is the process of trimming fat and meat of the rib bone. It is done mostly for aesthetic purposes, but also ensures even cooking. Packaged rack of lamb will come pre-frenched, but most butchers will do this for you as well.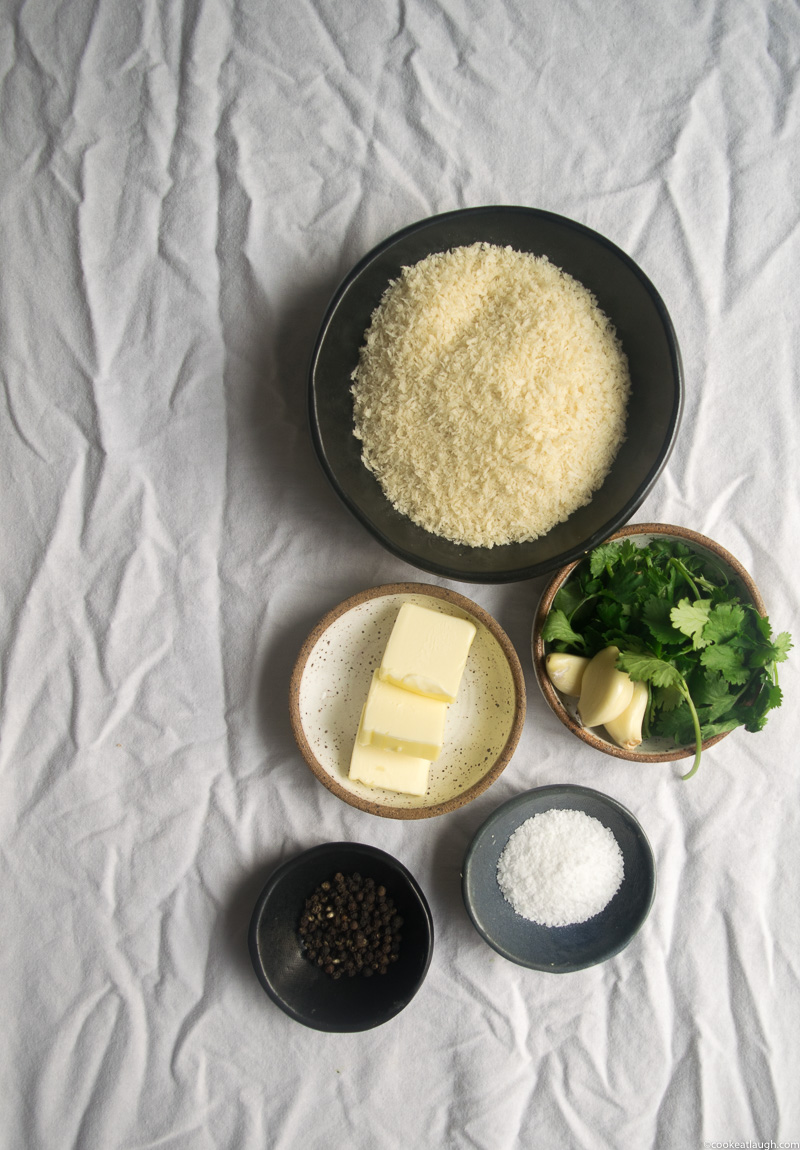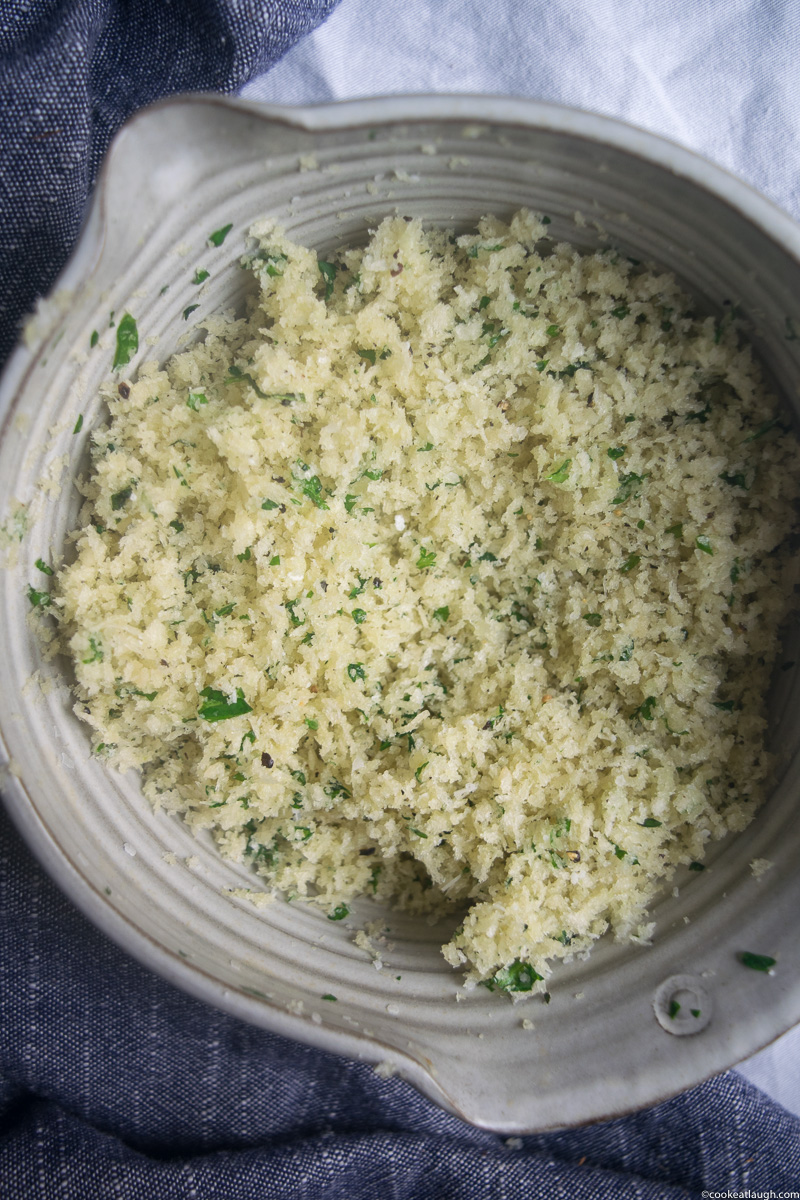 Trimming the fat and removing silver skin
You don't need to worry about doing this if you are getting your rack of lamb from a butcher. Ask your butcher to trim the fat of the top of the rack, so that there is only a thin layer of fat left. Don't trim away all the fat because it will help to keep the lamb juicy and fat equals flavor.
To trim the fat, I use a sharp knife, angle the blade away from the meat grain and cut away fat evenly. I keep shaving the fat off till there is about 1/8 inch layer of fat left.
Silver skin is a white silvery connective tissue surrounding rack of lamb. It becomes tough as it cooks, so it is important to remove it. I use a sharp knife and work the tip under the silver skin to loosen a flap. Using a paper towel I grip the flap and pull it away from the meat.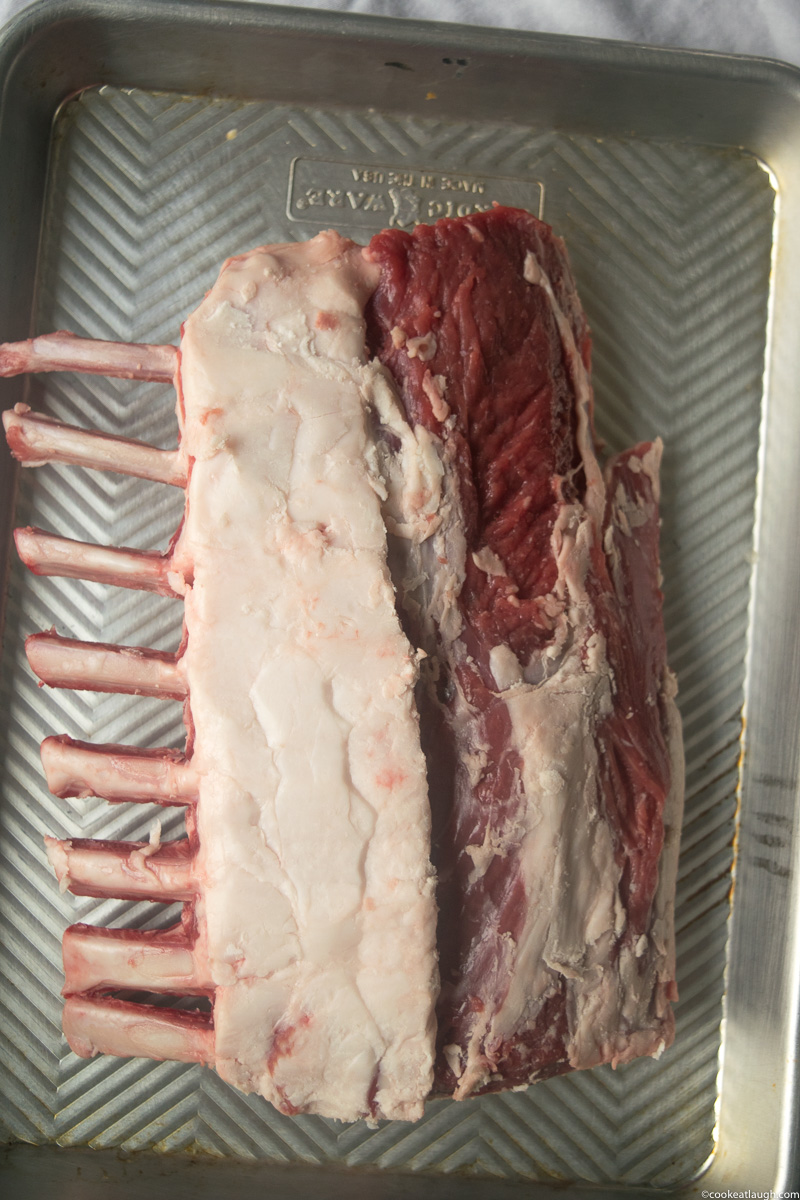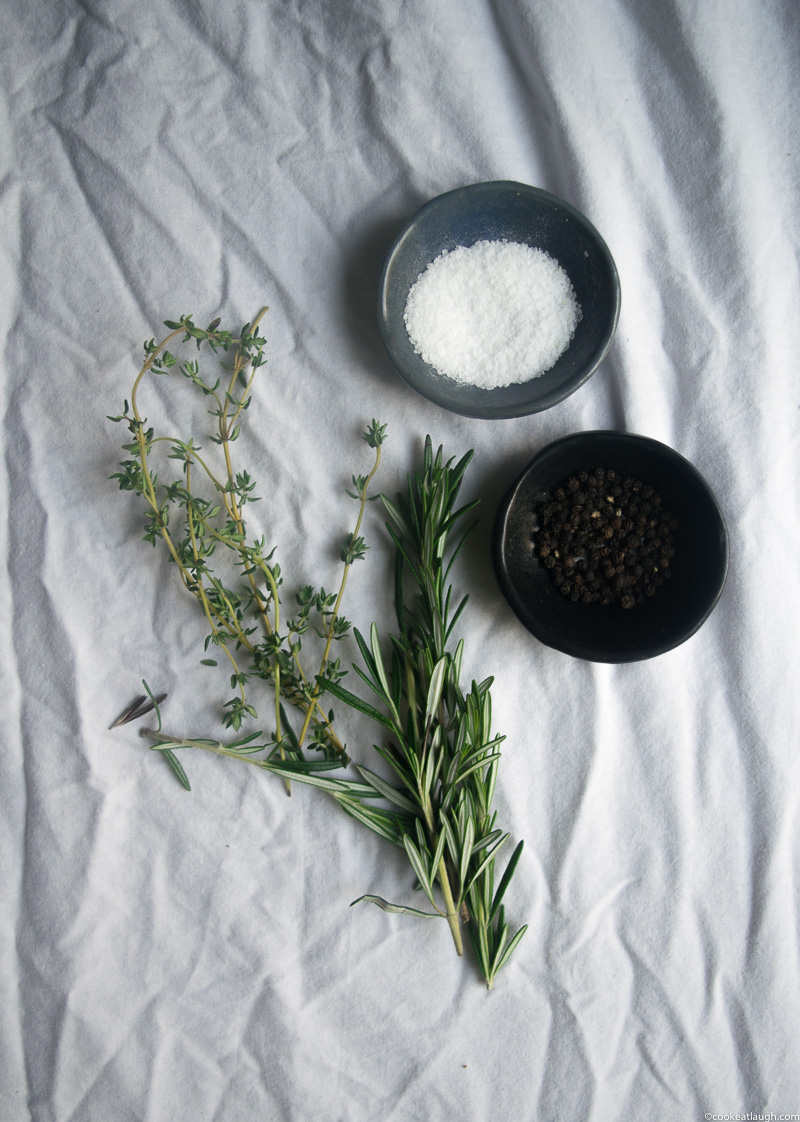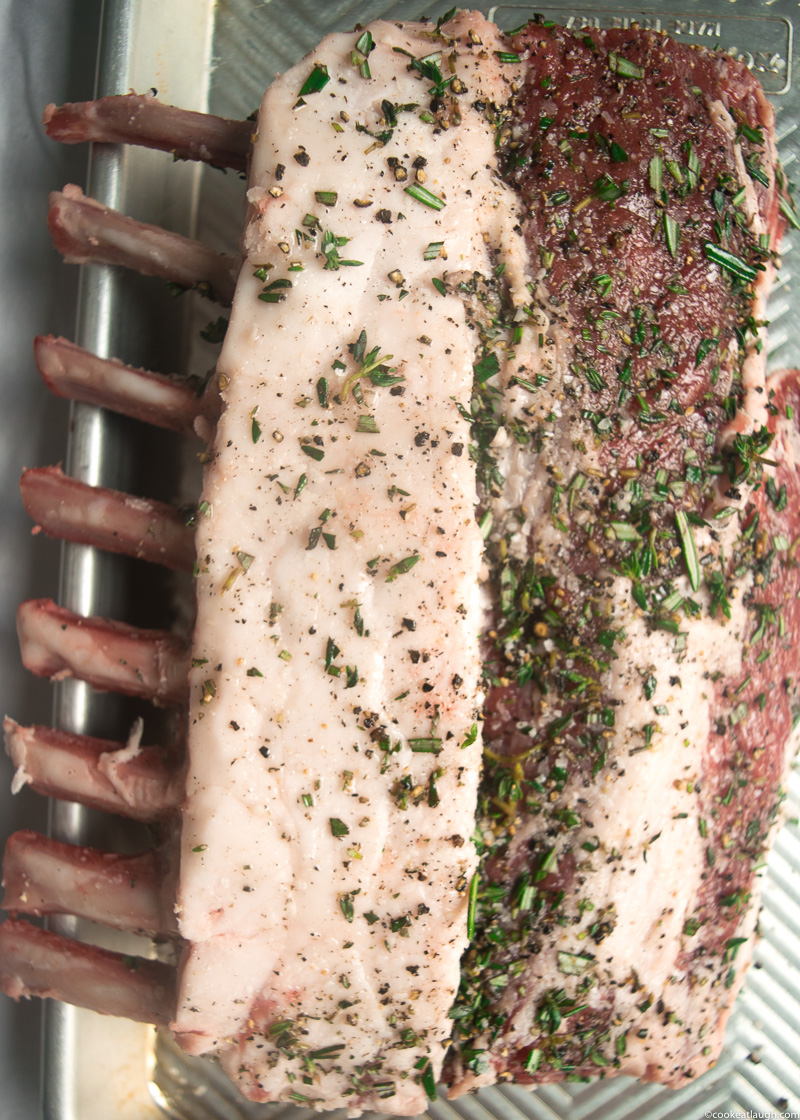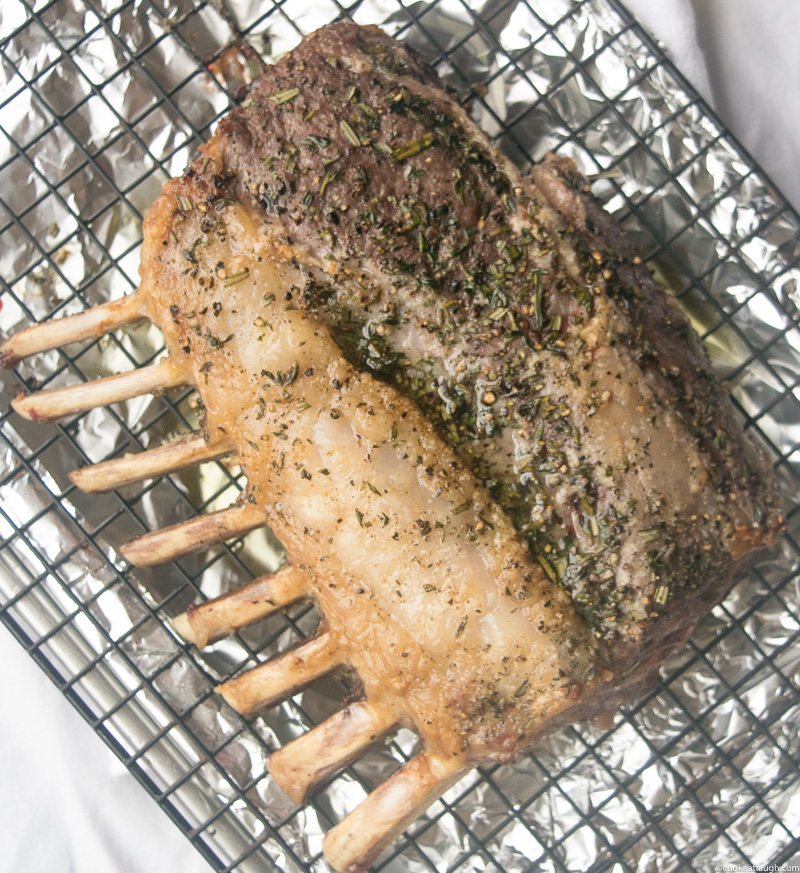 Cooking time and temperature
Cooking time depends on how big your rack is and how done you want it.
Lamb is one of those meats that the more you cook, the more it dries out. To ensure your lamb stays juicy and moist, it is important to know the safe cooking temperatures.
A meat thermometer is a good equipment to invest in when you are cooking meats especially Beef, lamb, or pork. It is the most accurate way to know the doneness of the meat.
If you prefer your lamb medium rare, the internal temperature should be 140F which results in a rosy pink color inside.
If pink meat is not your style, cook your lamb to medium, which is 155F. This results with the inside being pink only in the center and it will still be juicy. This how I prefer my lamb.
If you like your lamb well done, then I would suggest going up to 165F. This will result in the meat being evenly brown, moist but not juicy.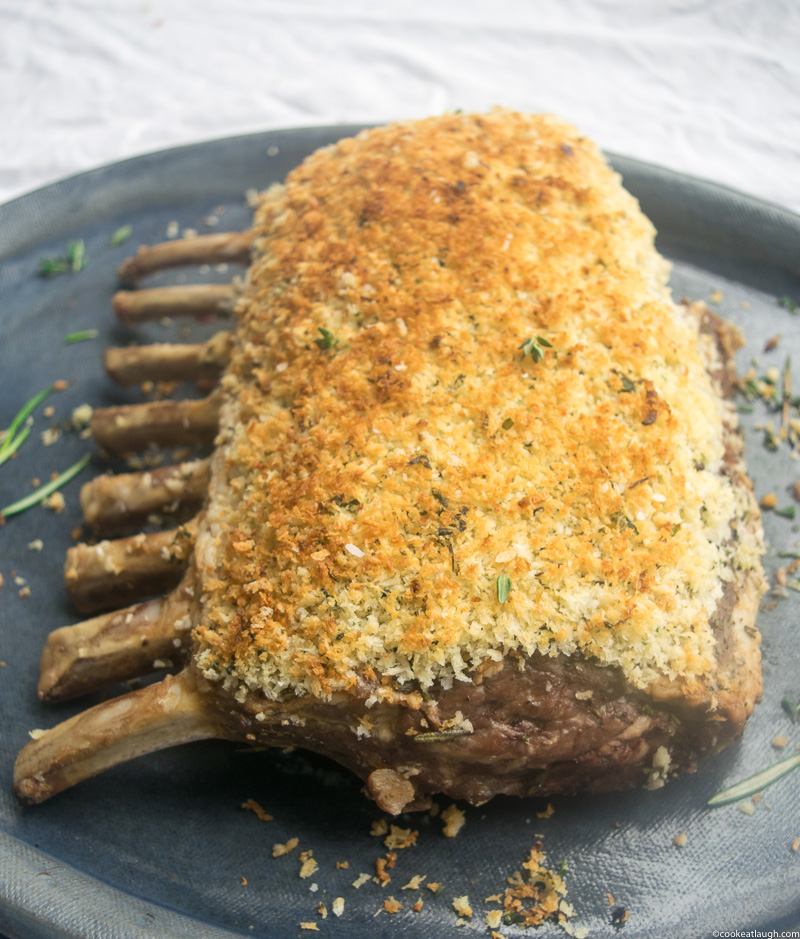 Resting the meat is key
Resting the lamb after it is done cooking allows the juices to redistribute and it makes the meat moist. Otherwise, the juices will just flow out and the meat will be dry and overcooked.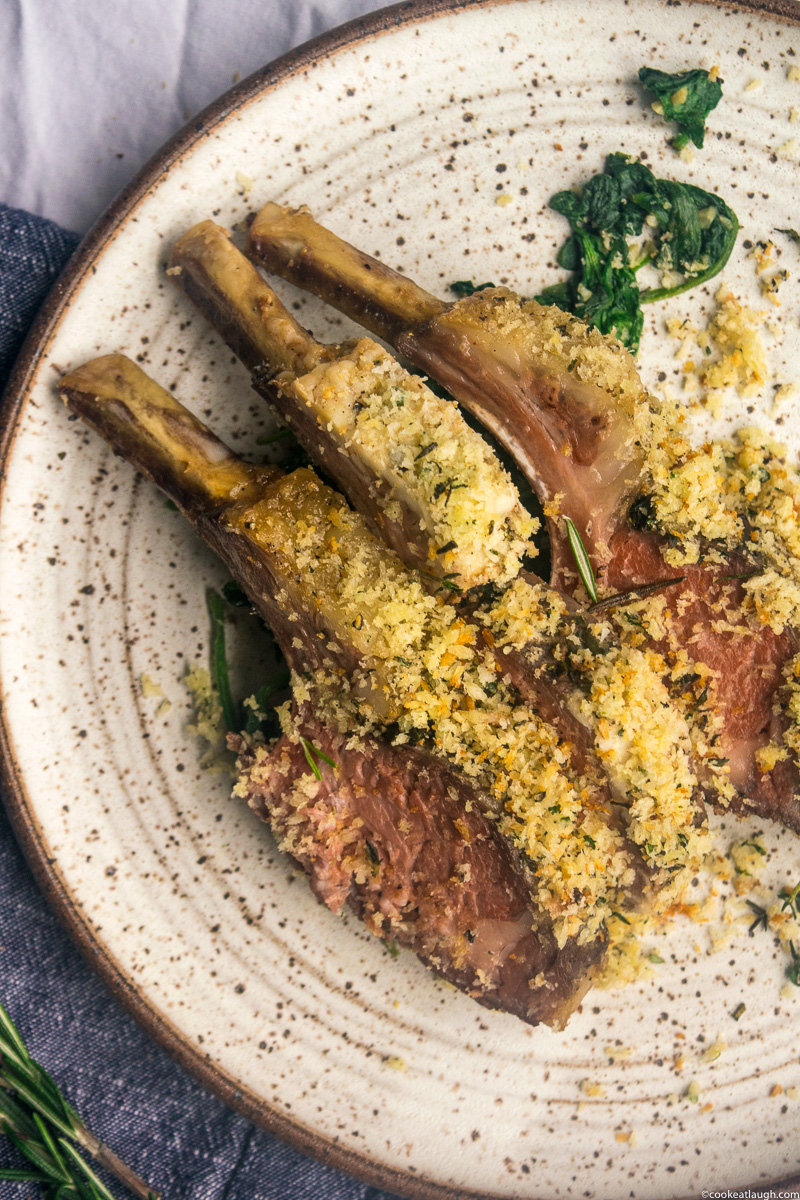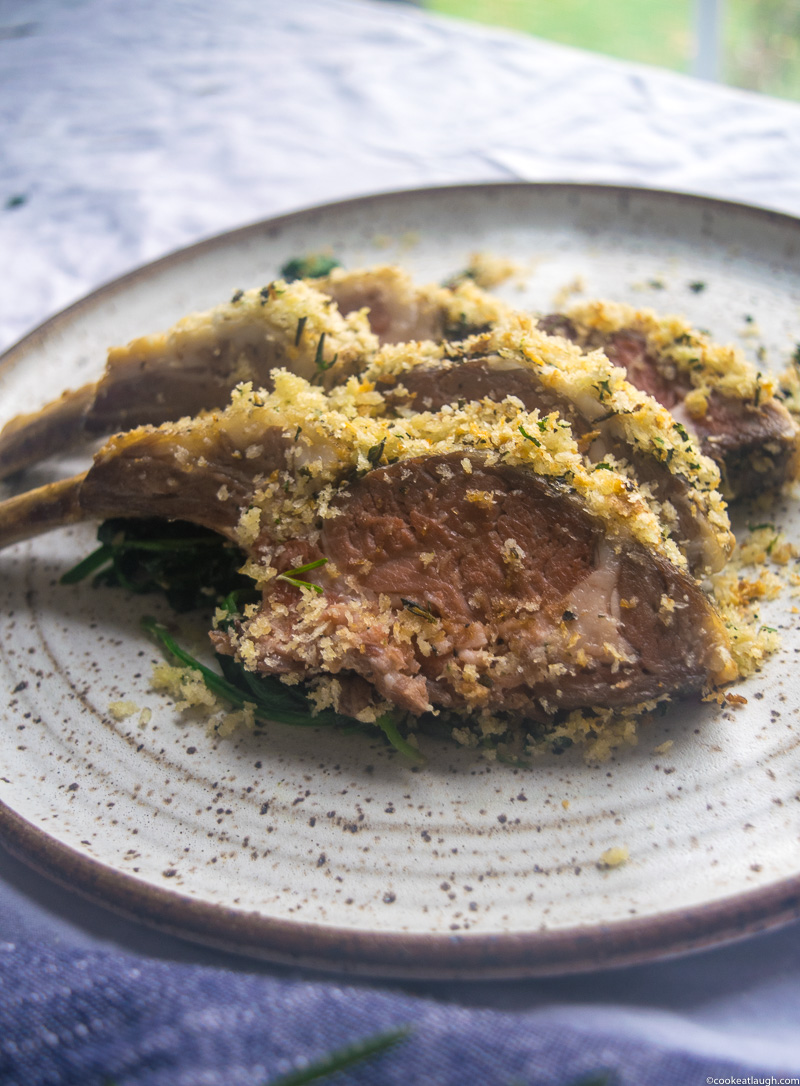 What to serve with Herb Crusted Rack of Lamb?
Simple and Easy potato au gratin
Roasted Butternut Squash with lentils, dates and fresh herbs
Sautéed Butternut squash with kale and feta
Sautéed green beans with toasted almonds
Healthy Mediterranean summer salad
I really do hope you make this Herb Crusted Rack of Lamb and if you do please comment below
Thank you for reading! If you enjoy my recipes, please subscribe to my free newsletter, so you never miss a recipe. Please follow me on Instagram or Pinterest. . If you make this recipe, I would love to know! Tag me on Instagram@cookeatlaugh and #cookeatlaughblog
Adapted from Cooking at Home with The culinary Institute of America. The rack of lamb is seasoned with rosemary, thyme, salt and pepper, and then topped with a mixture of butter-moistened bread crumbs, parsley, and garlic. When it is roasted in the oven, the crust becomes crumbly and golden brown along the edges of each chop.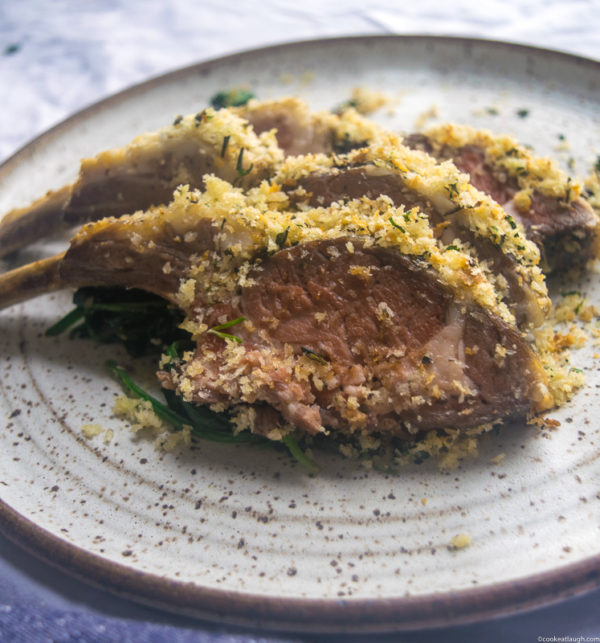 | | |
| --- | --- |
| | |
Pre-heat oven to 400 degrees Season the rack of lamb with salt and pepper, then rub it with oil, rosemary, and thyme. Place it on a wire rack nested on top of a baking sheet or a roasting pan. Set aside.

In a medium bowl, add the panko, butter, cilantro or parsley, garlic paste and salt + pepper to taste. Mix it well, the mixture should feel moist. Set aside

Place the lamb on top rack of the oven and cook for 10 minutes or till the lamb has browned nicely. Lower the temperature to 325 degrees and roast the lamb till you reach your desired temperature. 15- 20 minutes for medium rare, 25-30 minutes for medium. See notes in blog post under cooking time and temperature.

Remove the lamb and let it cool for a few minutes. Carefully pack the herb bread crumbs on top of the lamb rack. Place it back in the oven and roast till crumbs are lightly browned, about 10 minutes. Then Turn the oven to broil and broil for 30 seconds till top is nicely golden brown. Watch the rack carefully, as the crumb can turn from golden brown to burnt in seconds.

Remove the lamb, tent loosely with foil and let it rest for 10 minutes. To serve cut the lamb rack into chops.
Rack of Lamb: ask your butcher to french the rack of lamb, trim some of the fat and remove the silver skin. Don't trim all the fat you want a thin layer of fat on top of the rack, it adds flavor and prevents the lamb from getting dry. See blog post on how to trim fat and silver skin.