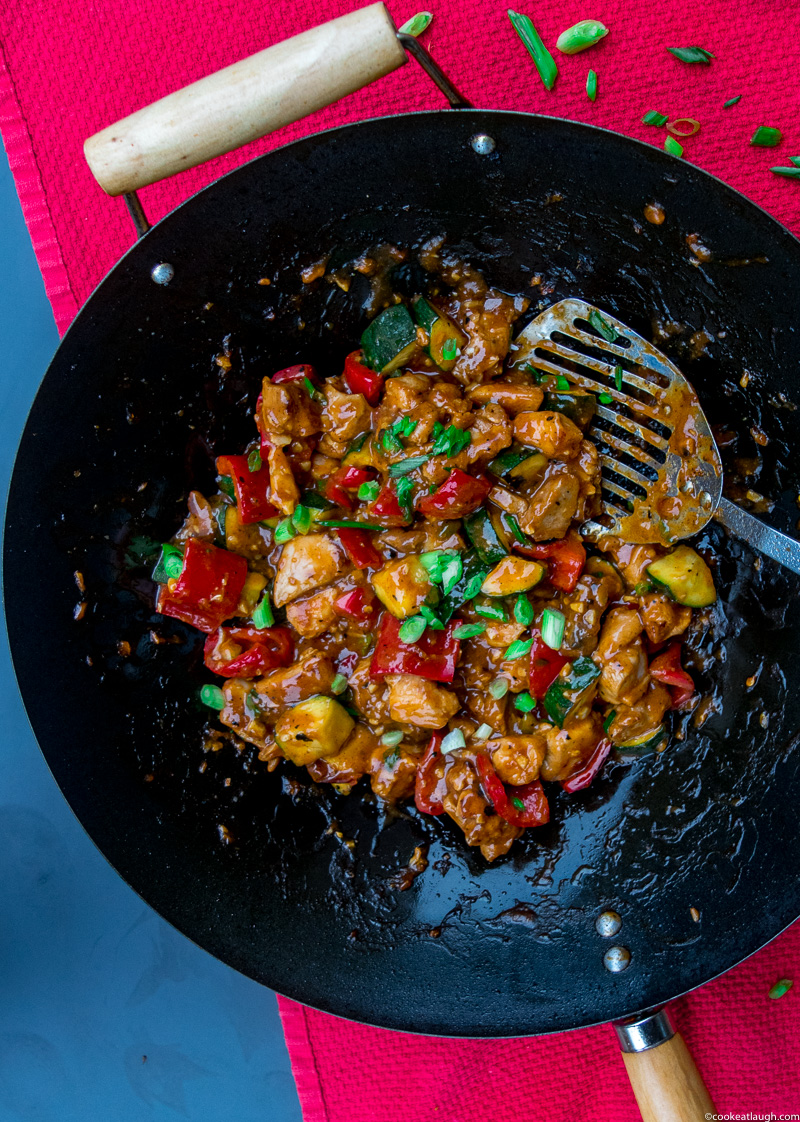 Towards the end of the week, I often find myself in a dilemma as to what to cook for dinner. Groceries at home are usually running low, the motivation to cook is just as low, and all I can find are odds and ends in the refrigerator. I always think to myself, "let's just get take out and call it a night", but then I struggle with the fact that I'm letting those last few vegetables and meat still left in the refrigerator just go to waste. The solution to my end of week cooking dilemma is a stir-fry and since I live with a carnivore (uhmm…the husband) it ends up being a chicken stir-fry.
Stir-fries are the greatest solution for weeknight dinners because they're super quick to make, you can customize them as you wish, they're easy and reliable, and most importantly, they're quite healthy. The basic components of a stir-fry include vegetables, some type of protein, and sauce. Stir-fries can be extremely versatile and are not limited to just Asian ingredients. The key to a good stir-fry is the technique and if the technique is perfected, then one can use it to make many types of dishes.
I learnt to cook up a good stir-fry from my dad and some of the tips he shared with me are essential to achieving a perfect stir-fry every time:
Cut all your ingredients evenly. The vegetables should all be washed, dried, and cut to the same size. If adding meat, they should all be uniform slices. This is essential because uneven cutting yields to uneven cooking which can ruin the texture of the dish.
Make sure you have all ingredients, sauces, and seasoning ready to go. Stir-frying is a very quick process which uses high heat, so once cooking process begins there is no time to go grab things
Pre-heat the wok or skillet and heat the oil. Since stir-fries require high heat, you will need oil that can handle high heat, otherwise the oil will just burn. Therefore, it is important to use a cooking oil with a high smoking point. Use cooking oils like grapeseed, canola, vegetable, peanut, but avoid olive oil at all cost. If you add the oil to a cold wok or pan, the food is guaranteed to stick and not cook properly. Heat the wok or skillet for at least 30 seconds on medium-high heat before beginning. Add a splash of water to the wok, if it evaporates right away, its ready for the stir-fry.
Never over crowd the ingredients when you stir-fry. If you overcrowd your pan, then you are steaming all your ingredients rather than searing them. The meat should be able to lay out flat on the wok, so it can get a lovely sear.
Cook ingredients in the order of how long it takes to cook them. If you add all your vegetables and meat at once, then the texture of your chicken stir-fry will be one dimensional and the vegetables will likely be overcooked. I always start off by searing the meat first to seal in the juices and flavor. Then I cook the vegetables that take longest to cook. For example, if I'm adding carrots, red bell pepper, and broccoli to my stir-fry, I cook the carrots and broccoli first as they need to be cooked longer than the red bell pepper.
Be watchful, be patient, and keep things moving. As mentioned before, stir-fries involve high heat cooking and sometimes the pan can get out of control, so be watchful and constantly adjust the heat. Since this recipe is specifically about chicken stir-fry, it's important to remember that when adding the chicken to the pan or wok, be patient and wait for a minute or so before tossing it around, so the meat can sear and brown properly. When adding ingredients like garlic, ginger, or vegetables, move them around constantly otherwise they will burn or becoming soggy.
You can now use these essential tips to make this super yummy Asian fusion weeknight chicken stir-fry. I call this Asian fusion because this chicken stir-fry is not authentic Chinese, but rather my own adaptation of a Chinese stir-fry.
Chicken thigh pieces are marinated in soy sauce and garlic, then seared in a hot wok. I then stir-fry zucchini and bell pepper till they're tender but crisp. The chicken and vegetables are added back to the pan and stir-fried with a sauce consisting of ketchup, chicken stock, garlic, and etc.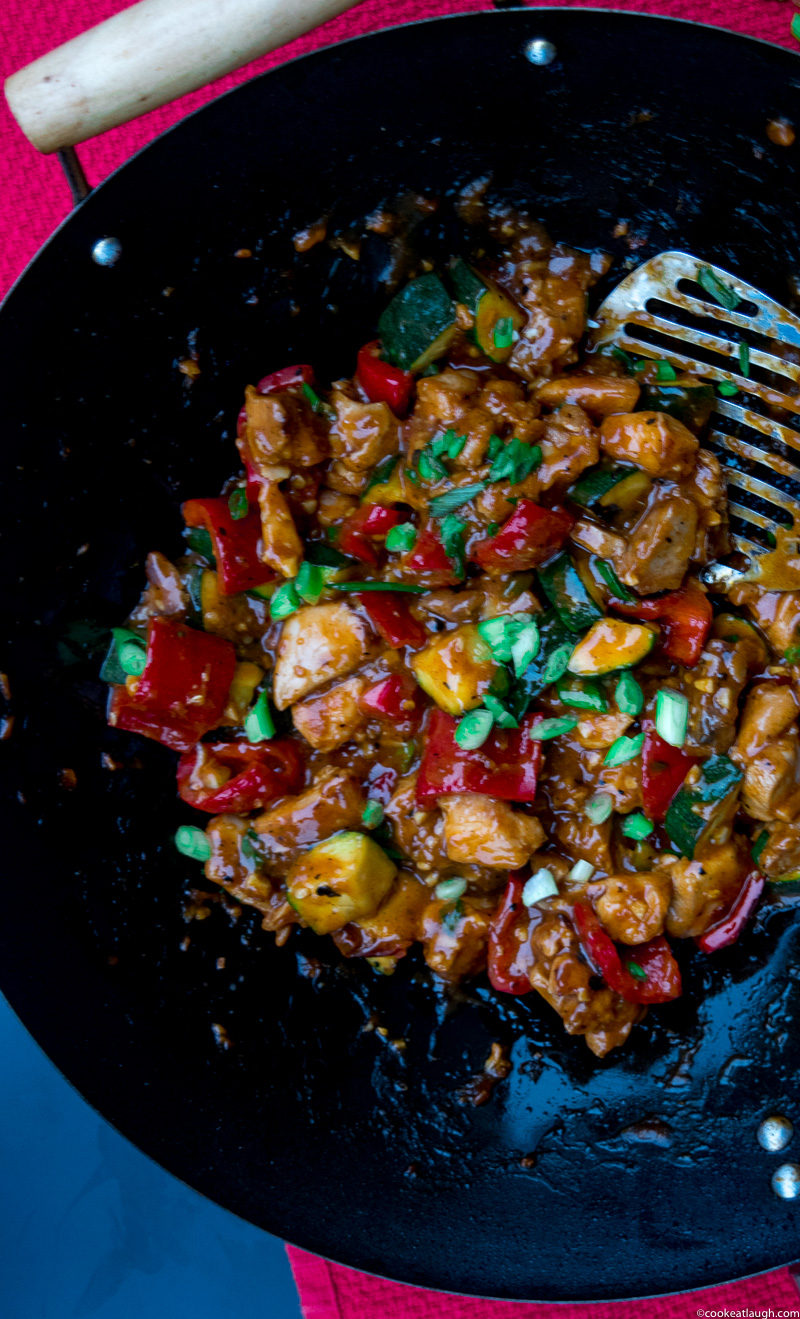 Ketchup might seem like an unusual ingredient to use in an Asian dish, but while doing some googling, I discovered that ketchup is actually used in many parts of China. I personally got the idea of using ketchup from my dad as I have seen him use it in many of his Asian recipes. Ketchup gives the sauce body, some sweetness, a little tang, and when mixed with garlic and chili, it's just mouthwatering.
My Asian fusion weeknight chicken stir-fry is delicious and bursting with sweet, spicy, tangy, and savory flavors. This stir-fry can easily be customized to use the ingredients you want to use or the ones readily available to you. For example, you can easily substitute chicken with tofu, use the vegetables you enjoy instead of the ones in this recipe, or change the spice level by adding more or less chili according to your taste.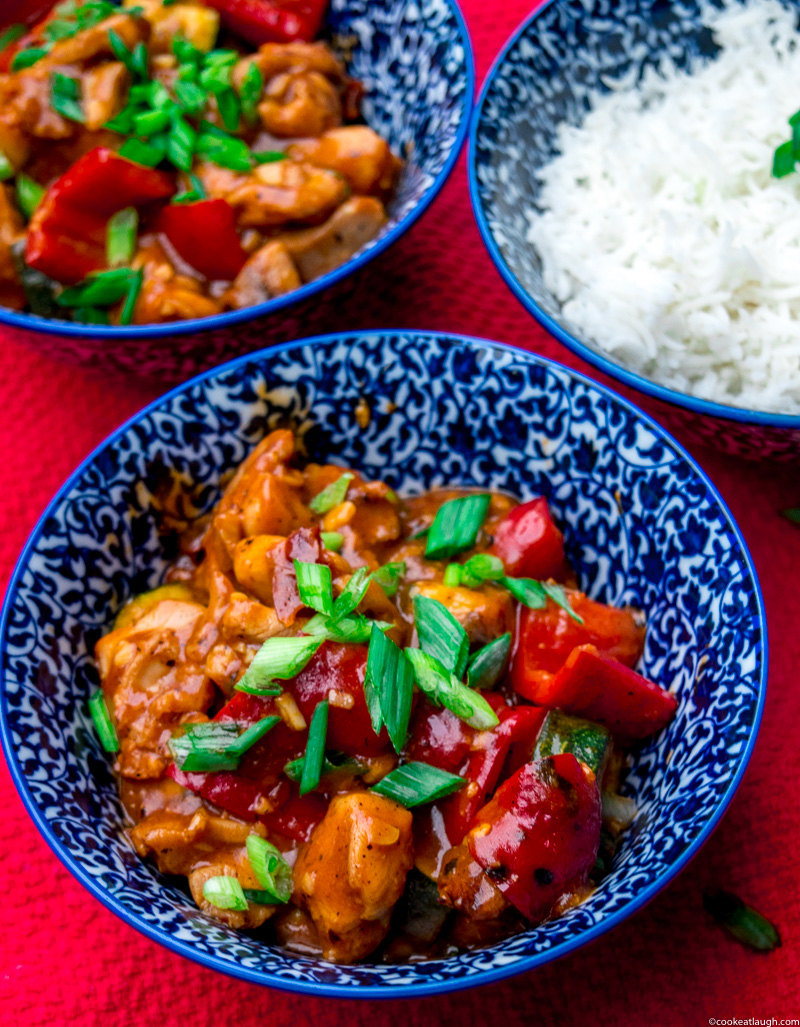 You can enjoy this dish with a side of rice and soup.
*Thanks for stopping by ! For more CookEatLaugh in your life, follow me on facebook, Instagram or Pinterest. Subscribe to receive new posts via email. And if you make this, I'd love to see! Tag me on Instagram @cookeatlaugh and #cookeatlaughblog.*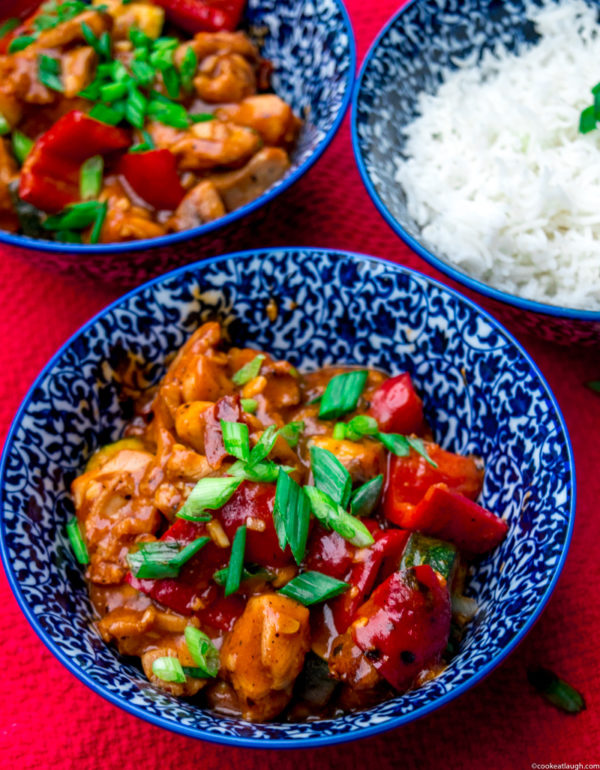 | | |
| --- | --- |
| | |
In a medium bowl marinate the chicken pieces with 2 cloves of grated garlic, a tsp. of cornstarch, soy sauce, and chili paste. Keep aside and let it marinate for 15 minutes.

In another medium bowl make the stir-fry sauce, whisk ketchup, rice vinegar, black vinegar, and chili paste. Keep aside.

Heat a wok or skillet on medium high heat for 30 seconds, add a splash of water to the wok and if it evaporates right away the wok or skillet is ready. Add tablespoon of oil and swirl it around, then add the marinated chicken to the wok and spread evenly in one layer. Let the chicken sear for a minute before tossing it around. Continue to cook the chicken for another two minutes or till the chicken is lightly browned. It's okay if the chicken is not cooked through. Remove the chicken and keep aside.

Add the zucchini to the wok and stir fry for a minute. Then add the red bell pepper, sprinkle a pinch of salt over the vegetables and stir-fry for another minute. Remove the vegetables and keep aside.

Add the remaining oil to the wok and then add the 10 grated garlic cloves along with dried red chilies. Stir-fry for 10-20 seconds till fragrant. Make sure to move the garlic around so that it doesn't burn. Add the stir-fry sauce made earlier to the wok and let it cook for 3-4 minutes.

Add the chicken stock to the wok, stir in with sauce, and cook for a minute. Add a pinch of sugar and stir.

Add the corn starch mixture to the wok, stir it in, and let the sauce thicken.

Add the chicken and vegetables to the pan, give everything a good stir, and make sure the chicken and vegetables are well coated with the sauce. Stir-fry for a minute or till the chicken is cooked through. Give it a taste, add more salt if needed or if you want it spicier add more chili paste.

Garnish with green onions and serve immediately.