While I love making an apple tart or pie, sometimes I just don't have the time or patience to do it. This Skillet apple crisp is the unfussy cousin of the apple pie, it is easy and quick to whip up and has the great flavors of an apple tart.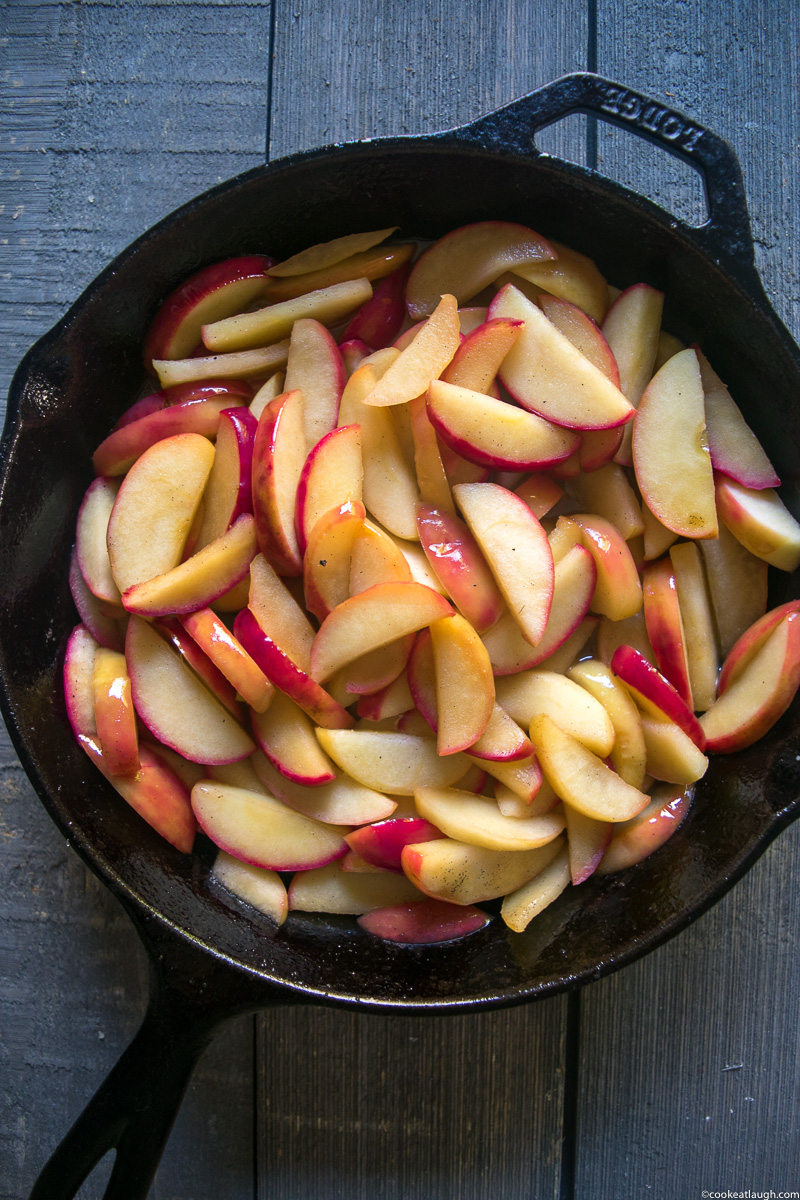 The difference between a crumble and crisp?
They are essentially the same thing, they both involve a baked fruit base with a layer of topping. The only key difference is that a crumble consist of flour, sugar, and butter and a crisp usually also includes oats and nutsType of apple to use?
You want a firm apple that keeps its structure when cooking and also ones that have a sweet tart flavor. My favorites are Honey crisp, gala, and golden delicious. If you prefer you can use a combination of apples too. I would stay away from using granny smith apple for this recipe. To peel or not to peel the apples?
I have tried making this skillet apple crisp with the skin on to save on prep time but I absolutely despised the texture. The skin was chewy and was hard to swallow. I think it is absolutely worth it to take the time to peel and core the apples to achieve a good texture.
Do I really need to cook the apples before?
Yes it helps to cook the apples evenly and infuse them with the flavor of brown butter and vanilla. It helps the topping from getting too brown before the apples bake through. By partially cooking the apples on the stove top the crisp will cook faster in the oven.Can I make this crisp gluten-free?
Yes you can replace regular flour for almond flour. The topping won't be as crisp but it will still taste good.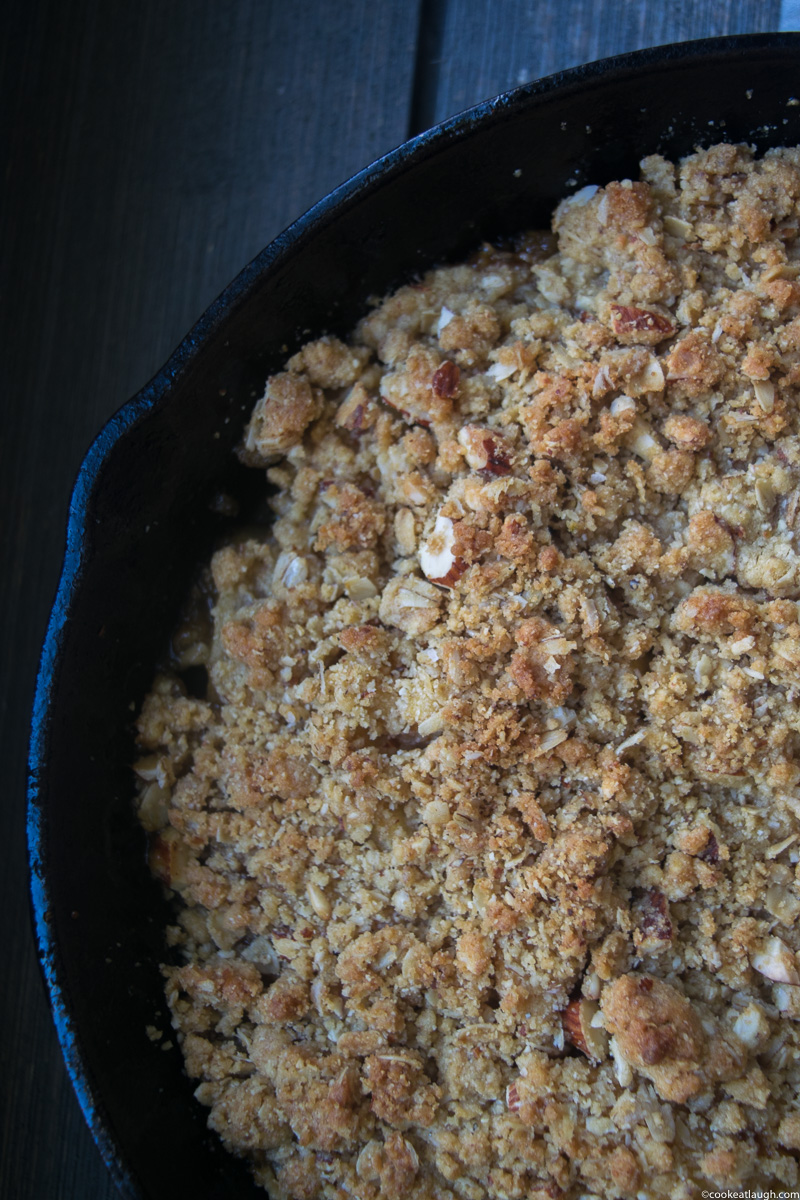 Rolled oats or quick cooking oats?
I prefer rolled oats in apple crisp recipe as it adds more texture to the crisp but if all you have is quick cooking oats it will work.

Don't like almonds?
Pecans and walnuts work well too. Adding nuts helps to add more crunch to the crisp if you don't like nuts you can leave them out.
Can I make this in advance?
Yes you can assemble this skillet apple crisp one day in advance and refrigerate it. Bring it to room temperature and bake it.

This Skillet apple crisp is a great dessert for the holidays and serving it warm with vanilla ice cream is an absolute must. If you happen to have leftovers it is even great for breakfast topped with a little Greek yogurt. Enjoy!
Thank you for reading! If you enjoy my recipes, please subscribe to my free newsletter, so you never miss a recipe. Please follow me on Instagram or Pinterest. . If you make this recipe, I would love to know! Tag me on Instagram@cookeatlaugh and #cookeatlaughblog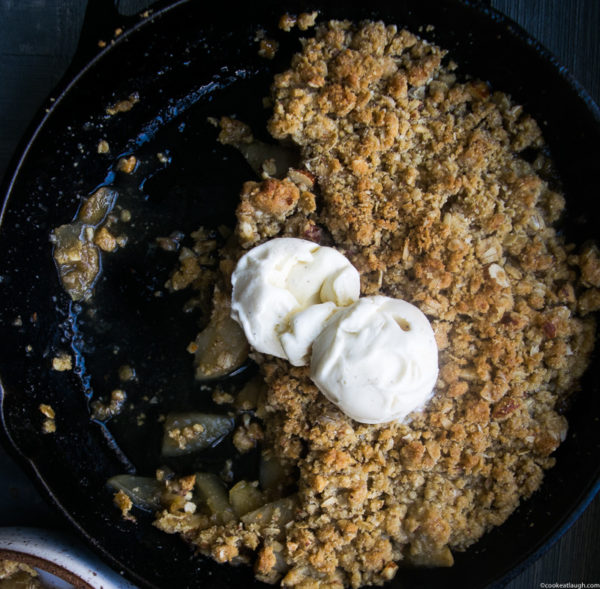 | | |
| --- | --- |
| | |
In a medium bowl add in the flour, brown sugar, almonds, oats, and salt. Give it a good stir, and then add in the cold butter cubes. Work in butter using finger tips, the mixture should resemble pea sized crumbs.

Keep the mixture in the fridge while making the apple filling.
Preheat oven to 375 degrees and place rack in the middle of the oven. Toss your apples with lemon juice.

Place the butter in a 10 inch skillet that is oven proof and cook over medium low heat, swirl the pan occasionally. At around 5 minutes mark the butter should be slightly browned and give off a nutty aroma.

Toss in the sugar, the vanilla bean paste, and apples to the pan. Let the apples cook on medium heat till the apples become translucent and tender not mushy. This will take about 10-12 minutes.

Spread the crisp mixture evenly over the apples, bake for 20-25 minutes or till the crisp is bubbly on the sides and brown.

serve warm with vanilla ice cream.