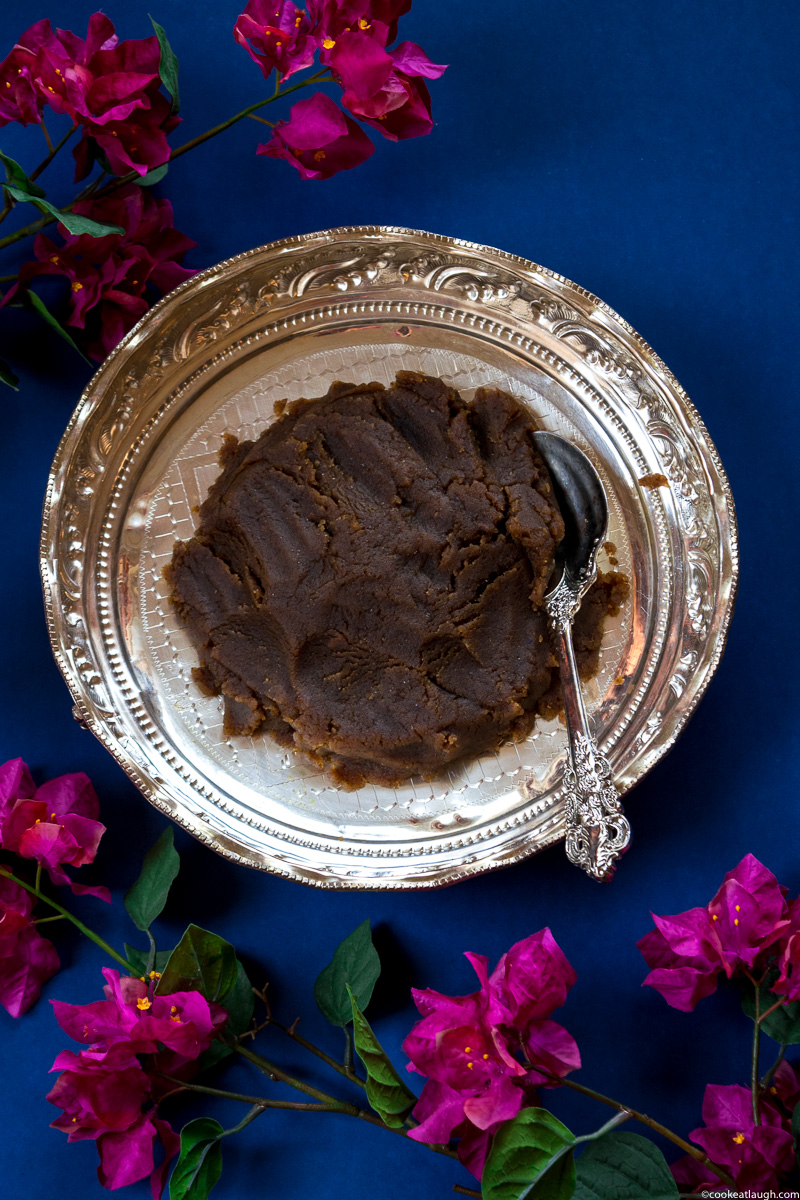 My grandmother was an amazing cook and growing up her atta ka halwa was something the family looked forward to. Halwa was usually made on special occasions like the birthday of Guru Nanak (the 1st Sikh Guru), it was offered as Prasad (a religious offering of food to the Gods). When I was a child I remember standing outside my grandmother's prayer room eagerly waiting for her to finish, so that I could finally get some halwa. Atta ka halwa is a type of pudding made with equal parts of ghee, sugar, and wheat flour. It's rich, decadent, and easy to make.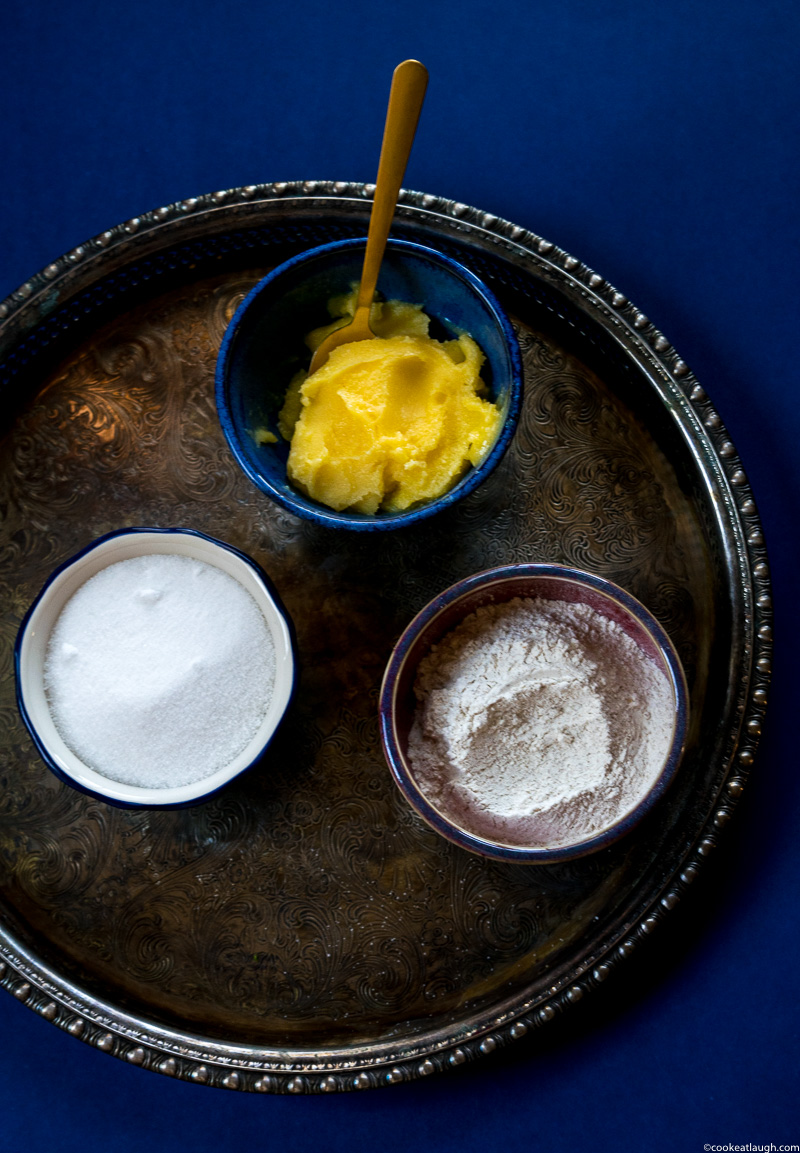 The relationship between grandparents and grandchildren is extremely special. Grandparents provide unconditional love, valuable life lessons, and a sense of security. In India, I lived in a joint family house with my paternal grandparents who played a huge role in my life. My grandparents were very loving and nurturing. My grandfather passed away when I was quite young, so most of my memories are of my grandmother.
My paternal grandmother or dadi as I used to call her was very dignified, strong, and a wonderful role model. She and I shared a very close bond. I loved spending time with her as a child, we would make snacks together for her tea parties, watch Indian soap operas, she taught me knitting (which I am terrible at) and etc. Even after moving to America, I would often talk to her on the phone because I missed her. When, I finally went back to India for a visit after eight long years I spent all my time just with  her.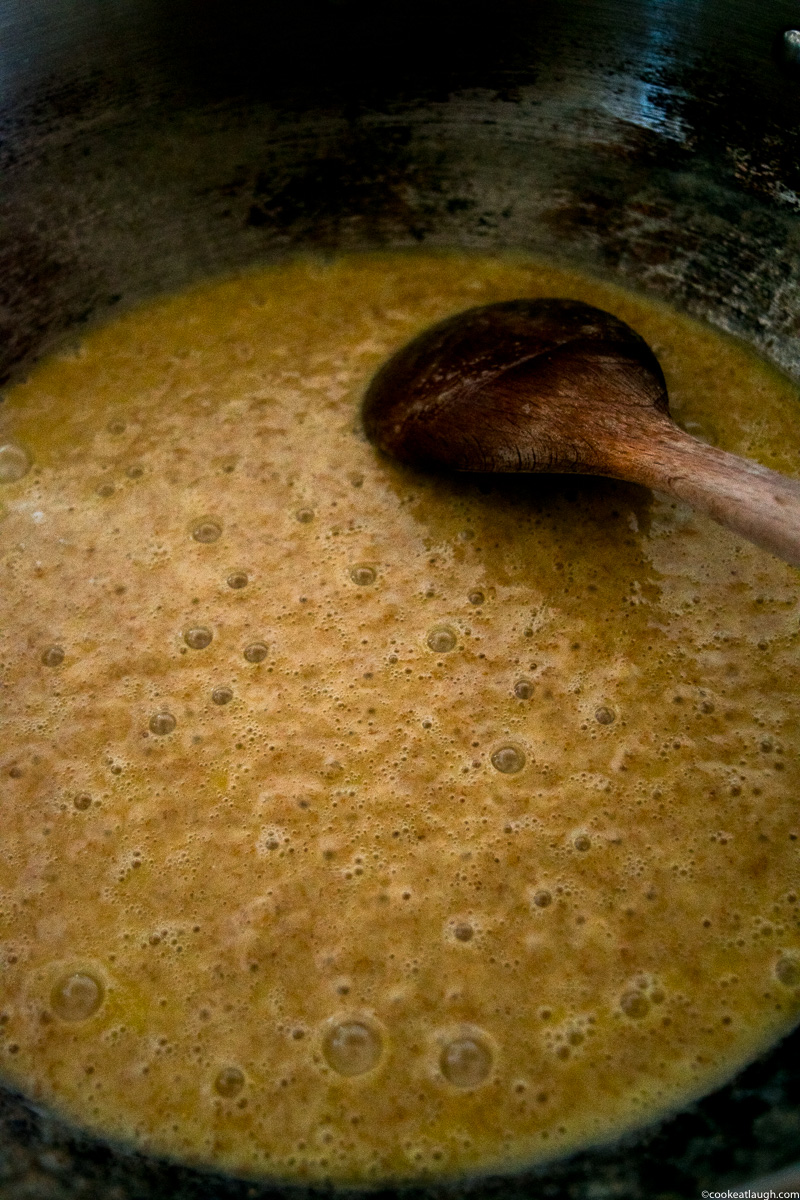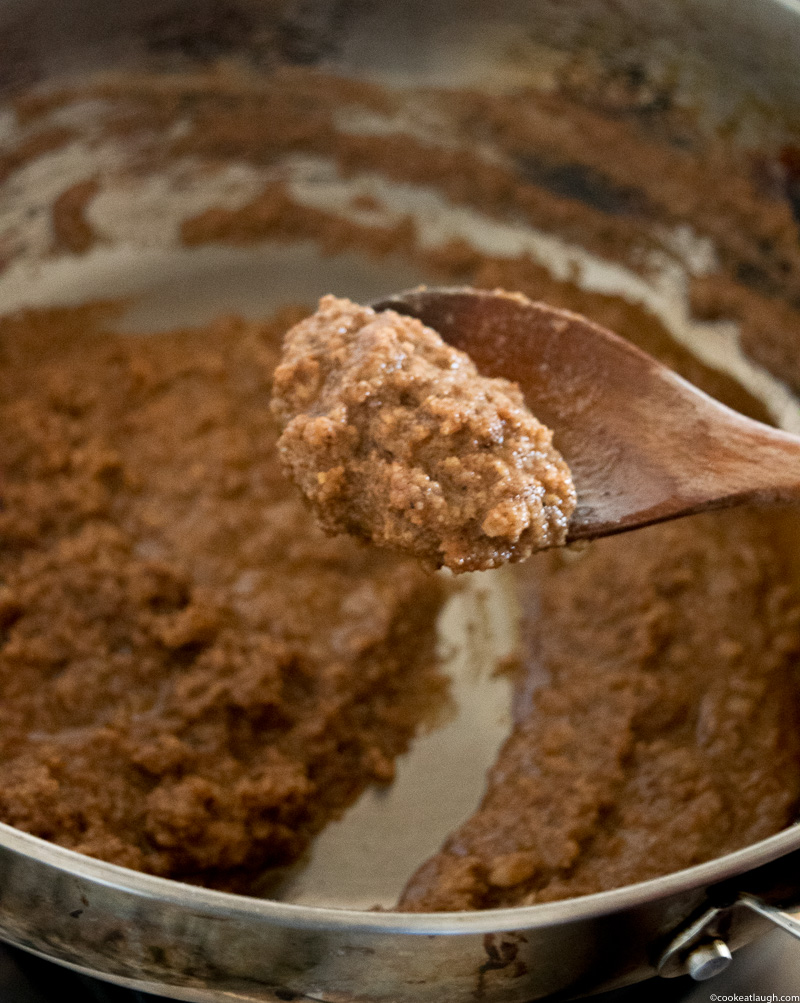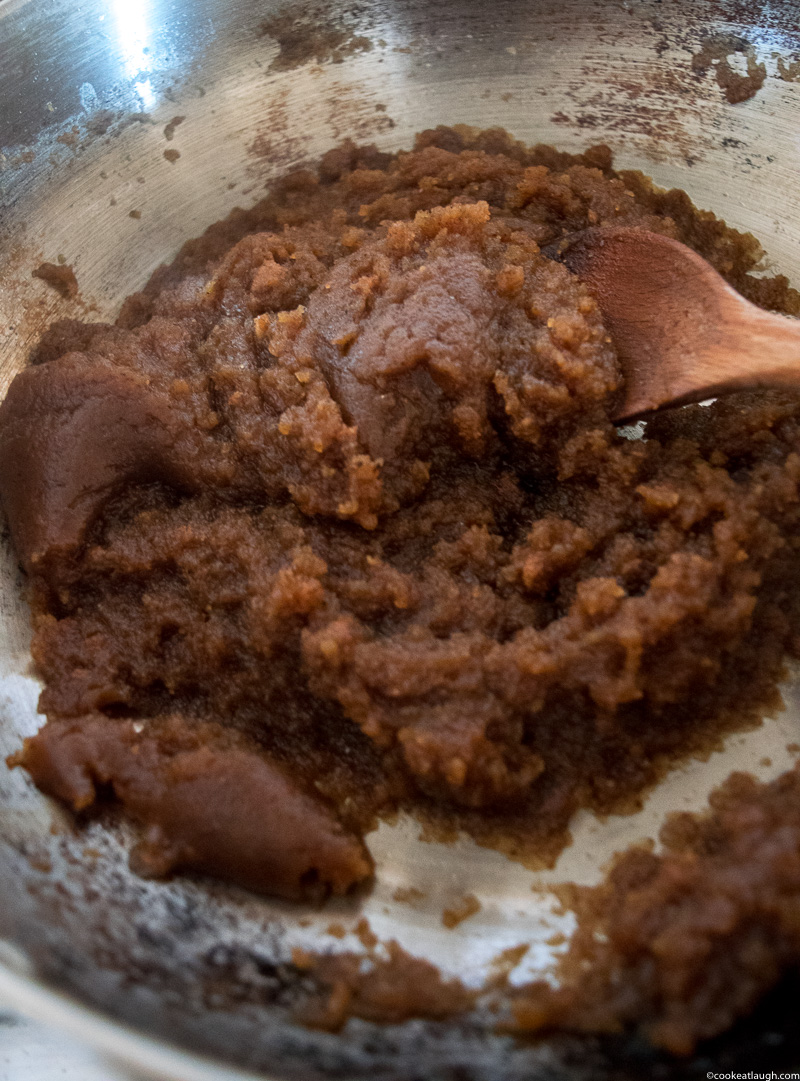 My dadi went through a lot in her life, but I never once heard her complain. She would always look at the bright side of things in life and move forward. She suffered from a bad lung infection for a long time and her doctors were always amazed at how she kept going and they attributed that to her positive attitude. I remember even on days that she was quite unwell, she would just tough it out with a smile on her face.
Through watching her and how she conducted herself in life, I learnt so many invaluable life lessons. Even though she passed away years ago, I still think of her a lot and I am grateful that I have so many beautiful memories to remember her by.
Whenever I make this atta ka halwa it instantly reminds of me of my grandmother and my childhood. My brothers and I used to get into physical fights over who would get the last bites of halwa, this recipe is that good. The key to making a good atta ka halwa is to properly toast the flour and ghee mixture till it's a deep golden color with a nutty aroma. Then you simply stir in the sugar, add the hot water, and keep stirring till the mixture comes together. This halwa should be served immediately and eaten hot.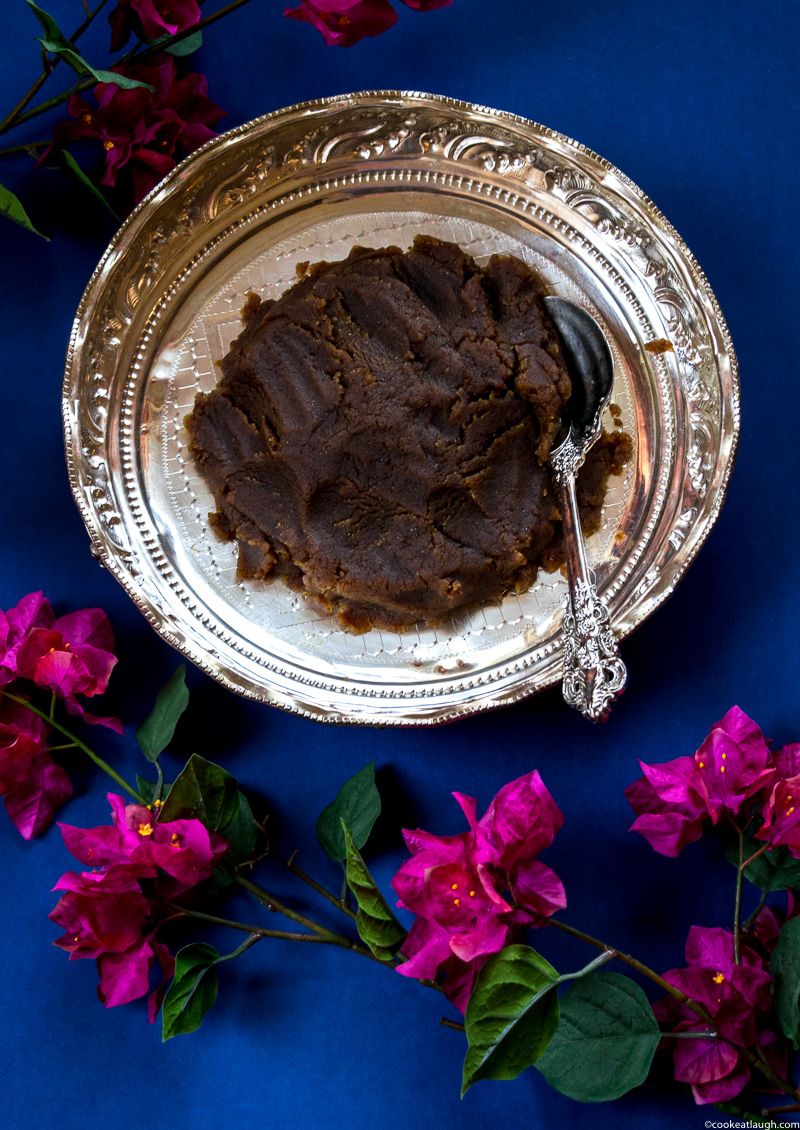 If you love Indian food then check out these recipes: mom's simple chicken curry, Goan egg curry, aloo keema, palak paneer, and dal.
*Thank you for reading! If you enjoy my recipes, please subscribe to my free newsletter, so you never miss a recipe. Please follow me on facebook, Instagram or Pinterest. . If you make this recipe, I would love to know! Tag me on Instagram@cookeatlaugh and #cookeatlaughblog.* 

| | |
| --- | --- |
| | |
Heat the ghee in a large pan on medium high heat. Once the ghee is completely melted, stir in the whole wheat flour. Stir mixture continously till it begins to turn a light brown color. Lower the heat and continue to toast the flour and ghee till it becomes a deep golden brown color and has a nutty aroma. The mixture will also begin to relase ghee from the sides. This will take 10-15 minutes.

Stir in the sugar, keep stirring so that the sugar completely melts and doesn't crystalize. Slowly add the hot water, the mixture will splutter so please be careful. Continously keep stirring till all the water is absorbed and the mixture has thicken into a firm pudding.