Last week on the blog, I shared a recipe for an authentic homemade red enchilada sauce. Today I will being sharing how to use that special sauce to make a deliciously easy chicken enchiladas. Over the years I have made many versions of enchiladas, each time tweaking and improving my technique. These easy chicken enchiladas are my best version ever and they are an absolute hit in my house.
I was planning on sharing this recipe sooner, but I got busy with the holiday season. For the past two weeks, I have just been cooking, baking, eating, and slowly dying of food overdose. I am a food connoisseur, but I needed a solid break from all things food. After a day or two of feeling like an overstuffed bear in hibernation, my appetite for food is slowly returning. I feel I can once again, passionately write about delectable recipes that you absolutely need in your life like this easy chicken enchiladas.
This chicken enchilada recipe is like a traditional enchilada, but kicked up a notch.I first poach the chicken in bath of water, bay leaves, and onion. For added flavor, (on cookeatlaugh we are all about flavor) I shred the chicken and quickly sauté it in a spice mixture made of onion, garlic, cumin and chili powder. Alternatively, instead of poaching the chicken you could also use a pre-roasted chicken to save some time.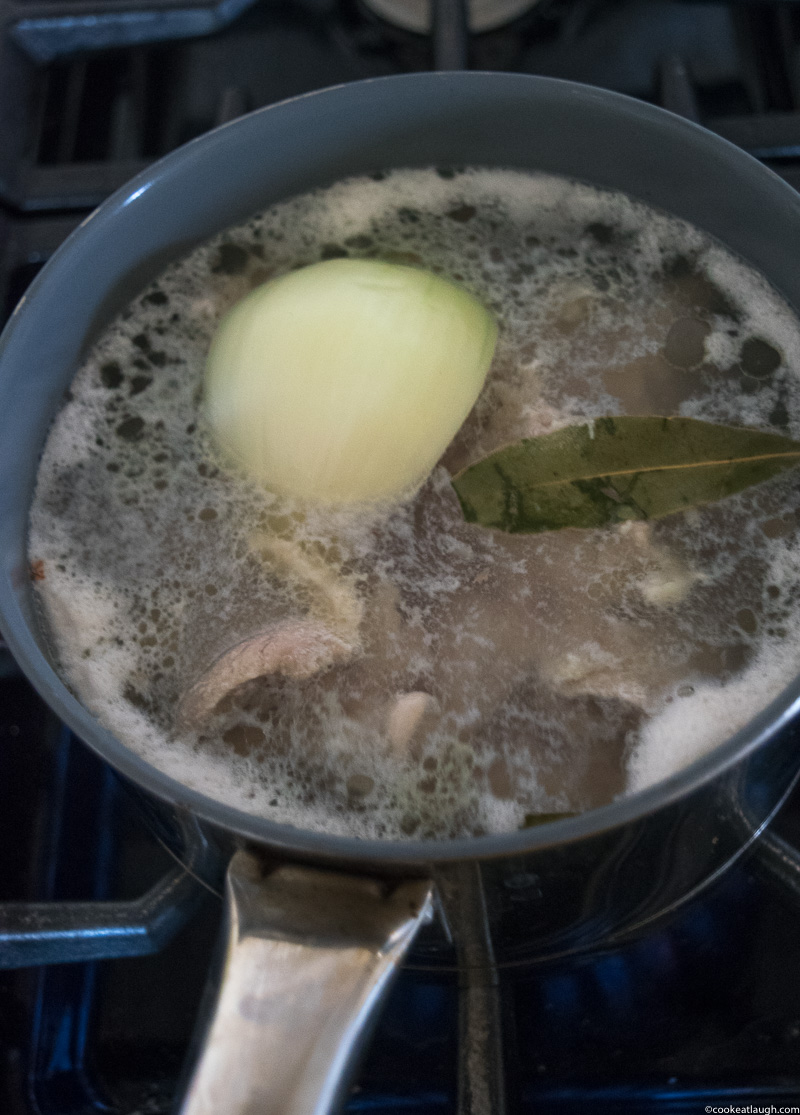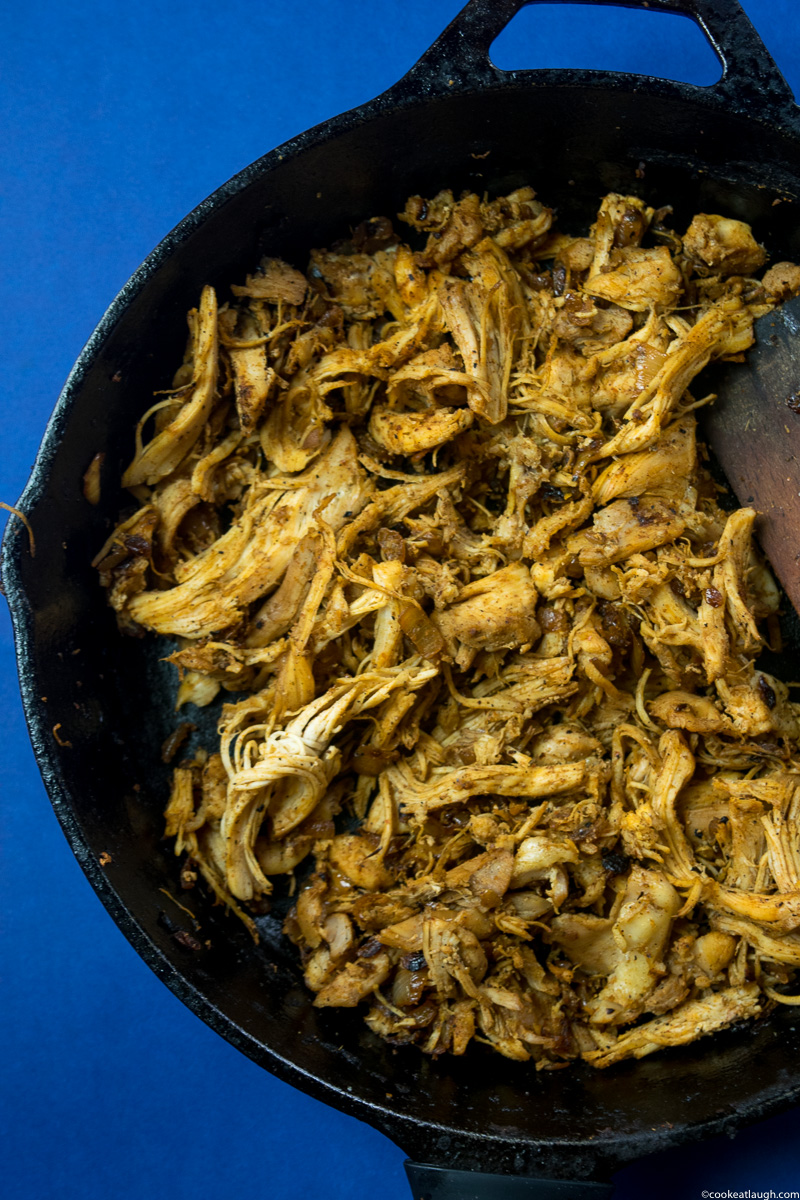 Traditionally to keep enchiladas from getting soggy the tortillas are first fried and then dipped into the sauce. I think the frying is unnecessary and creates a mess. To save some calories, I prefer to just toast my tortillas over a gas burner and then smear spoonful of sauce over each one. Add a bit of chicken, cheese, roll each tortilla up, and place it seam side down in baking dish. To finish it off pour the remaining sauce, cheese, and bake it up.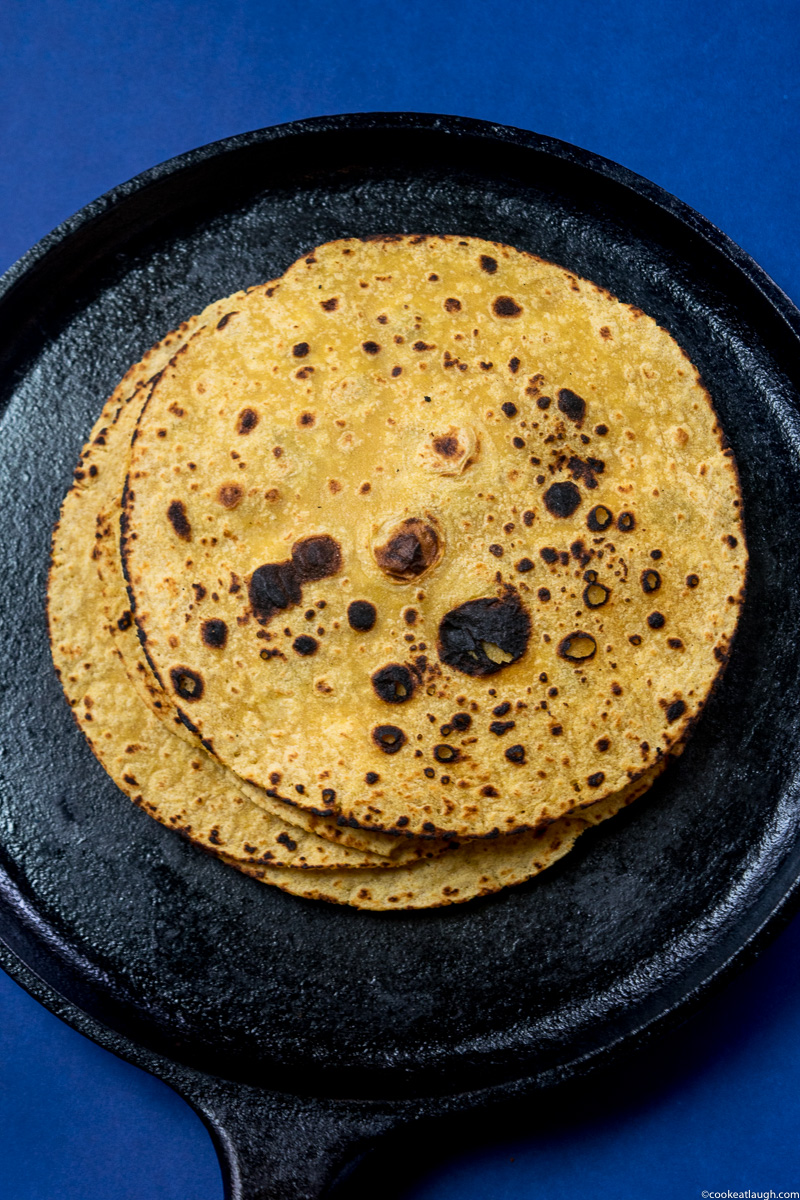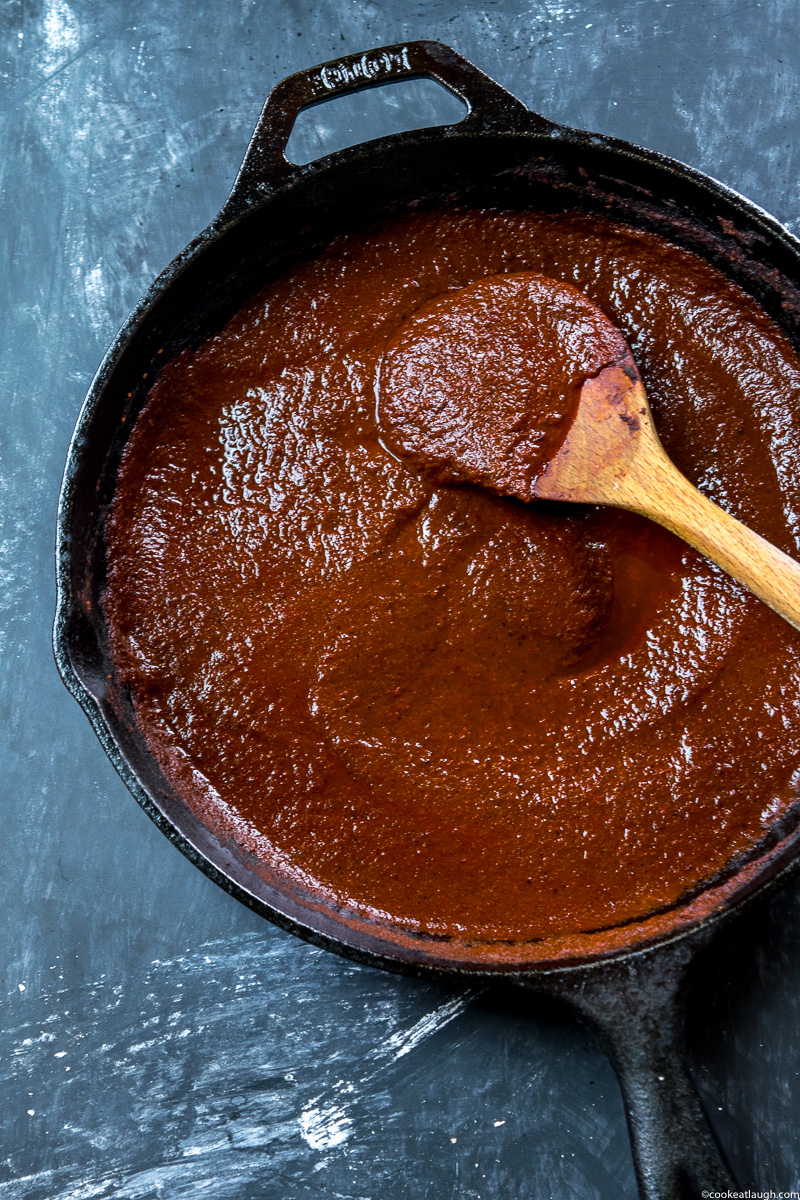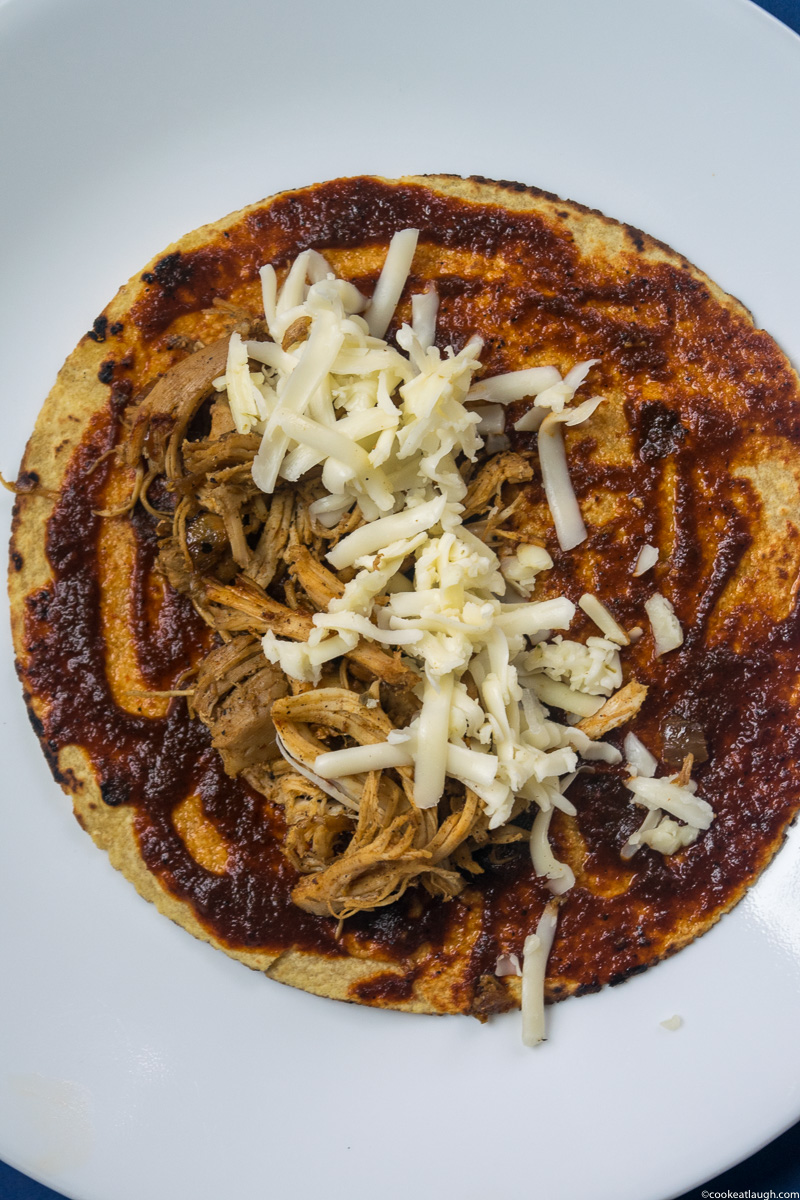 20 minutes later, you will have a melty, bubbly, and delicious pan of chicken enchiladas.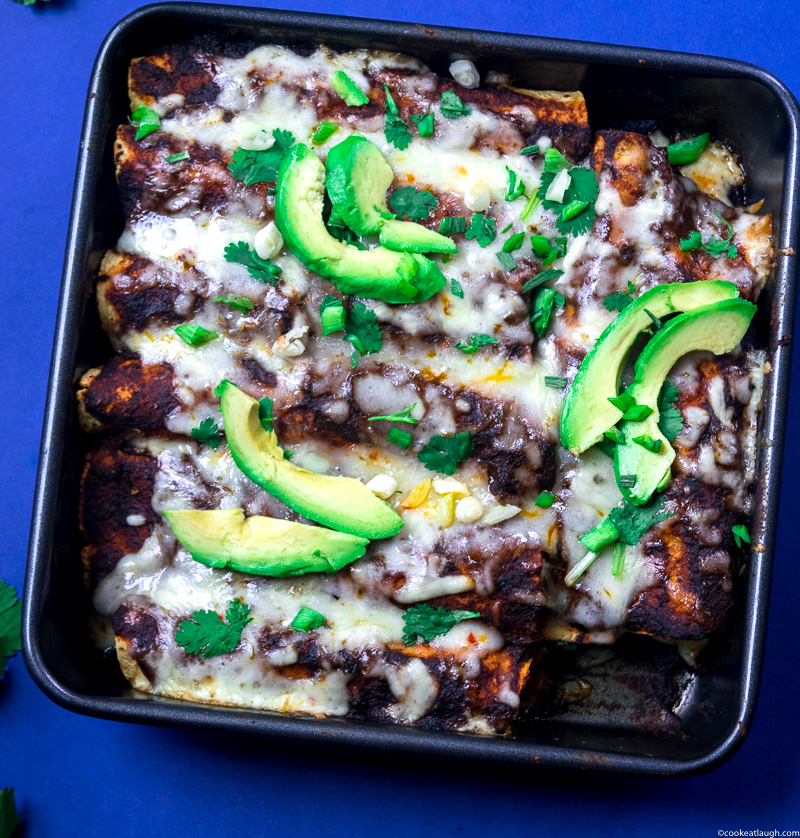 There are two things that make these enchiladas extraordinary, first is the homemade enchilada sauce. I strongly urge you to put in that little extra effort and make the sauce from scratch, it is worth it. Homemade sauce is 100x more flavorful than any store –bought canned sauces. The second part is the spiced up shredded chicken, which adds an extra depth of flavor to the overall enchiladas.  I can't recommend this recipe enough, I made it for dinner two weeks ago and between my husband and I we completely demolished it.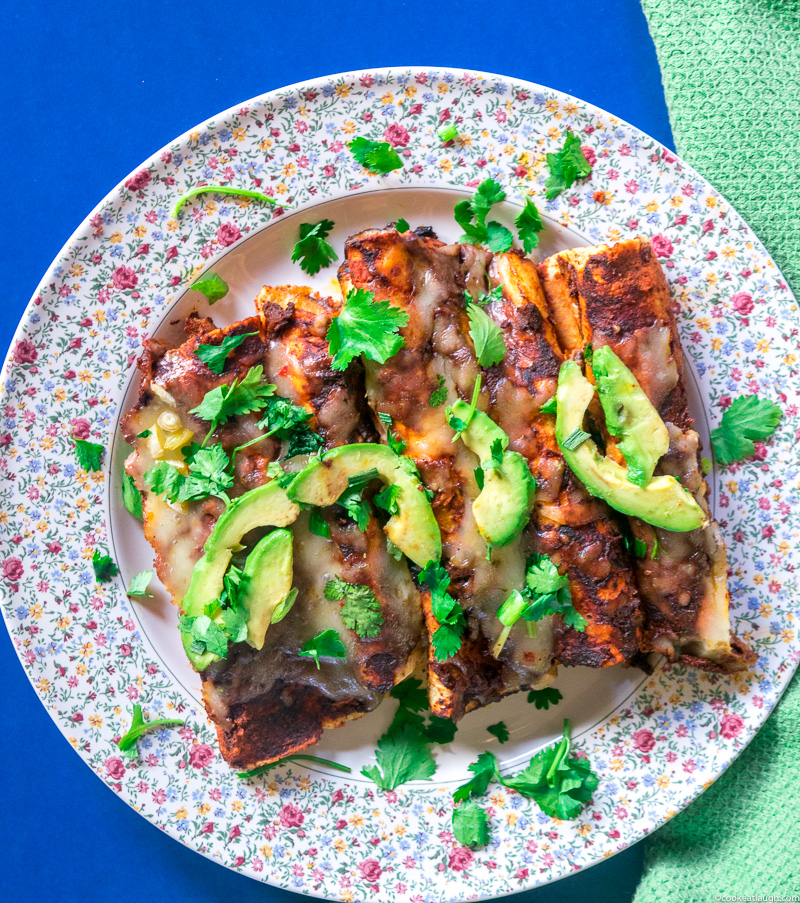 Enjoy Everyone!
*Thank you for reading! If you enjoy my recipes, please subscribe to my free newsletter, so you never miss a recipe. Please follow me on facebook, Instagram or Pinterest. . If you make this recipe, I would love to know! Tag me on Instagram@cookeatlaugh and #cookeatlaughblog

| | |
| --- | --- |
| | |
Pre-heat oven 350 degrees. Lightly grease a baking pan (I used 8x8).

Place chicken in a medium stock pot. Pour enough water to just cover the chicken. Add the half onion, bay leaf, and season it with salt. Bring to a boil and then lower the heat to a simmer. Simmer the chicken for 20 minutes.

Remove the chicken from the pot and shred it. Take the half onion that is left along with the onion used to cook the chicken and finely chop it. In a medium sauce pan, heat up oil on medium high heat. Add the onions, cook till soften and slightly golden brown. Add the minced garlic saute for 20 seconds. Add the cumin, chili powder, and oregano. Saute the spices for 20 seconds and then add the shredded chicken. Give everything a good mix and season to taste. Let the mixture cook for 2-3 minutes. Turn off the heat and keep chicken mixture aside.

In the same pan heat the enchilada sauce until its hot. Take each corn tortilla and quickly warm it through on a skillet or over a gas burner.

Pour 1/2 cup of enchilada sauce on the bottom of the pan.

Take each toasted tortilla, smear a tbsp of sauce, add some chicken, cheese, and roll it up. Place each one seam side down on the prepared baking dish. Continue till all the tortillas are stuffed and rolled up.

Pour the remaining sauce, Sprinkle with remaining cheese, and bake for 20-25 minutes or till the cheese is melted and golden brown.

Garnish with slices of avocado and freshly chopped cilantro.