Chinese Lemon chicken with an addictive sweet and tangy sauce. An easy weeknight dinner much better than takeout!
Happy New Year! I am sharing one of my favorite recipes to whip up for a weeknight meal Chinese Lemon Chicken. This recipe is a keeper because it requires a handful of ingredients and absolutely no chopping. Crispy pieces of succulent chicken tossed in a slighlty sweet and tangy sauce, what's not to like ? It is simple, easy, and scrumptious and that's exactly the type of recipe we need right now with all the craziness in the world.

What type of chicken works best for this Chinese Lemon Chicken?
Chicken breast or chicken tenders works best in this recipe. I have tried this recipe with chicken thighs while it tastes good the breast hold up well in this recipe.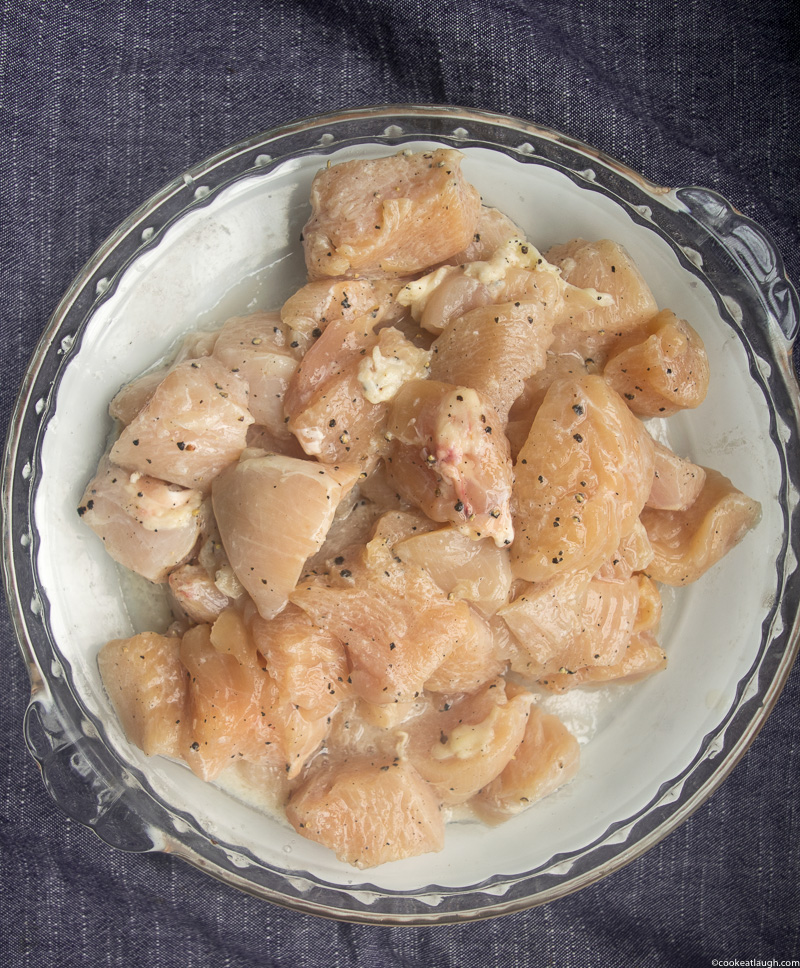 What is the marinade for the chicken?
The marinade for the chicken is simple and uses just three ingredients lemon juice , salt and pepper. These three simple ingredients make the chicken so flavorful and juicy. Marinate the chicken for 20 minutes for a deeper flavor.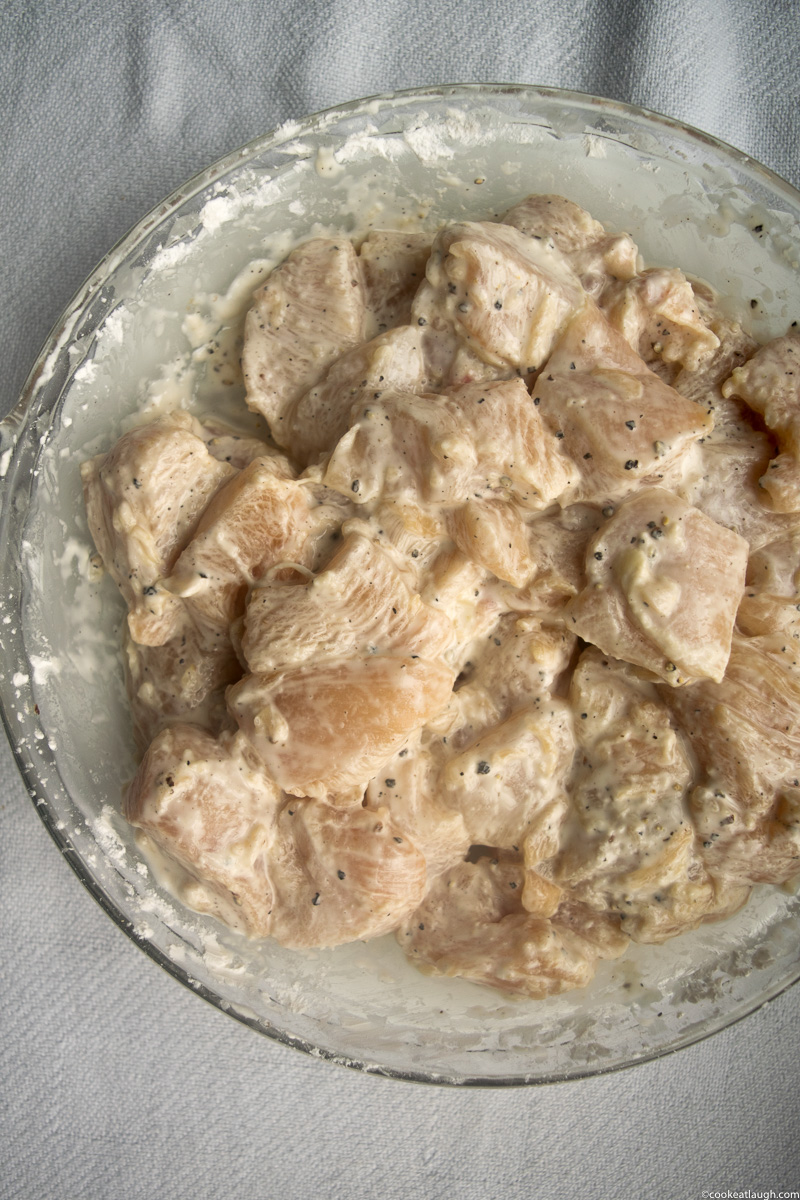 The Coating for the chicken
I coat the chicken in two types of starches cornstarch and tapioca starch to create a really crispy chicken. I have experimented with just using cornstarch, but I found that when the chicken is tossed with the sauce it would become soggy quickly. The beauty of tapioca starch is that even after the chicken is tossed in sauce, the crispy crust of the meat is retained and does not get soggy for hours. If you don't have tapioca starch then you can substitute with all-purpose flour.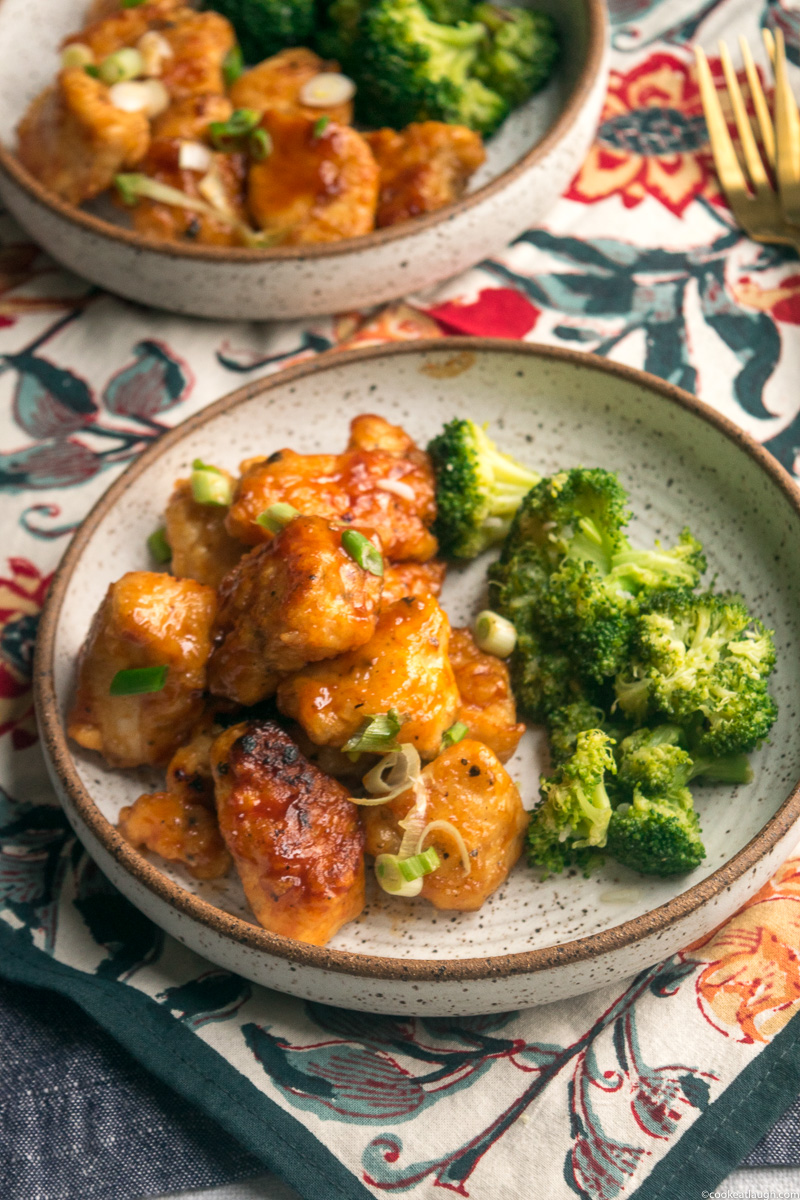 Frying the chicken
Deep frying for a weeknight meal is too much work and unhealthy, you can still achieve a crispy chicken with pan frying. Fry the chicken in batches being careful not to overcrowd the pan.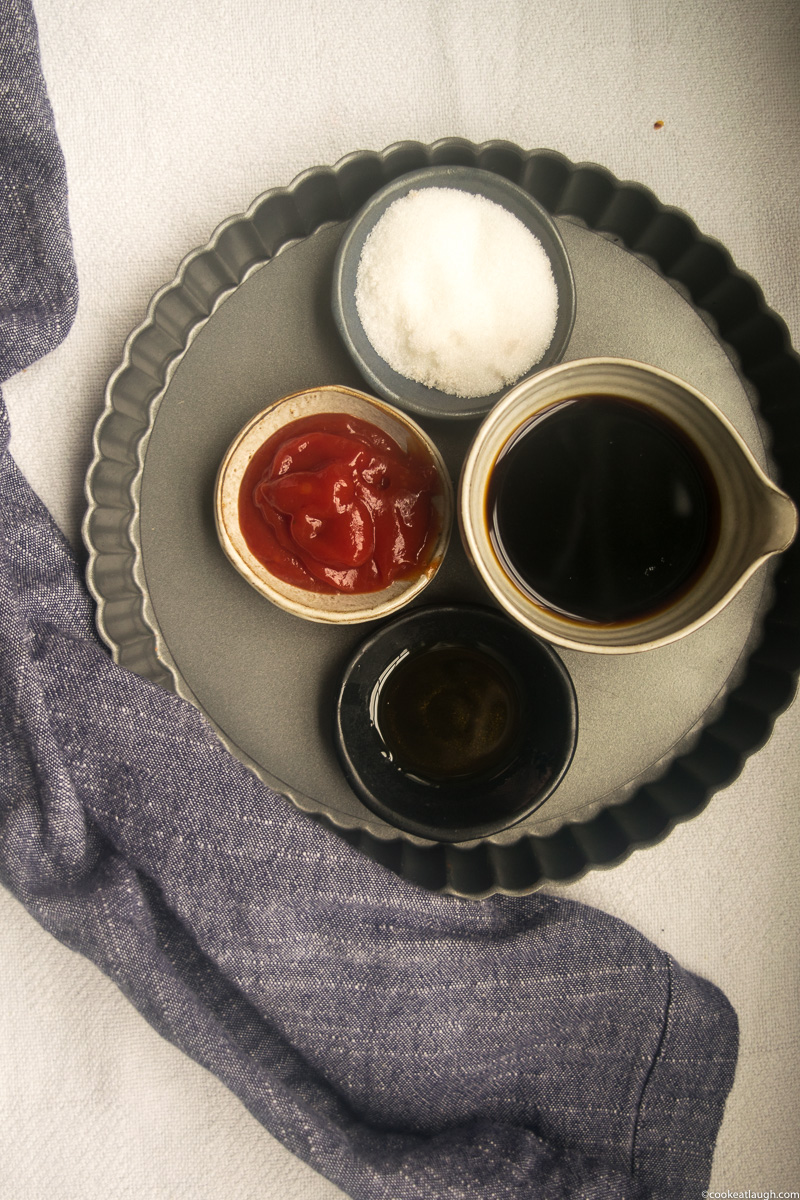 The Sweet tangy sauce
The sauce consists of equal parts ketchup, rice vinegar, sugar, soy sauce, and just a tiny bit of sesame oil. Stir everything together and simply heat the sauce. Toss the chicken in the sauce till evenly coated. If your prefer, you can serve the sauce on the side.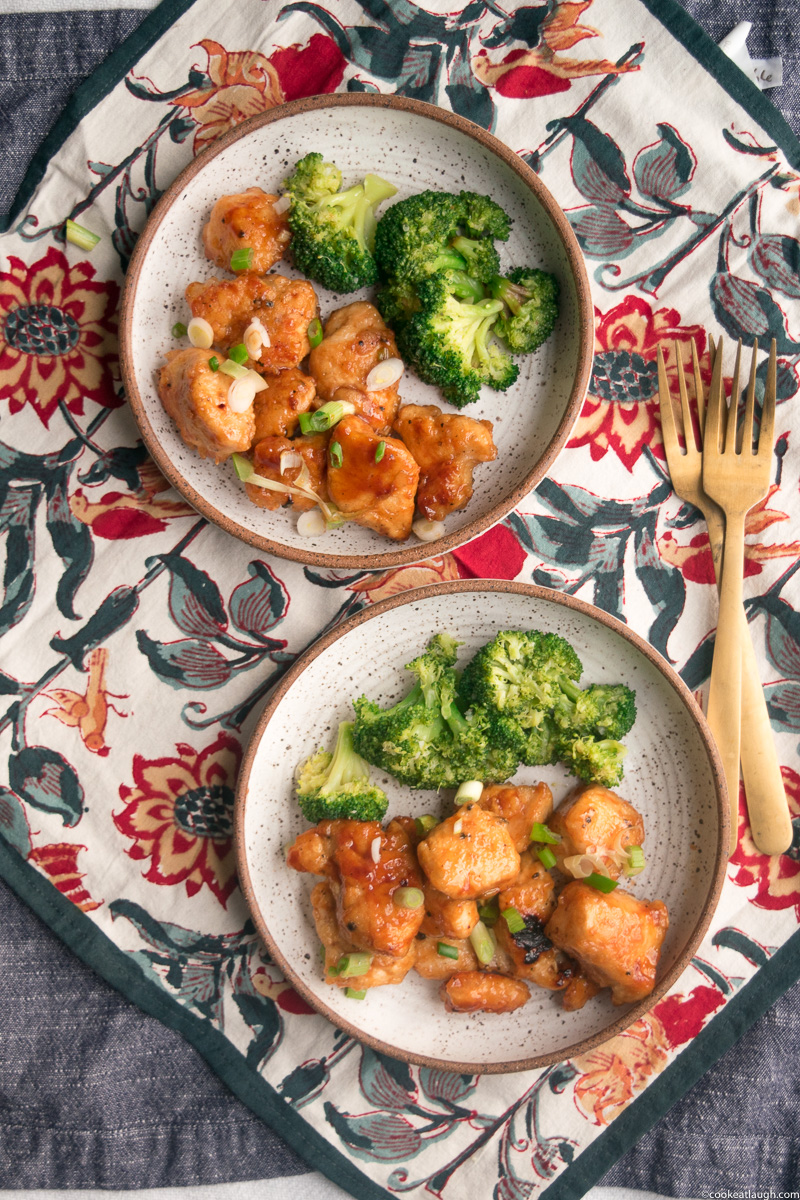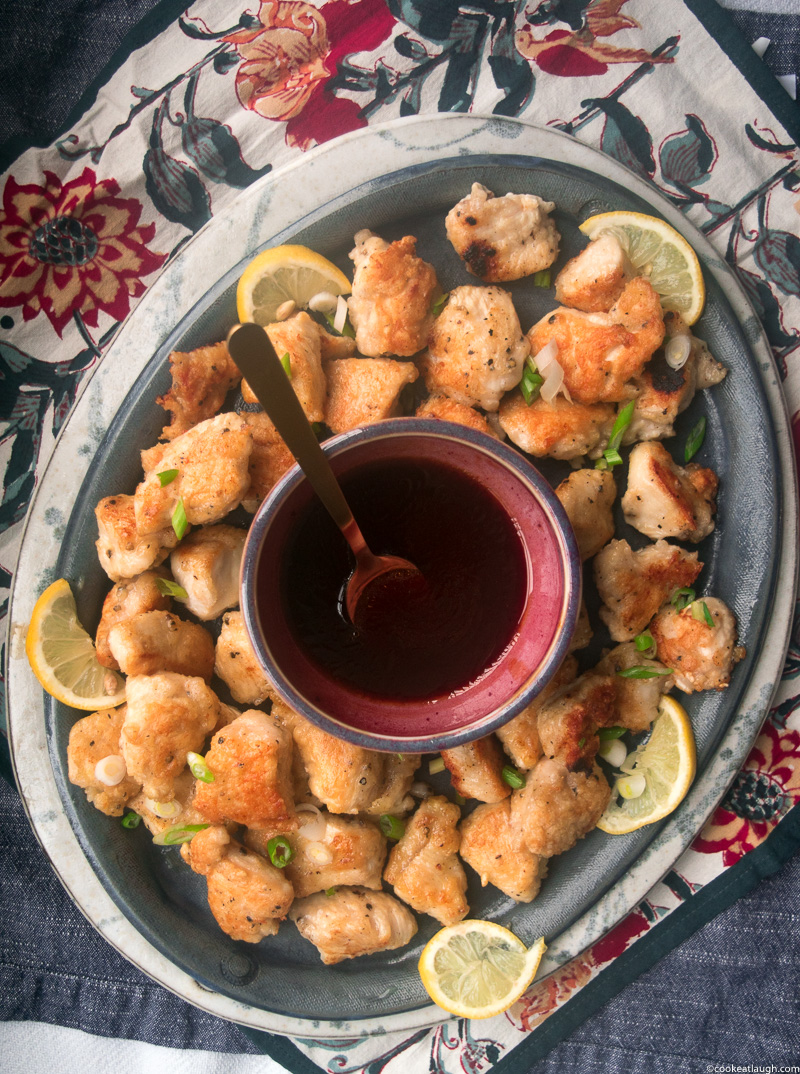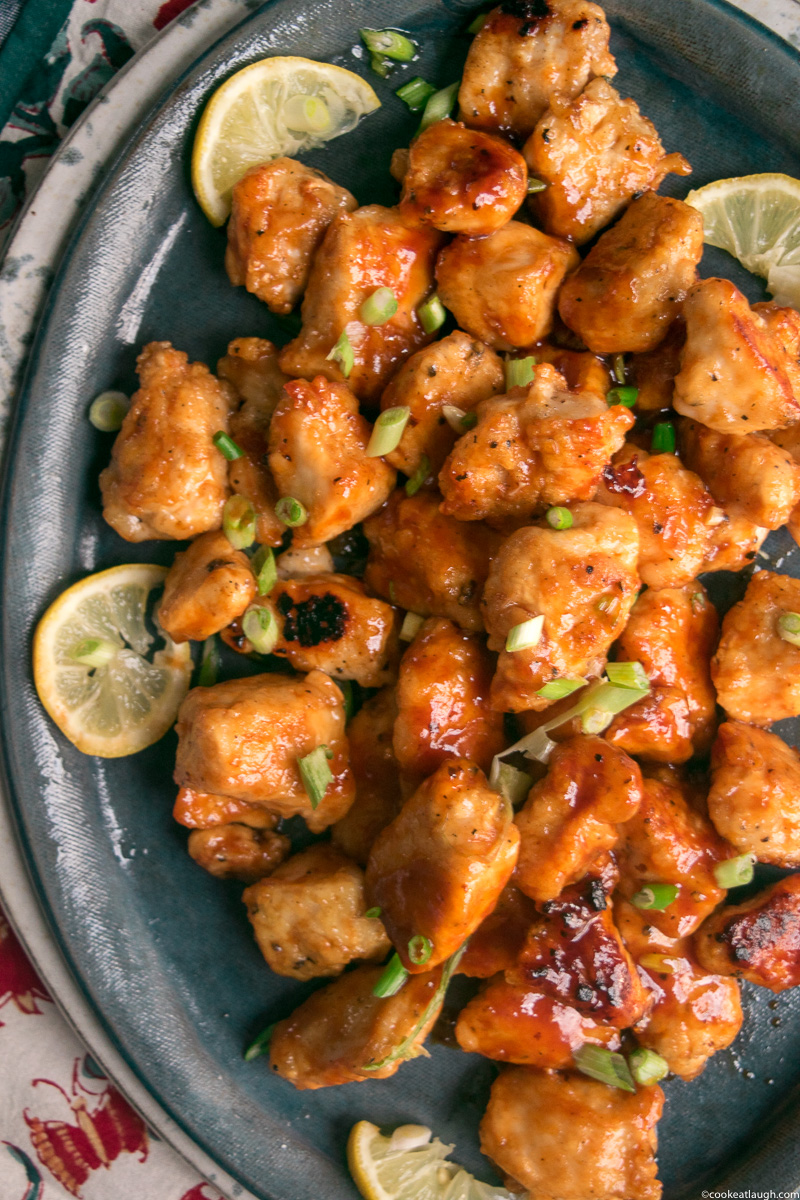 Enjoy!
Serve Chinese Lemon Chicken with:
Indo Chinese sweet corn soup with chili vinegar
Sautéed green beans with toasted almonds
Healthy chicken cauliflower fried rice
Thank you for reading! If you enjoy my recipes, please subscribe to my free newsletter, so you never miss a recipe. Please follow me on Instagram or Pinterest. . If you make this recipe, I would love to know! Tag me on Instagram@cookeatlaugh and #cookeatlaughblog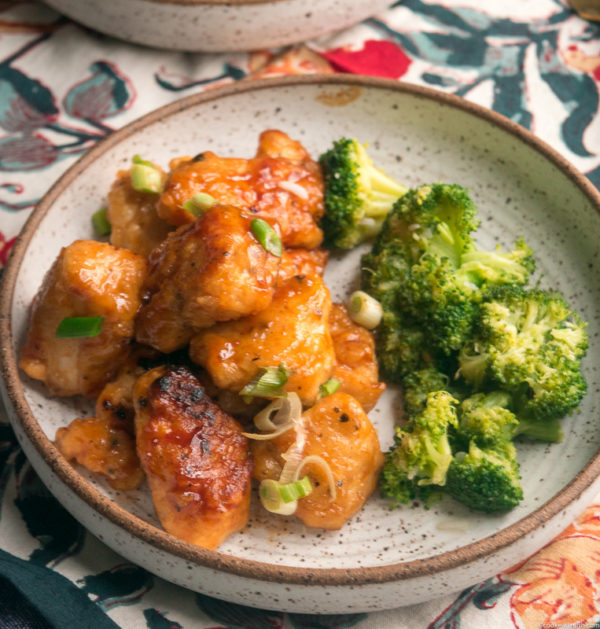 | | |
| --- | --- |
| | |
In a large bowl add the chicken pieces, lemon juice, and season well with salt and pepper. Marinate the chicken for 20 minutes.

Coat the marinated chicken with tapioca (see notes)and corn starch. Coat the chicken pieces evenly, pressing the starch around the chicken.

Heat the oil in a frying pan or wok over medium heat. When oil is hot, shake off excess starch and pan fry the chicken in batches in a single layer for about 5 minutes, turning half way during cooking, until golden brown and cooked through. Drain on plate lined with paper towel. Wipe away remaining oil in the wok or frying pan.
To the same pan add in all ingridents for the sauce and give it a good whisk. Heat the sauce on medium low heat for 2-3 minutes.

Toss the chicken in the sauce till evenly coated and garnish it with green onions. Serve immediately. Alternatively you can also serve the sauce on the side.
Tapoica starch: You can swap out tapioca starch for regular flour.
Sugar: If your prefer swap regular white sugar with monk fruit sugar or coconut sugar