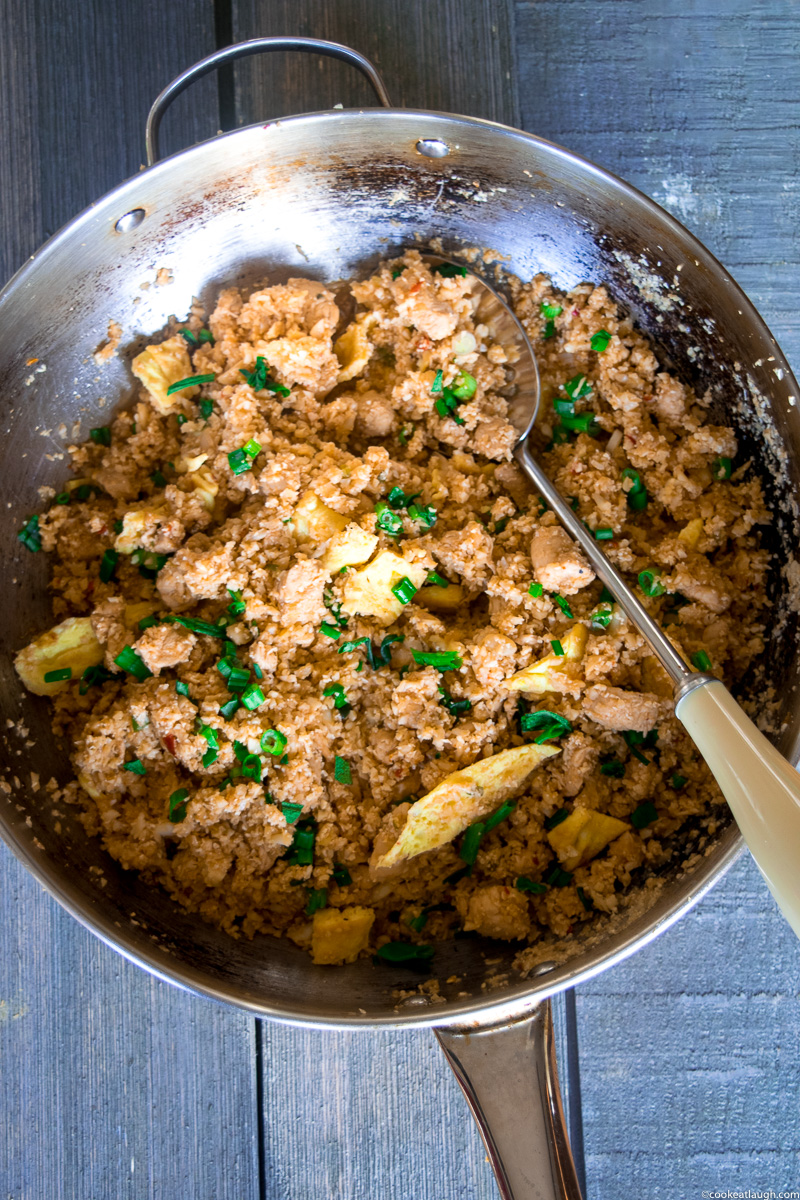 Hello! I am Surati I run this blog, I feel the need to re-introduce myself because I am pretty sure you might have forgotten about me. I haven't posted anything for over a month and I would like to apologize for it. During my time away I have been cooking a lot but haven't felt the desire to take photos, write a post, and jot down a precise recipe. I will be frank I have enjoyed my time away from the blog, but it's time to return back to creating content like this easy recipe for Healthy chicken cauliflower fried rice.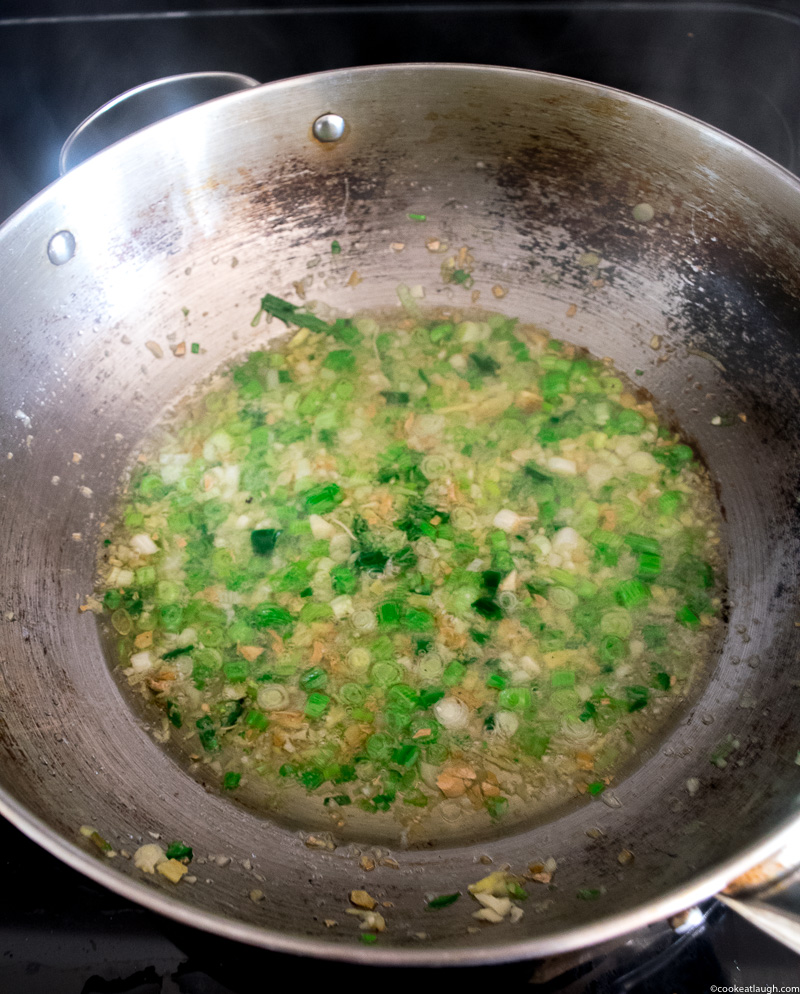 I got tired of just constantly posting only recipes and want to change up my content and diversify it. When I started cookeatlaugh my vision was to create a website where I would talk all things food, not just sharing recipes. So moving forward, I plan on sharing my favorite cookbooks, restaurant recommendations, pantry staples, product reviews, and so much more. I hope to create a community for food lovers. I look forward to creating exciting content for you and hope that you enjoy it.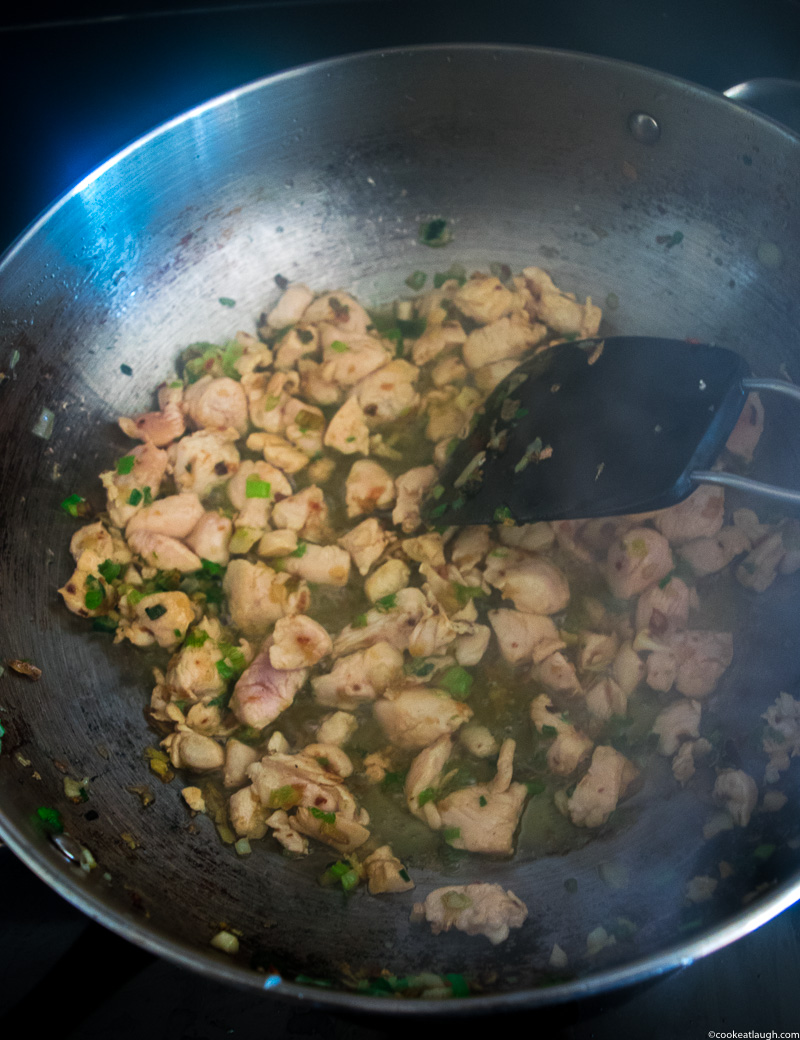 Okay back to the recipe that I am sharing with you today healthy chicken cauliflower fried rice, a fast, easy, and delicious recipe to whip up for dinner. I have made this recipe a few times for dinner and it has been a huge hit. There is nothing not to like about this chicken cauliflower fried rice it is loaded with flavor, protein, and is low-carb.
You can pulse the raw cauliflower into rice in the food processor or with a grater. If you want to make things even simpler for yourself  just use a bag of cauliflower rice from the grocery store (I love to keep a big bag of cauliflower rice from costco in my fridge). I like serving this with a stir-fry to make a complete meal.
For more healthy delicious recipe try my 10-minute lemon cauliflower rice, Savory semolina porridge, white bean tostadas, and spice crusted chicken schnitzel.
Thank you for reading! If you enjoy my recipes, please subscribe to my free newsletter, so you never miss a recipe. Please follow me on Instagram or Pinterest. . If you make this recipe, I would love to know! Tag me on Instagram@cookeatlaugh and #cookeatlaughblog.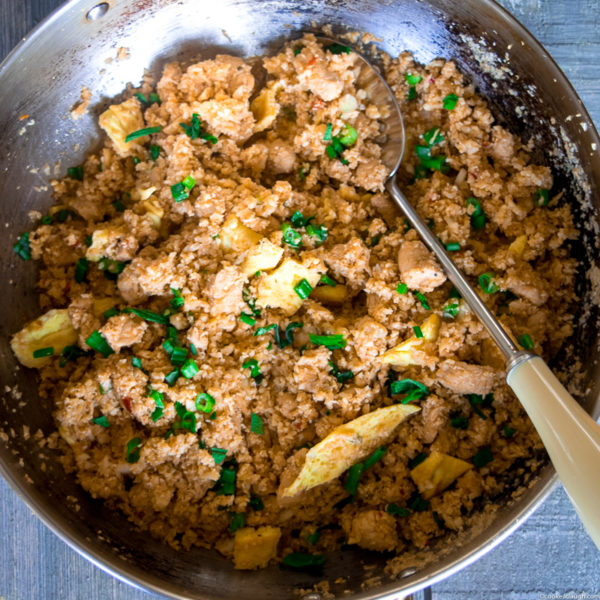 | | |
| --- | --- |
| | |
Rice the cauliflower by either grating it or pulsing it in a food processor. If pulsing in the food processor, make sure not to add all the florets at once, do it in batches. Also, do not over process the florets otherwise it will turn into mush which we do not want. You should end up with about 4 cups of cauliflower rice.

In a medium bowl mix the soy sauce, vinegar, chili, and hot and tomato chili sauce and set aside.

Heat a wok or large skillet on medium heat. Add a teaspoon of oil and then pour the eggs in to the pan. Gently stir the eggs with a spatula until it starts to set and cook until the egg is fully set. Remove from pan and slice the omelet into strips and keep aside.

Add the remaining oil to the pan and let it heat up. Add the garlic, ginger, and green chili to the pan. Stirring constantly cook till fragrant (about a minute). Add half the green onions and sauté for 30 seconds. Add the chicken and stir fry till cooked.

Add the cauliflower rice to the wok and pour in the sauce mixture. Stir fry on high heat for 4-5 minutes. Stir in the eggs and add the remaining green onions. Taste and add additional soy sauce if desired.
Notes: The hot& sweet tomato chili sauce usually can be found at the Indian store. If you can't find it you can take two tbsp. of regular ketchup and add a tsp of chili sauce in there.