Kerala Chicken Stew or Ishtu as it is called in Kerala is a very mild but flavorful stew. It is made with coconut milk, a few spices, along with chicken and vegetables. It is a light yet hearty stew that is great to make for a weeknight dinner.
Kerala cuisine is famous for coastal and seafood recipes which are mostly prepared with fresh grated coconut or with coconut milk. One such popular dish is this Kerala Chicken Stew which is cooked in coconut milk and mild spices. The consistency of this stew is soupy and traditionally in Kerala it is eaten with appams a rice type pancake. It is one of the easiest chicken curries and can be made in an hour.
What type of chicken works best in this stew?
For almost all Indian chicken curries I always prefer to use a whole chicken with skin removed and cut into small pieces. If I don't have a whole chicken, then I use skinless bone in chicken thighs cut into small pieces. The bones add a lot of richness and depth of flavor to Indian curries, especially in this stew. It is possible to make this stew with boneless chicken thighs, but it will not be as flavorful.
Spices in this Kerala Chicken Stew
A handful of whole spices are needed to make this stew. Cloves, cardamom, cinnamon, and coarse ground pepper are what is used to spice this stew. We also use some aromatics such as garlic, ginger, Indian green chilies and curry leaves.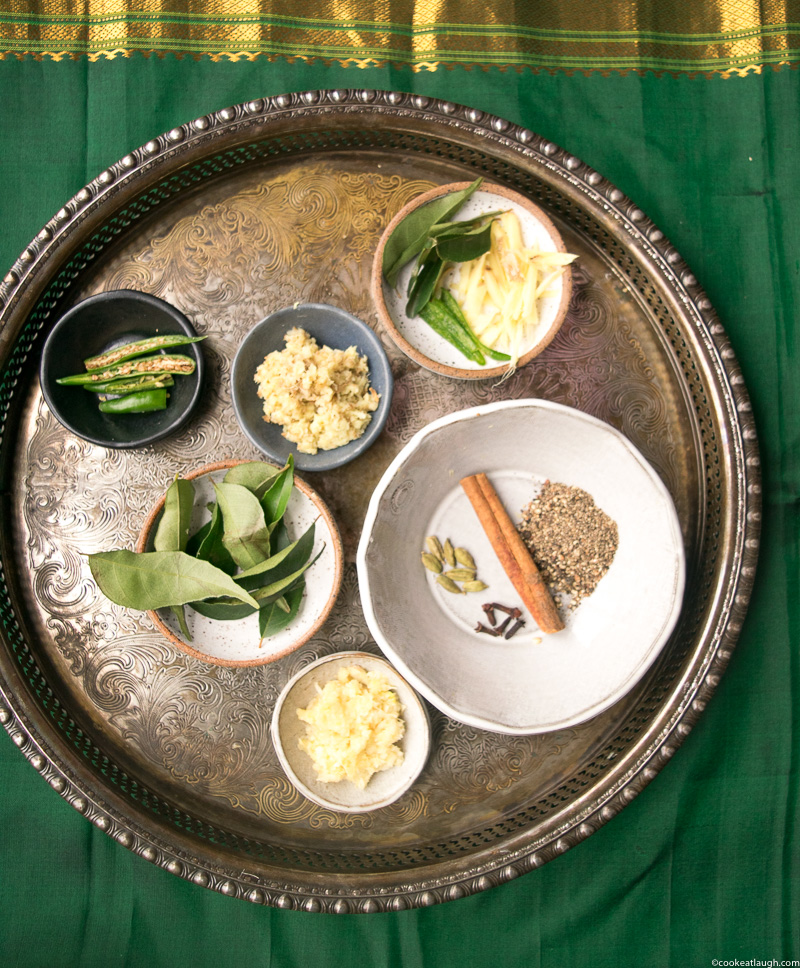 Which vegetables can be used in the Stew?
Carrots and potatoes are the classic vegetables used in Kerala chicken stew. The other types of vegetables that will work well in this stew are green beans, peas, and cauliflower.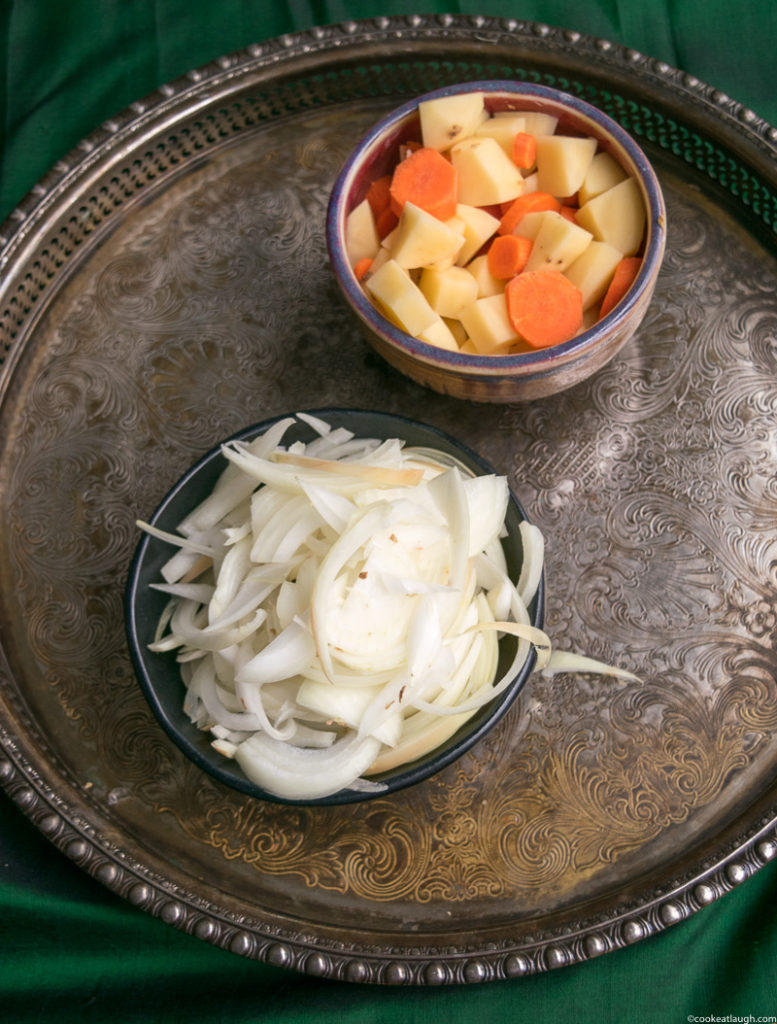 The type of oil to use
Coconut oil is traditionally used to cook this stew which gives this stew a strong coconut aroma. If you don't enjoy a strong coconut flavor then use a neutral vegetable oil.
Servings Suggestions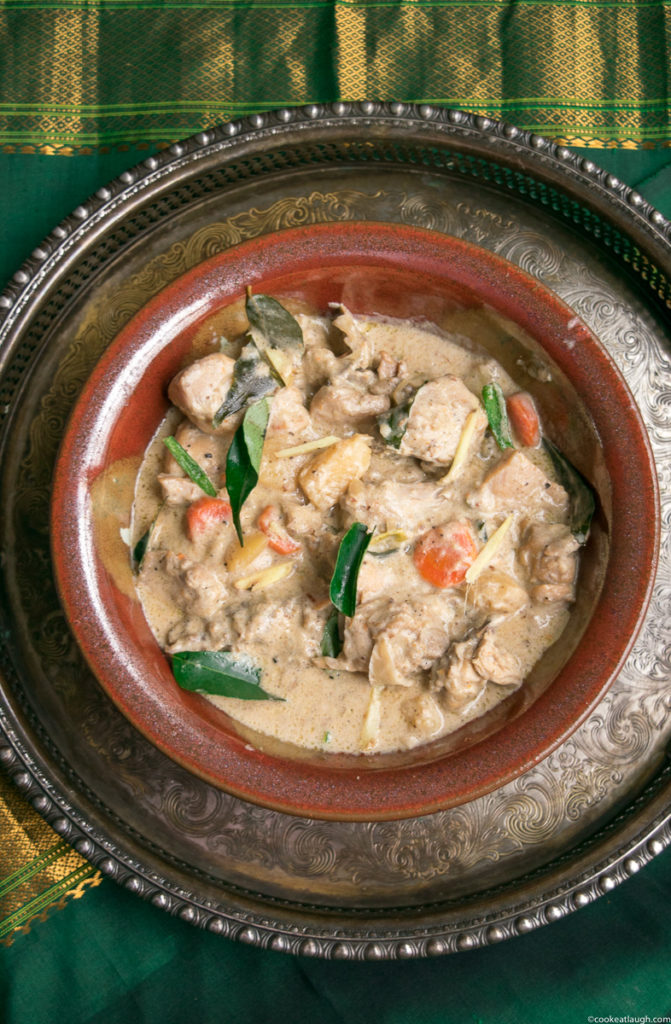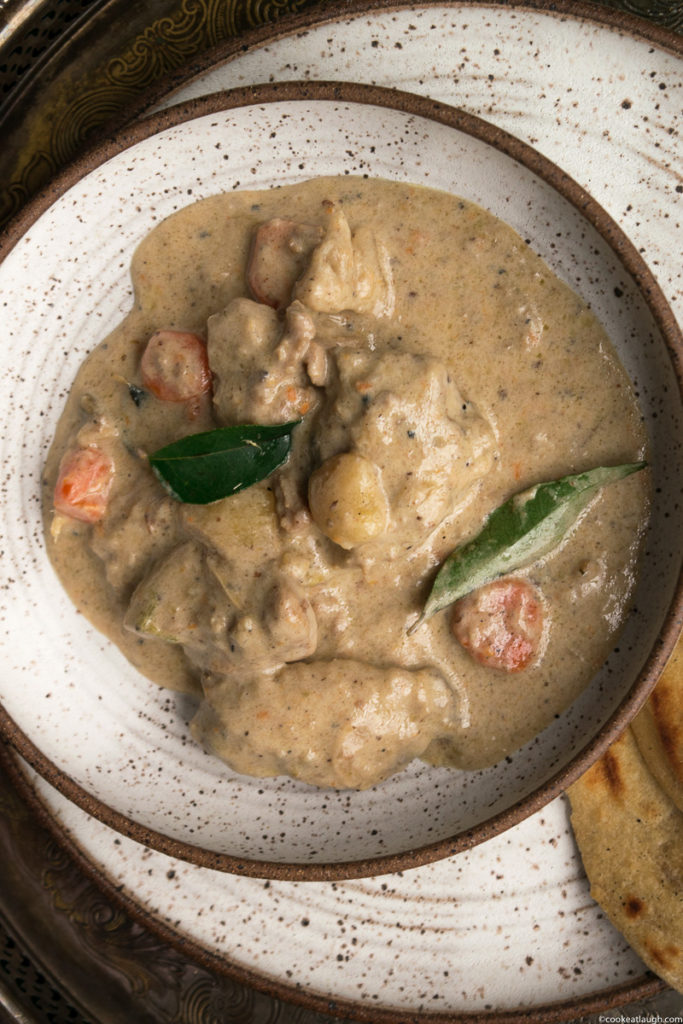 As mentioned above traditionally in Kerala this chicken stew is served with appams a type of savory rice pancakes. I serve this stew with parathas, rice, or even bread to soak all that soupy broth.
More Indian Curries
Authentic Butter Chicken/ Murgh Makhani
Palak paneer (spinach with Indian cheese)
Sindhi Khatti Dal (sour lentil stew)
One pot chickpea stew (Indian Chana curry)
Thank you for reading! If you enjoy my recipes, please subscribe to my free newsletter, so you never miss a recipe. Please follow me on Instagram or Pinterest. . If you make this recipe, I would love to know! Tag me on Instagram@cookeatlaugh and #cookeatlaughblog
| | |
| --- | --- |
| | |
Add the oil to a large heavy bottom pan such as a dutch oven and let it heat up on medium heat. Add the cardamom, cloves, cinammon stick, and green chilies to the pan. Cook the spices for 10-15 seconds and then add half the curry leaves. Saute the curry leaves till they start to splutter.

Add the sliced onions to the pan and a pinch of salt. Saute for 5- 6 minutes or till the onions turn translucent. Add the grated garlic and ginger, saute for 30 seconds. Add the chicken, season it with salt, and then give it a good stir so that its is coated well with the spice mixture. Pan fry the chicken on medium hight heat for 10 minutes, stirring it often. Add the coarse black pepper, carrots, and potatoes to the chicken and give it a good mix.

Stir in the water, let it come to a boil and then lower the heat. Simmer the stew for 25 minutes with the lid on, stirring it half way through. Stir in the coconut milk, sliced ginger, and the remaining curry leaves. Bring it to a boil, and then lower the heat, simmer on low with lid on for 10 minutes. Taste the stew and adjust for salt. Serve with rice or roti or appam