Tender pieces of chicken cooked in a creamy spiced tomato sauce

Butter Chicken or Murgh Makhani is a rich and creamy dish that's very popular in North India. The preparation starts with marinating the chicken with yogurt, spices, and ginger garlic paste. The marinated chicken is then grilled and combined with an aromatic creamy buttery sauce.
Butter Chicken is on the menu at almost all Indian Restaurants, so chances are you've already had it at some point in your life. My issue with restaurant Butter Chicken is that it's overly sweet and bland with dried pieces of chicken. Authentic Butter Chicken is made with a slightly sweet, tangy, and spicy sauce that's combined with succulent chicken. I prefer to use chicken thighs rather than breast because the chicken thighs remain juicy when grilled. For the sauce, I use cashews rather than heavy cream because it gives a lighter finish. A lot of recipes use sugar, but I like the mellow sweetness of honey in the sauce.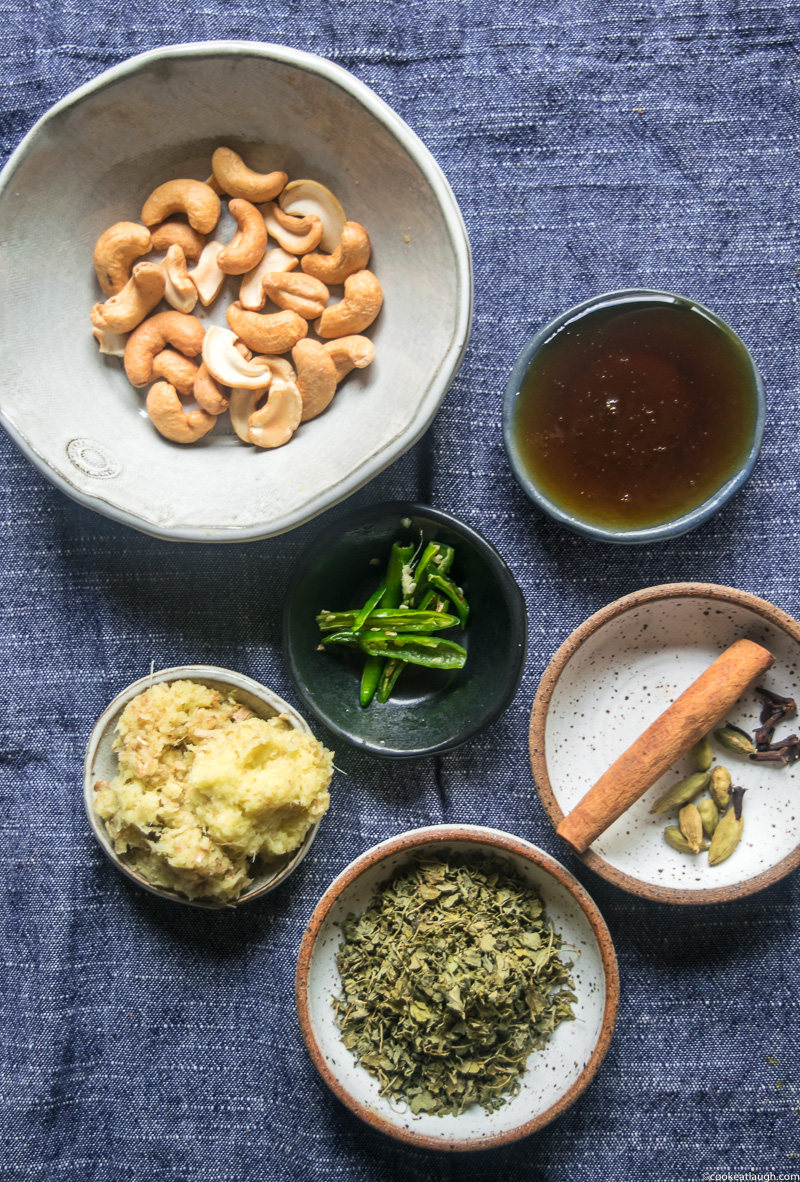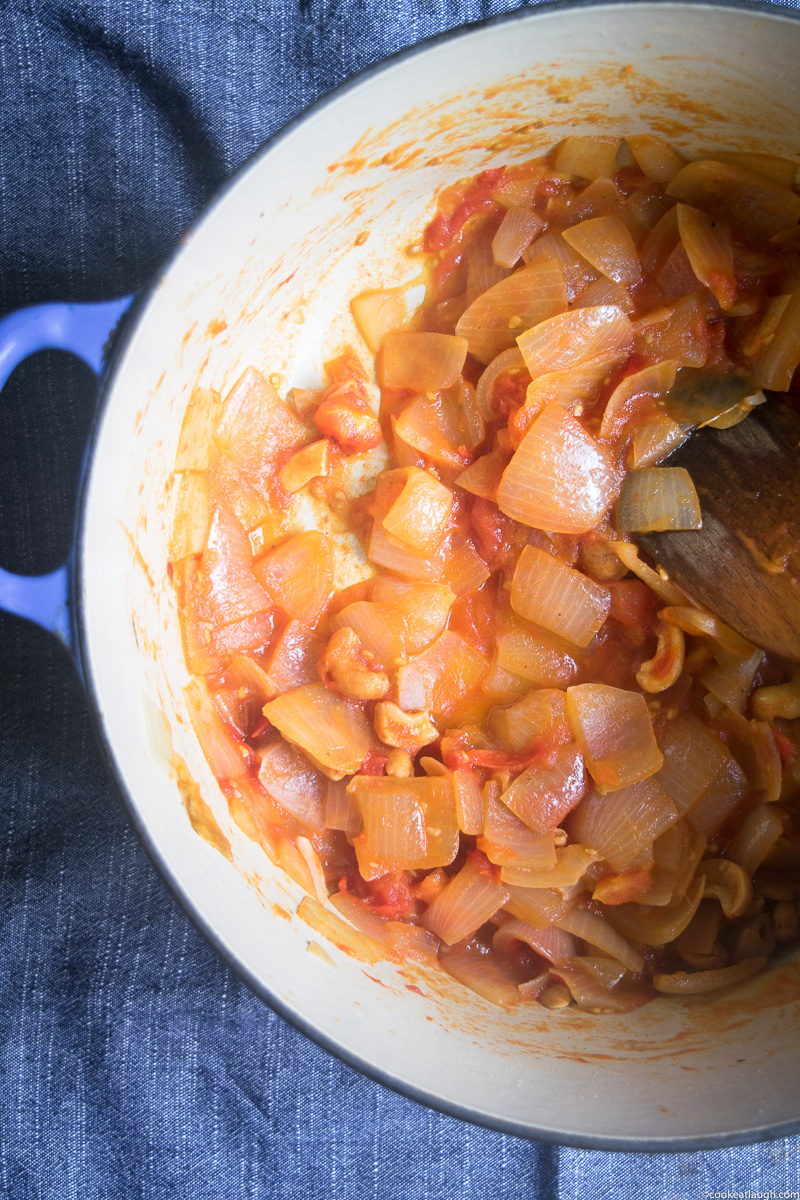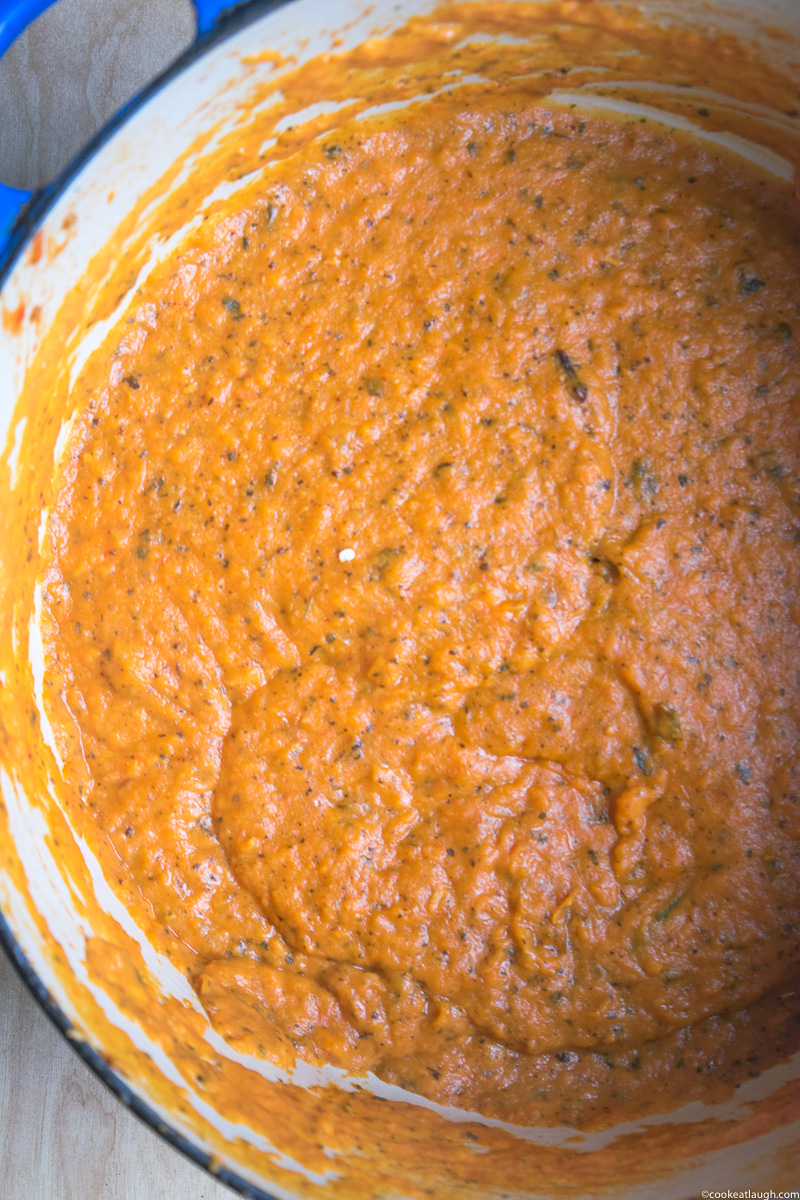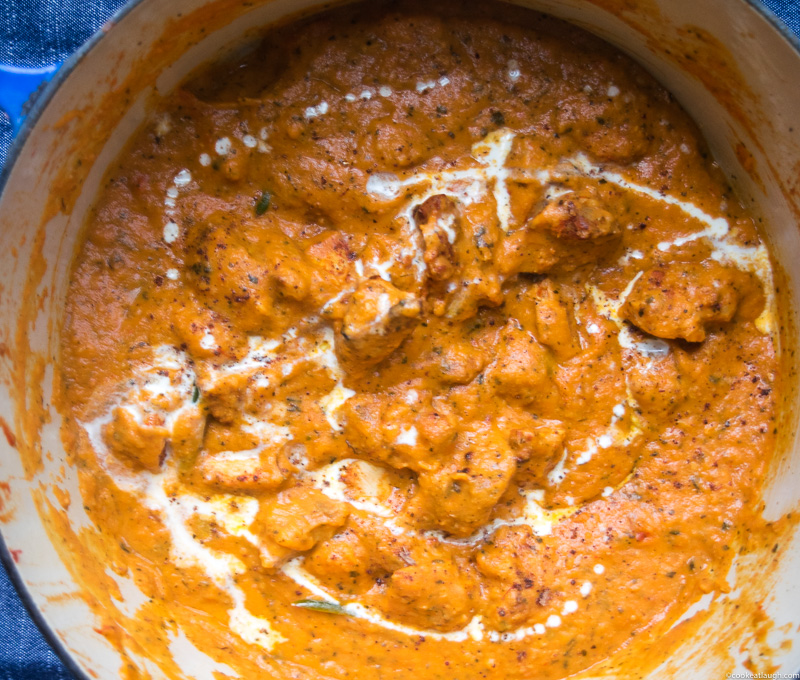 Butter Chicken is an absolute favorite in our household. It's the one dish that's requested on a weekly basis by my husband and our two-year-old daughter. We seem to have very little leftover even when I triple the quantity. My husband likes the sauce so much that he even asked me to bottle it up for him so he could slather it on everything. I initially thought he was joking, but the man was serious.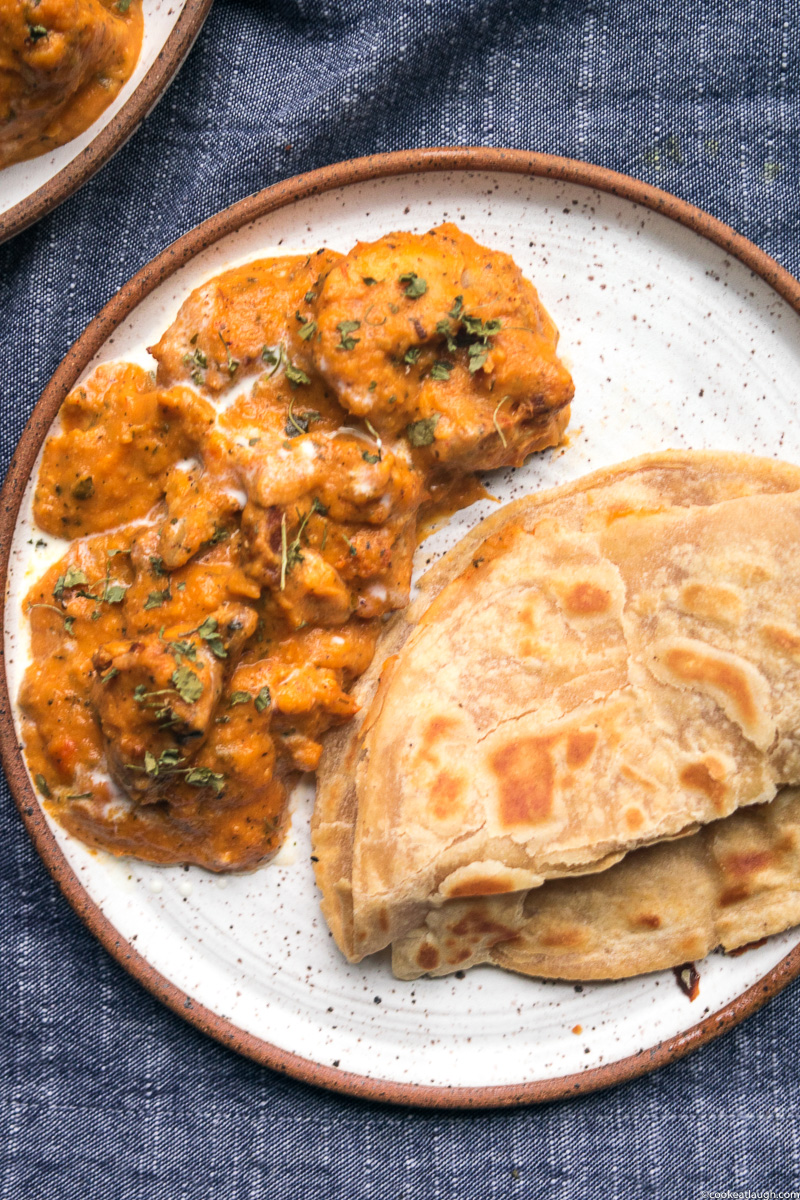 I have been tinkering with this recipe for a long time to perfect it and I think I finally nailed it.  Don't forget to serve it with some flaky parathas or naan to scoop all that yummy sauce.
Thank you for reading! If you enjoy my recipes, please subscribe to my free newsletter, so you never miss a recipe. Please follow me on Instagram or Pinterest. . If you make this recipe, I would love to know! Tag me on Instagram@cookeatlaugh and #cookeatlaughblog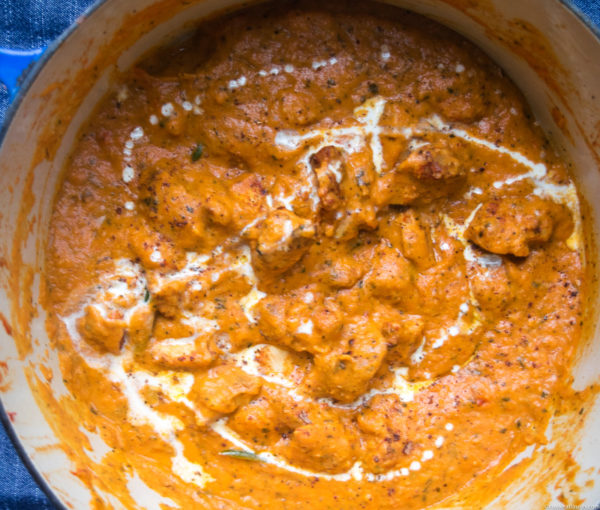 | | |
| --- | --- |
| | |
Pre-heat oven to 400 degree In a medium bowl mix all the ingridients under chicken marinade and then add the chicken pieces to it. Give it a good mix , cover and let it marinate overnight if you have the time or 15-30 minutes while you make the sauce.

For the sauce heat 2 tbsp oil in a large pan and then add the onions along with a pinch of salt. Saute for 3-5 minutes on medium heat till they are translucent and then add the cashews. Saute for 30 seconds and then add tomatoes. Give it a good mix, lower the heat to simmer, cover and cook for 10-15 minutes till the tomatoes have broken down. Turn the heat off and let the mixture cool.

Grease a broiler pan and then place the marinated chicken on it. Bake for 15 -20 minutes till the chicken is cooked through. To add a bit more char I like to broil the chicken for a minute at the very end.

In a small pan on medium low heat add the dried fenugreek leaves. Toast it for 2-3 minutes till the leaves are fragrant. Remove from heat and keep aside.

While the chicken is being cooked, tranfer the tomato onion mixture to a blender and blend till smooth. In the same pan heat the butter on medium heat and add cloves, cinnamon stick, cardamom to the pan. Saute for 30 seconds till the spices are aromatic. Add the green chilies and ginger. Saute for 2 minutes till the raw smell of ginger is gone. Add the tomato paste and saute for a minute.

Transfer the puree back to the pan, give everything a good mix. Lower the heat and then add the honey(see notes). Crush the dried fenugreek leaves between your hands and add to sauce. Season with salt and let it simmer for 15 minutes.

Add the chicken to the sauce and stir everything together. At this point the sauce will seem thick, add the water. Add 1/4 cup of water to begin with, I always end up adding 3/4 cup of water to get the right consistency for me.

Cover and simmer the butter chicken for 10 minutes to let all the flavors come together. Sprinkle a pinch of garam masala on top and cream (optional) .
Dried Fenugreek leaves- can be found at the Indian store and is essential to the recipe. It wont taste like butter chicken without it. Toasting it brings out the flavor of the leaves.
Honey: I would add a tablespoon at a time and taste it because some honey are sweeter than others.  We don't want the sauce to be sweet but rather we use honey to balance out the acidity of the tomatoes. I use a local honey so I end up always using 3 tbsp which is perfect. Also avoid using floral honey in this recipe.