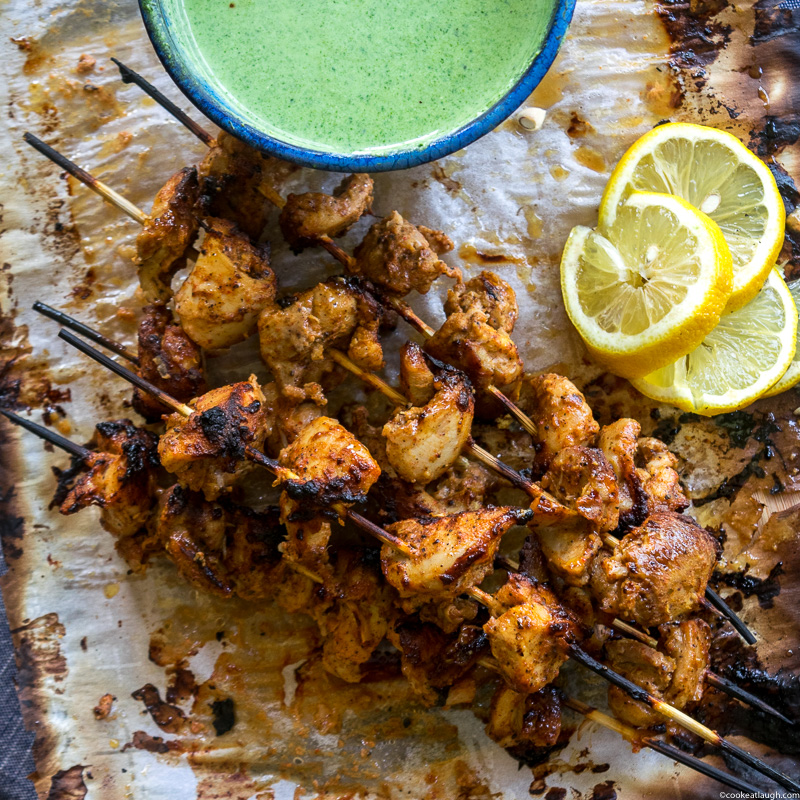 Tandoori Chicken Tikka is a popular North Indian dish consisting of succulent pieces of marinated chicken thighs that are skewered and then cooked in a tandoor. Chicken tikka is very easy to cook, it is healthy and makes for a perfect summer meal.
What is a tandoor? Tandoor is a cylindrical shaped oven made of clay. Traditionally they are built into the ground with the top of the oven curving inward. Wood or charcoal is often used to build the fire at the bottom of the oven and the top of the oven is left open to allow ventilation. The oven can heat up to 900 degrees and once its fully heated it will maintain a consistent high temperature for hours.
Tandoor ovens are mostly used in Northern Indian cuisine to cook all sorts of breads, meats and vegetables. The ever popular flatbreads like garlic or tandoori naan are slapped onto the sides of the extremely heated oven and then are gently peeled of when done. The flatbreads are cooked to crisp on the outside but still remain light and airy on the inside. Meats and vegetables are skewered onto long metal skewers and then placed straight inside the oven. The extremely high even heat of the oven helps to lock in the juices of the meat and vegetables while it giving it a nice char on the outside and a smoky flavor.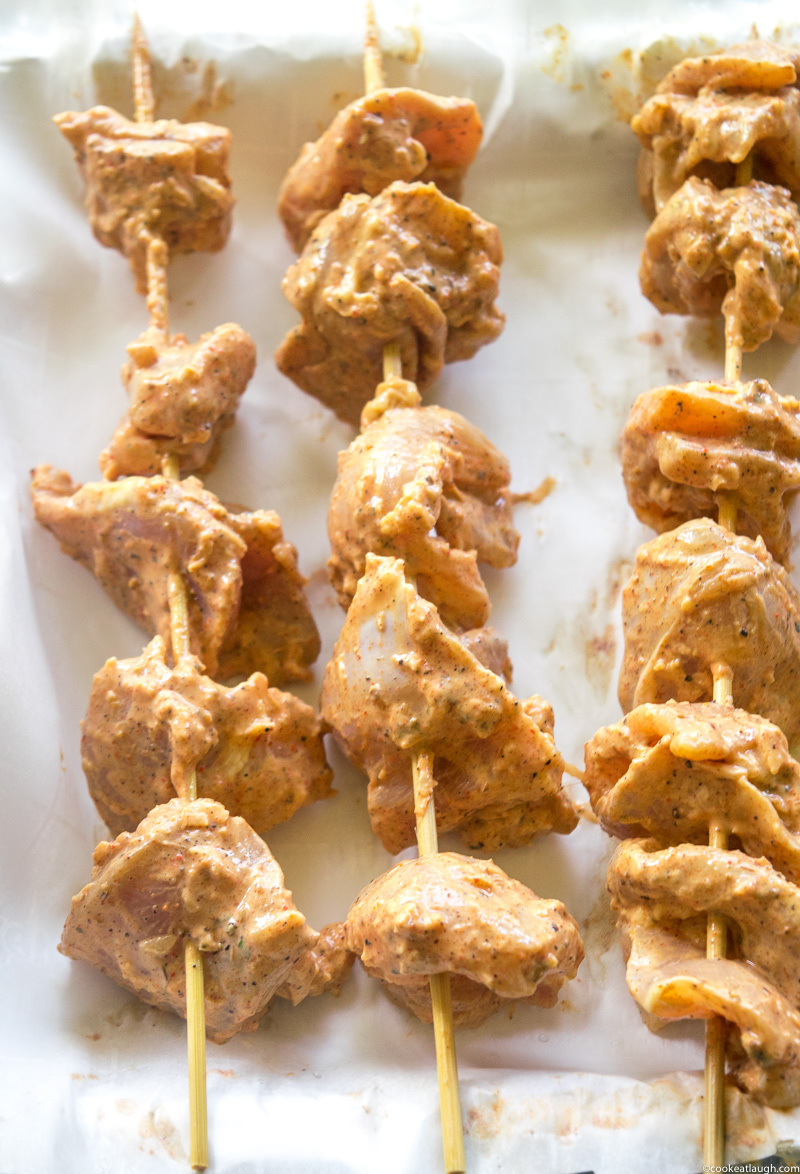 What is a tikka? Tikka refers to small marinated pieces of boneless meat or vegetables that are skewered and cooked in a tandoor. There are all sorts of tikkas in Indian cuisine such as fish tikka, shrimp tikka, tandoori chicken tikka, and paneer tikka. A traditional tikka is usually marinated in yogurt, lemon juice, spices, and herbs. Tikkas are predominately found in North Indian cuisine and are usually served as a starter or an appetizer.
How to cook tikkas without a tandoor? Don't worry you don't need an actual tandoor to make tandoori chicken tikka at home. Let's be real tandoors can be expensive and also a little dangerous for most home cooks to use. Instead of a tandoor you can use your oven or grill to achieve a similar smoky flavor. If you don't own a oven or a grill, then you can also grill the tikkas over the stove in a grill pan.
My recipe for tandoori chicken tikka is a little more simplified than most traditional tikka recipes. I don't believe in using any food coloring in my marinade instead I use Kashmiri chili powder to give my tikkas a natural red coloring.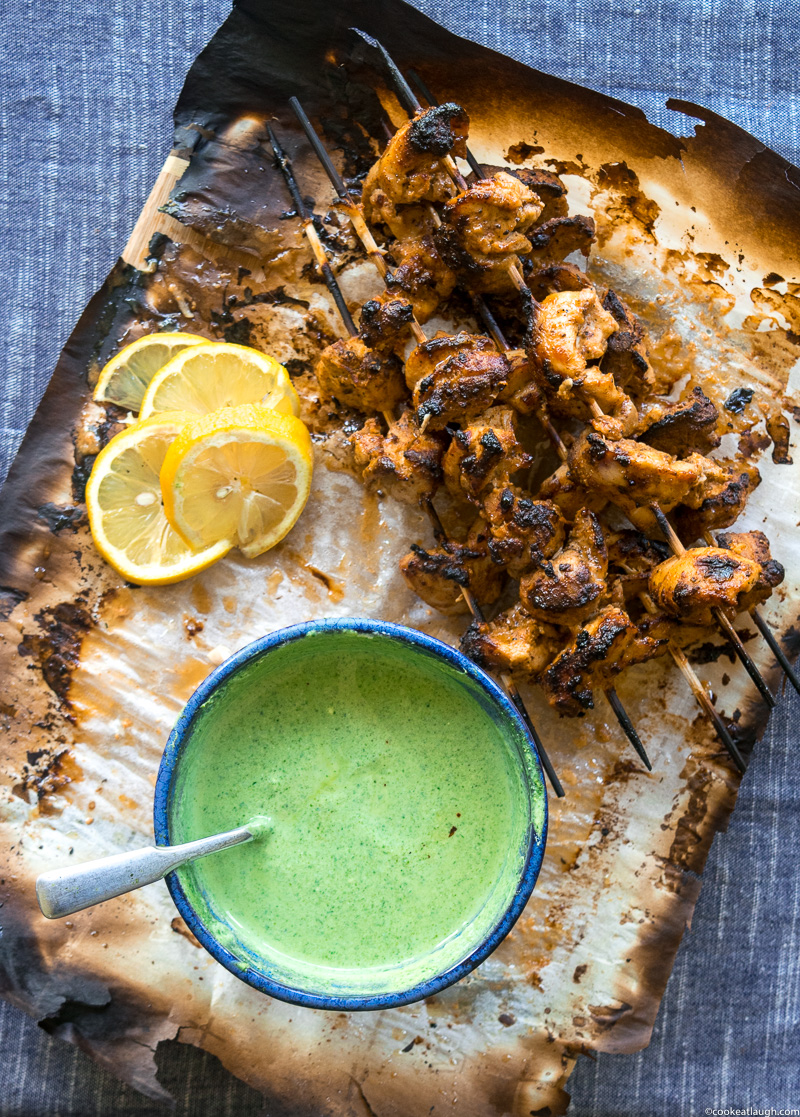 I like to serve my chicken tikkas with coriander & mint chutney, a salad, and naan.
If you enjoy Indian food and want to try some more Indian dishes give these recipes a try: Palak paneer, daal, chicken curry, and Parsi chicken cutlets.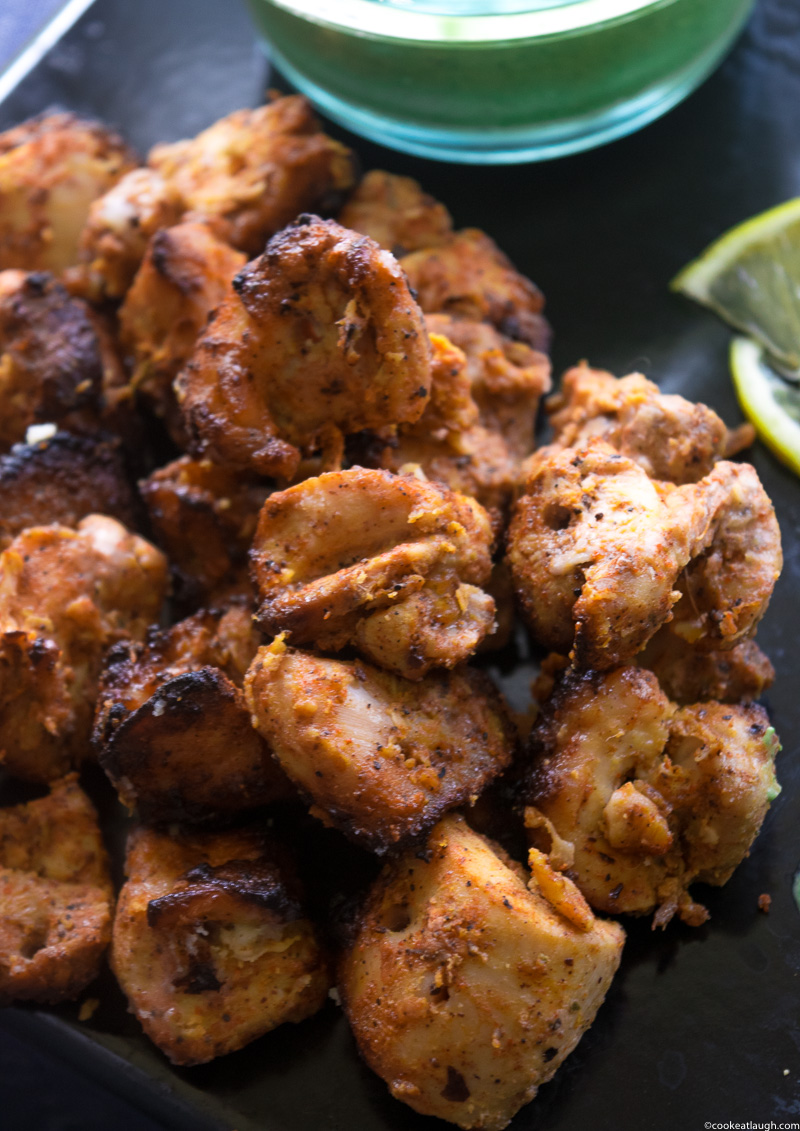 Thank you for reading! If you enjoy my recipes, please subscribe to my free newsletter, so you never miss a recipe. Please follow me on Instagram or Pinterest. . If you make this recipe, I would love to know! Tag me on Instagram@cookeatlaugh and #cookeatlaughblog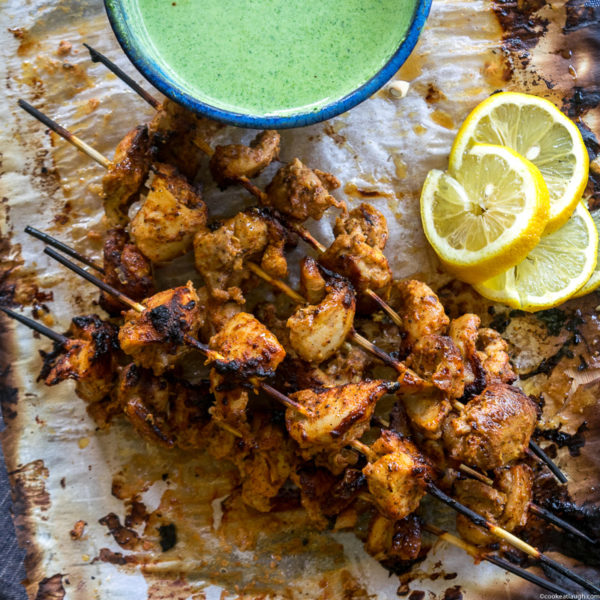 | | |
| --- | --- |
| | |
In a mixing bowl combine the yogurt, garlic, ginger,chili powder, garam masala, lemon juice, and salt to taste. Add the chicken thighs to the bowl and coat the chicken well with the marinade.

Cover the chicken, place it in the fridge, and let it marinate for at least 2 hrs, but 24 hrs would be ideal

Soak skewers in water for 30 minutes. In the meantime Pre-heat the oven to 400 degrees. Remove the chicken from the fridge and let it come to room temperature.

Divide the chicken among skewers, leave about 1/8 inch space between pieces. Place the skewers across a foiled lined sheet pan. Put the chicken tikkas in the oven and let it cook for 20 minutes.

Turn the skewers every 5 minutes or so and brush with melted butter. Chicken is done once the juices run clear and slightly charred around the edges.

Sprinkle with lemon and serve along with mint chutney.
* Cooking time will vary depending on how small or big you cut your chicken pieces.