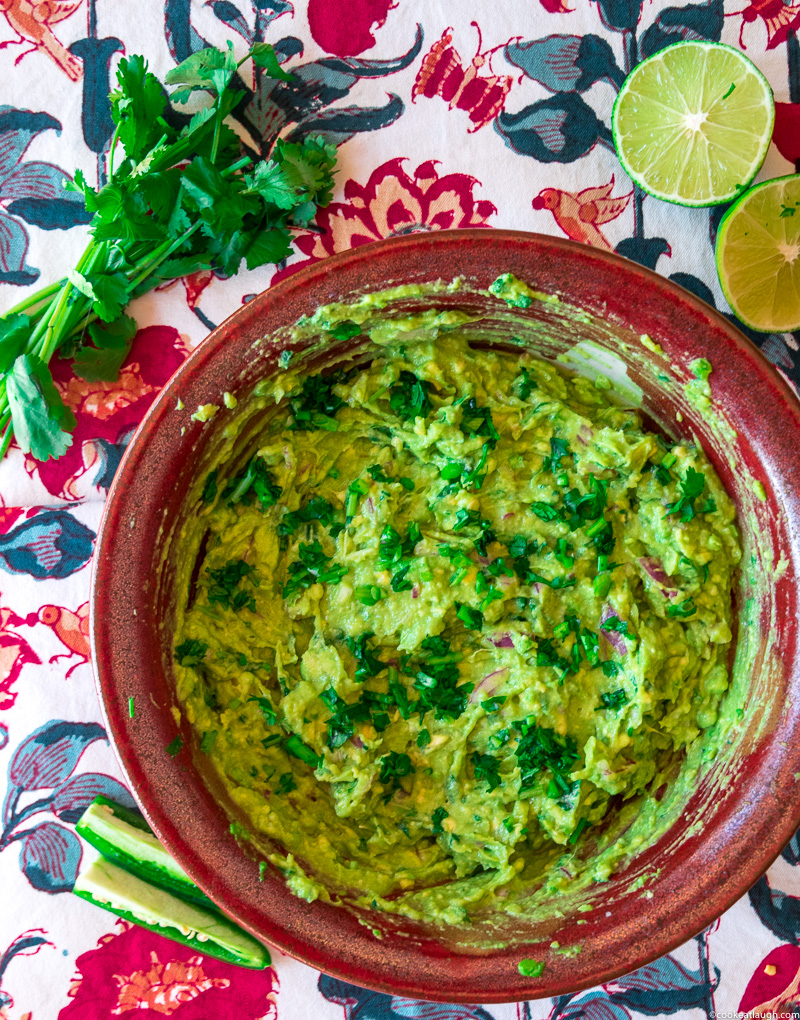 I am aware that there are probably a million guacamole recipes on the web all claiming to be the best, but I still feel obliged to share my personal guide on how to make the best guacamole. My guacamole is not fancy, just five simple ingredients, and some simple tips to achieve an authentic fool proof best guacamole.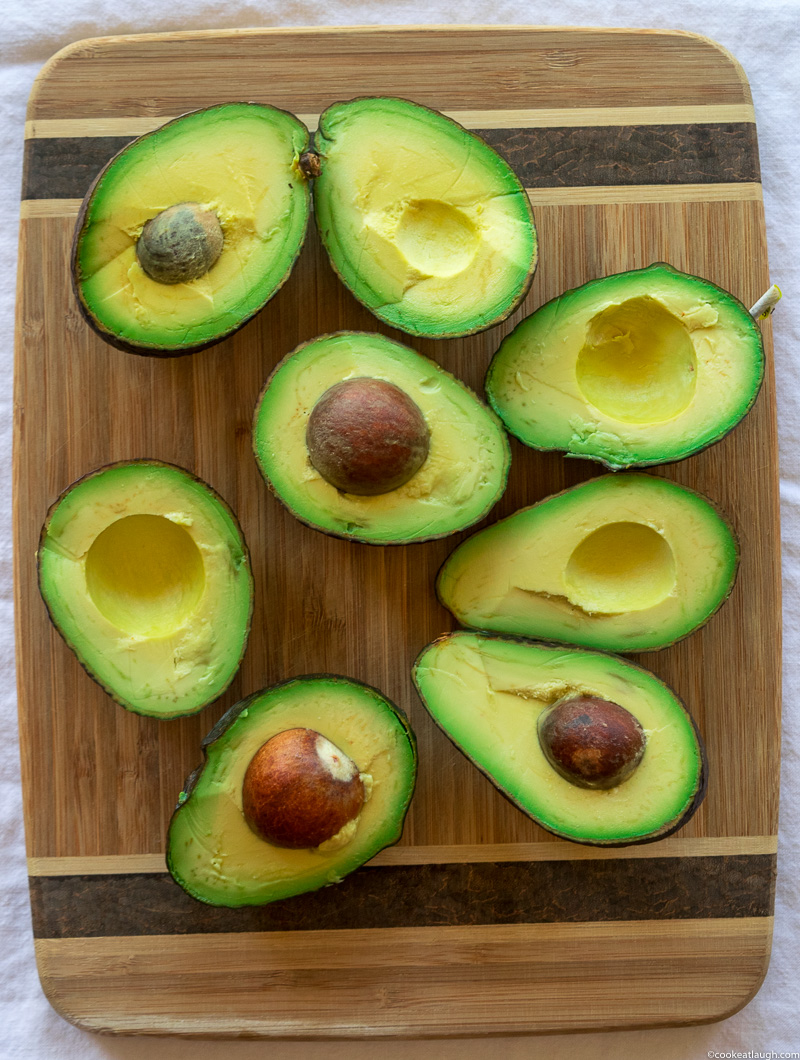 A good guacamole starts with perfectly ripe avocados. When buying avocados I always prefer to pick the slightly unripe avocados instead of the already perfectly ripened ones. I put the avocados in my fruit bowl which sits on my dining table and within a day they are ripe. This method ensures that when you go to make your best guacamole the avocados are perfect instead of being brown and gross inside (happened to me too many times).
Restrain yourself from mashing the avocados too much. A good guacamole has texture and body. To achieve texture, you need to keep the avocados a little chunky and finely chop the rest of the ingredients. Avoid using fancy equipment such as a Vitamix or a food processor to mash your avocado. I personally like to use a back of a fork or a potato masher to mash avocados, it allows me to control the chunk level. There is nothing more delightful then to find little chunks of avocados pieces in your guacamole.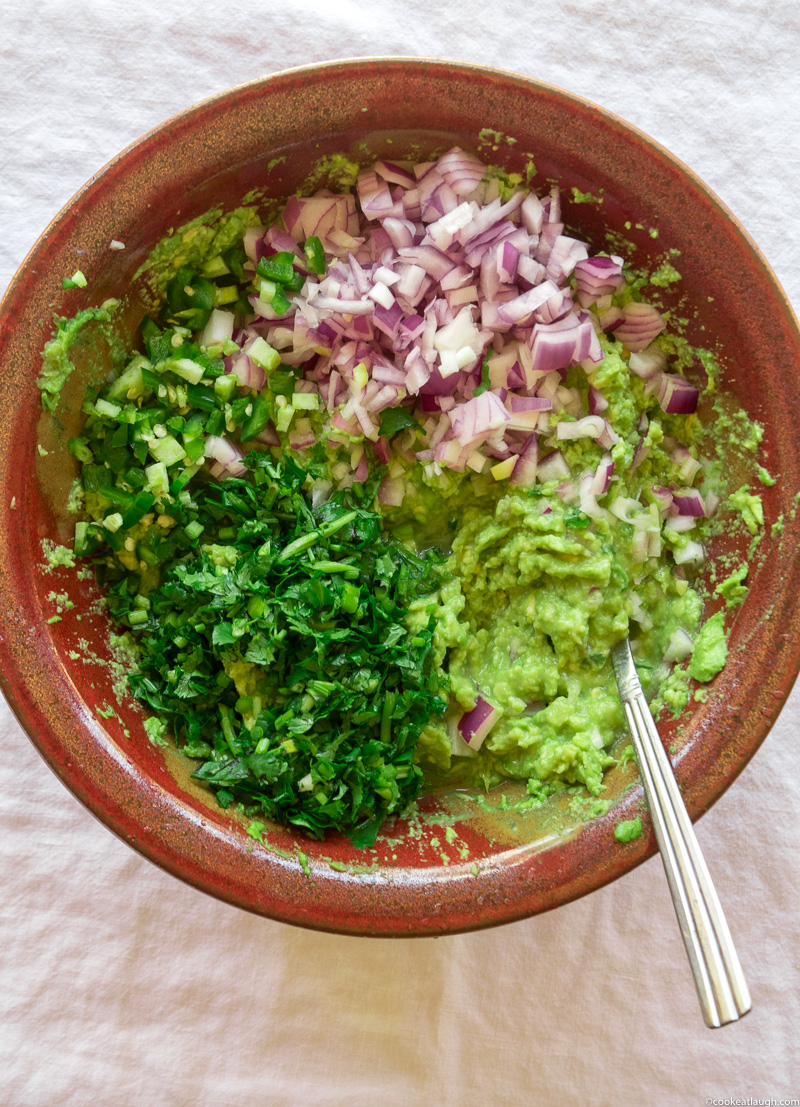 Tread lightly when it comes to adding additional ingredients to your guacamole. A traditional guacamole has only five basic ingredients: avocados, onion, jalapeno, cilantro, and lime juice. I personally think that the best guacamole is a traditional guacamole (this recipe), but I know not everyone thinks like me. If you like a more loaded guacamole with all the add-ons remember to balance it, so that it doesn't take away from the main component which is the avocado. My suggestion would be to start with this recipe as the base and add a maximum of two additional ingredients to your guacamole.
Lime juice and seasoning are key. Avocados on their own are quite bland, and they require a good amount of salt and acidity to bring out their flavor. Technically you could add any type of acid such as lemon juice, vinegar, or lime juice to your guacamole, but for an authentic guacamole fresh lime juice is key. Lime juice is slightly more acidic than lemons and gives the guacamole the tartness that lemon juice just can't. The amount of lime juice to add to guacamole is a personal preference. I like mine pretty limey that's why juice of two limes works for me. I would suggest starting with juice of one lime first and add more if you prefer.
When it comes to seasoning your best guacamole, you have to be generous. Season your guacamole gradually, taste as you go, and don't be shocked when you end up adding more salt than usual (trust me it needs it.).
Leave the guacamole alone and let it rest. If you taste your guacamole right after it's made it will taste a little bland. Allowing your guacamole to sit in the fridge or at room temperature for at least an hour helps to develop flavor. As the guacamole is resting, it gives the avocados a chance to absorb the salt and lime juice, the onions begin to mellow out, and the jalapeno starts to release its sharpness. If you are not pressed on time, let you guacamole rest and I guarantee you will have superior tasting guacamole.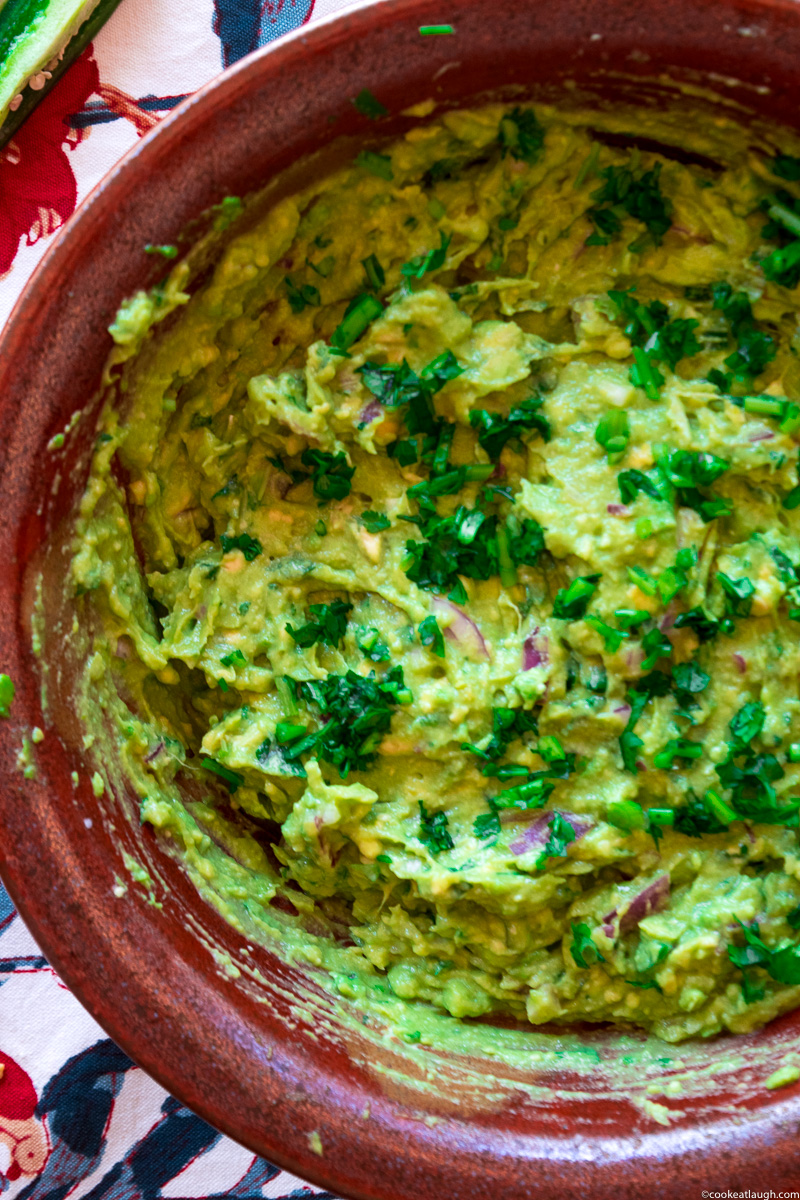 I hope you found these tips helpful and that you give this recipe a try. Enjoy my guacamole with chips, salsa verde, enchiladas, tostadas, or on plain toast.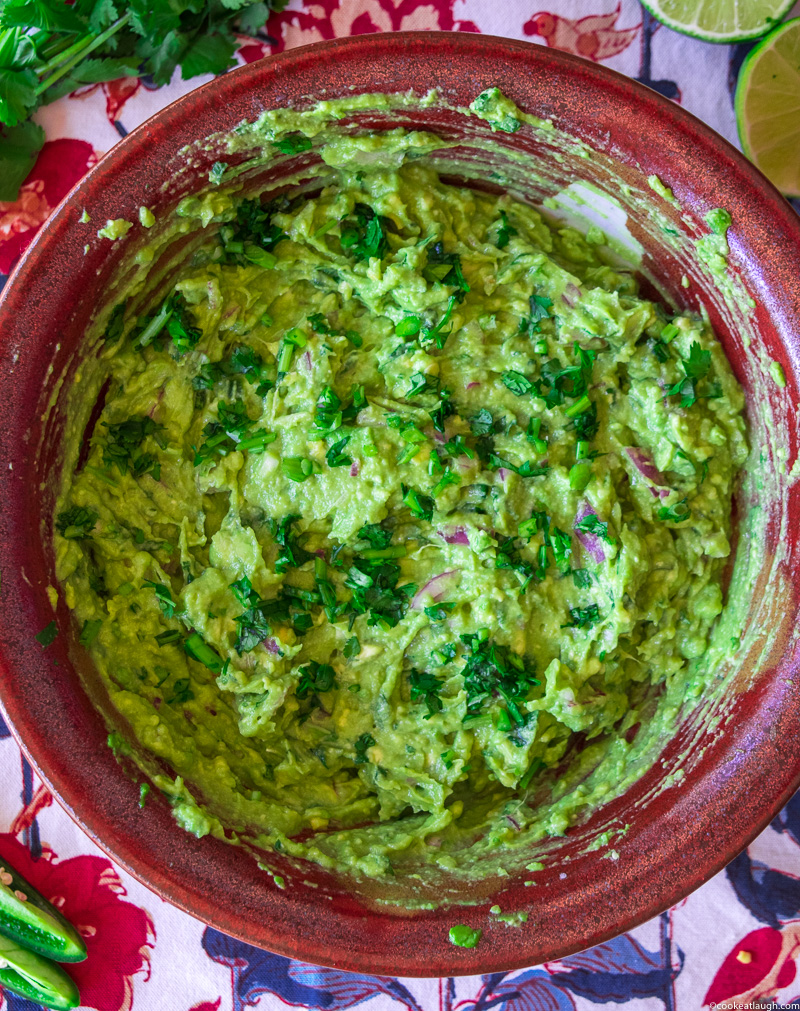 Thank you for reading! If you enjoy my recipes, please subscribe to my free newsletter, so you never miss a recipe. Please follow me on Instagram or Pinterest. . If you make this recipe, I would love to know! Tag me on Instagram@cookeatlaugh and #cookeatlaughblog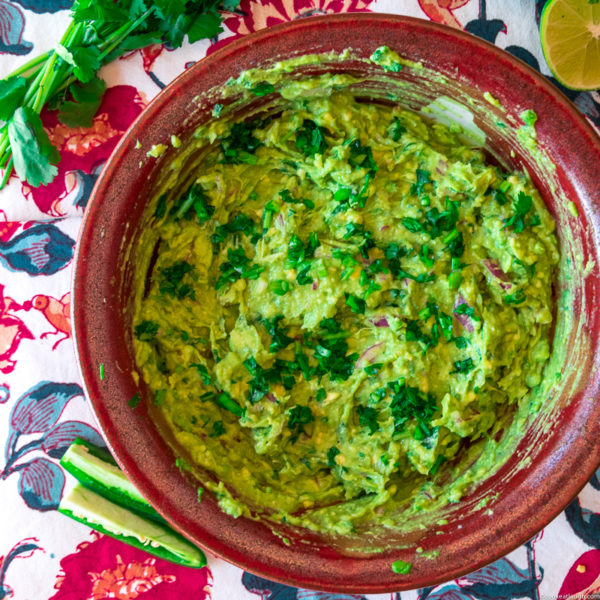 | | |
| --- | --- |
| | |
Scoop out the avocado flesh into a medium bowl. Using a fork to mash up the avocados. I like my guacamole to have some texture so I keep the avocados slightly chunky.

Add the red onions, minced jalapeno, chopped cilantro, lime juice, and salt to taste.

Give everything a good mix and taste for seasoning.

Insert an avocado pit in the center of the guacamole, cover with plastic wrap.

Let the guacamole sit outside at room temperature for at least an hour to let the flavors develop.

Serve with chips and enjoy!
Lime juice and salt are according to taste. I prefer a more limey guacamole so juice of two limes works for me. I suggest starting with juice of one lime and add more if you prefer.
Salt also should be added gradually.