Dal (lentil stew) to me is like a good bowl of chicken soup to others. It is just comfort in a bowl. To be honest I was not always a fan of it. While growing up my parents use to make lentils and rice at least once a week for dinner. On those days I would magically lose my appetite. I appreciated the goodness of dal only when I got older. I like my parents make it at least once a week for dinner and it is seriously one of my favorite things to eat.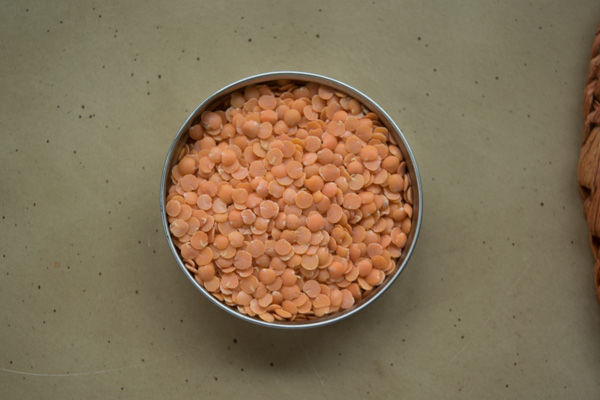 There are many different types of lentils that one can use to make dal and also 101 different ways to make it. Red lentils (masoor Dal) is my personal favorite lentil to use. Another favorite is yellow lentils (toor Dal).
Lentils are extremely healthy for you, they are a great source of protein, fiber and rich in vitamins. They are relatively fast and easy to cook depending on the type of lentil.  If you have a pressure cooker then lentils can be cooked in no time.
You can make a whole meal of just dal, rice, spicy pickle and my cool cucumber and mint raita. It is a simple meal but extremely nutritious and delicious.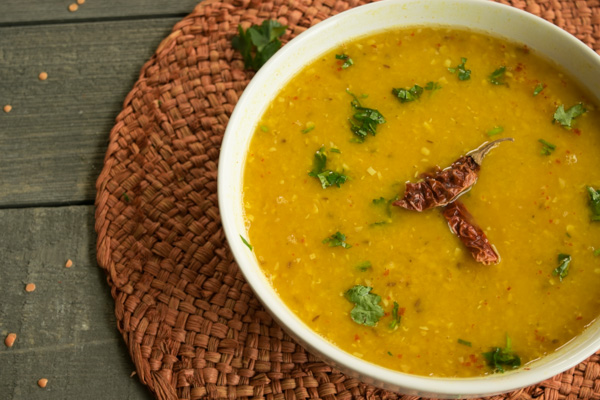 This dish is very easy to make, it is one of the reason why I make it quite often. Depending on your preference you can make the dal thick or very thin (if you want to eat is as a soup).I add a lot of garlic to my Dal because I love garlic, but if you are not too fond of garlic then you could add less. Ghee or clarified butter adds a lot of flavor to the dish and is a healthy fat to use. I hope you make this recipe for one of your weekly dinners, I know once you do you won't stop making it.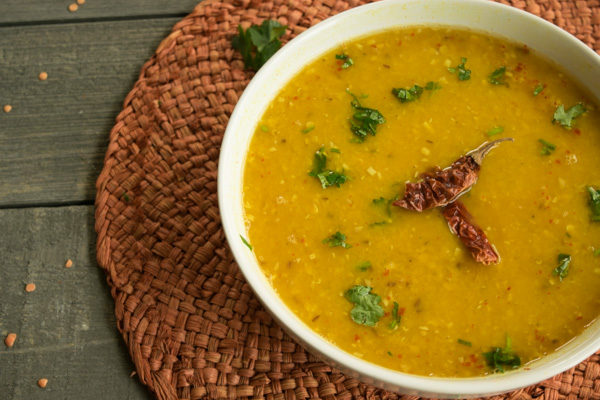 | | |
| --- | --- |
| | |
Rinse the lentils till the water runs clear. Add the washed lentils to a pot along with the water, turmeric, and salt.

Give it a good stir and bring the mixture to a boil. Lower the heat, put a lid, and let it simmer for about 20 minutes or till the lentils are cooked through. Lentils will be nice and mushy once cooked.

Heat up a small pan and then add ghee. Let Ghee get to a smoking point and add cumin seeds. Once the cumin seeds have stopped sputtering, then add the garlic and chili powder. Fry the spices for about 30 seconds or till the garlic is cooked. Make sure to keep stirring the spices, otherwise it will burn.

Add the spice mixture to the dal and give a good stir. Let it simmer for about 5 minutes, at this point you could add a bit more hot water if the Dal is too thick. Taste for salt and add if needed.

Serve Simple garlicy Dal with some rice and enjoy.